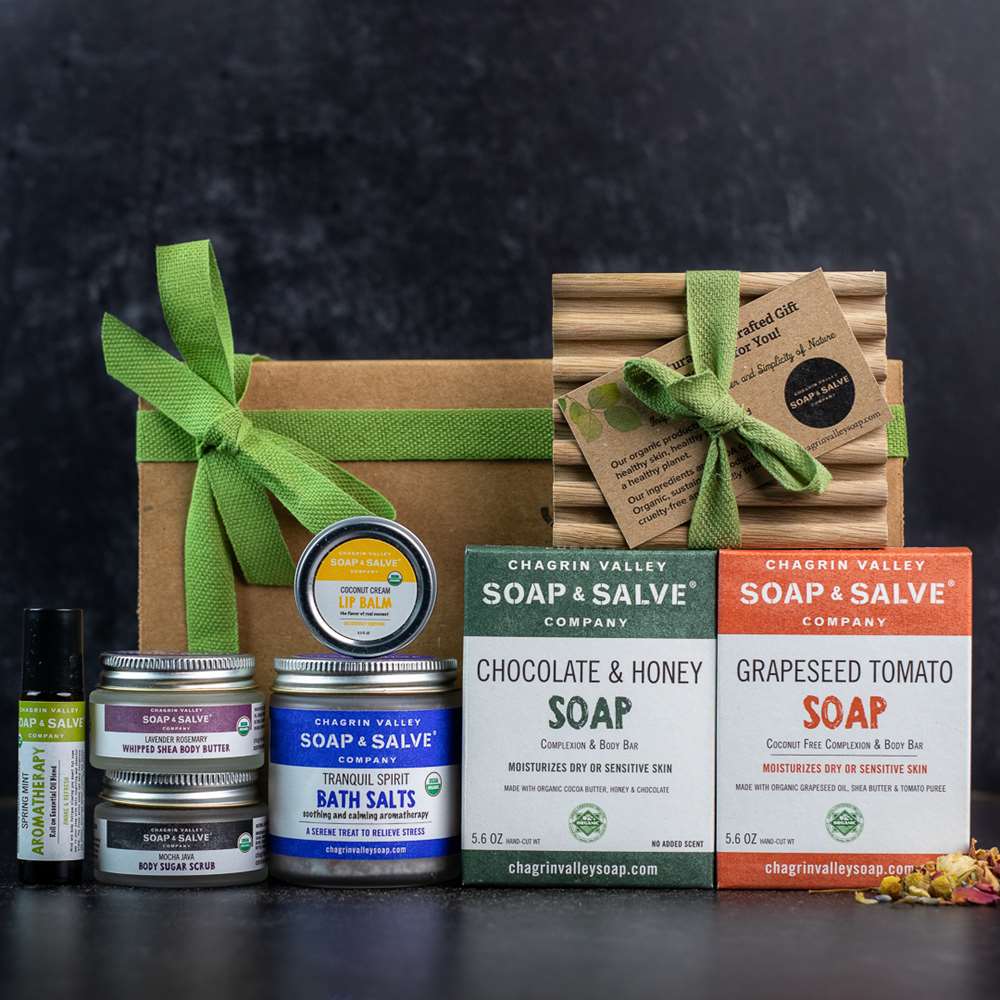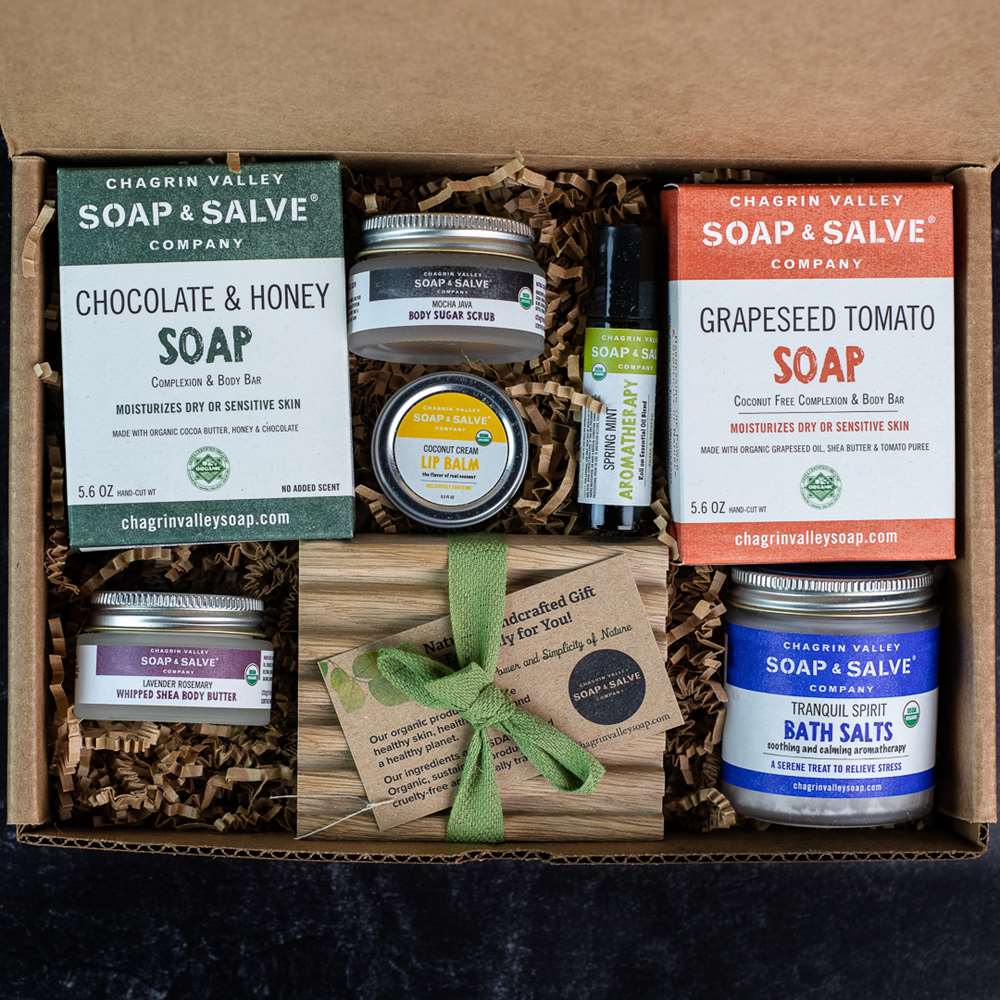 The ultimate wholesome, natural skin care gift. A large gift box filled with a variety of our natural, organic skin care products.
Product Overview

The ultimate wholesome, natural skincare gift. A large gift box filled with a variety of our natural, organic skincare products. The gift box includes:

Full Size Bar of Grapeseed Tomato Complexion Soap
Full Size Bar of Chocolate & Honey Soap
Coconut Cream Lip Balm
Mini Mocha Java Body Sugar Scrub
Spring Mint Aromatherapy Roll-On
4 oz Tranquil Spirit Bath Salt
Mini Lavender Rosemary Whipped Shea
White Oak Soap Deck

No substitutions please 
How To Use

Soap is certified "Made With Organic Ingredients" by OEFFA

Please see individual items for ingredients.

Eco-Friendly Packaging: The gift is packed in a kraft gift box that is recyclable and made from 100% recycled material with 30-70% post-consumer content. The box is wrapped in natural fabric ribbon.




Gift Message:

If you would like a gift message included, place a short message in the "Notes" box which appears in your cart.

Please title it GIFT MESSAGE
We will include your message, as written, on a gift card
Please don't forget to let us know how you want it signed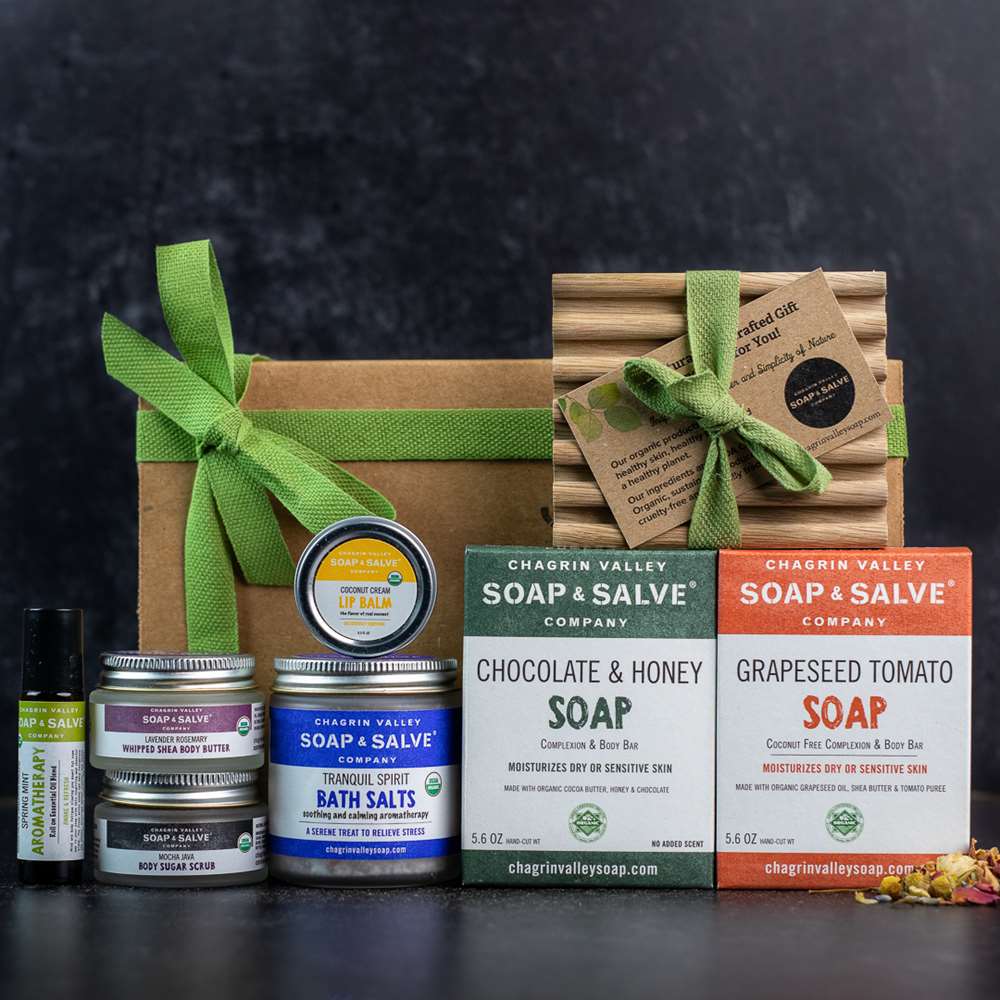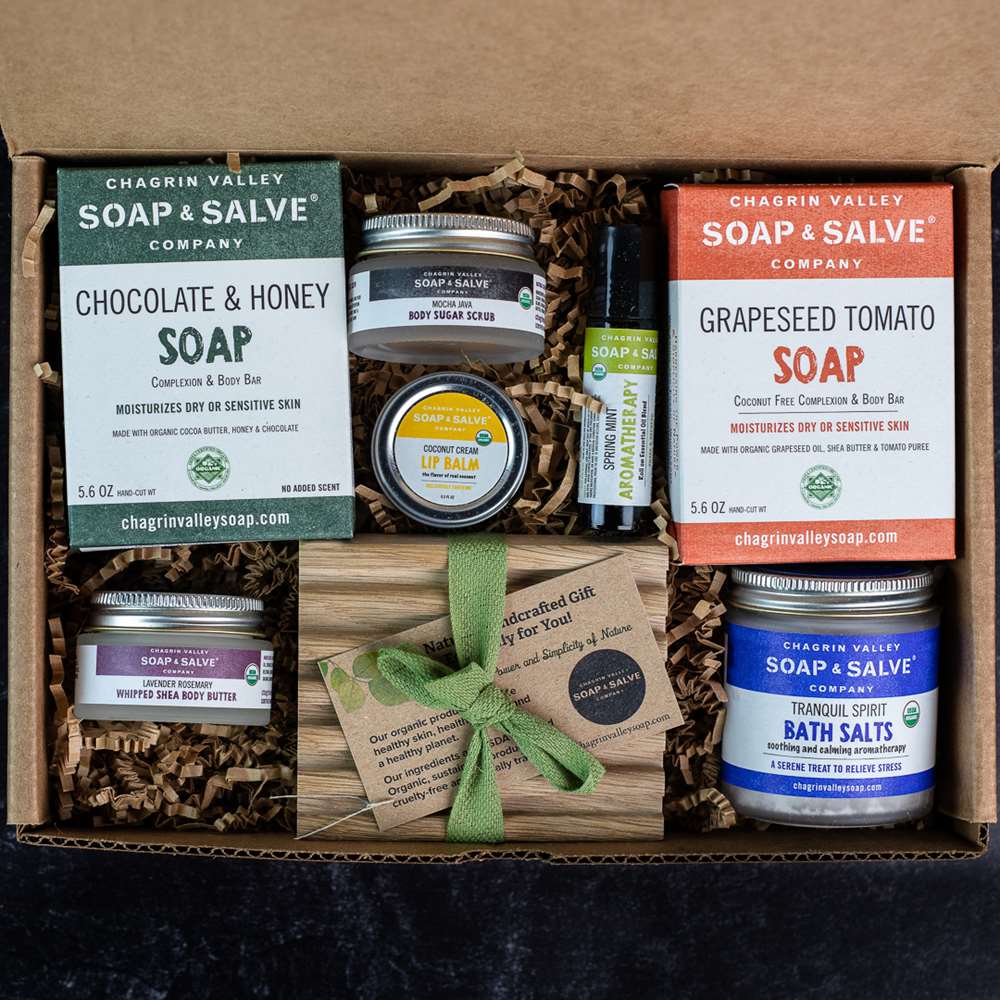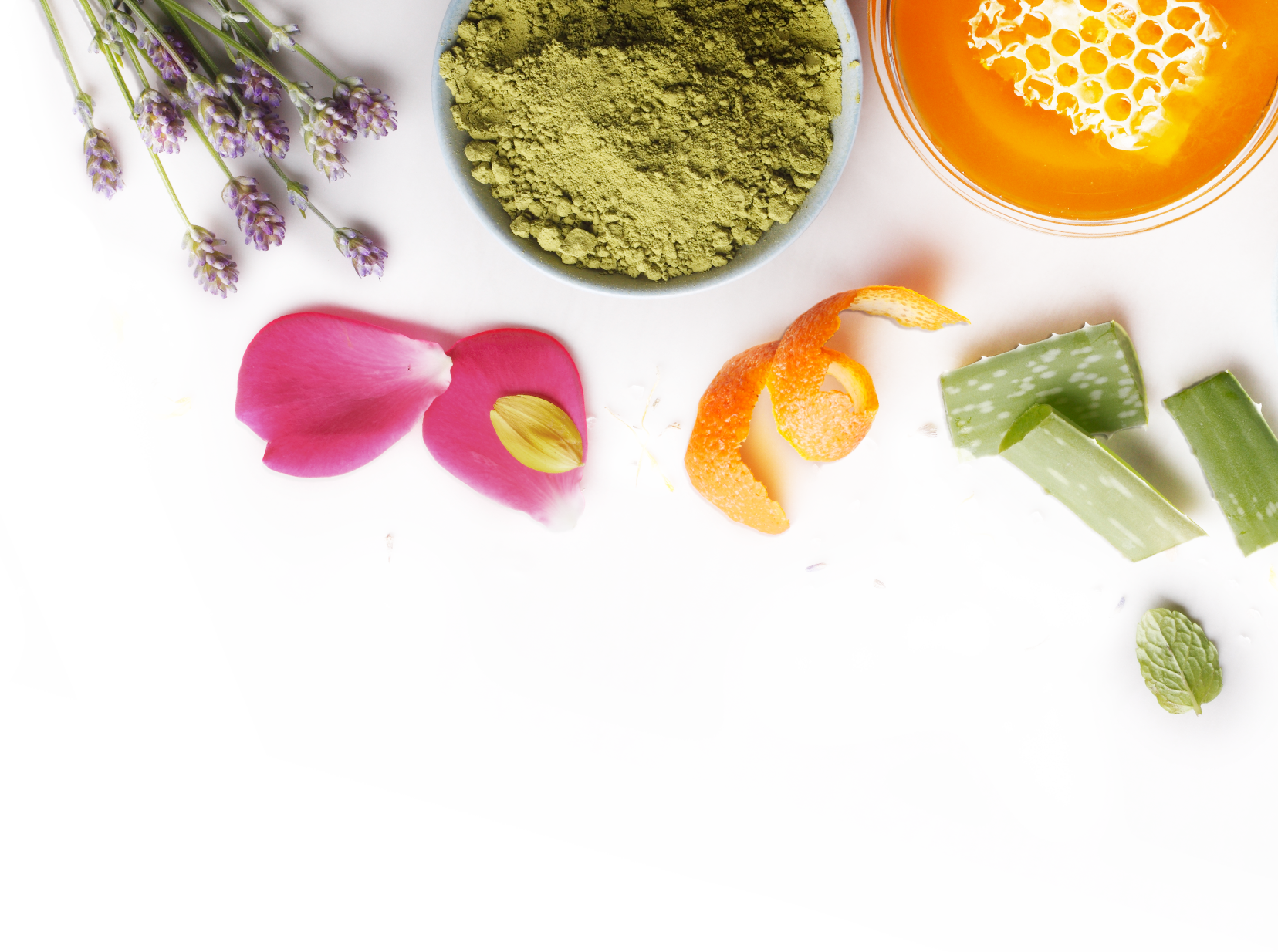 Effective, Feel Good Ingredients
The goal is simple: to Harness the Power & Simplicity of Nature® to cleanse, soothe, heal, and protect your skin and hair!
Our unique formulas rely on moisturizing oils and butters, healing botanicals, and pure essential oils. We choose every ingredient with one end-result in mind….the BEST possible natural skin care for YOU!
Featured Ingredients



Frequently Asked Questions
Why Choose Chagrin Valley Natural Soaps

Aren't all handmade natural soaps the same? . . .

The answer is NO!


Saying a soap is "handmade" says nothing about quality of the ingredients or the knowledge and skill of the soapmaker!

Chagrin Valley is not just another soap and skincare company. We are committed to healthy skin, healthy people and a healthy planet.

We are a USDA Certified Organic Company specializing in luxurious, organic, handmade natural soaps and shampoo bars rich in natural glycerin for healthier skin and hair.

It's all about the ingredients! Inspired by our love of nature, we use organic herbs, seeds, flowers, vegetables, fragrant spices, fruits, pure essential oils and purifying clays for their exceptional skincare benefits and to provide natural color, aromatherapy, texture, or gentle exfoliation. Nothing artificial, nothing synthetic, no GMO's, just natural wholesome ingredients.

Chagrin Valley's Natural Soap & Shampoo Bars Are...

all natural
made with USDA Certified Organic ingredients
handcrafted in small batches using the old-fashioned Cold Process Method
made with sustainable and fair trade ingredients
certified cruelty-free
free of detergents
free of synthetic fragrances
free of synthetic colors
free of artificial preservatives
free of artificial foam boosters
free of alcohol and petroleum products
free of synthetic additives
free of GMOs
biodegradable
mild and nourishing
rich in natural glycerin
magnificent long-lasting lather

cured for 8 to 10 weeks

Our soap making process uses only natural and organic ingredients. Why add artificial ingredients to a handmade product?


"Are All Handmade Soaps The Same?"

"12 Reasons to Use Natural Soap"

---

View Answer Page
Why Should I Use A Natural Organic Body Cream?

Why use a natural organic body cream . . .

It is Natural

Well, first of all, it's an all-natural product. Commercial lotions are NOT. Our Body Balms and Whipped Shea Butters only contain the ingredients that they need to moisturize your skin.

Creams and lotions formulated with synthetic ingredients often aggravate sensitive skin, exacerbate irritated skin conditions, and trigger allergic dermatitis.

The organic oils and butters we use do NOT contain petroleum based chemicals (Mineral Oil, Petrolatum, Paraffin), chemical emulsifiers (DEA, MEA, TEA), chemical preservatives (Parabens, Urea), Propylene Glycol, artificial colors, or synthetic fragrances.

No Preservatives

Have you ever noticed that when you use your body lotion your skin never stays moist and you find yourself going back to the lotion bottle over and over?

Look at the ingredients. The main ingredient in lotion is water! Once water is added to make a lotion, preservatives are needed to prevent mold and bacteria growth.

No Alcohol or Petroleum Ingredients

Commercial lotions often contain isopropyl alcohol and/or mineral oil. Both of these actually are very drying to your skin. The alcohol gives a temporary sense of coolness due to evaporation.

Mineral oil is a clear, liquid oil with no scent and will not spoil. It is very inexpensive because it is the liquid by-product of the distillation of petroleum to produce gasoline and other petroleum-based products from crude oil. It is found in lotions, soaps, baby oil, cosmetics, and motor oil. Mineral oil

It is great for oiling your wooden cutting boards--but not your skin. Mineral oil does not penetrate to soften. It is difficult to absorb, coats your skin and clogs the pores. If you would like to have healthy skin, stay away from mineral oils, animal fat, petroleum, and synthetic oil based skincare.

It Has So Many Uses

We know that natural body butters make great moisturizing body creams. But here are some other ways we have used these balms and butters:

Get rid of those cracked heels
Gently massage into very dry areas on your face
Soothe and smooth skin after shaving
Add a dollop to your hot bath water instead of using synthetic bath oils
Massage some into your cuticles to soften them
Massage into your lips for a great all natural lip balm

HINT: If you enjoy the application "feeling" of a lotion better than a cream, try massaging our rich Whipped Butters into warm, wet skin after a bath or shower. Wait a few moments and gently pat dry. (Do not rub the skin dry!)

Since a lotion is just a lot of water mixed with oils, a rich natural butter on warm wet skin will have a similar feel.

Remember, the skin is the body's largest organ
and it needs to breathe as part of its
important role in maintaining overall health!

---

View Answer Page
Are Chagrin Valley Ingredients & Products USDA Certified Organic?

Chagrin Valley Soap & Salve is a USDA Certified Organic Company

The most important consideration in any business is its customers. Today's world of misleading claims, false advertising, and simple deception, often leaves consumers trying to discover the truth about personal products and their ingredients.

We want our customers to know that we are

committed to transparency in everything we do.

We want our customers to know that when we say "

organic," we mean it.
We believe that in becoming a USDA Certified Organic company, our customers do not have to wonder if we really use certified organic ingredients or if our organic products are truly organic.
So we choose to be a certified organic company

and abide by the strict standards required for organic certification.

Some of my favorite products are made with ingredients that just do not exist as certified organic. Why? At this time there are no standards created for ingredients specifically used in the personal care product industry. Organic certification of personal care products is based on the organic food standards set by the National Organic Program of the USDA.

But since we are a certified organic company, we are required to submit documentation that even our "non-organic ingredients" were produced without the use of toxic pesticides, genetically modified organisms (GMOs), sewage sludge, or irradiation.

Why Did We Become a Certified Organic Company?

What Do All of the Organic Labels Mean?

---

View Answer Page