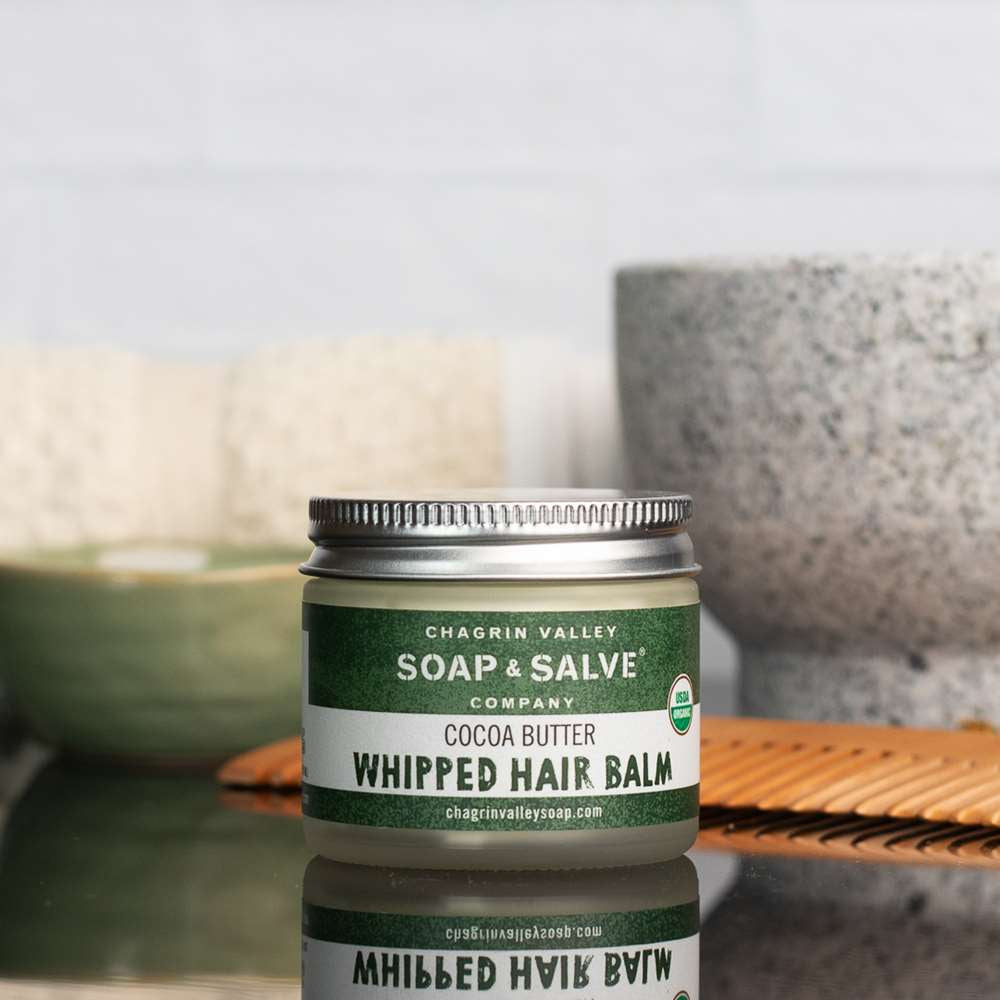 Cocoa butter hair balm adds moisture and hydration to fine hair which helps prevent hair loss due to breakage. Also great for curly or coarse hair, cocoa butter deeply penetrates and nourishes the hair.
Product Overview

Good For: Coarsely Textured Hair, Tightly Coiled Curly Hair, Dry, Over-processed, Brittle Hair

Hair butter balms are very versatile products that can be used as pre-wash conditioners, in-shower conditioners, intense conditioners, and leave-in conditioners.

If you have curly or coily coarse hair types, a hair butter is an excellent hair product if you want to go natural with your hair. Thicker in consistency than hair oil, a natural plant-based hair butter is an excellent product for styling, freshening a hair style, or repairing damaged hair.

Our whipped organic cocoa butter hair balm is a natural emollient and moisturizer. Whipped up fluffy and delicate, and lighter than shea butter, the creamy texture of our cocoa butter hair balm infuses hair strands to lock in moisture and help prevent breakage. People with curly hair often swear by cocoa butter for its ability to prevent shrinkage and tame coarse porous hair.

Moisturizes hair
Helps prevent hair loss due to breakage for those with dry or damaged hair
Penetrates the hair shaft promoting increased volume and hair strength.
Improves texture and manageability
Helps detangle coarse hair
Adds volume
Can help reduce dryness and split ends
Helps alleviate scalp itching and irritation
Replenishes lost oils due to chemical processing, such as coloring and perms
Can be used as a pomade for styling difficult or frizzy hair

Babassu oil nourishes, moisturizes, and restores hair strength, giving you shiny, healthy-looking hair. It can add volume to dry, flat hair without weighing it down. Since it is absorbed quickly it does not leave a greasy film. Babassu is a great smoothing agent to deter flyaways.

Since the structure of Jojoba Oil closely resembles that of our own natural scalp oils, it is considered nature's most effective natural moisturizer. It improves the health of the scalp and hair, provides shine, promotes hair growth, and helps dry and weak hair that is prone to breakage and split ends. It is a great oil for dry, flaky scalp and irritated scalp conditions.
How To Use

A hair butter balm conditions and moisturizes naturally medium-to-coarse hair, tightly coiled curly hair, or dry brittle hair and over-processed hair that is prone to frizz, breakage, and dryness.

They are also great to use sparingly for any hair type prone to flyaways. A good example is graying hair. Although gray hair may feel coarse or wiry, the actual structure of the strand has not changed. The hair follicles produce less natural oil which makes gray hair drier giving it that wiry texture.

---

The most important thing about using a hair balm is to make sure it is distributed evenly. Sectioning your hair into layers, a top and bottom layer, can make distribution easier. The thicker or coarser your hair the more layers you may need.

To allow better absorption and maximize its hydrating effects, use hair butter on damp or moist hair.

When applying a hair butter, focus on areas that need extra TLC like the hair ends since they are far from the scalp and lack natural oils.




Basic Instructions:

Place a small tiny pea size amount of balm into your palms and rub your palms and fingers together.
Rake your hands and fingers through your hair length like a comb to evenly distribute the oil through to the ends.
Follow the same procedure for each layer section of hair.

Deep Conditioning Treatment Use as a Hair Mask

Use it as a pre-shampoo, deep conditioning treatment once or twice a week depending on your hair type. Your hair will become softer and easier to manage.

Wet your hair
Follow the basic instructions above
Focus on the hair ends
Wrap buttered hair in a shower cap
Leave it on for an hour
Wash with a mild shampoo and style as usual
If you have damaged or very dry, coarse hair, leave the mask on overnight and wash off the next day

Tip: Any time you are leaving the butter balm on your hair, cover your hair with a shower cap. A shower cap keeps your head warm, preventing the butter drying out on your hair strands.




Cream Hair Butter as an In-Shower Conditioner

Apply the balm using the basic method above and let it sit for 10 minutes while you complete the rest of your shower. Wash, rinse, and style as usual.




As A Leave-In Conditioner

Use as a leave in conditioner after shampooing to help prevent split ends, calm frizz and flyaways and add a healthy shine. Place a small amount of balm in the palm of your hand, rub palms together and scrunch into damp hair ends or smooth from mid-length to the hair ends. Comb thoroughly to evenly distribute the butter. Do not wash. Style as usual.

Use as a pomade butter to touch up problem spots. Rub a tiny bit of hair butter in your palms, apply to clean, dry hair to smooth down coarse or wiry flyaway hair strands, giving hair a healthy sheen.

Should You Oil or Cream The Scalp?

For most people it is recommended to avoid applying oils or butters to the scalp. So when using a hair butter begin at least about three inches from the scalp and work all the way to the ends.

Whether or not to oil your scalp seems to be up for debate. While many articles encourage applying oil directly to your scalp, others state that applying oil directly on your scalp may put you at higher risk for dandruff. But some people with dry hair also have a dry scalp. If you typically oil your scalp without any problems then continue to do what your hair and scalp like.

For Dry Scalp: Using your fingertips gently massage a small amount of hair balm into your scalp. The massaging action aids in the absorption. Leave on for at least 15 minutes and then wash and style as usual.




Helpful Hints

When using a hair butter balm more is NOT better. Too much conditioning cream can weigh your hair down, cause excess buildup, and give hair a greasy look and feel.
Be sure to wash your hair to remove the residue from a previous application before applying more hair cream.
Combining a hair butter with other hair products like mousses and gels may cause heavy buildup and greasiness.

Learn more: Read "What is Your Hair Type?"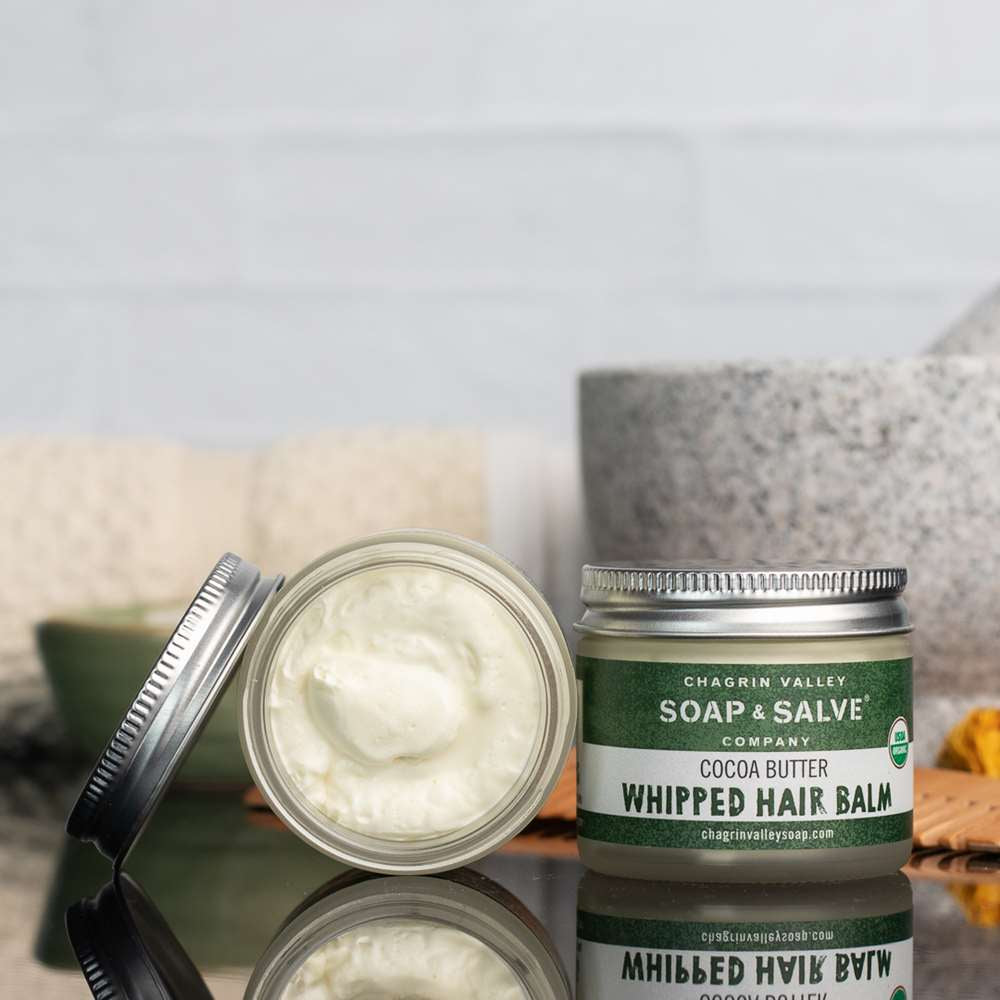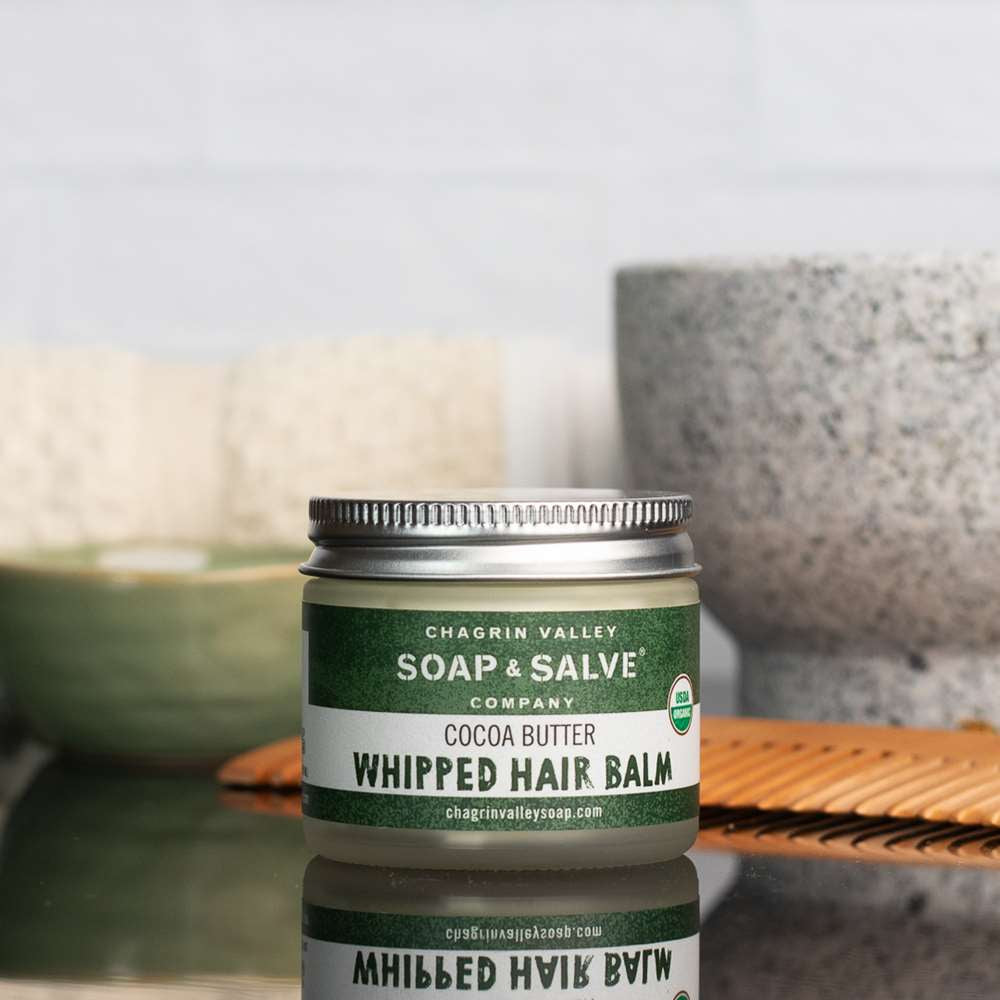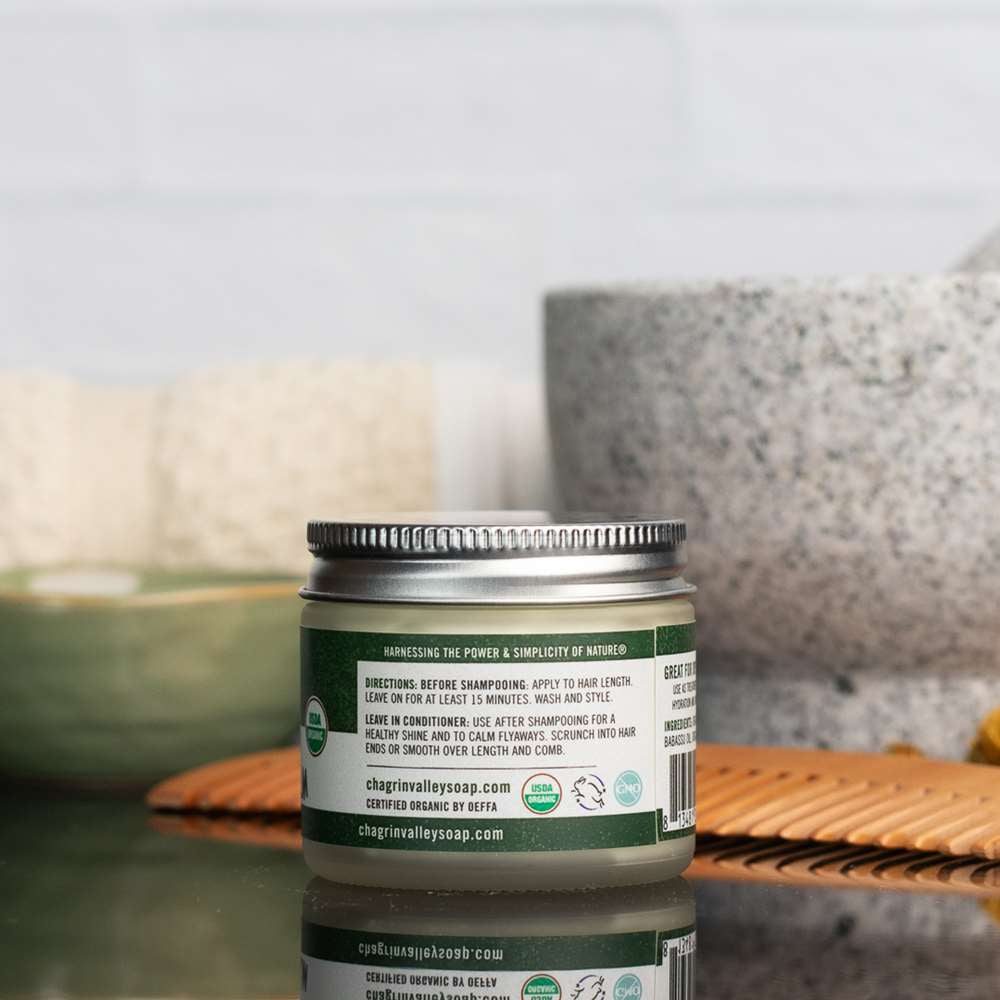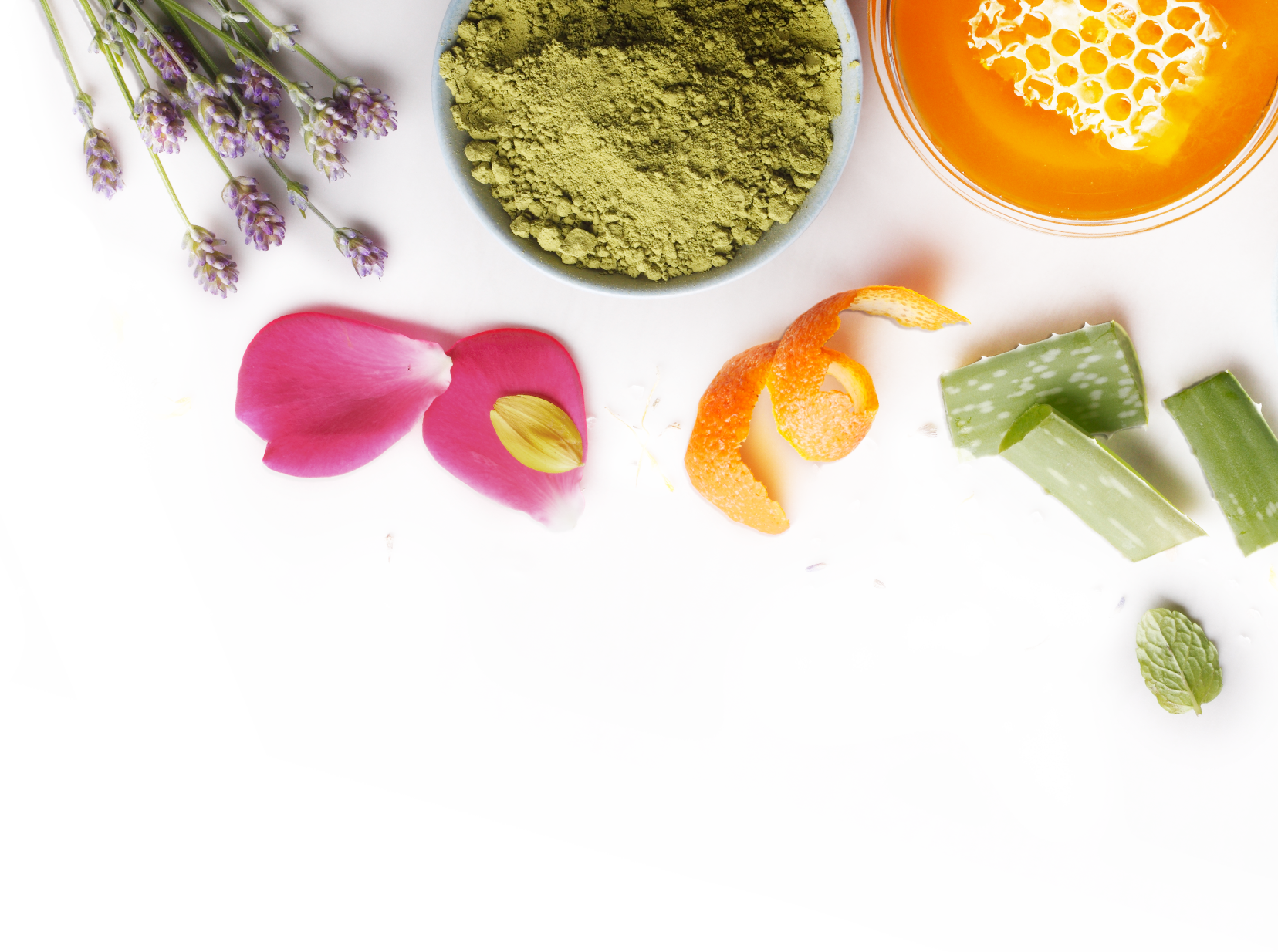 Effective, Feel Good Ingredients
The goal is simple: to Harness the Power & Simplicity of Nature® to cleanse, soothe, heal, and protect your skin and hair!
Our unique formulas rely on moisturizing oils and butters, healing botanicals, and pure essential oils. We choose every ingredient with one end-result in mind….the BEST possible natural skin care for YOU!
Featured Ingredients



All Ingredients:
*Ingredient is Fair Trade Certified
Our unrefined, organic cocoa butter has not been bleached or deodorized which ensures that all of its nourishing properties remain intact --plus, it smells good enough to eat!
Frequently Asked Questions
What If My Natural Skincare Product Melts in Warm Weather?

Why Do Some Products Melt in Warm Weather?

We do not use synthetic stabilizers or waxes, so our delicate natural products packaged in glass jars and metal tins are sensitive to temperature changes.

While shipping during warm weather seasons presents a real challenge to our natural skin care company, we accept the challenge in order to maintain our standard of natural and nourishing skin care. We hope you agree.

During warm weather, products may soften or even melt as they sit in warm mail trucks, mailboxes, or on front porches.

The quality and healing properties of our products are not affected by melting.

On very sunny or warm days, BEFORE opening the jars or tins, place the items in your refrigerator for a few hours to allow them to harden, just in case they have melted in transit. If you open items, especially those in tins, to check if melting has occurred, they may spill and make a mess!

What To Do About Melting

Cream Deodorants

If you think that your balm-like deodorant is melted or runny, BEFORE opening the jar, pop it in the freezer for 10 - 15 minutes. As it begins to harden give it a stir (so that the solids do not sink to the bottom) and place it back in the freezer until firm!

Sometimes a cream deodorant can melt during warm transit and then slowly re-solidify before you receive it. This melting and slow cooling can result in a grainy feeling. If your deodorant feels grainy, simply melt it, mix thoroughly, and place it in the refrigerator until solid.

Since the stick deodorant are made with more beeswax, they are less sensitive to an increase in outside temperature.

Whipped Body Butters

Place a melted body butter in the refrigerator until firm.

Our hand-whipped process adds tiny air bubbles that increase the volume, just like whipping cream. If a whipped product melts, the air bubbles collapse and the volume is decreased.

So, although the jar was filled to the top initially, there will be less volume in the container (since it has deflated) and the container may actually look half full.

After cooling a melted Whipped Butter will be the consistency of our body balm and is still a great moisturizer.

Sugar Scrubs

If a Sugar Scrub melts, the oil may separate out a bit. Give it a good mix and place it in the refrigerator for about 10 to 15 minutes. As it begins to harden up give it another stir to disperse the sugars and place it back in the refrigerator. Once it's solidified and mixed it will be great to use! Again because it is a whipped product, the container may have less volume when the whipped butters melt.

Read more about melting products and what to do in our blog "Natural Skin Care Products Melt In Hot Weather."

---

View Answer Page
Are Chagrin Valley Ingredients & Products USDA Certified Organic?

Chagrin Valley Soap & Salve is a USDA Certified Organic Company

The most important consideration in any business is its customers. Today's world of misleading claims, false advertising, and simple deception, often leaves consumers trying to discover the truth about personal products and their ingredients.

We want our customers to know that we are

committed to transparency in everything we do.

We want our customers to know that when we say "

organic," we mean it.
We believe that in becoming a USDA Certified Organic company, our customers do not have to wonder if we really use certified organic ingredients or if our organic products are truly organic.
So we choose to be a certified organic company

and abide by the strict standards required for organic certification.

Some of my favorite products are made with ingredients that just do not exist as certified organic. Why? At this time there are no standards created for ingredients specifically used in the personal care product industry. Organic certification of personal care products is based on the organic food standards set by the National Organic Program of the USDA.

But since we are a certified organic company, we are required to submit documentation that even our "non-organic ingredients" were produced without the use of toxic pesticides, genetically modified organisms (GMOs), sewage sludge, or irradiation.

Why Did We Become a Certified Organic Company?

What Do All of the Organic Labels Mean?

---

View Answer Page
Why Should I Use A Natural Organic Body Cream?

Why use a natural organic body cream . . .

It is Natural

Well, first of all, it's an all-natural product. Commercial lotions are NOT. Our Body Balms and Whipped Shea Butters only contain the ingredients that they need to moisturize your skin.

Creams and lotions formulated with synthetic ingredients often aggravate sensitive skin, exacerbate irritated skin conditions, and trigger allergic dermatitis.

The organic oils and butters we use do NOT contain petroleum based chemicals (Mineral Oil, Petrolatum, Paraffin), chemical emulsifiers (DEA, MEA, TEA), chemical preservatives (Parabens, Urea), Propylene Glycol, artificial colors, or synthetic fragrances.

No Preservatives

Have you ever noticed that when you use your body lotion your skin never stays moist and you find yourself going back to the lotion bottle over and over?

Look at the ingredients. The main ingredient in lotion is water! Once water is added to make a lotion, preservatives are needed to prevent mold and bacteria growth.

No Alcohol or Petroleum Ingredients

Commercial lotions often contain isopropyl alcohol and/or mineral oil. Both of these actually are very drying to your skin. The alcohol gives a temporary sense of coolness due to evaporation.

Mineral oil is a clear, liquid oil with no scent and will not spoil. It is very inexpensive because it is the liquid by-product of the distillation of petroleum to produce gasoline and other petroleum-based products from crude oil. It is found in lotions, soaps, baby oil, cosmetics, and motor oil. Mineral oil

It is great for oiling your wooden cutting boards--but not your skin. Mineral oil does not penetrate to soften. It is difficult to absorb, coats your skin and clogs the pores. If you would like to have healthy skin, stay away from mineral oils, animal fat, petroleum, and synthetic oil based skincare.

It Has So Many Uses

We know that natural body butters make great moisturizing body creams. But here are some other ways we have used these balms and butters:

Get rid of those cracked heels
Gently massage into very dry areas on your face
Soothe and smooth skin after shaving
Add a dollop to your hot bath water instead of using synthetic bath oils
Massage some into your cuticles to soften them
Massage into your lips for a great all natural lip balm

HINT: If you enjoy the application "feeling" of a lotion better than a cream, try massaging our rich Whipped Butters into warm, wet skin after a bath or shower. Wait a few moments and gently pat dry. (Do not rub the skin dry!)

Since a lotion is just a lot of water mixed with oils, a rich natural butter on warm wet skin will have a similar feel.

Remember, the skin is the body's largest organ
and it needs to breathe as part of its
important role in maintaining overall health!

---

View Answer Page