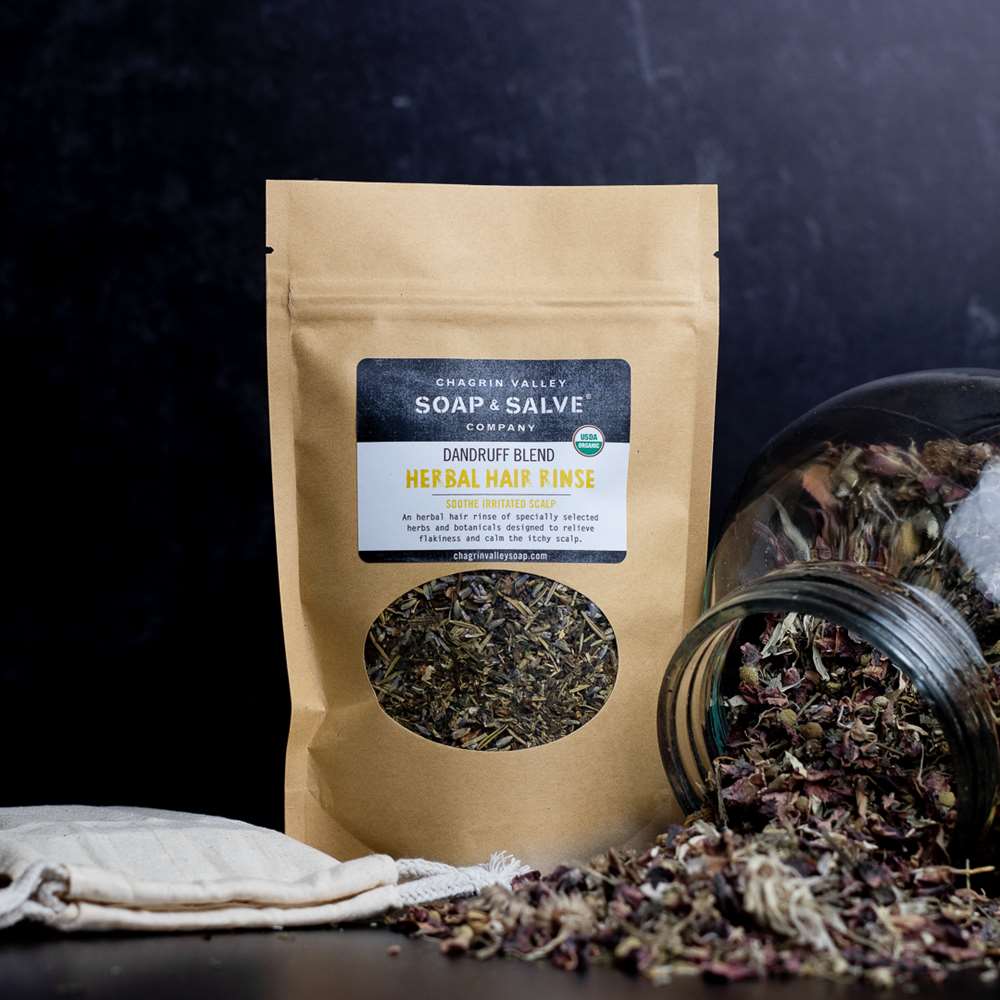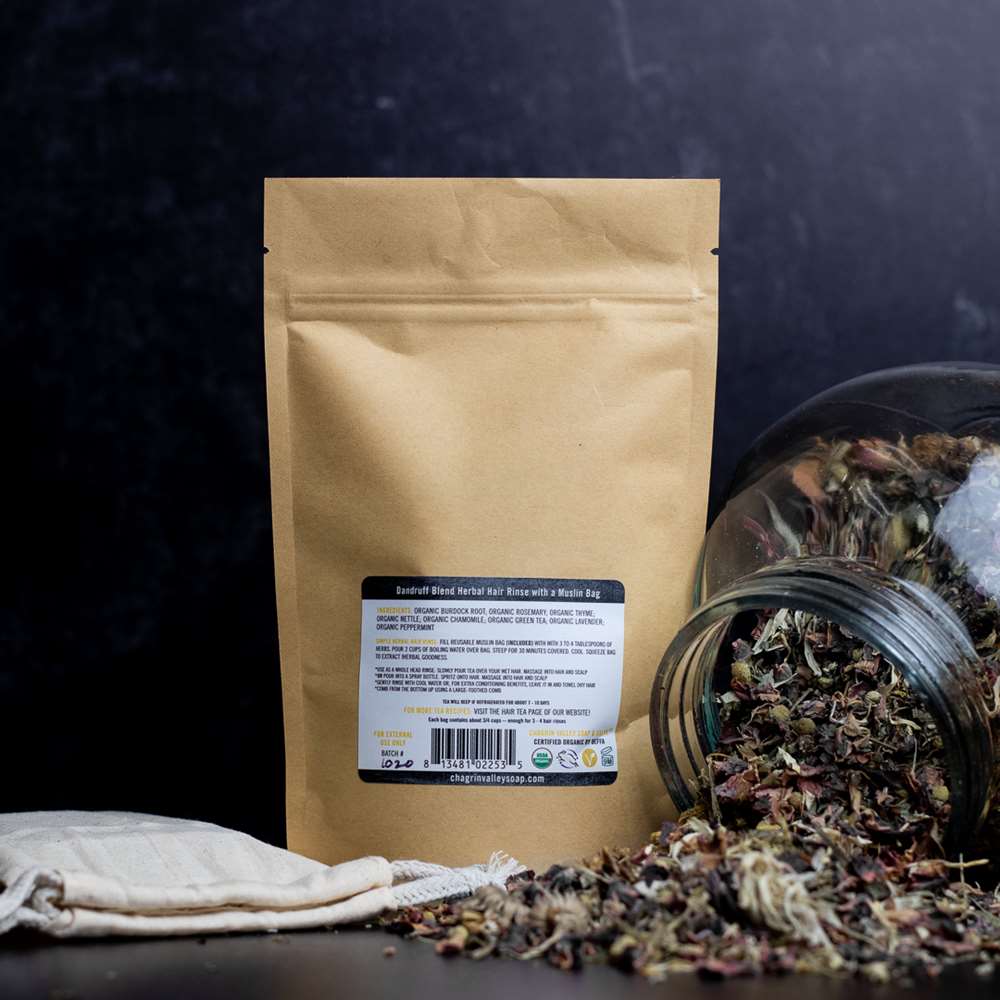 An herbal hair rinse made with selected organic herbs and botanicals to help relieve flakiness and soothe an irritated and itchy scalp.
Product Overview

A natural organic herbal hair rinse designed to relieve flakiness and calm the itchy scalp. This blend of specially selected organic herbs and botanicals will help soothe the irritated and inflamed scalp from conditions such as dandruff and seborrheic dermatitis.

Burdock

helps soothe irritated scalp conditions like dandruff, decrease breakage and repair hair while adding sheen.
Chamomile is a soothing herb that has moisturizing and cleansing properties that help alleviate dandruff, itchiness, and flakiness. Reducing scalp conditions helps strengthens the hair follicles to help hair grow stronger.
Green Tea is an excellent rinse for fighting dandruff. It helps regulate oil production and calm the itching and redness associated with irritated scalp conditions.
Nettle is an anti-fungal and astringent herb that helps combat excessive oil and dandruff.

Peppermint

leaves are widely recognized for their anti-inflammatory, antibacterial and astringent properties.
Rosemary has moisturizing and anti-inflammatory properties that help soothe an inflamed or irritated scalp and prevent flaking and dandruff.
Thyme has antiseptic and antifungal properties that cleanse, heal and soothe the scalp.

1 bag contains about 1 cup of tea, enough for at least 4 - 8 hair rinses

Reusable cotton muslin bag included
How To Use

Directions for a Simple Herbal Hair Rinse Tea:

Fill

muslin

bag with 2 to 3 tablespoons of herbs.

Pour 2 cups of boiling water over herbal bag.

Steep for at least 30 minutes covered.

Remove herbs from the tea and make sure it's not too hot.

As you slowly pour the tea over your wet head, massage the infusion into your hair and scalp.

Keep a large bowl under your head to catch the liquid and reapply several times.

Gently rinse it out with cool water or, for extra conditioning benefits, just leave it in and towel dry hair.

Always make and store herbal hair preparations in nonreactive containers. Refrigerate leftover hair tea for 7 -10 days in a clean airtight container. Do not refrigerate tea in an aluminum container.

For more recipes please read How to Use Herbal Hair Tea Rinses
For external use only!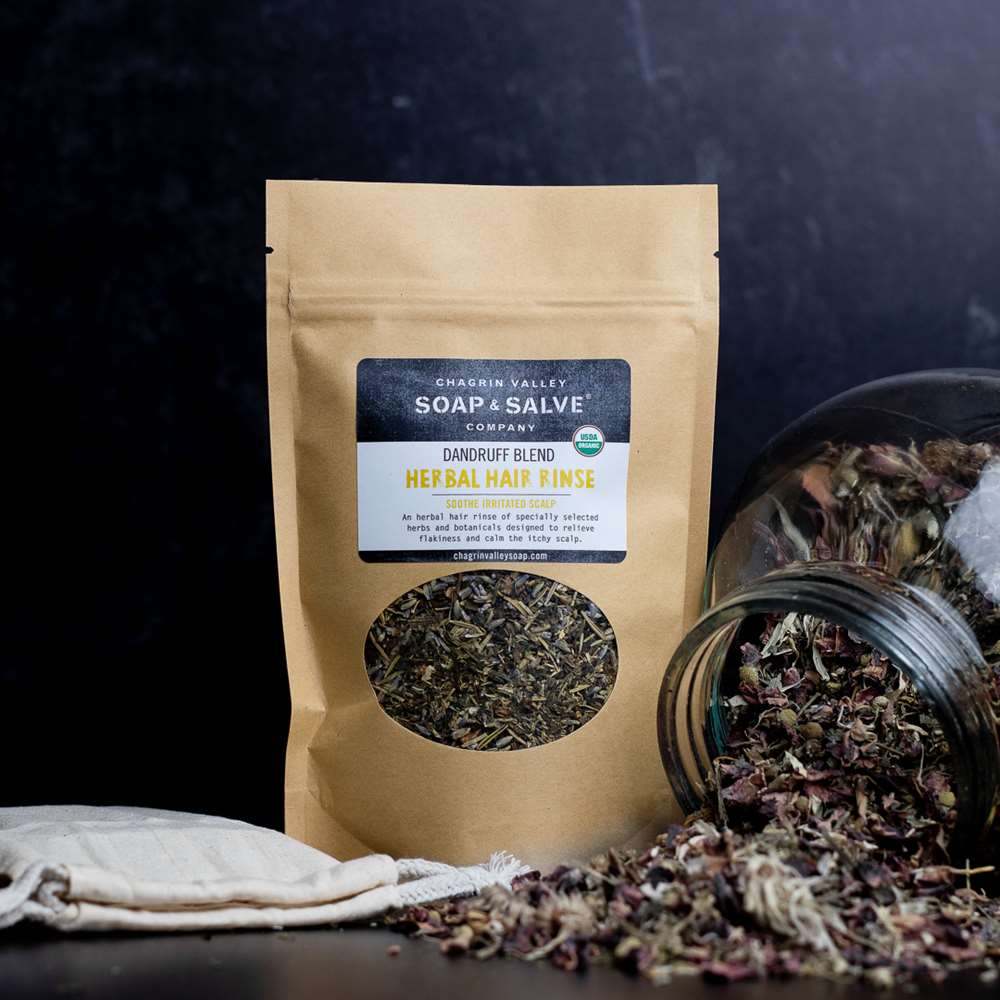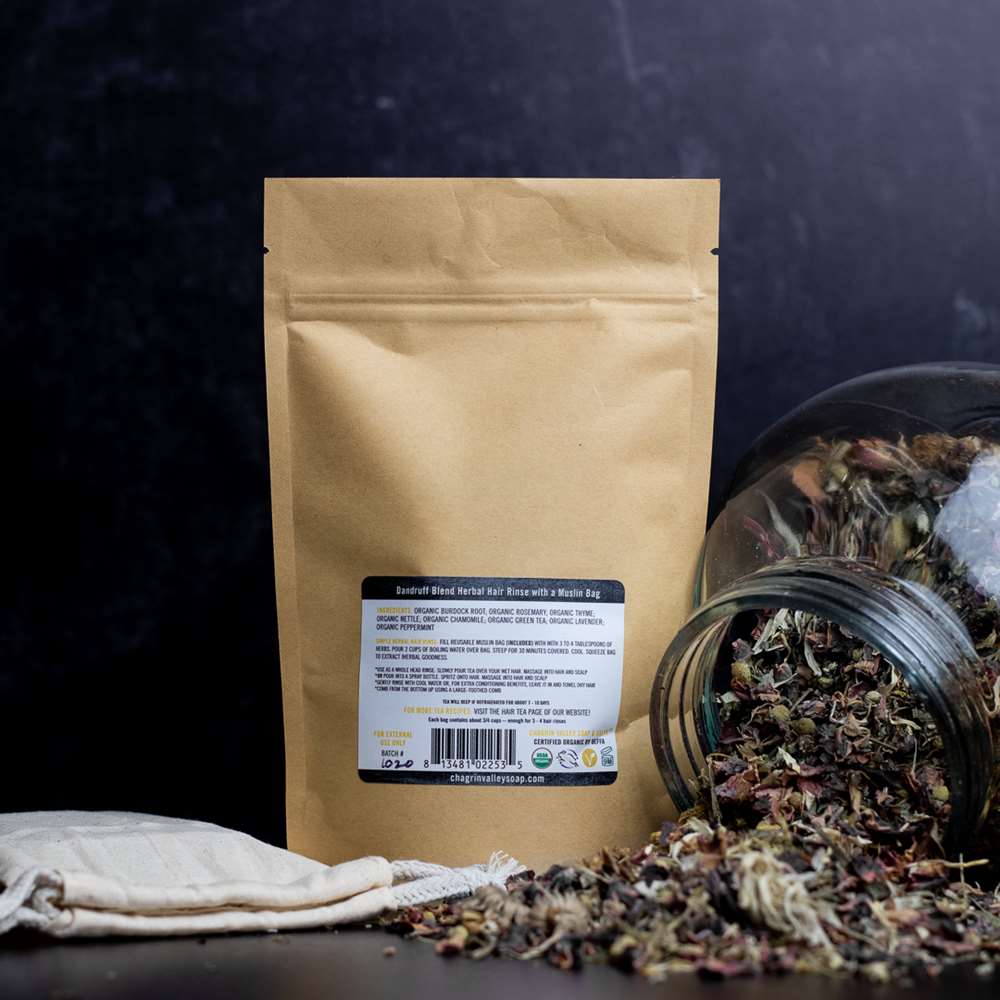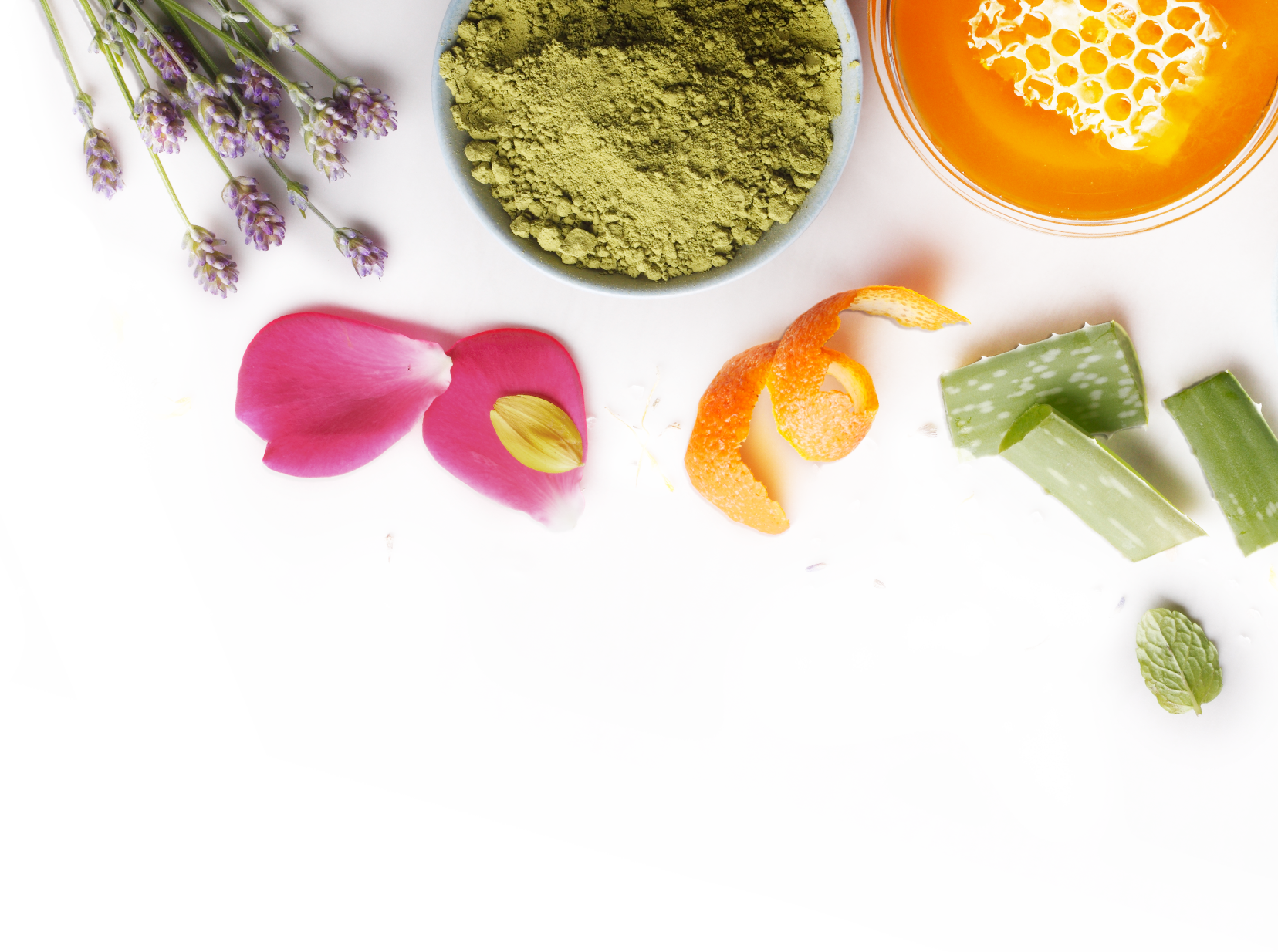 Effective, Feel Good Ingredients
The goal is simple: to Harness the Power & Simplicity of Nature® to cleanse, soothe, heal, and protect your skin and hair!
Our unique formulas rely on moisturizing oils and butters, healing botanicals, and pure essential oils. We choose every ingredient with one end-result in mind….the BEST possible natural skin care for YOU!
Featured Ingredients



All Ingredients:
Frequently Asked Questions
Are Chagrin Valley Ingredients & Products USDA Certified Organic?

Chagrin Valley Soap & Salve is a USDA Certified Organic Company

The most important consideration in any business is its customers. Today's world of misleading claims, false advertising, and simple deception, often leaves consumers trying to discover the truth about personal products and their ingredients.

We want our customers to know that we are

committed to transparency in everything we do.

We want our customers to know that when we say "

organic," we mean it.
We believe that in becoming a USDA Certified Organic company, our customers do not have to wonder if we really use certified organic ingredients or if our organic products are truly organic.
So we choose to be a certified organic company

and abide by the strict standards required for organic certification.

Some of my favorite products are made with ingredients that just do not exist as certified organic. Why? At this time there are no standards created for ingredients specifically used in the personal care product industry. Organic certification of personal care products is based on the organic food standards set by the National Organic Program of the USDA.

But since we are a certified organic company, we are required to submit documentation that even our "non-organic ingredients" were produced without the use of toxic pesticides, genetically modified organisms (GMOs), sewage sludge, or irradiation.

Why Did We Become a Certified Organic Company?

What Do All of the Organic Labels Mean?

---

View Answer Page
Are Your Products and Ingredients Cruelty Free?

All of Chagrin Valley's natural soap, shampoo bars, and personal care products are certified cruelty-free by Leaping Bunny.

 Chagrin Valley Soap & Salve has been Leaping Bunny Certified since 2013. 

The Leaping Bunny Program was developed in 1996, by The Coalition for Consumer Information on Cosmetics (CCIC), to identify and support companies that are doing their part to help eliminate the unnecessary use and mistreatment of animals to test cosmetic products and ingredients. The CCIC is made up of eight animal protection groups including the Humane Society of the U.S., as well as groups from Canada and Europe.

At Chagrin Valley we do not test our finished products on animals (other than human volunteers). But what about the raw materials, the ingredients we use?

Many products display labels claiming that their finished product is 'not tested on animals' but this does not guarantee that the product ingredients are actually free from animal testing. 

The CCIC Standard is a pledge that a company makes to remove animal testing from all stages of product development. Our pledge to buy ingredients that are cruelty-free is integrated into the purchase agreement for all of our suppliers.

Personal care products displaying the "real" Leaping Bunny logo are certified 'cruelty-free' using the internationally recognized Humane Cosmetics Standards. These rigorous standards require that no animal testing is performed or authorized for finished products or any of the ingredients in any stage of product development by the company, its laboratories or its suppliers after a fixed cut-off date. All Leaping Bunny companies are subject to independent audits and pledge commitments that are renewed on an annual basis.

This annual renewal is a key requirement that sets the Leaping Bunny Program apart from other cruelty-free certification programs. Companies that manufacture products, as well as their ingredient suppliers, must annually recommit to upholding their promise to not conduct animal testing on any finished products, ingredients, or formulations.

Why is this annual commitment renewal important? "Because product formulations change, suppliers come and go, and manufacturers develop innovative lines to meet consumer needs. But we know that compassionate consumers need to be confident that no animal testing is involved in the products they use."

At Chagrin Valley Soap & Salve . . .

we do NOT test our products on animals
we do NOT use ingredients tested on animals
we do NOT sell into markets that require animal testing



The Leaping Bunny Program provides
the best assurance to consumers
that they are making compassionate shopping choices
by purchasing Cruelty-Free skin care!

---

View Answer Page
What Is A Natural Shampoo Bar?

Shampoo Bars Are One Of Our Favorite Discoveries!

The wholesome goodness of our handcrafted soap is available for your hair.

Shampoo bars are an all natural conditioning shampoo in a solid bar form. Yes, this is real shampoo in a solid bar. Shampoo bars are not a new idea.

They were commonly used before liquid detergent shampoos and conditions were invented in the 1940s.

Although the process for making a shampoo bar is the same as making soap, our shampoo bar "recipes" are specially formulated with natural plant oils, butters, botanicals and essential oils that nourish your hair and scalp.

Our shampoo bars contain no artificial fragrance, color, preservatives, detergents, alcohol, urea, formaldehyde, sodium lauryl sulfate, DEA, propylene glycol - or any of the other synthetic hair care additives.

Each of our shampoo bar selections contains a different blend of natural plant oils, essential oils, and herb infused oils. No two recipes are the same.

Which Shampoo Bar Is Best For My Hair?

Click here for help choosing an all natural shampoo bar!

Everything You Want To Know About Shampoo Bars!

Please read "Everything About Shampoo Bars!"

---

View Answer Page