A natural lip balm made with infused organic coffee beans, cocoa butter and rich cocoa. Coffee and chocolate contain caffeine which helps temporarily plump and smooth the lips.
Product Overview

A natural lip balm made from coffee bean-infused jojoba oil and silky coffee butter that we create right here at Chagrin Valley. The aroma is absolutely fabulous--it tastes and smells like your first cup in the morning.

Coffee and chocolate are high in antioxidants, like vitamin E, which are oil soluble. Coffee-infused oil has skin benefits as well as the delicious aroma of coffee. When used topically coffee oil can tighten and firm the skin. 

Our homemade coffee butter, rich in phytosterols, provides excellent moisture retention and is easily absorbed by the skin
Rich dark cocoa powder and unrefined cocoa butter are softening and soothing to the skin
Provides a protective layer that locks in natural moisture

What you put on your lips goes into your body. This is an All Natural, Certified Organic, Cruelty-Free, Non-GMO lip balm.
How To Use

Directions: Apply balm liberally to your lips as often as needed to help heal and protect dry or chapped lips. Particularly helpful during dry, cold weather conditions.

Apply Lip Balm At Night: At night many people sleep with their mouths open, causing their lips to dry out. Apply lip balm before going to sleep—especially in the winter. 

Prepares Lips For Color:

 

Moisturized lips provide smooth and soft background for color. Applying a very thin coat of lip balm before lipstick helps color shine.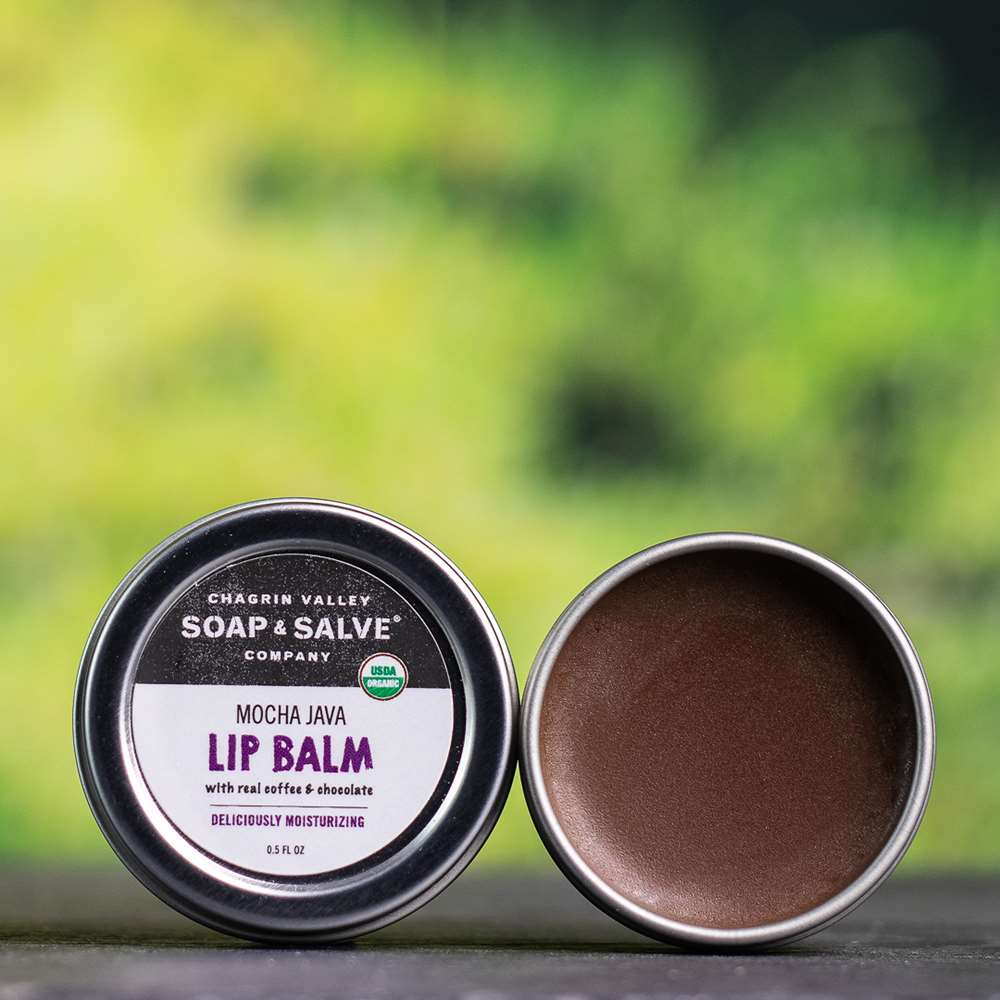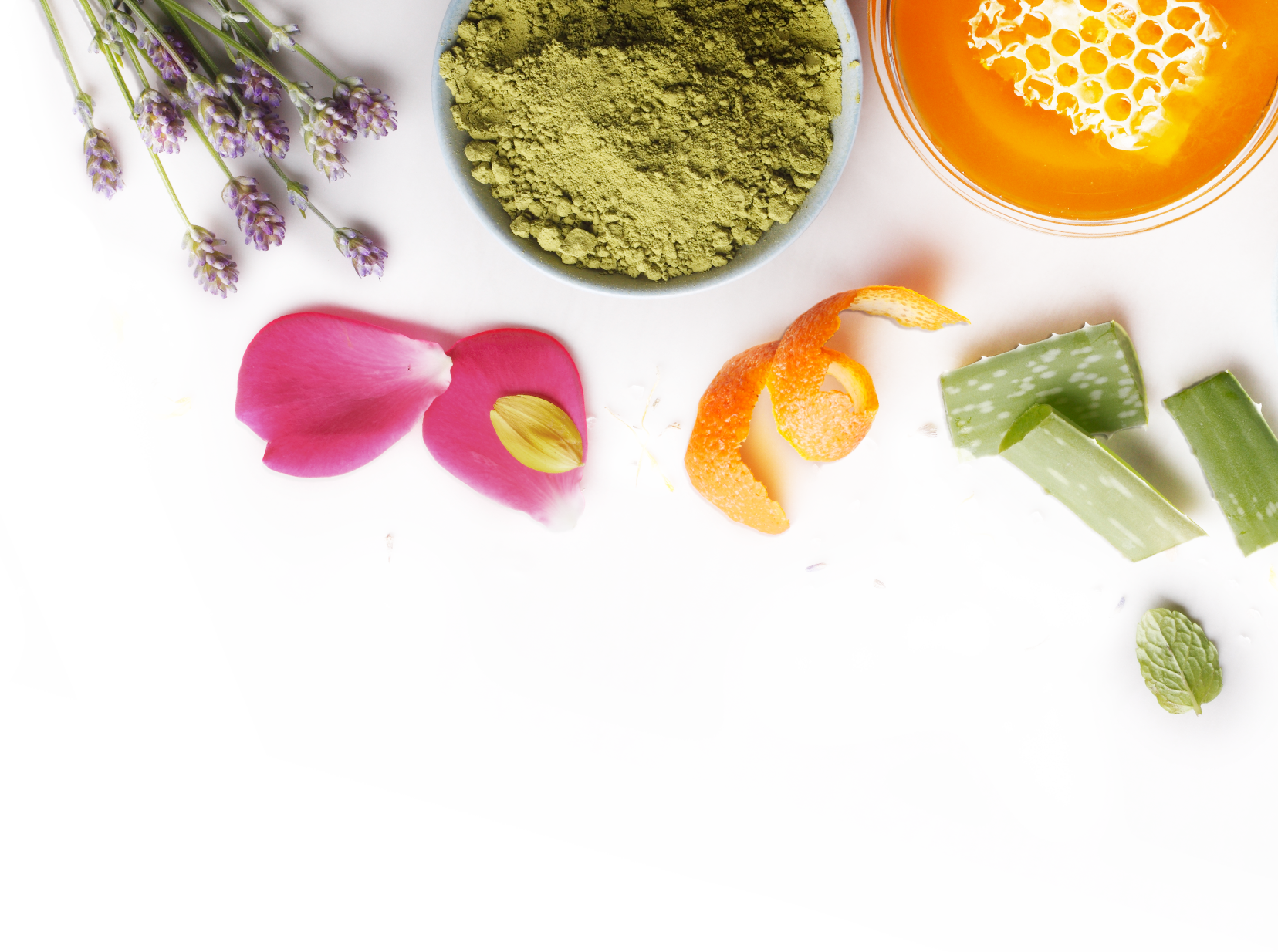 Effective, Feel Good Ingredients
The goal is simple: to Harness the Power & Simplicity of Nature® to cleanse, soothe, heal, and protect your skin and hair!
Our unique formulas rely on moisturizing oils and butters, healing botanicals, and pure essential oils. We choose every ingredient with one end-result in mind….the BEST possible natural skin care for YOU!
Featured Ingredients



All Ingredients:
Organic oils and butters are infused with Organic Coffee Beans
*Ingredient is Fair Trade Certified
Frequently Asked Questions
Are Chagrin Valley Ingredients & Products USDA Certified Organic?

Chagrin Valley Soap & Salve is a USDA Certified Organic Company

The most important consideration in any business is its customers. Today's world of misleading claims, false advertising, and simple deception, often leaves consumers trying to discover the truth about personal products and their ingredients.

We want our customers to know that we are

committed to transparency in everything we do.

We want our customers to know that when we say "

organic," we mean it.
We believe that in becoming a USDA Certified Organic company, our customers do not have to wonder if we really use certified organic ingredients or if our organic products are truly organic.
So we choose to be a certified organic company

and abide by the strict standards required for organic certification.

Some of my favorite products are made with ingredients that just do not exist as certified organic. Why? At this time there are no standards created for ingredients specifically used in the personal care product industry. Organic certification of personal care products is based on the organic food standards set by the National Organic Program of the USDA.

But since we are a certified organic company, we are required to submit documentation that even our "non-organic ingredients" were produced without the use of toxic pesticides, genetically modified organisms (GMOs), sewage sludge, or irradiation.

Why Did We Become a Certified Organic Company?

What Do All of the Organic Labels Mean?

---

View Answer Page
Is There an Expiration Date On My Natural Skincare Product?

Product Expiration Dates

We hand make all of our own products in small batches to ensure freshness, consistency, and perfection.

Our products are not made to sit on store shelves for years and years.

Although there are natural preservatives within the chemical structure of many natural ingredients, they not as potent as the synthetic preservatives used in commercial products to prolong shelf-life.

Other than soap, our products are remade every few weeks and none are very old when they are sold. Our non-soap products should be opened within 6 months of purchase.

Since we use no preservatives or chemical stabilizers, the more important question is, "how long will the product last once it has been opened?

Once opened, skin care products become exposed to dirt and microorganisms (bacteria, yeasts, and molds) that are found in the air and on the skin.

As soon as you open and begin to use any product, simply the way in which you use it will affect its lifespan.

So, we use the PAO (period-after-opening) symbol. These symbols are already available on the product pages of our website and we are in the process of adding them to all of our labels.

The POA symbol is a standard symbol that identifies the useful lifetime of a skin care product after it has been opened for the first time.

As you can see from the picture, the symbol is an open jar with a written number and the letter "M" for the word "months."

A product with a "9M" would mean that it is good for 9 months after opening.

Tip: write the date you open a product for the first time on its label so you can keep track of the period after opening.

Our POA number represents our best suggestion. There are many factors that can affect the lifespan of a product. If a product is discolored, has an unpleasant smell or looks odd, the product should not be used and should be discarded.

Each time you place your warm fingers into a tin or jar, you melt some of the butter which can change the consistency of the product.
Fingers also introduce bacteria and other contaminants into the product.
If a product has not been stored properly, for example, if the lid has been left off for long periods of time, the product may 'go off' before the period after opening has passed.
As scented products age, some of the natural essential oil scent may be lost. Pure essential oils just do not have the staying power of synthetic fragrance oils.
Over time, natural colors may also fade.

If you're like me, and you find an old dusty product hiding in a drawer, makeup bag, or even a suitcase from your last trip, you can call us with the lot number and we can verify its age. Obviously, if it seems off in any way, toss it!

Please note: This PAO symbol is widely used in Europe to recommend the length of time a product remains usable after opening, for products that have a shelf-life of at least 30 months. Our products do NOT have a shelf-life of 30 months before opening.

---

View Answer Page
I Have Allergies What Natural Skincare Products Are Safe For Me?

Help! I Have Allergies

Trying to choose the right natural soaps or skincare products can be a bit overwhelming especially when you have allergies and/or skin sensitivities.

Since we proudly list every ingredient in all of our products, reading the ingredient list will help to eliminate ingredients that may cause you problems.

We always recommend doing a patch test before using any new products especially if you have sensitive skin or allergies.

We receive so many emails asking for help with allergies, we created categories in our "Help Me Choose" section to provide information for those with allergies or sensitivities to nuts, coconut, shea butter and gluten.

Check out our help me choose pages!!

If you are allergic or sensitive to any of the ingredients in our products, they may cause skin irritation. Even natural ingredients may cause sensitivities.

People with severe allergies--please note: If you have severe anaphylactic-type reactions to ANY of the ingredients in ANY of our products, please do not buy our products. We have dedicated soap rooms and product rooms that are kept meticulously clean, but we cannot guarantee against possible cross-contamination of individual ingredients.

---

View Answer Page