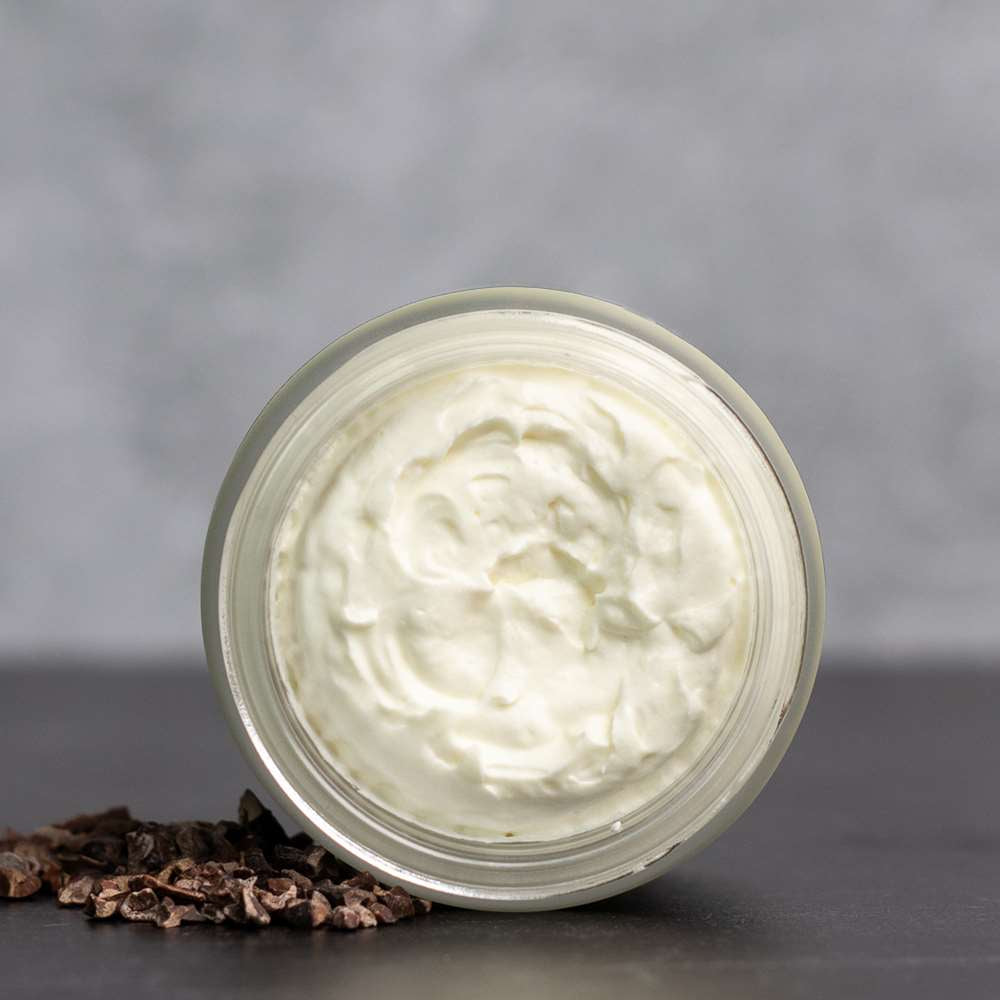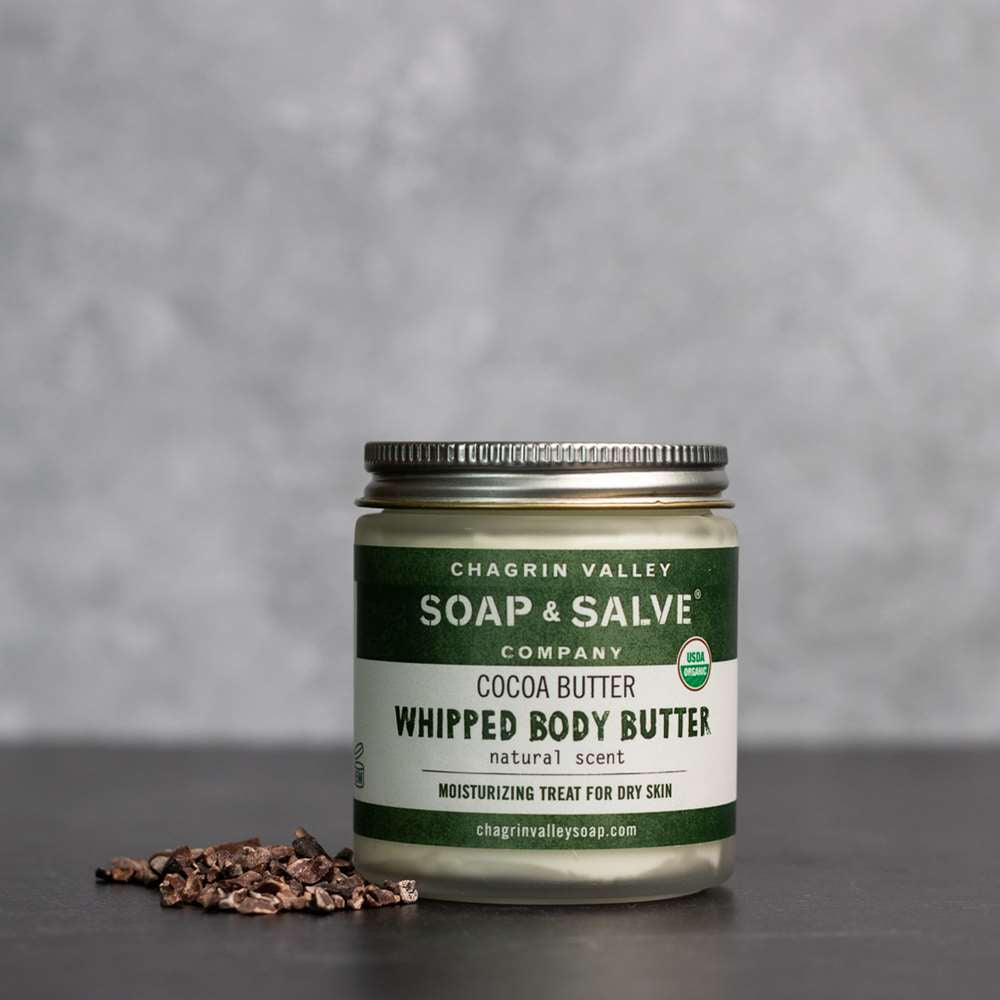 A creamy, rich, decadent, whipped cocoa body butter that readily melts into the skin to moisturize, soothe and protect. A great buttery conditioner for pregnant belly skin.
Product Overview

Smooth, soothe, nourish and protect daily with our whipped cocoa butter, a deeply moisturizing head to toe body cream with a silky smooth texture that melts into your skin to help to help seal in moisture. Your skin will feel soft and hydrated. Dehydrated skin is lacking moisture and can become dry and itchy and dull looking. Our whipped cocoa butter soothes and softens dry, itchy skin and is an excellent choice for dry overworked skin.

The delicious aroma of cocoa butter adds to this creamy treat for all your dry skin places.

We call it a body butter, but it is also a great product for a dry, parched, or ashen facial skin.

This emollient cream is a blend of organic unrefined cocoa butter, mango butter, skin-nourishing plant oils, and a touch of silky tapioca flour whipped into a luscious moisturizer to help pamper dry, rough, flakey skin.

Unrefined Cocoa Butter, a great emollient, contains a high amount of fatty acids and is perfect for challenging skin issues. Fatty acids help to hydrate the skin. The fat in cocoa butter creates a protective barrier that holds in moisture and prevents skin from drying. It soothes, moisturizes, and softens dry patches and helps ease irritated or inflamed skin conditions. It is an excellent choice for dry overworked skin and is often a primary ingredient in topical treatments for conditions like eczema and dermatitis.

Mango Butter is a great moisturizer for all skin types, but especially mature, dry, or sun-damaged skin. The rich, nourishing nature of this emollient butter can even help benefit those suffering from dry irritated conditions such as eczema or psoriasis. It is a gentle butter with a light, creamy texture which makes it an ideal ingredient for those with sensitive skin. When applied topically, mango butter can form a protective layer that may help moisturize skin.

Virgin Pumpkin Seed Oil, cold pressed from the seeds, has a naturally dark green color and a nutty aroma. This highly nourishing and emollient oil is rich in vegetable protein and promotes moisture retention and improves the skin's elasticity.

The chemical make-up of highly emollient golden Jojoba Oil resembles that of our own skin sebum (oil). It is considered nature's most effective natural moisturizer and a good option for easing skin conditions such as eczema and psoriasis. Jojoba is a good choice for all skin types.

Tapioca Flour has a very fine, velvety soft texture, that imparts a silky texture to body creams. Tapioca can also help calm skin irritations, is good for all skin types and is particularly gentle on sensitive skin.

A rich creamy belly butter to help condition pregnant bellies. There is no magical remedy to prevent stretch marks. Although many people swear by cocoa butter, even many of our customers, there is no scientific evidence to support the claim that cocoa butter prevents stretch marks. But this rich, moisturizing cream can help condition belly skin as the baby bump continues to grow and after its nine month stretch.

No added scent. Just the decadent aroma of natural cocoa butter!
How To Use

When the epidermis (top layer of your skin) does not have enough moisture, it dries out leading to rough, flaky, or even cracked skin. An rich emollient cream can seal in needed moisture which leads smoother, softer skin.

Directions

Very concentrated, you will be surprised how far a tiny little dollop will go.
Gently massage all over the body as it melts into the skin.
Allow a few minutes for the moisturizer to absorb and work its magic.
Especially effective if used when skin is still warm and damp after bathing or showering. The whipped butter will last longer and absorb better.
Repeat on target areas needing intensive moisture.
Best if used within 6 months of opening


Pregnant Belly Butter Directions to help keep belly skin soft and smooth during and after its nine-month stretch.

A little goes a long way

Melts with your body heat

Massage the butter on your belly as it grows to keep skin supple

Use twice a day, or as often as needed

For an intensive overnight treatment, apply at bedtime
Concentrate on areas that need extra TLC as the beautiful baby bump continues to grow
Some expectant moms may also love our organic Whipped Shea Butters or Body Balms to soften pregnant bellies!

NOTES:

Take care to avoid getting water into the jar. Our whipped butters are a preservative-free product. Always use clean, dry hands to remove butter from the jar.
Try a bamboo spoon to scoop out our natural butters.
Store in a cool place away from heat or direct sunlight.
This product is sensitive to temperature, so please make sure that someone is there so that the product can be brought indoors as soon as possible.

Special Tip: If you enjoy the application "feeling" of a lotion better than a cream, try massaging our rich Whipped Butters into warm, wet skin after a bath or shower. Wait a few moments and gently pat dry. (Do not rub the skin dry!)

Since a lotion is just a lot of water mixed with oils, a rich and creamy natural butter on warm wet skin will have a similar feel.




If you have very sensitive skin or are simply trying a new product for the first time, we always recommend doing a patch test.

For external use only. Discontinue use if irritation occurs. Best if used within 6 months of opening.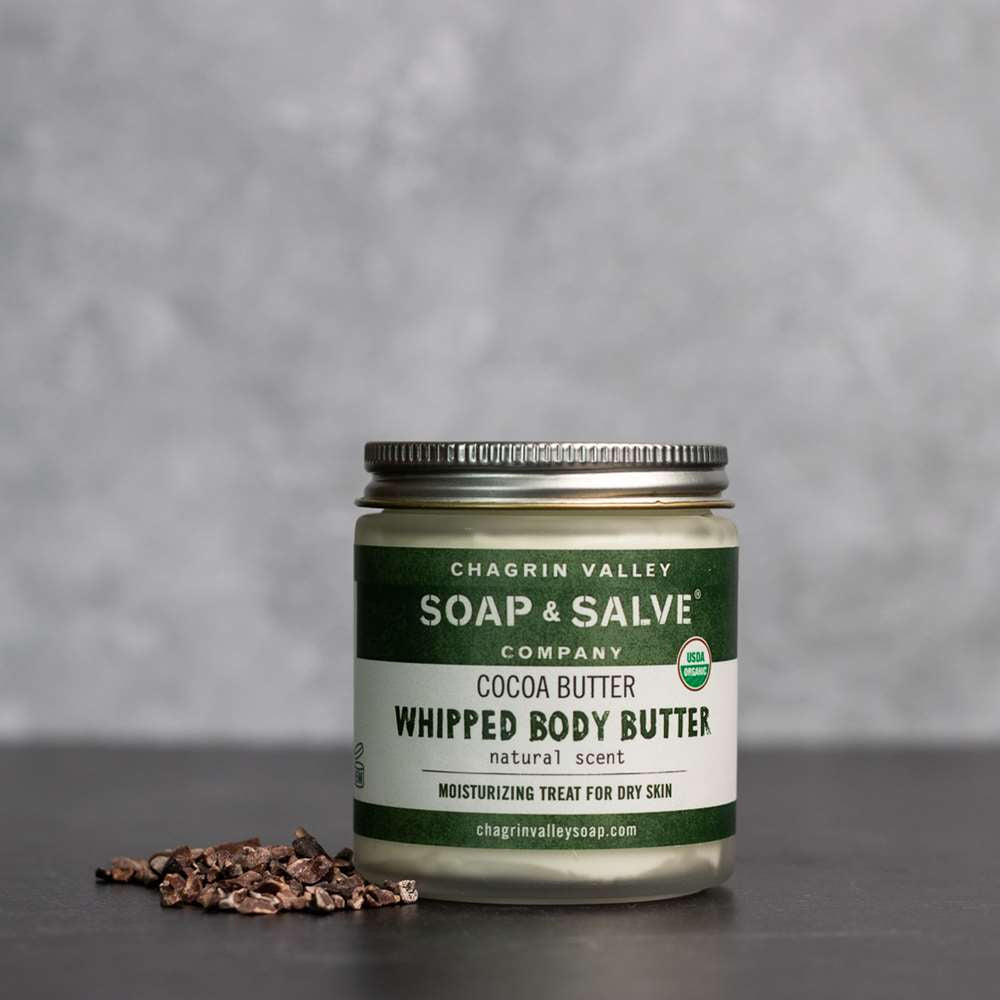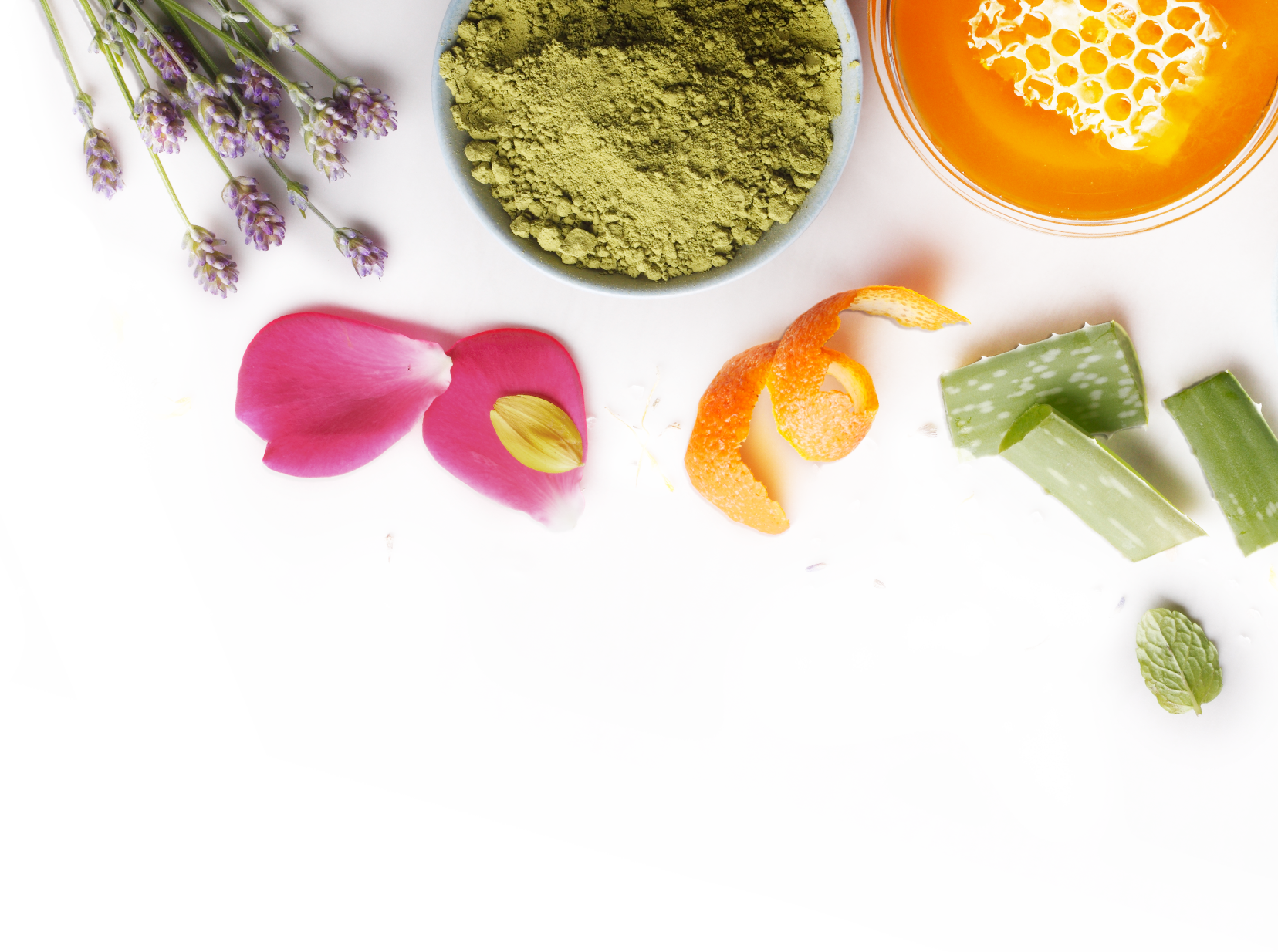 Effective, Feel Good Ingredients
The goal is simple: to Harness the Power & Simplicity of Nature® to cleanse, soothe, heal, and protect your skin and hair!
Our unique formulas rely on moisturizing oils and butters, healing botanicals, and pure essential oils. We choose every ingredient with one end-result in mind….the BEST possible natural skin care for YOU!
Featured Ingredients



All Ingredients:
*Ingredient is Fair Trade Certified
Frequently Asked Questions
Can I Use Your Natural Skincare Products While Pregnant or Nursing?

We often receive questions as to whether our soaps, shampoos, and other natural products are safe to use during pregnancy.

We recommend that expectant and nursing mothers check with their midwife or physician before changing a skincare routine with our organic products, or any other line of products.

Read the label on a bar of commercial soap. Read the label on your jar of moisturizer.

Now read the ingredients in a Chagrin Valley product.

We use quality natural and USDA Certified Organic ingredients. No synthetic additives, colorants, fragrances, preservatives, or chemical derivatives are used.

There is nothing in our all-natural basic soap or other products that could cause a problem in pregnancy.

Topically applying the herbs present in many of our soaps is also not a problem. Your skin will absorb much less herb from the soap than if you would sprinkle them on your food.

Essential Oils

The issue that seems to be of most concern is the use of essential oils during pregnancy.

There is a lot of confusing, ambiguous, and inaccurate information concerning the use of essential oils in pregnancy.

The question of safety and safety testing has a lot to do with several factors.

The type and composition of the specific essential oil. Essential oils differ greatly in strength and composition.


The quality of the essential oil. Many "cheap essential oils" are not pure and maybe cut with synthetic chemicals.


The actual "dose" of herb/essential oils. Most of the clinical research on essential oil safety is based on information for internal (actually ingesting) large doses of herbs, essential oils, or herbal "medicines." Obviously there have been no tests done on pregnant women.


How the essential oil is being used. The concentration of essential oils that are absorbed through inhalation, as in aromatherapy, and massage is much lower than if you were actually ingesting the oil.

But also, aromatherapy and massage therapy use much higher concentrations of essential oils than you find in soap or even in eating the herb. With aromatherapy, you are inhaling the high concentrations which get absorbed via the lungs and in massage therapy, the essential oils remain on your skin and are absorbed.

Our scented soaps are gently scented with essential oils, but the choice is between you and your health care professional. The most critical time is the first trimester.

Just about every one of our products, like lip balms, whipped butters, soaps, shampoos, and deodorants has a "no added scent" version.

When there is a growing baby to consider, if you are at all uncertain as to the safety of an essential-oil containing product, or any ingredient, please consult your doctor, midwife, or health care professional!

When it comes to safety during pregnancy it is understandable that many massage therapists and aromatherapists decide to err on the side of caution in recommending the avoidance of certain essential oils.

Some Herbalists and Aromatherapist believe that essential oils that are normally safe to use, are safe during pregnancy, while others will recommend avoiding all essential oils during pregnancy.

Some essential oils that are normally quite safe have hormone-like effects and some even stimulate uterine muscles, both of which would be contraindicated during pregnancy.

Please do not ask us if one of our products is safe to use during pregnancy--we will simply refer you to this page.

We do not provide a list of essential oils considered safe during pregnancy because the information available is very contradictory. One aromatherapy source will list an essential oil as problematic while another one states it is fine.

The information is also changing constantly. Please do your own research and consult your doctor, midwife, or health care professional for the most up-to-date information.

Sensitive Skin Can Strike During Pregnancy

Even if you have never had sensitive skin in the past, you may notice that a product you have been using for several years now irritates your skin.

The stretching belly is often the most sensitive spot. Other potential problem areas include the hips, thighs, and bottom where the skin may become dry and flaky.

Although the exact cause is not known, raging hormones do make you more sensitive to a wide range of things, and also your skin is thinning and stretching as you, and your baby, grow.

These changes can behave in unpredictable ways. For example, if you have eczema you may suffer from major flare-ups or complete remission during pregnancy.

Keep your body well moisturized and avoid products that contain synthetic additives, colorants, fragrances, or preservatives. Any of these can exacerbate sensitive skin problems.

Before trying a new product, you can always do a patch test to test for sensitivity.

And again, we recommend that expectant and nursing mothers check with their midwife or physician before changing a skincare routine with our products, or any other line of products.

Pregnancy & Children: We do not provide information on the safety of essential oils during Pregnancy or for use in Children because the available information is very ambiguous and often contradictory. If you're interested in using essential oils during pregnancy or with young children please do your own research and consult your doctor, midwife, or health care professional before use.

---

View Answer Page
What If My Natural Skincare Product Melts in Warm Weather?

Why Do Some Products Melt in Warm Weather?

We do not use synthetic stabilizers or waxes, so our delicate natural products packaged in glass jars and metal tins are sensitive to temperature changes.

While shipping during warm weather seasons presents a real challenge to our natural skin care company, we accept the challenge in order to maintain our standard of natural and nourishing skin care. We hope you agree.

During warm weather, products may soften or even melt as they sit in warm mail trucks, mailboxes, or on front porches.

The quality and healing properties of our products are not affected by melting.

On very sunny or warm days, BEFORE opening the jars or tins, place the items in your refrigerator for a few hours to allow them to harden, just in case they have melted in transit. If you open items, especially those in tins, to check if melting has occurred, they may spill and make a mess!

What To Do About Melting

Cream Deodorants

If you think that your balm-like deodorant is melted or runny, BEFORE opening the jar, pop it in the freezer for 10 - 15 minutes. As it begins to harden give it a stir (so that the solids do not sink to the bottom) and place it back in the freezer until firm!

Sometimes a cream deodorant can melt during warm transit and then slowly re-solidify before you receive it. This melting and slow cooling can result in a grainy feeling. If your deodorant feels grainy, simply melt it, mix thoroughly, and place it in the refrigerator until solid.

Since the stick deodorant are made with more beeswax, they are less sensitive to an increase in outside temperature.

Whipped Body Butters

Place a melted body butter in the refrigerator until firm.

Our hand-whipped process adds tiny air bubbles that increase the volume, just like whipping cream. If a whipped product melts, the air bubbles collapse and the volume is decreased.

So, although the jar was filled to the top initially, there will be less volume in the container (since it has deflated) and the container may actually look half full.

After cooling a melted Whipped Butter will be the consistency of our body balm and is still a great moisturizer.

Sugar Scrubs

If a Sugar Scrub melts, the oil may separate out a bit. Give it a good mix and place it in the refrigerator for about 10 to 15 minutes. As it begins to harden up give it another stir to disperse the sugars and place it back in the refrigerator. Once it's solidified and mixed it will be great to use! Again because it is a whipped product, the container may have less volume when the whipped butters melt.

Read more about melting products and what to do in our blog "Natural Skin Care Products Melt In Hot Weather."

---

View Answer Page
Why Should I Use A Natural Organic Body Cream?

Why use a natural organic body cream . . .

It is Natural

Well, first of all, it's an all-natural product. Commercial lotions are NOT. Our Body Balms and Whipped Shea Butters only contain the ingredients that they need to moisturize your skin.

Creams and lotions formulated with synthetic ingredients often aggravate sensitive skin, exacerbate irritated skin conditions, and trigger allergic dermatitis.

The organic oils and butters we use do NOT contain petroleum based chemicals (Mineral Oil, Petrolatum, Paraffin), chemical emulsifiers (DEA, MEA, TEA), chemical preservatives (Parabens, Urea), Propylene Glycol, artificial colors, or synthetic fragrances.

No Preservatives

Have you ever noticed that when you use your body lotion your skin never stays moist and you find yourself going back to the lotion bottle over and over?

Look at the ingredients. The main ingredient in lotion is water! Once water is added to make a lotion, preservatives are needed to prevent mold and bacteria growth.

No Alcohol or Petroleum Ingredients

Commercial lotions often contain isopropyl alcohol and/or mineral oil. Both of these actually are very drying to your skin. The alcohol gives a temporary sense of coolness due to evaporation.

Mineral oil is a clear, liquid oil with no scent and will not spoil. It is very inexpensive because it is the liquid by-product of the distillation of petroleum to produce gasoline and other petroleum-based products from crude oil. It is found in lotions, soaps, baby oil, cosmetics, and motor oil. Mineral oil

It is great for oiling your wooden cutting boards--but not your skin. Mineral oil does not penetrate to soften. It is difficult to absorb, coats your skin and clogs the pores. If you would like to have healthy skin, stay away from mineral oils, animal fat, petroleum, and synthetic oil based skincare.

It Has So Many Uses

We know that natural body butters make great moisturizing body creams. But here are some other ways we have used these balms and butters:

Get rid of those cracked heels
Gently massage into very dry areas on your face
Soothe and smooth skin after shaving
Add a dollop to your hot bath water instead of using synthetic bath oils
Massage some into your cuticles to soften them
Massage into your lips for a great all natural lip balm

HINT: If you enjoy the application "feeling" of a lotion better than a cream, try massaging our rich Whipped Butters into warm, wet skin after a bath or shower. Wait a few moments and gently pat dry. (Do not rub the skin dry!)

Since a lotion is just a lot of water mixed with oils, a rich natural butter on warm wet skin will have a similar feel.

Remember, the skin is the body's largest organ
and it needs to breathe as part of its
important role in maintaining overall health!

---

View Answer Page
Are Chagrin Valley Natural Skincare Products Vegan?

Are Your Products Vegan?

All of our products are made with simple, natural, and organic ingredients. They are never tested on animals (except our human volunteers). We are certified Cruelty-Free by Leaping Bunny!

However, not all of our products are vegan because some are made with goat milk, yogurt, honey, eggs, or beeswax.

Our soaps and body care products contain no animal fats; we use a vegan base of natural plant oils and butters.

At Chagrin Valley Soap, we provide a full list of ingredients for each of our products. In this way, you can make an informed choice about a product that is right for your lifestyle.

Look for the symbol (shown on the right) on our packaging and on the product pages of our website to indicate vegan products.

Please check out this page for a list of our vegan products.

---

View Answer Page
Are Chagrin Valley Ingredients & Products USDA Certified Organic?

Chagrin Valley Soap & Salve is a USDA Certified Organic Company

The most important consideration in any business is its customers. Today's world of misleading claims, false advertising, and simple deception, often leaves consumers trying to discover the truth about personal products and their ingredients.

We want our customers to know that we are

committed to transparency in everything we do.

We want our customers to know that when we say "

organic," we mean it.
We believe that in becoming a USDA Certified Organic company, our customers do not have to wonder if we really use certified organic ingredients or if our organic products are truly organic.
So we choose to be a certified organic company

and abide by the strict standards required for organic certification.

Some of my favorite products are made with ingredients that just do not exist as certified organic. Why? At this time there are no standards created for ingredients specifically used in the personal care product industry. Organic certification of personal care products is based on the organic food standards set by the National Organic Program of the USDA.

But since we are a certified organic company, we are required to submit documentation that even our "non-organic ingredients" were produced without the use of toxic pesticides, genetically modified organisms (GMOs), sewage sludge, or irradiation.

Why Did We Become a Certified Organic Company?

What Do All of the Organic Labels Mean?

---

View Answer Page
Are Your Products and Ingredients Cruelty Free?

All of Chagrin Valley's natural soap, shampoo bars, and personal care products are certified cruelty-free by Leaping Bunny.

 Chagrin Valley Soap & Salve has been Leaping Bunny Certified since 2013. 

The Leaping Bunny Program was developed in 1996, by The Coalition for Consumer Information on Cosmetics (CCIC), to identify and support companies that are doing their part to help eliminate the unnecessary use and mistreatment of animals to test cosmetic products and ingredients. The CCIC is made up of eight animal protection groups including the Humane Society of the U.S., as well as groups from Canada and Europe.

At Chagrin Valley we do not test our finished products on animals (other than human volunteers). But what about the raw materials, the ingredients we use?

Many products display labels claiming that their finished product is 'not tested on animals' but this does not guarantee that the product ingredients are actually free from animal testing. 

The CCIC Standard is a pledge that a company makes to remove animal testing from all stages of product development. Our pledge to buy ingredients that are cruelty-free is integrated into the purchase agreement for all of our suppliers.

Personal care products displaying the "real" Leaping Bunny logo are certified 'cruelty-free' using the internationally recognized Humane Cosmetics Standards. These rigorous standards require that no animal testing is performed or authorized for finished products or any of the ingredients in any stage of product development by the company, its laboratories or its suppliers after a fixed cut-off date. All Leaping Bunny companies are subject to independent audits and pledge commitments that are renewed on an annual basis.

This annual renewal is a key requirement that sets the Leaping Bunny Program apart from other cruelty-free certification programs. Companies that manufacture products, as well as their ingredient suppliers, must annually recommit to upholding their promise to not conduct animal testing on any finished products, ingredients, or formulations.

Why is this annual commitment renewal important? "Because product formulations change, suppliers come and go, and manufacturers develop innovative lines to meet consumer needs. But we know that compassionate consumers need to be confident that no animal testing is involved in the products they use."

At Chagrin Valley Soap & Salve . . .

we do NOT test our products on animals
we do NOT use ingredients tested on animals
we do NOT sell into markets that require animal testing



The Leaping Bunny Program provides
the best assurance to consumers
that they are making compassionate shopping choices
by purchasing Cruelty-Free skin care!

---

View Answer Page
Do Chagrin Valley Natural Skincare Products Contain GMO's?

Chagrin Valley Soap & Salve is a USDA Certified Organic company.

We are required to submit documentation that ALL of our ingredients, even our "non-organic ingredients," were produced without the use GMOs.

Since the U.S. National Organics Program forbids the use of genetic modification in products to be certified as organic, purchasing organic is a great way to lower your exposure to GMO's.

Genetically Modified Organisms refers to any animal, plant or microorganism that has been changed in a lab at the gene level. It is also known as "genetic engineering."

Read more about "Non-GMO Skin Care Ingredients"

---

View Answer Page