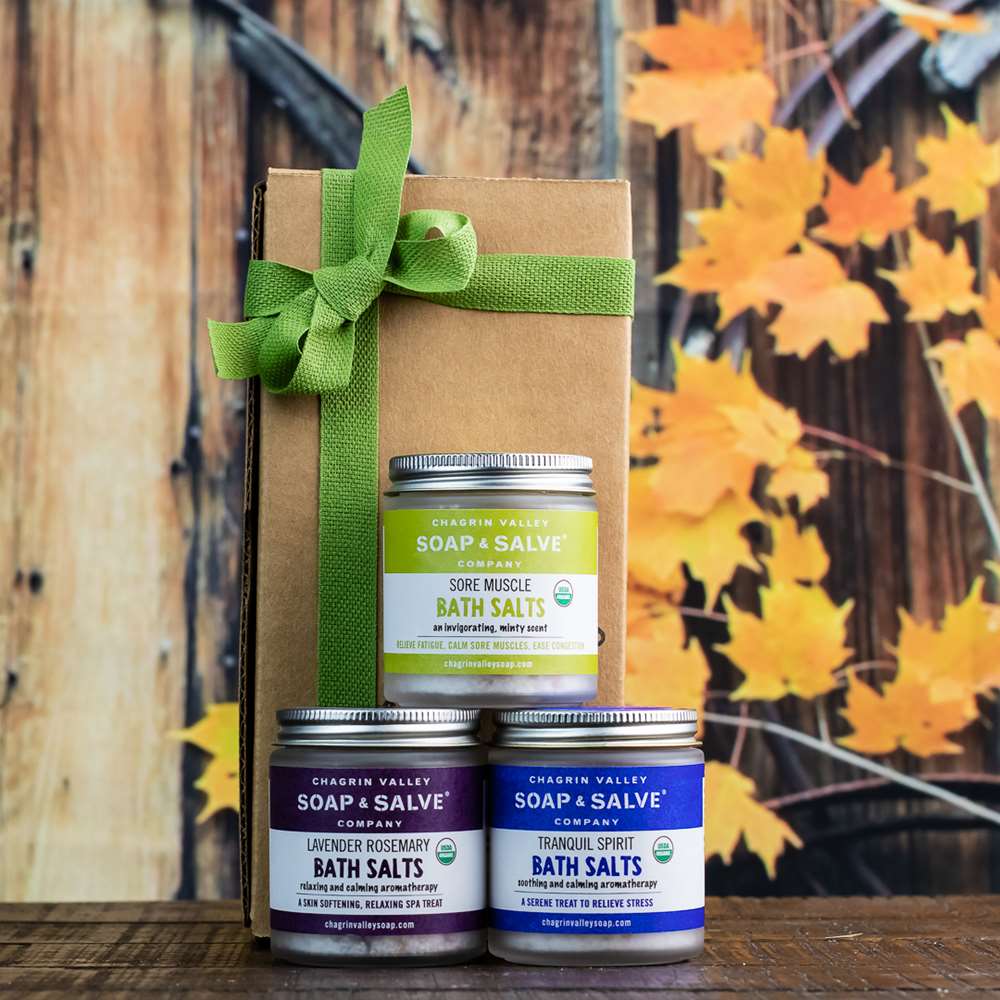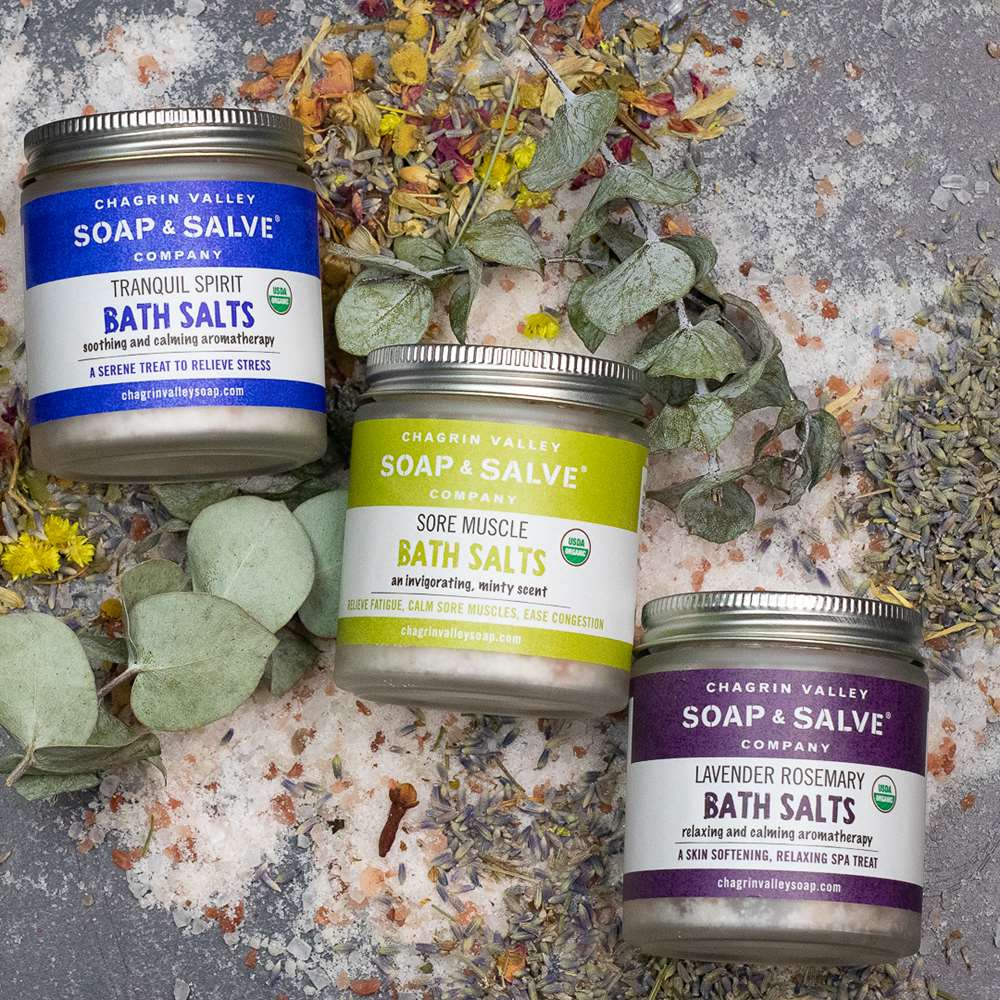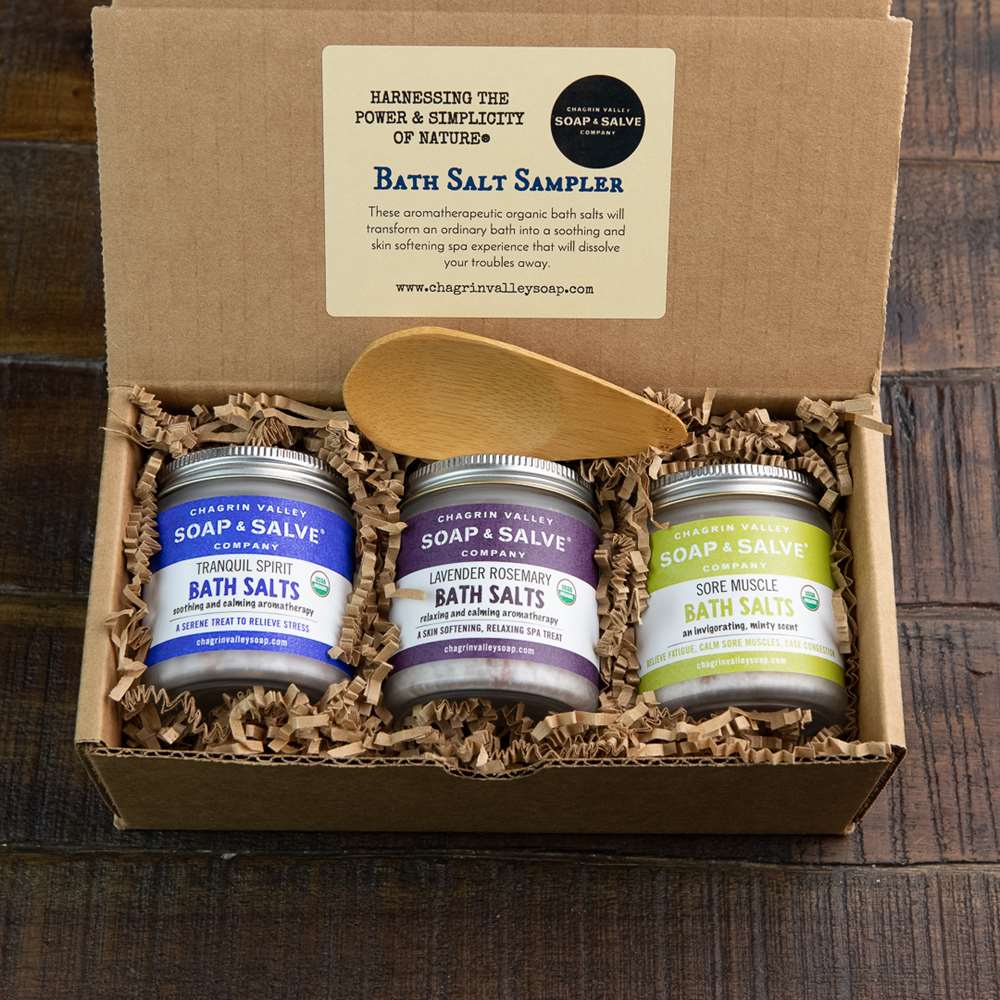 Aromatherapeutic organic bath salts will transform an ordinary bath into a skin softening, soothing, tranquil, relaxing and comforting spa experience and will dissolve your troubles away.
Product Overview

Gift Box Includes: Three 4 oz jars of bath salts (Tranquil Spirit Blend, Lavender Rosemary, and Sore Muscle Blend), a bamboo spatula and bath salt recipe card.

For you or a special friend. Immerse your body and spirit in serene waters with our tranquil and relaxing aromatherapy bathtub salts. Dissolve your troubles away in a warm bath of rich mineral salts and pure essential oils and transform your tub into a skin softening, soothing, comforting spa. 

A medley of soothing mineral-rich salts blended with pure organic essential oils enhance the natural healing and soothing effects of a warm bath
Salt baths help balance skin oils, detoxify, improve circulation, ease muscular pain and joint stiffness and soothe irritated skin conditions

Luxurious bath salts bring a spa experience to your home

Each jar is enough for two or three aromatic baths

 
How To Use

Directions: Aromatic salts soothe the soul, balance emotions, arouse your senses and pamper your skin.

Pour 3 - 4 heaping tablespoons of salts directly into tub under warm running water
Use hands to swirl the salts into the water
Large and small size crystals dissolve at different rates
Tub sizes vary--so experiment to your liking
Breathe deep and enjoy the aromatherapy
Feel body tension melt away!
Soak for 20-30 minutes and rinse if desired


While salt baths have many beneficial effects, people who are under a doctor's care for any condition, should consult their healthcare provider before taking salt baths. Please see individual items for ingredients.


Eco-Friendly Packaging: The gift is packed in a kraft gift box that is recyclable and made from 100% recycled material with 30-70% post-consumer content. The box is wrapped in natural fabric ribbon.




Gift Message:

If you would like a gift message included, place a short message in the "Notes" box which appears in your cart.

Please title it GIFT MESSAGE
We will include your message, as written, on a gift card
Please don't forget to let us know how you want it signed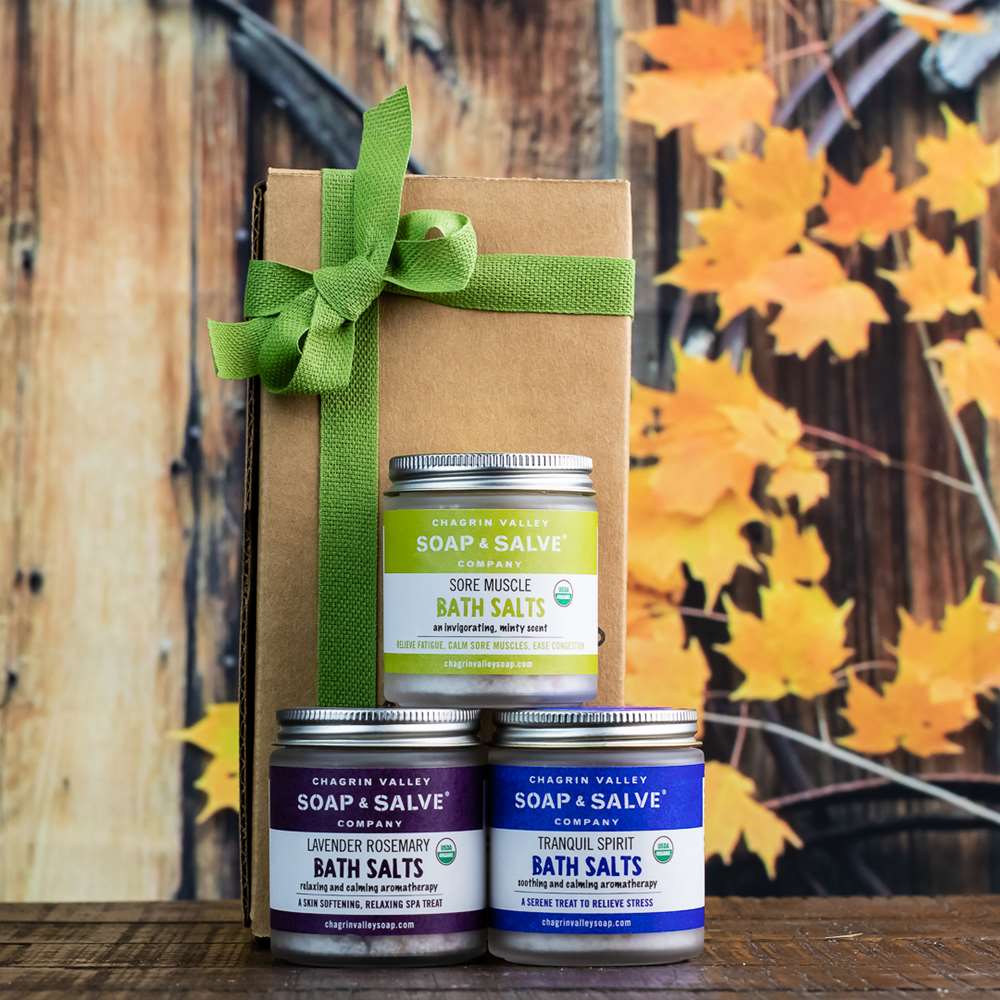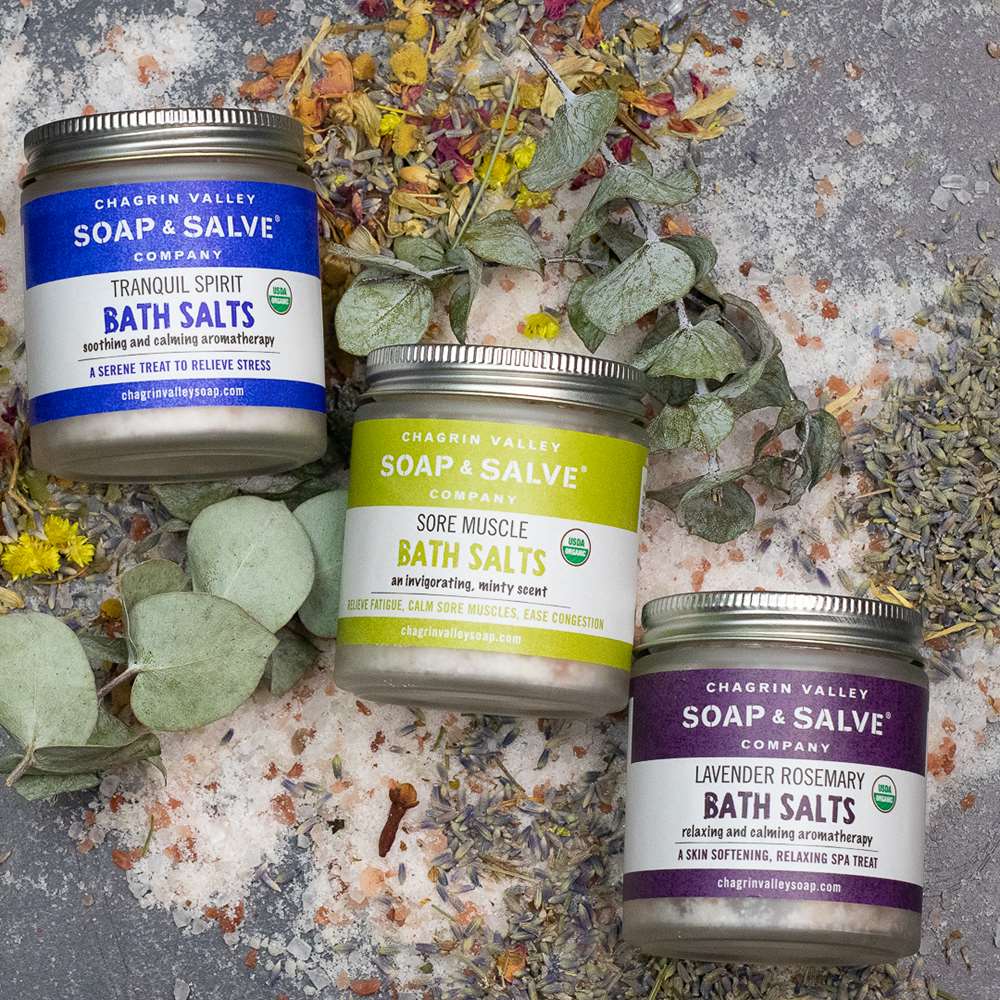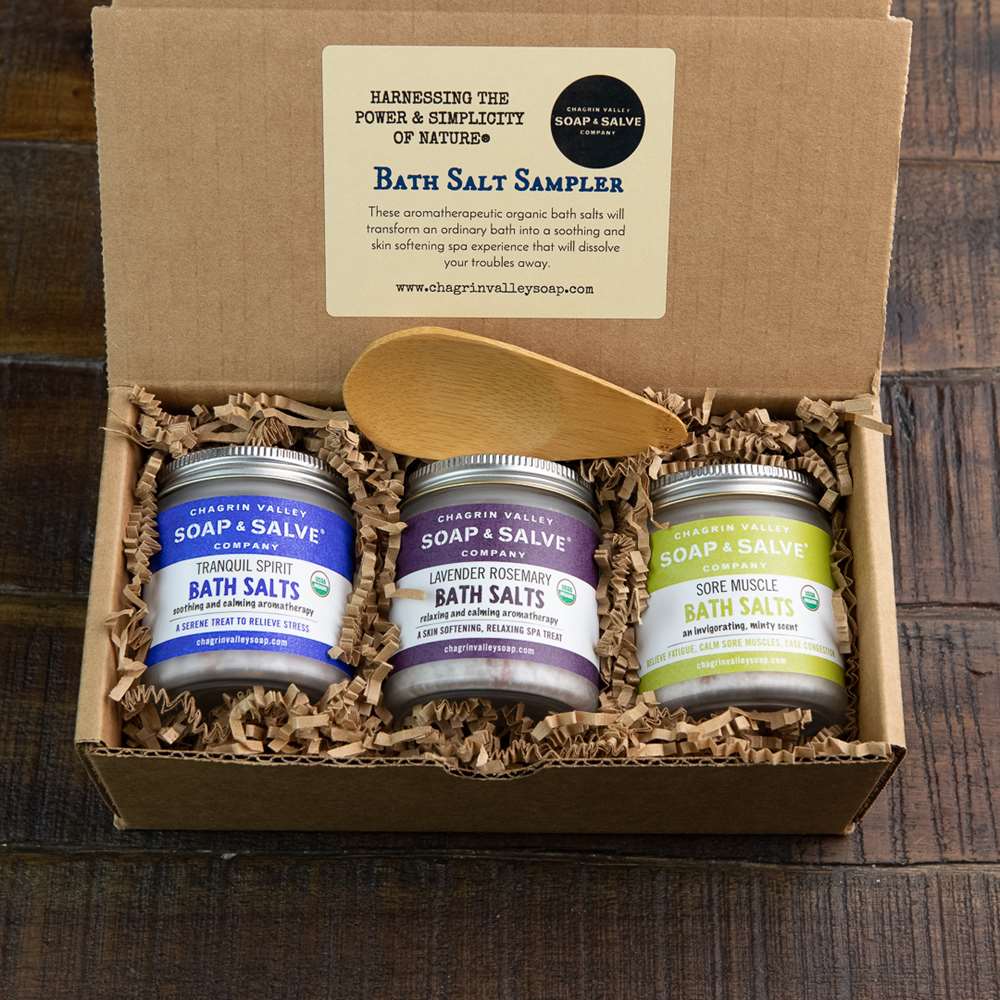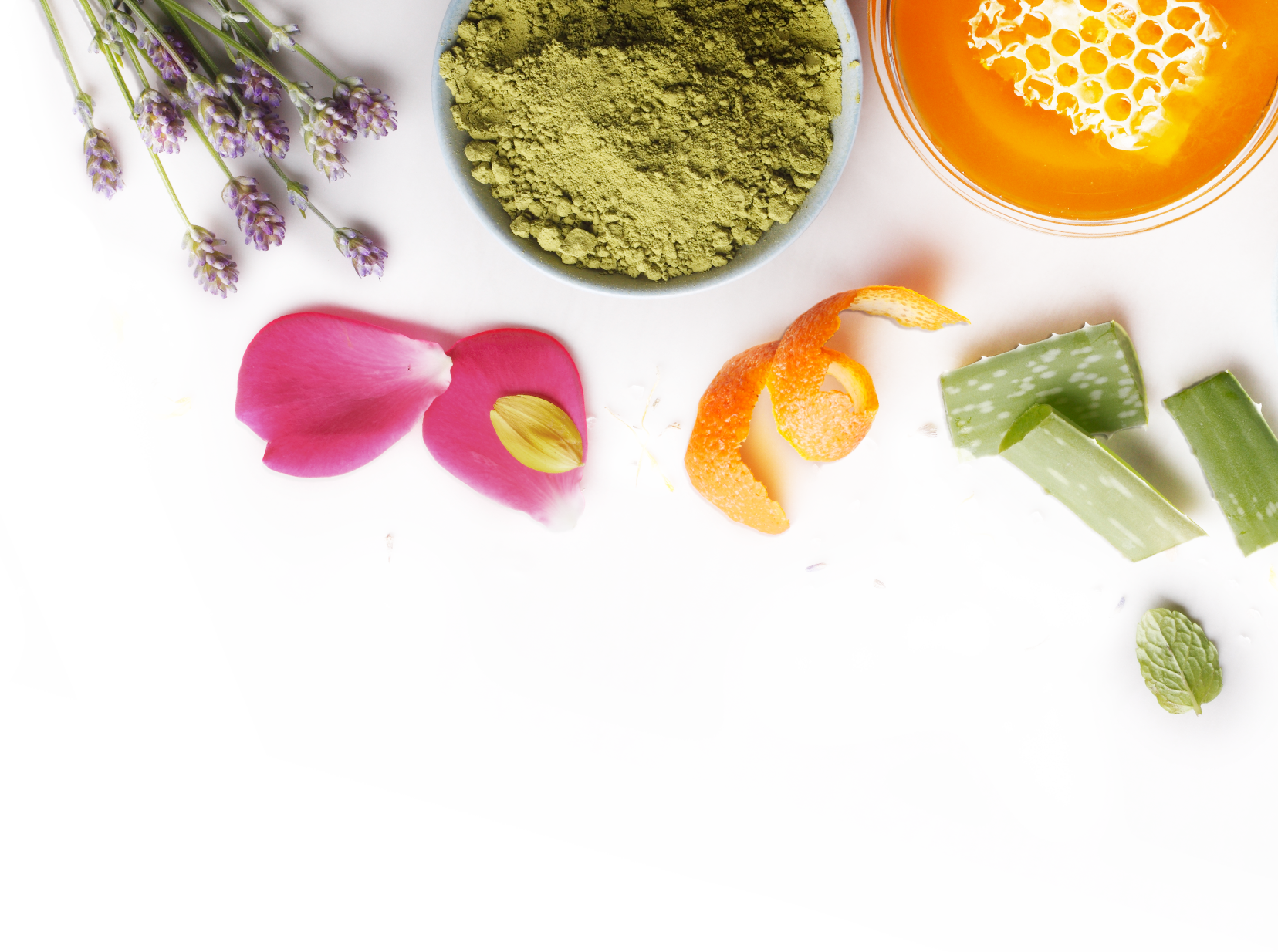 Effective, Feel Good Ingredients
The goal is simple: to Harness the Power & Simplicity of Nature® to cleanse, soothe, heal, and protect your skin and hair!
Our unique formulas rely on moisturizing oils and butters, healing botanicals, and pure essential oils. We choose every ingredient with one end-result in mind….the BEST possible natural skin care for YOU!
Featured Ingredients


Noirmoutier French Grey Sea Salt