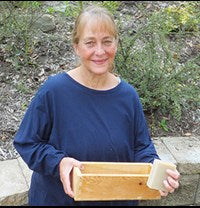 The Very Beginning
Ida, who was a Science teacher at the time, was excited to begin her new "hobby." The goal was to create a wholesome bar of soap with only natural ingredients that would be amazing for our skin and kind to our planet.
Her husband, Howard, made a small wooden mold. She gathered some ingredients, appropriated the the kitchen, kitchen mixer, spatula, and pots, and began. They still laugh about how long it took and what a mess was made to create the first successful batch of soap - eight bars of Goat Milk Oatmeal Soap. When, after using this new soap for only two weeks her husband's eczema disappeared, they knew they were on to something special.
As Ida continues to make soap for friends and family, they encourage her to start a business. The business needed a name. Ida and Howard live in Chagrin Falls. Their home overlooks the Chagrin River in a region called the Chagrin Valley. Ida makes soap and Howard makes woodcrafts, thus Chagrin Valley Soap & Craft is born.
In 2002 Ida makes a little website for her homemade soap. Before long, she gets an order. The website was not only an instrument for sales, but it was also an opportunity to meet people and educate consumers about the benefits of natural skin care. Read the more detailed story, "How Chagrin Valley Soap Began."
The business continues to grow. Ida is now selling soap to friends, people referred by friends, as well as her little loyal online customer community.
So Ida and Howard decide to form a corporation for the new business. They keep the name they came up with a few years earlier, "Chagrin Valley Soap & Craft Company." Along with Ida's handmade soap, they sold wood shaving brushes, wine bottle stoppers, soap decks, and garden dibbles made by Howard.
It was official, Ida had a real business!
Chagrin Valley Soap Ida's Full-Time Career
Twenty-four hours a day is not enough time to do it all. Business is growing very fast and Ida is beginning to research and experiment with additional products, such as lip balms and lotion bars.
Ida's hobby has grown into a full-fledged business. As the orders continue to pour in as quickly as they can be filled it becomes clear that she cannot be a good teacher and operate a business effectively at the same time. Ida decides to retire from teaching and focus full-time on the business.
During the Summer months, Ida and Howard sell at craft fairs and become weekly vendors at a local farmer's market.
Sam Joins the Team
As Ida builds her business, her family is ever-present in supporting her. Howard makes bigger and better molds in his woodshop, fabricates oak soap decks, designs shaving brushes, and with his business background, guides the administrative and financial growth.
Sam, Ida's son, returns from Spain where he has been teaching English, and joins the Company. With his theater and acting background, Sam uses his communication and people skills to manage the customer service for Chagrin Valley Soap and takes over the manufacturing of non-soap products.
The little room under the deck becomes too small for the growing business. Ida persuades Howard to give up his woodshop and we move into our new "soap factory" attached to our home. Howard builds a new barn for his woodshop.
The Team Grows & We Become a USDA Organic Company
All is going well and the business is thriving. Then, Ida is diagnosed with breast cancer. This bump in the road makes her even more committed to creating wholesome skincare products.
As the family business grows, Ben, Christine, and Lindsey join the team. Even, Sophie, Ida's 90-year-old mom helps.
In 2010 Chagrin Valley Soap & Craft becomes a USDA Certified Organic company. From the very beginning, Ida believed in organic ingredients. It made no sense to create natural skincare products with ingredients that were irradiated or sprayed with pesticides. Learn more about "Why We Became A Certified Organic Company."
Chagrin Valley Soap Expands
Many exciting changes happen over the next few years. The company that began by crafting handmade all-natural soap now manufactures and sells soap and shampoo bars, lotion bars, lip balms, body balms, and even natural products for pets. Ida's home no longer provides enough space and the company moves into a new "soap factory" designed to accommodate the needs of the expanding business.
After months of development, a new website is launched. The new website tells the story of the company in a more personal way and most importantly, improves the online buying experience for the ever-growing customer base. The company adopts the new name of Chagrin Valley Soap & Salve to reflect its expanded product line.
With an increasing dedication to eco-friendly packaging, the team also decides to create a brand identity for Chagrin Valley Soap & Salve. The goal is to create a simple, uniform label design and eco-friendly packaging that creates less waste and is as plastic-free as possible.
More Family Joins & Certified Cruelty-Free by Leaping Bunny
Sarah, Ida's daughter, joins our team in the Fall of 2013! Ida made her first batch of soap when Sarah was only 14. She will be working as the new Social Media and Public Relations guru at Chagrin Valley Soap. The following Spring David (Sarah's hubby) joins the Chagrin Valley family. His computer skills and a degree in marketing will help our family business continue to grow.
Also in 2013, we become certified cruelty-free through Leaping Bunny. The Leaping Bunny Standard is a pledge that a company makes to remove animal testing from all stages of product development. We do not test our products on animals, use ingredients tested on animals, or sell into markets that require animal testing. The Leaping Bunny Program provides the best assurance to consumers that they are making compassionate shopping choices.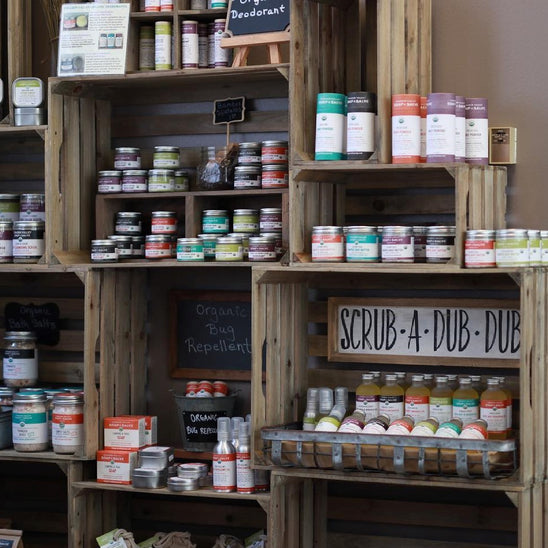 Here We Go Again! Another Move!
Late in 2013, we began to realize that once again we were outgrowing our space! In June Chagrin Valley Soap & Salve moved into our own building and our newest "soap factory" in Solon, Ohio. (Ida even has an office!)
Our family of employees has always been our company and many new friends continue to join our team. Their upbeat attitude, excitement, constant effort, creative ideas, and passion for our mission, vision, and values are at the heart of everything we do!
We share ideas, we share a vision, and we are rewarded with a sense that our time together makes a difference.
Chagrin Valley Soap & Salve Opens Brick & Mortar Store
In January 2017 we opened our own retail shop in the 5th Street Arcades in Downtown Cleveland.
It is the only store to carry our full line of organic skin and hair care products. We are excited to be a part of Downtown Cleveland's growth and revitalization.
Throughout the years our customers have requested new products and when we can we like to oblige. As our business continues to grow, we continue to add many new items to our product lines, most of which are requested by our loyal customers.
Celebrating 20 Years
Many years ago our fledgling family team wrote a set of mission goals and core value statements that would be woven into every fiber of our business and guide us through our journey ahead.
We are proud that after 20 years we continue to adhere to our original mission, to make all-natural skincare products with nothing artificial or synthetic, no GMOs, just wholesome ingredients you can trust.
Although our core values have never changed we continue to improve upon on goals as we strive for excellence and embrace our vision of creating products for healthy skin, a healthy lifestyle, and a healthy planet