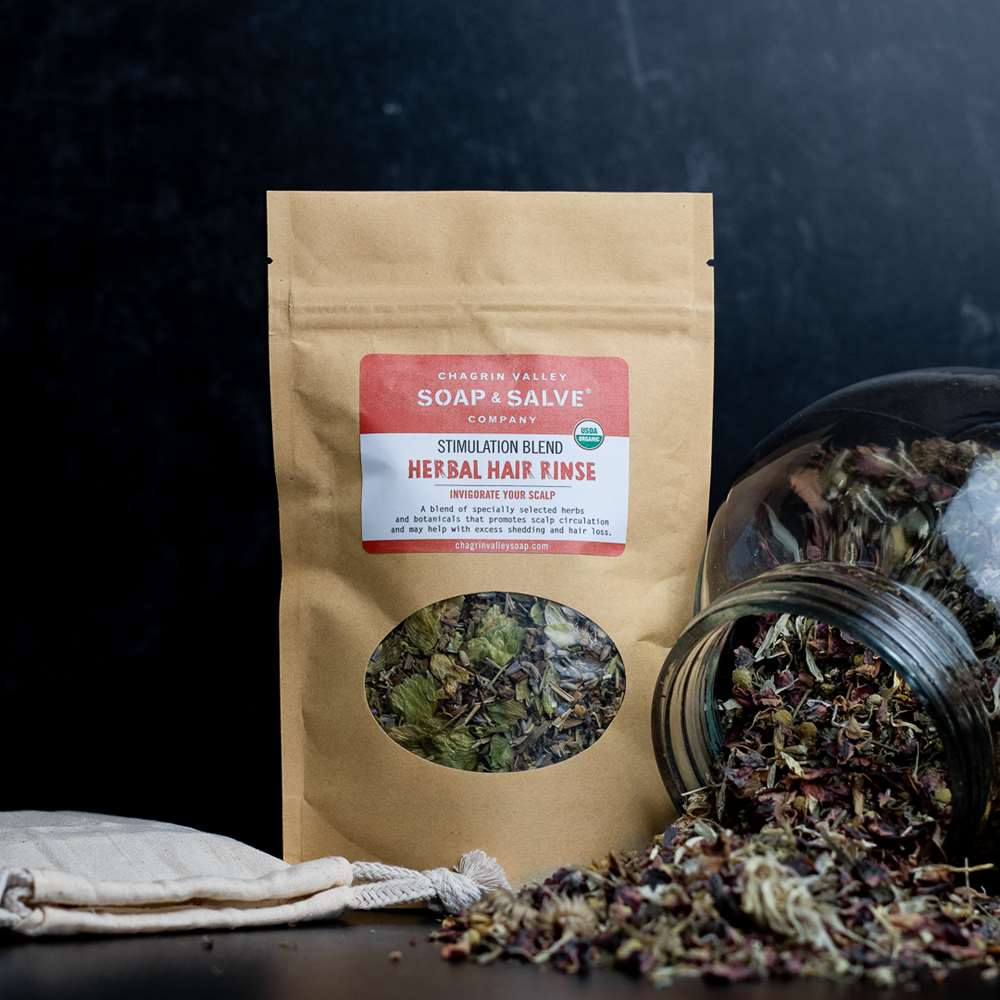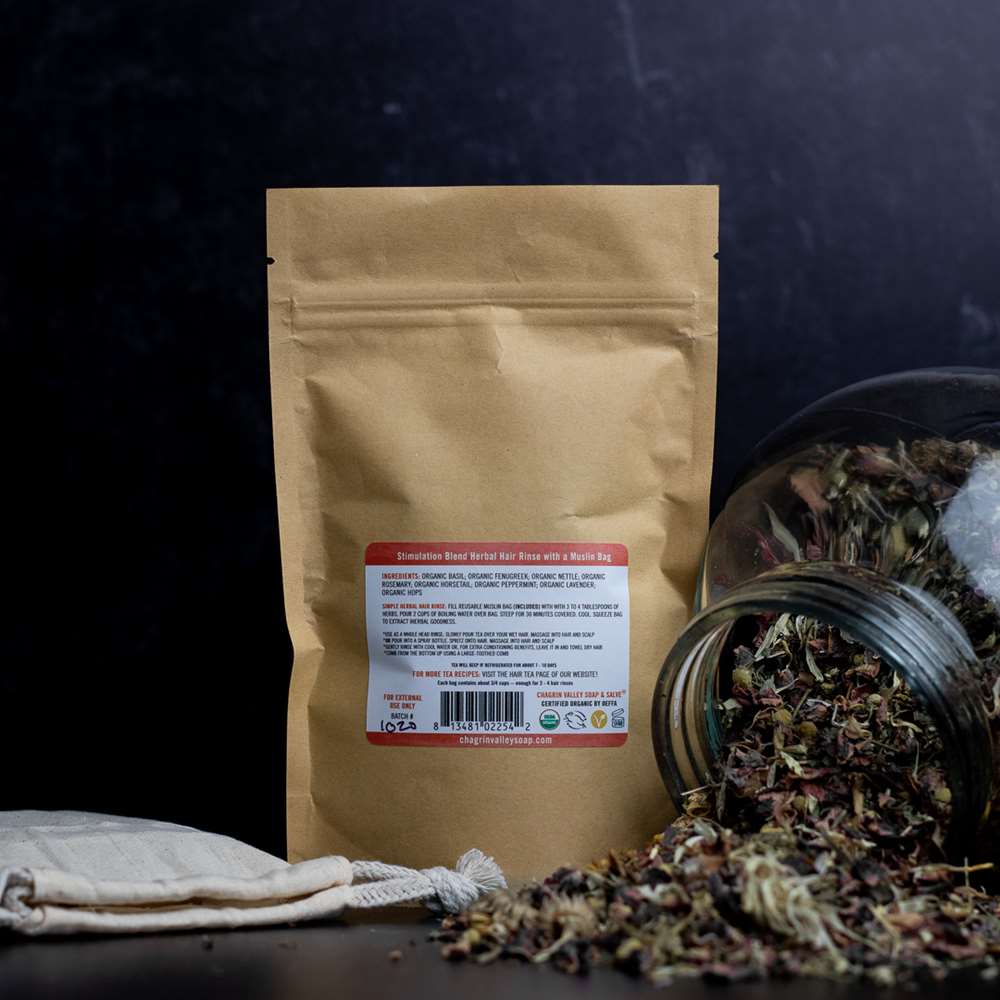 A organic herbal hair rinse formulated for a holistic approach to scalp stimulation that may help with excess shedding and hair loss.
Product Overview

Drench your hair with the power of plants in this organic botanical hair rinse formulated for a holistic approach to scalp stimulation. For thousands of years, herbs have been used to nourish the scalp and promote the growth of strong, healthy hair.

Our Stimulation Hair Rinse is made with a combination of herbs that will help stimulate and strengthen your roots, and promote healthy hair growth to help with excess shedding.

Green Tea, rich in polyphenols, have antioxidant and anti-inflammatory properties. These polyphenols along with caffeine help stimulate blood flow to the follicles to help with healthy hair growth.
Basil stimulates hair follicles, increases scalp circulation, promotes hair growth and adds luster to dull hair.
Fenugreek nourishes hair, promotes silky hair, helps strengthen weak, brittle hair, and stimulates blood flow to the roots which can help combat hair loss.
Hops help stimulate scalp circulation which promotes healthy growth
Horsetail (Shavegrass) stimulates blood vessels in the scalp and has been used for centuries as a hair growth herb. The silica in horsetail helps keep hair strong and adds shine and luster.
Nettle stimulates the scalp and helps promote fuller, more radiant hair. Nettles have a long-standing reputation for easing hair loss and making hair soft and shiny.
Peppermint stimulates nerve endings and increases local blood flow to the scalp.
Rosemary encourages hair growth by improving blood flow to the scalp. It increases manageability, adds body, bounce and shine, and soothes an irritated scalp.

1 bag contains about 1 cup of tea, enough for at least 4 - 8 hair rinses

Reusable cotton muslin bag included!
How To Use

Directions for a Simple Herbal Hair Rinse Tea:

Fill

muslin

bag with 2 to 3 tablespoons of herbs.

Pour 2 cups of boiling water over herbal bag.

Steep for at least 30 minutes covered.

Remove herbs from the tea and make sure it's not too hot.

As you slowly pour the tea over your wet head, massage the infusion into your hair and scalp. Keep a large bowl under your head to catch the liquid and reapply several times.

Gently rinse it out with cool water or, for extra conditioning benefits, just leave it in and towel dry hair.

Always make and store herbal hair preparations in nonreactive containers. Refrigerate leftover hair tea for 7-10 days in a clean airtight container. Do not refrigerate tea in an aluminum container.

For more recipes please read How to Use Herbal Hair Tea Rinses


For external use only!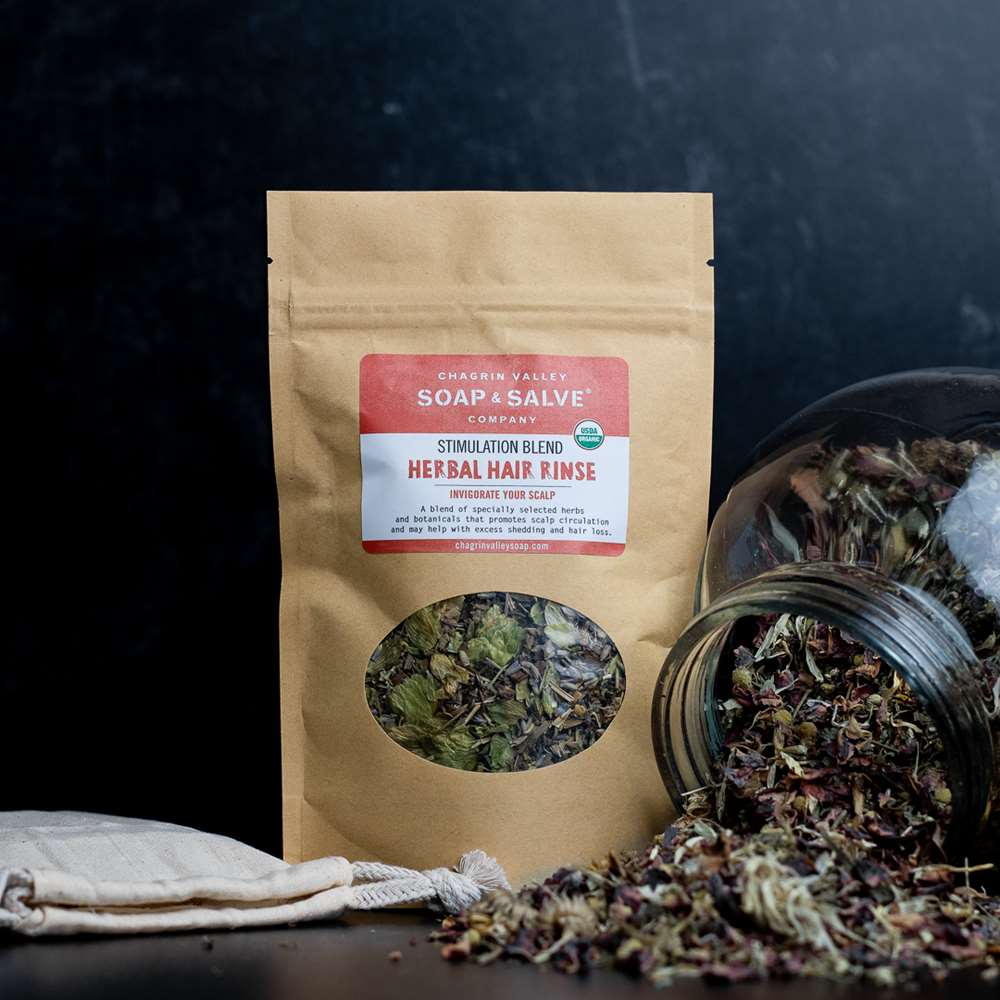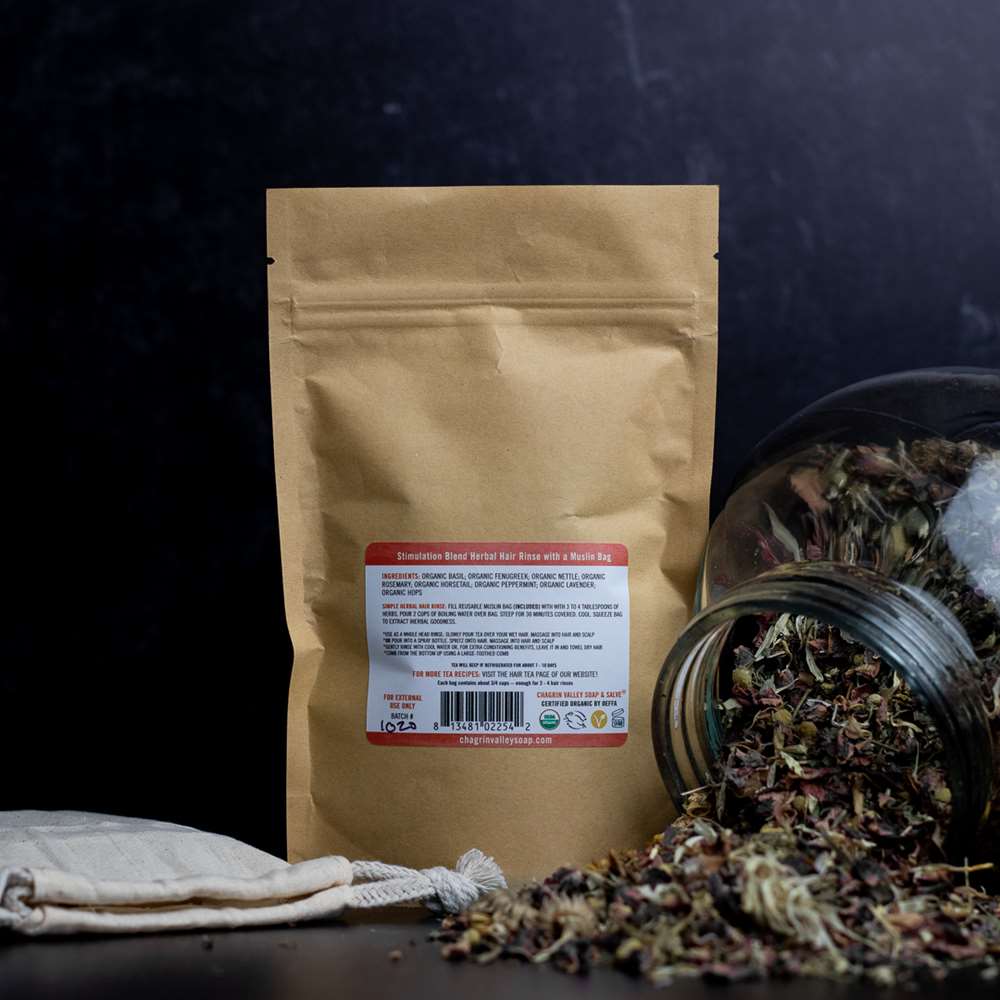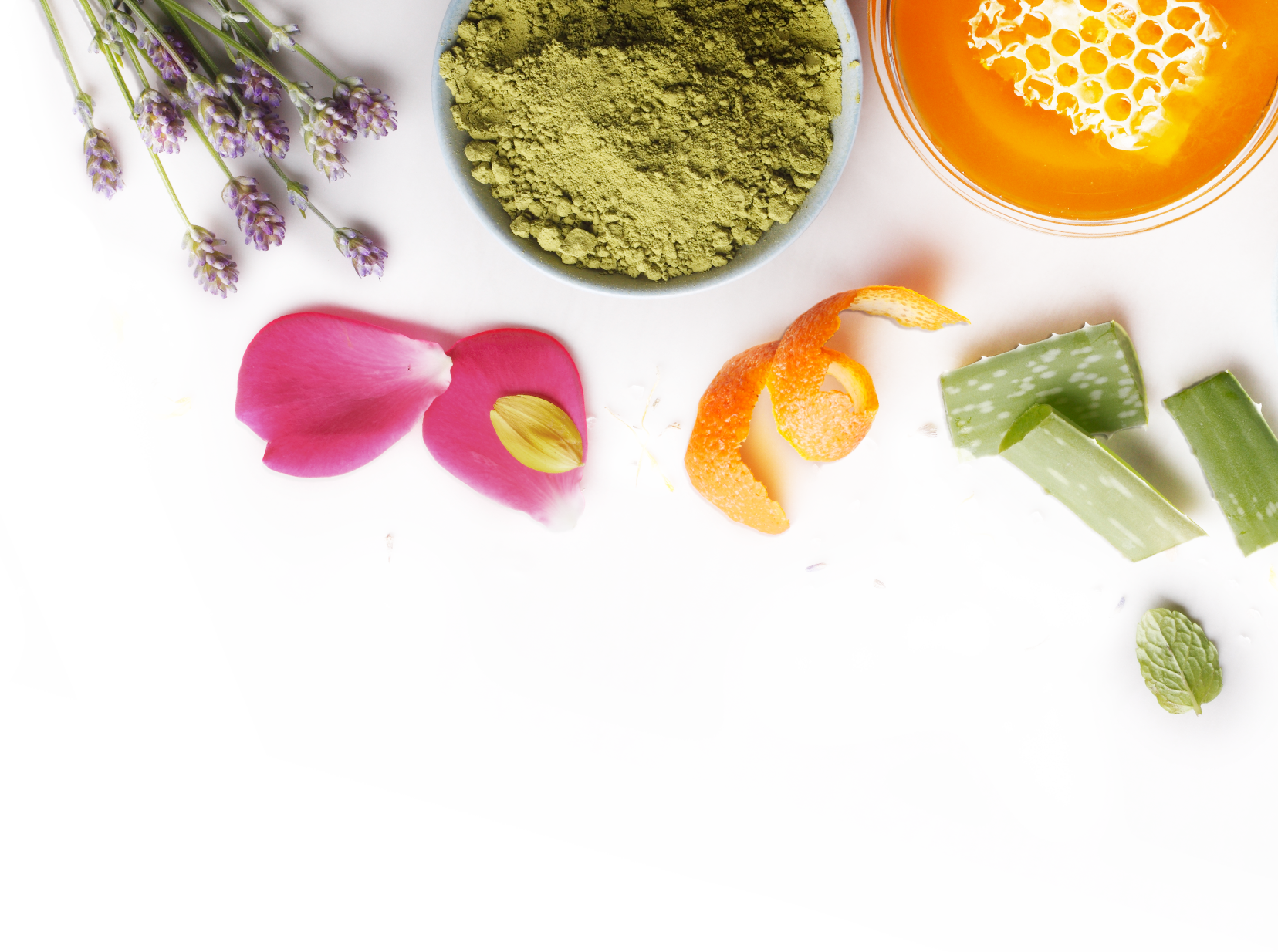 Effective, Feel Good Ingredients
The goal is simple: to Harness the Power & Simplicity of Nature® to cleanse, soothe, heal, and protect your skin and hair!
Our unique formulas rely on moisturizing oils and butters, healing botanicals, and pure essential oils. We choose every ingredient with one end-result in mind….the BEST possible natural skin care for YOU!
Featured Ingredients


All Ingredients:
Frequently Asked Questions
Are Chagrin Valley Ingredients & Products USDA Certified Organic?

Chagrin Valley Soap & Salve is a USDA Certified Organic Company

The most important consideration in any business is its customers. Today's world of misleading claims, false advertising, and simple deception, often leaves consumers trying to discover the truth about personal products and their ingredients.

We want our customers to know that we are

committed to transparency in everything we do.

We want our customers to know that when we say "

organic," we mean it.
We believe that in becoming a USDA Certified Organic company, our customers do not have to wonder if we really use certified organic ingredients or if our organic products are truly organic.
So we choose to be a certified organic company

and abide by the strict standards required for organic certification.

Some of my favorite products are made with ingredients that just do not exist as certified organic. Why? At this time there are no standards created for ingredients specifically used in the personal care product industry. Organic certification of personal care products is based on the organic food standards set by the National Organic Program of the USDA.

But since we are a certified organic company, we are required to submit documentation that even our "non-organic ingredients" were produced without the use of toxic pesticides, genetically modified organisms (GMOs), sewage sludge, or irradiation.

Why Did We Become a Certified Organic Company?

What Do All of the Organic Labels Mean?

---

View Answer Page
What Is A Natural Shampoo Bar?

Shampoo Bars Are One Of Our Favorite Discoveries!

The wholesome goodness of our handcrafted soap is available for your hair.

Shampoo bars are an all natural conditioning shampoo in a solid bar form. Yes, this is real shampoo in a solid bar. Shampoo bars are not a new idea.

They were commonly used before liquid detergent shampoos and conditions were invented in the 1940s.

Although the process for making a shampoo bar is the same as making soap, our shampoo bar "recipes" are specially formulated with natural plant oils, butters, botanicals and essential oils that nourish your hair and scalp.

Our shampoo bars contain no artificial fragrance, color, preservatives, detergents, alcohol, urea, formaldehyde, sodium lauryl sulfate, DEA, propylene glycol - or any of the other synthetic hair care additives.

Each of our shampoo bar selections contains a different blend of natural plant oils, essential oils, and herb infused oils. No two recipes are the same.

Which Shampoo Bar Is Best For My Hair?

Click here for help choosing an all natural shampoo bar!

Everything You Want To Know About Shampoo Bars!

Please read "Everything About Shampoo Bars!"

---

View Answer Page
Ida's Shampooing Technique for Long Hair

Ida's Shampooing Technique for Long Hair

Men and women with short hair seldom have hair adjustment problems to natural shampoo bars. However, folks with long hair may have to change their shampoo technique when switching from commercial liquid shampoo or synthetic detergent shampoo bars to natural bars.

We have discovered that people with long hair often feel the need to use too much shampoo. Also, it is more difficult to rinse shampoo out of all the little nooks and crannies in long hair. As a result, there are pockets of soap residue left in the hair that make hair feel tacky.

I have found that many times the proper technique makes all the difference.

I have long, fine hair. Below is my technique for using a shampoo bar.

thoroughly wet my hair
tie my long hair into a loose ponytail
wet the natural shampoo bar and rub the bar across only the top of my head in strokes from front to back until I have covered the entire scalp area (Rubbing any shampoo vigorously in all directions causes lots of tangles!)
massage my entire scalp (only the scalp) in a combing motion to work the lather through my hair
I do not rub the bar or work the lather on the length of my hair
take out my ponytail and rinse allowing the shampoo to drip down the length of my hair (I have found that this rinsing is enough to clean the length of my hair)
rinse, rinse, rinse for at LEAST one minute as I rub my fingers through my hair to be sure that all of the shampoo is rinsed away
squeeze gently on the length to remove excess water and cover with a towel while I dry off
I do not rub the towel over my wet hair because it causes nasty tangles
use a wide toothed comb and gently comb from the bottom up

Dry and style your hair as usual!

---

View Answer Page
What Do The Different Organic Symbols Mean?

We use two different organic symbols on our website.

Each symbol has a unique definition!

Organic Labels

The "certified organic" labeling has been developed by the USDA and refers to organic claims and labeling on food and personal care products in the United States. The USDA has very strict guidelines for the percentage of organic ingredients necessary to receive organic certification. Other countries have their own certification procedures, requirements, and standards. Labeling criteria and allowable ingredients differ from those in the US.



The USDA Organic Logo Label can be used on products that meet the standards of the first two tiers of the organic labeling system in which 95 - 100% of the ingredients are certified organic.

Most of our non-soap products fall into this category and display the USDA logo!

The Certified Organic by OEFFA label is used in our company for two reasons . . .

Soaps and Shampoos: These products contain at least 8% of the sodium hydroxide due to the process of soapmaking. Our "organic" soap is about 87% to 92% organic, but the USDA standard states that a product must be made of 95-100% organic ingredients in order to bear the USDA Certified Organic seal shown above. We are also not allowed to use the words "organic soap" on the label.

Wildharvested Ingredients: When using any agricultural ingredient (any ingredient that has a biological origin) that is not certified organic the same labeling rules we use for soap apply.

The USDA rules for proper labeling state that the products may display the certifying agent's logo but not the USDA organic logo. Our USDA certifying agency is OEFFA (The Ohio Ecological Food and Farm Association). Their logo is displayed on our "organic" soaps and shampoos.

Why do some soap companies use the word "organic" on their labels--even though it is against the rules? Click Here to Read More about Rules for Organic Labeling of Soap!

Unofficial Labels

We sometimes use an unofficial symbol for products made with "natural" ingredients that do not meet the criteria for either label above. You may see this type of symbol on products, like the Dead Sea Black Clay, Bamboo Charcoal, and Loofah Pumice Foot Soaps and our Mud & Clay and Rosemary Mint Charcoal Shampoo Bars.

Organic certification is based on organic farming and agriculture standards. As a result, the list of allowable non-agricultural ingredients (like clay, salt, mud etc) is based on raw materials used in agriculture or food production. Unfortunately, ingredients like some Clays, Pumice, Dead Sea Mud and Bamboo Charcoal are not used in farming or food production and thus do not appear on the list.

Although it may seem long, this is really a very brief description. For more detailed information please read, "What Do All Of The Organic Labels Mean?"

---

View Answer Page