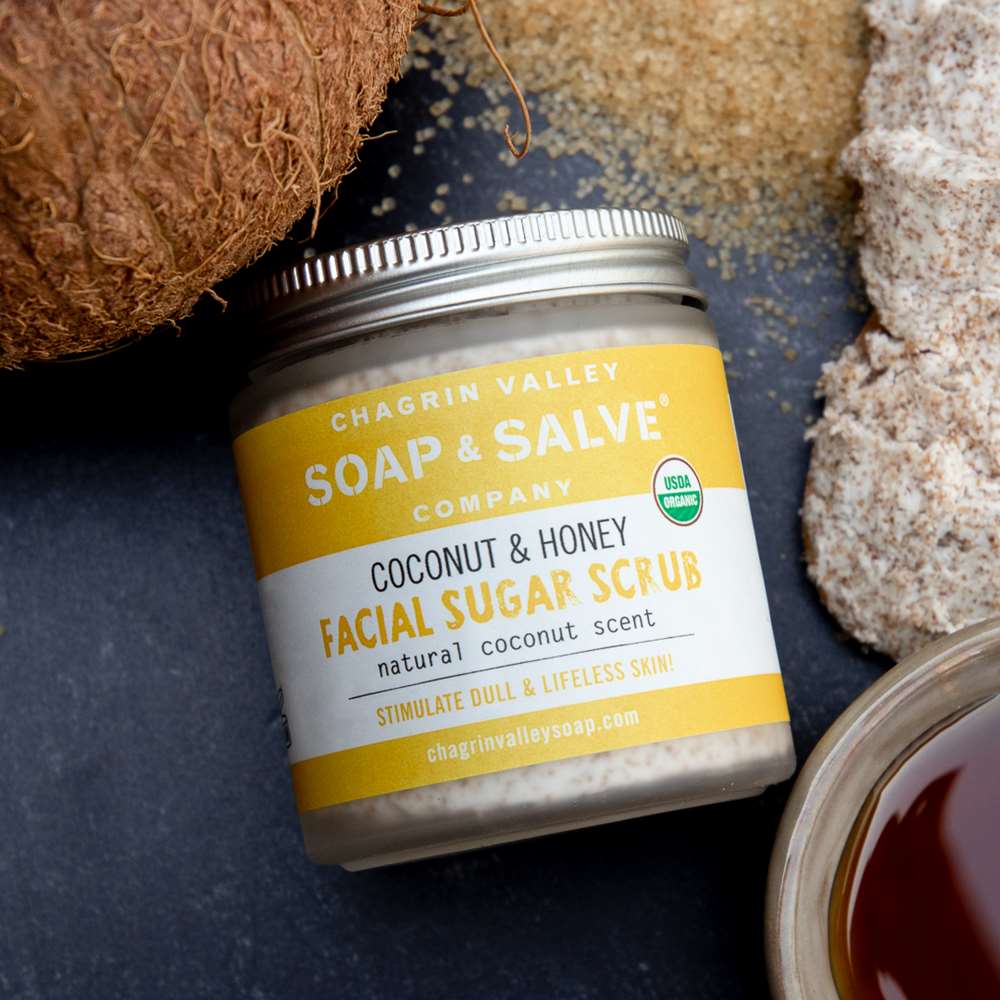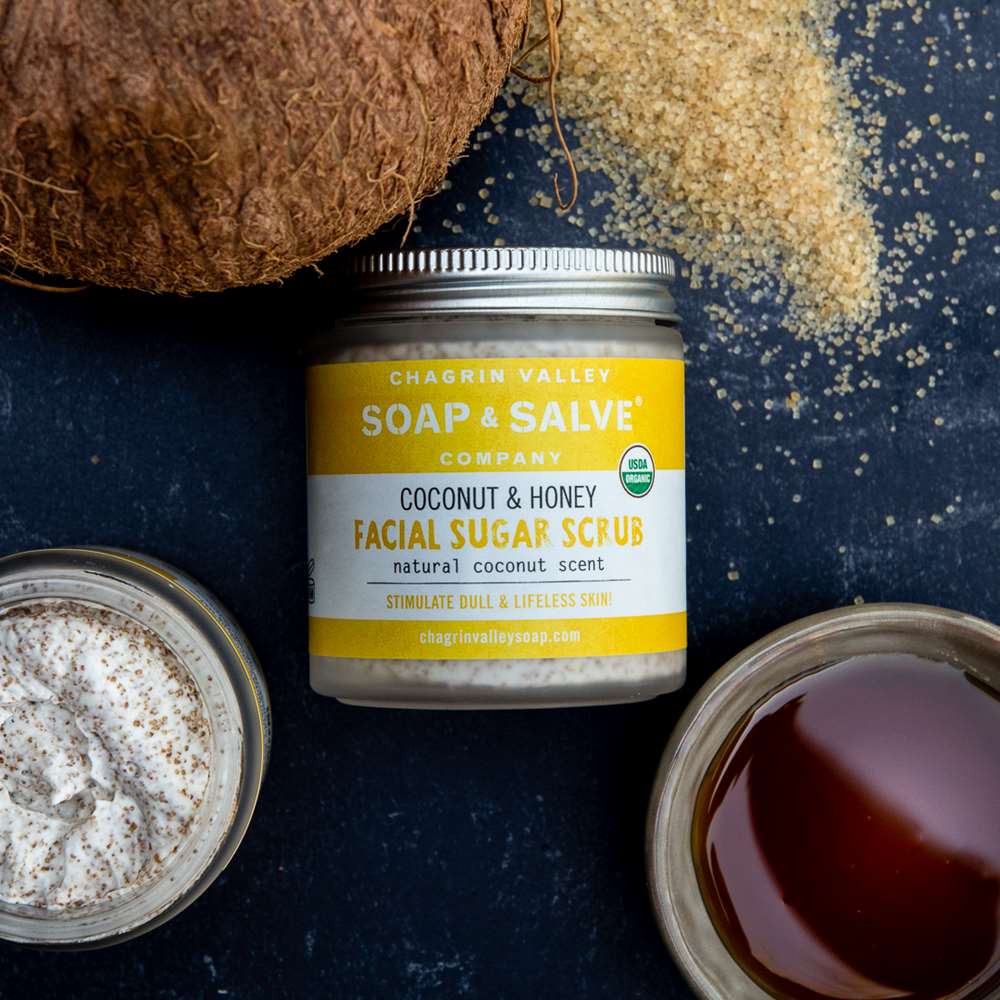 Nourishing oils and cocoa butter are whipped with dark brown sugar and honey to create this organic exfoliating facial sugar scrub with the scent of fresh coconut.
Product Overview

If you love the scent of fresh coconut, you will love this organic facial scrub.

Nourishing oils and cocoa butter are whipped with organic dark brown sugar, fine grain cane sugar, and a touch of honey. The whipping process creates a scrub that is easy to use without the drippy, oily mess of traditional sugar scrubs.

Exfoliate, massage, and hydrate your skin for a pampering facial at home.

Exfoliation is one of the simplest ways to stimulate dull, lifeless skin and bring a healthy glow to your face. A moisturizing exfoliating facial scrub refines and gently buffs and softens the texture as it nourishes the skin. Exfoliating helps smooth and brighten skin, giving it an even skin tone and texture and also allows moisturizers penetrate deeper into your skin for more benefits.

Virgin, unrefined Coconut Oil is an excellent moisturizer with natural antibacterial and anti-inflammatory properties. Easily penetrating, nourishing, emollient, and protective, it is recommended for dry, mature, or irritated skin.

Unrefined Cocoa Butter, a great emollient, contains a high amount of fatty acids and is perfect for challenging skin issues. The fat in cocoa butter creates a protective barrier that holds in moisture and prevents skin from drying. It soothes, moisturizes, and softens dry patches.

The sugars provide gentle exfoliation to remove dead skin cells, unclog pores, encourage new cell growth and stimulate blood flow to the surface of the skin. Honey helps calm irritated skin as it moisturizes, soothes and softens.

No added scent. Just the decadent aroma of natural cocoa butter!




Sugar scrubs exfoliate in two ways: the physical "scrubbiness" of the sugar plus the chemical composition of the sugar's AHAs (Alpha hydroxy acids). AHAs loosen the glue-like substances that hold surface skin cells to each other, allowing the dead cells to slough off more easily.




Men, give this a try before shaving for the smoothest shave of your life!
How To Use

Directions:

Wet face.
Using fingertips, gently massage in circular upstrokes.
Add more water and massage again.
Rinse with cool water.
After rinsing, skin may feel tacky due to the honey!
Pat dry, wait a moment and you will feel soft, smooth, silky skin!

This is an all natural preservative FREE product. Do not dip your fingers or get water into the container.

Please use a small spoon or craft stick to remove the sorbet from the jar.

Try our bamboo spoon or bamboo spatula for scooping out the scrub!




If you have very sensitive skin or are simply trying a new product for the first time, we always recommend doing a patch test.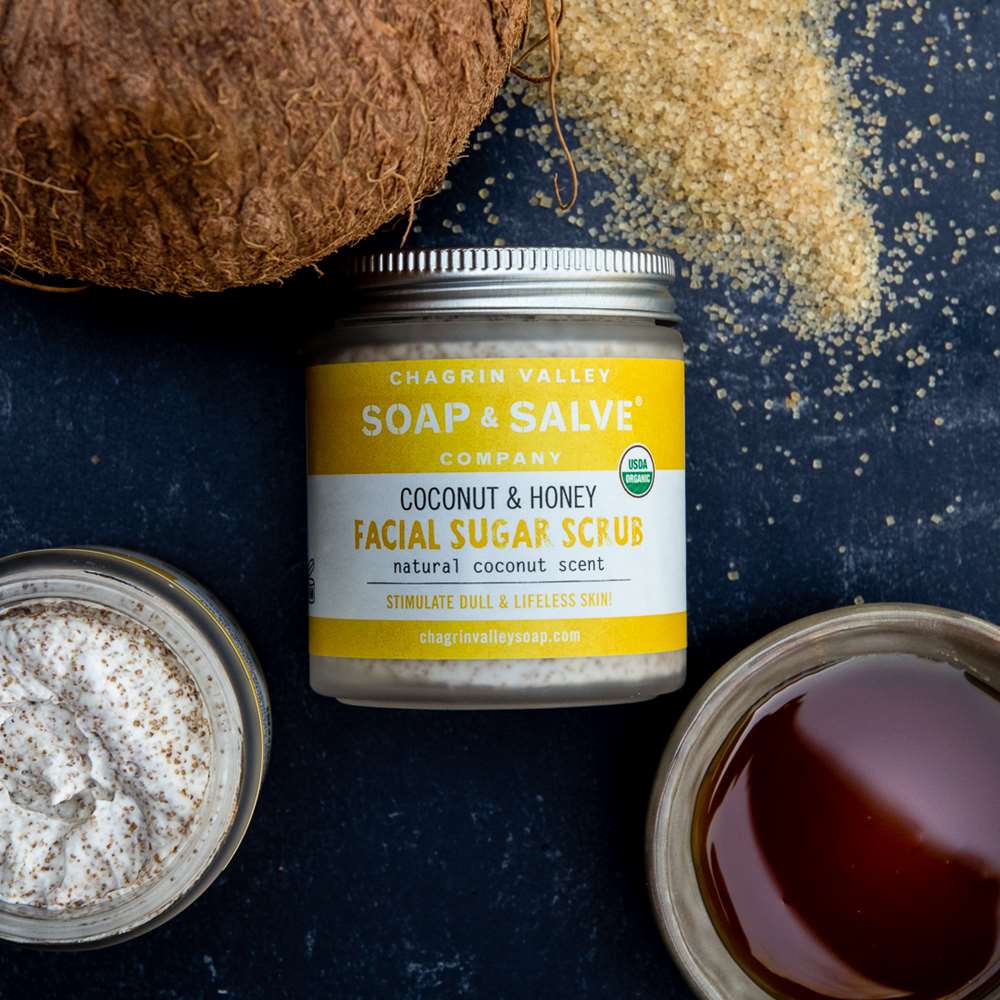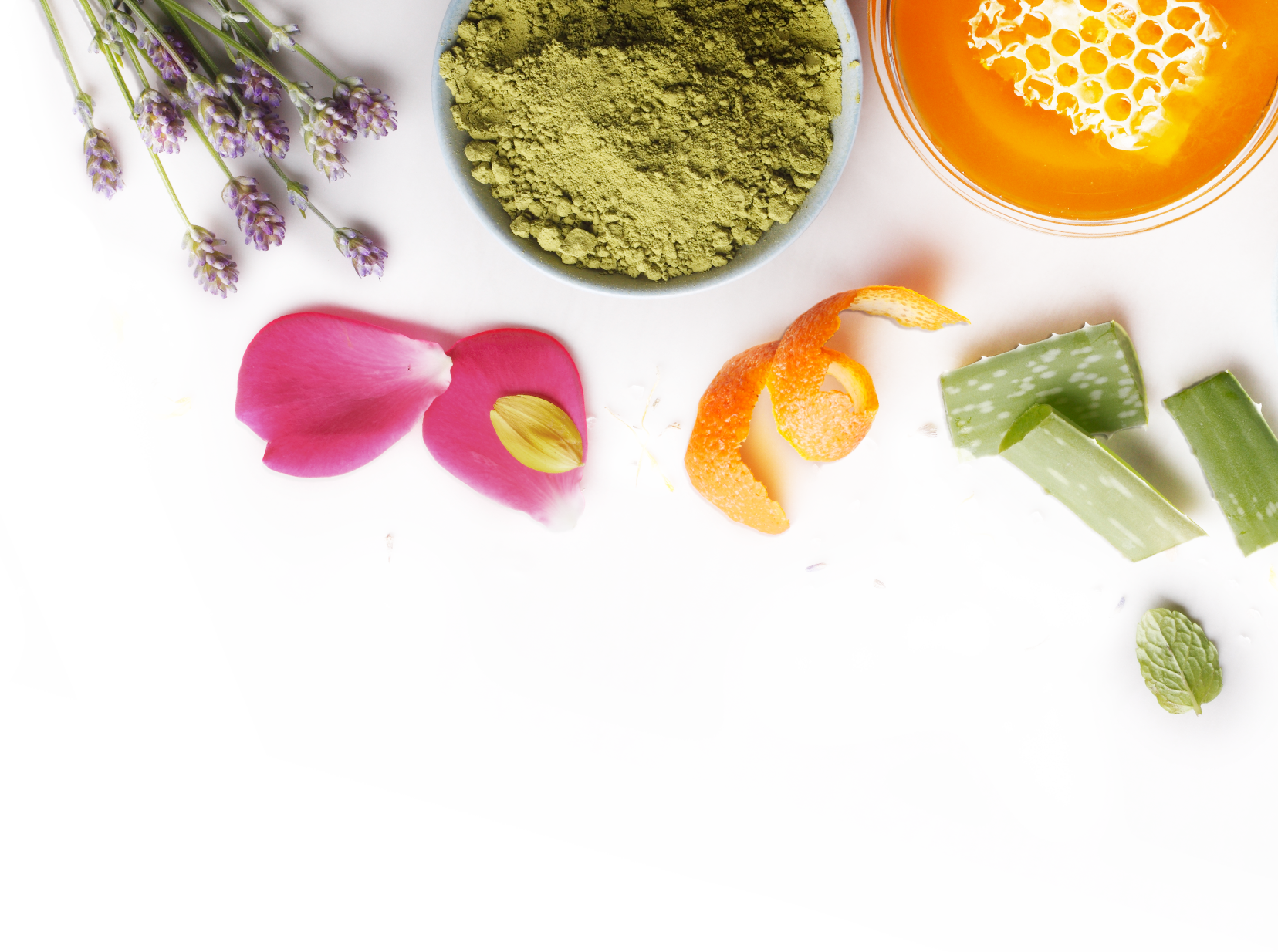 Effective, Feel Good Ingredients
The goal is simple: to Harness the Power & Simplicity of Nature® to cleanse, soothe, heal, and protect your skin and hair!
Our unique formulas rely on moisturizing oils and butters, healing botanicals, and pure essential oils. We choose every ingredient with one end-result in mind….the BEST possible natural skin care for YOU!
Featured Ingredients


Organic Dark Brown Sugar*

All Ingredients:
All of our sugars are organic, fair trade, and vegan (bone-char free)
*Ingredient is Fair Trade Certified
Frequently Asked Questions
What If My Natural Skincare Product Melts in Warm Weather?

Why Do Some Products Melt in Warm Weather?

We do not use synthetic stabilizers or waxes, so our delicate natural products packaged in glass jars and metal tins are sensitive to temperature changes.

While shipping during warm weather seasons presents a real challenge to our natural skin care company, we accept the challenge in order to maintain our standard of natural and nourishing skin care. We hope you agree.

During warm weather, products may soften or even melt as they sit in warm mail trucks, mailboxes, or on front porches.

The quality and healing properties of our products are not affected by melting.

On very sunny or warm days, BEFORE opening the jars or tins, place the items in your refrigerator for a few hours to allow them to harden, just in case they have melted in transit. If you open items, especially those in tins, to check if melting has occurred, they may spill and make a mess!

What To Do About Melting

Cream Deodorants

If you think that your balm-like deodorant is melted or runny, BEFORE opening the jar, pop it in the freezer for 10 - 15 minutes. As it begins to harden give it a stir (so that the solids do not sink to the bottom) and place it back in the freezer until firm!

Sometimes a cream deodorant can melt during warm transit and then slowly re-solidify before you receive it. This melting and slow cooling can result in a grainy feeling. If your deodorant feels grainy, simply melt it, mix thoroughly, and place it in the refrigerator until solid.

Since the stick deodorant are made with more beeswax, they are less sensitive to an increase in outside temperature.

Whipped Body Butters

Place a melted body butter in the refrigerator until firm.

Our hand-whipped process adds tiny air bubbles that increase the volume, just like whipping cream. If a whipped product melts, the air bubbles collapse and the volume is decreased.

So, although the jar was filled to the top initially, there will be less volume in the container (since it has deflated) and the container may actually look half full.

After cooling a melted Whipped Butter will be the consistency of our body balm and is still a great moisturizer.

Sugar Scrubs

If a Sugar Scrub melts, the oil may separate out a bit. Give it a good mix and place it in the refrigerator for about 10 to 15 minutes. As it begins to harden up give it another stir to disperse the sugars and place it back in the refrigerator. Once it's solidified and mixed it will be great to use! Again because it is a whipped product, the container may have less volume when the whipped butters melt.

Read more about melting products and what to do in our blog "Natural Skin Care Products Melt In Hot Weather."

---

View Answer Page
Are Chagrin Valley Ingredients & Products USDA Certified Organic?

Chagrin Valley Soap & Salve is a USDA Certified Organic Company

The most important consideration in any business is its customers. Today's world of misleading claims, false advertising, and simple deception, often leaves consumers trying to discover the truth about personal products and their ingredients.

We want our customers to know that we are

committed to transparency in everything we do.

We want our customers to know that when we say "

organic," we mean it.
We believe that in becoming a USDA Certified Organic company, our customers do not have to wonder if we really use certified organic ingredients or if our organic products are truly organic.
So we choose to be a certified organic company

and abide by the strict standards required for organic certification.

Some of my favorite products are made with ingredients that just do not exist as certified organic. Why? At this time there are no standards created for ingredients specifically used in the personal care product industry. Organic certification of personal care products is based on the organic food standards set by the National Organic Program of the USDA.

But since we are a certified organic company, we are required to submit documentation that even our "non-organic ingredients" were produced without the use of toxic pesticides, genetically modified organisms (GMOs), sewage sludge, or irradiation.

Why Did We Become a Certified Organic Company?

What Do All of the Organic Labels Mean?

---

View Answer Page