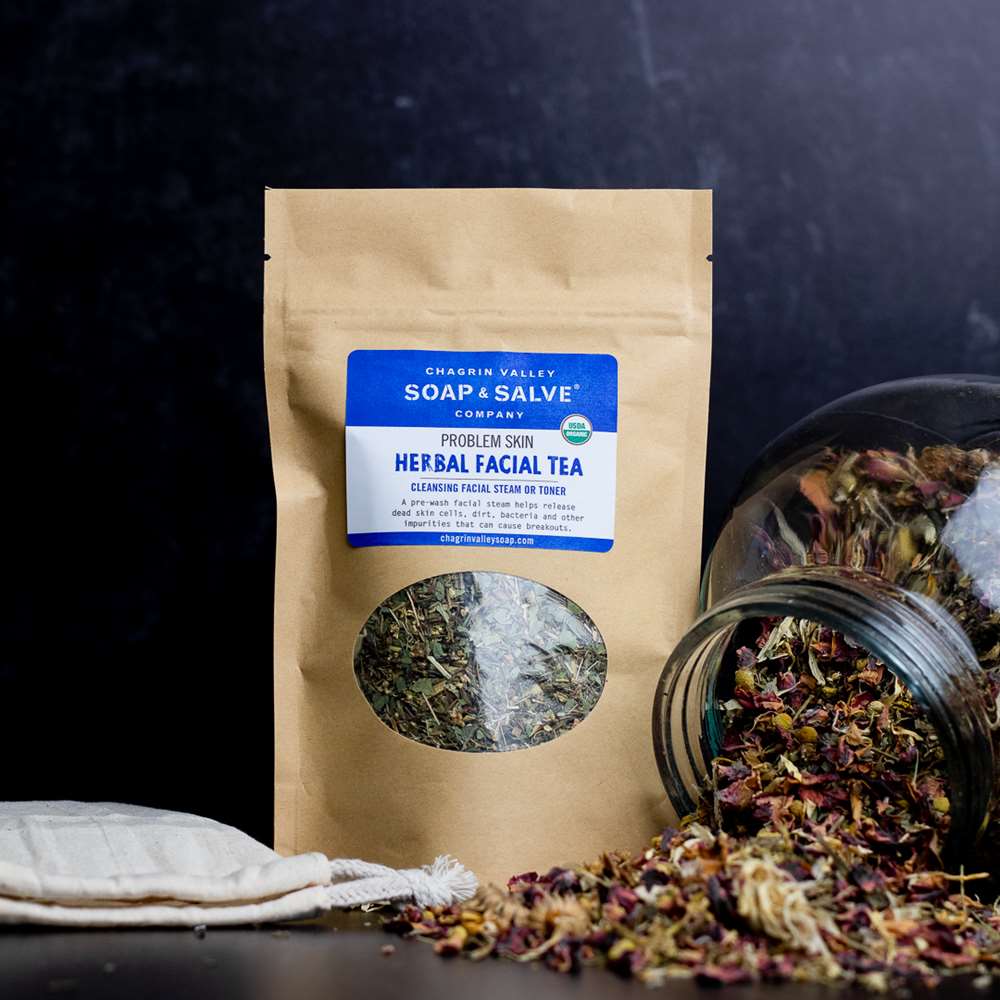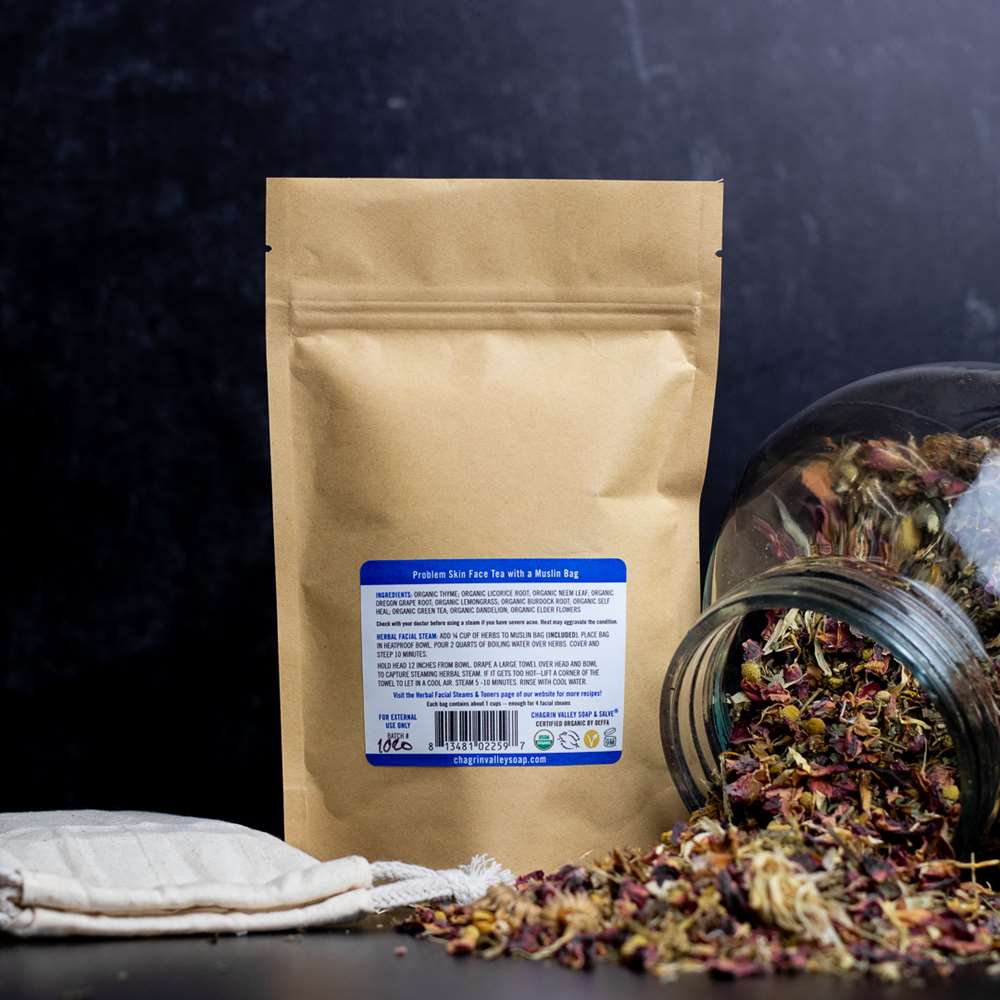 Acne is often caused by blocked pores. This facial steam and toner is made with organic herbs and botanicals that are known to help open and deep clean pores.
Product Overview

Oily skin is notorious for causing blocked pores which encourage Propionibacterium acnes, the acne-causing bacteria, to breed. However, using skin-drying alcohol-based products or harsh face washes actually encourages the oil glands to produce more oil (sebum).

Although steaming alone will not clear comedones (pore blockages) the moisturizing heat will increase circulation, open pores, and make facial skin sweat. Sweat, mainly water, sodium, and potassium, also contains many smaller compounds some of which have antibacterial properties. Sweating also helps flush impurities and contains salt which creates an environment that bacteria do not like.

Our Problem Skin Facial Tea is formulated with organic herbs and botanicals that have anti-inflammatory and antibacterial properties to help open and deep clean pores. Some of the herbs included are:

Licorice Root has strong anti-inflammatory properties that will both soothe the skin and inhibit the production of irritants that contribute to skin conditions such as acne.
Neem, naturally astringent, antiseptic, antibacterial, and antifungal has been recognized in ancient Ayurvedic texts. Its leaves and bark are used to heal rashes, minor wounds, and a myriad of skin conditions such as acne, eczema, itching, rosacea, and fungal infections.
Thyme has antiseptic and antifungal properties that cleanse, heal and soothe inflamed skin. Studies have shown that thyme has antibacterial properties greater than benzoyl peroxide, which is the active ingredient in anti-acne preparations. (source)
Lemongrass has astringent and tonic properties that help balance skin oil, minimize pores and firm the skin. An antifungal and antibacterial herb, lemongrass can help limit bacterial and fungal growth on the skin.
Green Tea is naturally rich in a group of antioxidants called polyphenols, that help rejuvenate skin cells. A mild astringent, green tea is used to cleanse, tone, and purify the skin.

Our facial teas can be used as a facial steam or as a tea facial toner. Please see the "How To Use" section below.




Each package (1 bag) contains about 1 cup of tea, enough for at least 4 facial steams

Reusable cotton muslin bag included!
How To Use

Herbal Facial Steams

A facial steam, one of the most ancient practices for facial skin, is marvelous for your skin. Congested pores, dull complexion, uneven skin, whiteheads, and blackheads are often signs of clogged skin pores. Clogged pores can be caused by a number of factors such as excess fat and oil, dead skin cells, environmental pollution, makeup residue, and dirt.

Steaming expands pores, loosens dirt and debris in pores, and allows pores to breathe as impurities are forced out. The warm moist heat hydrates the skin, improves circulation, relaxes muscles, plumps wrinkles, loosens debris, softens rough skin, and allows the moisturizer you apply afterward to penetrate deeper.

An organic herbal facial steam can stimulate circulation and bring a bright complexion and rosy glow back to dry, dull, lackluster complexions. They are also delightfully relaxing!


Basic Herbal Facial Steam Recipe:

Place 3 tablespoons to ¼ cup of herbs into the muslin bag
Place the bag in a pot or heatproof bowl about 3 quart size
Pour 2 quarts of boiling water over the herbal bag
Cover and steep for at least 10 minutes


How To Use:

Wait a few minutes to allow the water to cool slightly--be sure steam is not too hot
Place a bowl on a heatproof surface where you can comfortably sit
Holding your head 12 inches from the bowl, drape a large towel over the head and bowl to capture steaming herbal water
Allow the steam to bathe your skin a minute or two and then raise your head a bit and take a few breaths of fresh air
Repeat the process for a maximum of 5 to 10 minutes
If at any time it gets too hot under the towel--lift a corner to let in a little cool air
As the herbs steep, the rising steam will open your pores and carry the aromatic herbal oils your skin
Splash face with cool water to close your pores and pat dry
When finished empty the bag and compost the herbs
Rinse the muslin bag and allow it to dry

Facial TONER

Some people like to use a toner in between washing and moisturizing. A toner should be made with natural ingredients. A "natural" face toner is a toner without alcohol, preservatives, or synthetic ingredients. Although these natural toners will not provide all of the super astringent and cleansing that you get from a more traditional toner, they will not strip your skin either.

Simple Herbal Facial Toner Recipe

Fill a muslin bag with 1/4 cup of herbs
Pour 1 cup of boiling water over the herbal bag
Cover and steep for at least 10 minutes
Allow to cool and remove herbs from tea

How to Use:

Use cotton balls or clean fingertips to apply the herbal facial toner after cleansing
Some people prefer to pour it into a small spray bottle and spritz it on
Our tea formula, alcohol-free and non-drying, does not need not be rinsed
Extra tea will last about 7 days if refrigerated in a non-aluminum container
When finished empty the bag and compost the herbs
Rinse the muslin bag and allow it to dry

Our herbal facial teas are great all on their own but it is easy to combine facial herbs with other great skincare additives, like honey or apple cider vinegar, most of which can be found in your kitchen cupboards.

Find a more comprehensive look at using facial teas and toners plus creative recipes, read our blog, Using Herbs for Facial Skin Care & Toners

A Few Important Notes:

Although many people benefit from facial steams, they are not appropriate for everyone. Steam facials should not be used for those with cystic acne or rosacea and heat and sweating can often irritate eczema.

For folks who have extremely sensitive, damaged skin or who are prone to developing tiny broken veins or capillaries, herbal steams can be irritating and should be avoided unless suggested by a health care provider. People with health conditions such as asthma or heart trouble should consult their physician before doing facial steams. If you have sensitive or allergy-prone skin, you should always do a skin patch test before using any new product.

Just like you should not sit too long in a steam room, you do not want to facial steam too long or too often. Listen to YOUR skin! A word of caution-- If you feel light-headed or woozy during steaming, stop at once.




Please Note: If you have severe or cystic acne heat may aggravate the condition. So check with your doctor before using a face steaming treatment. If steam is contraindicated, you can use the herbal tea as a toner.





For external use only!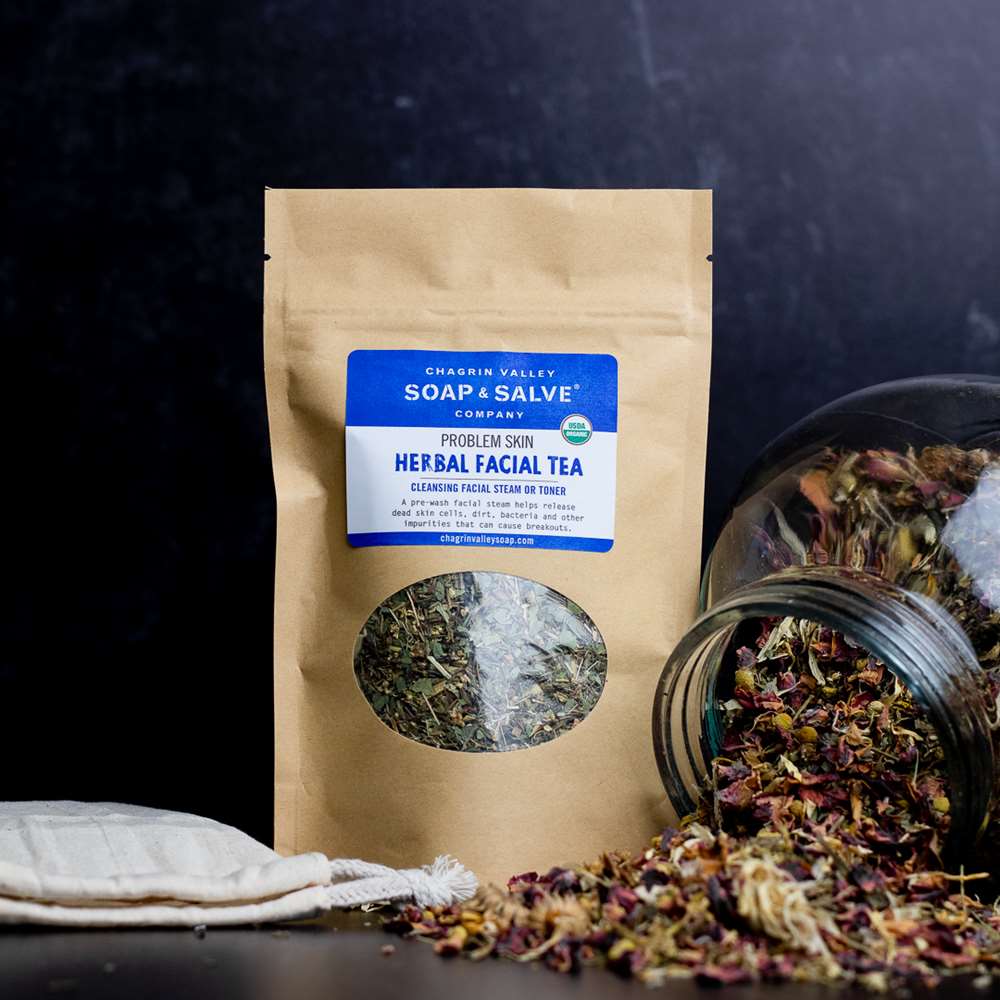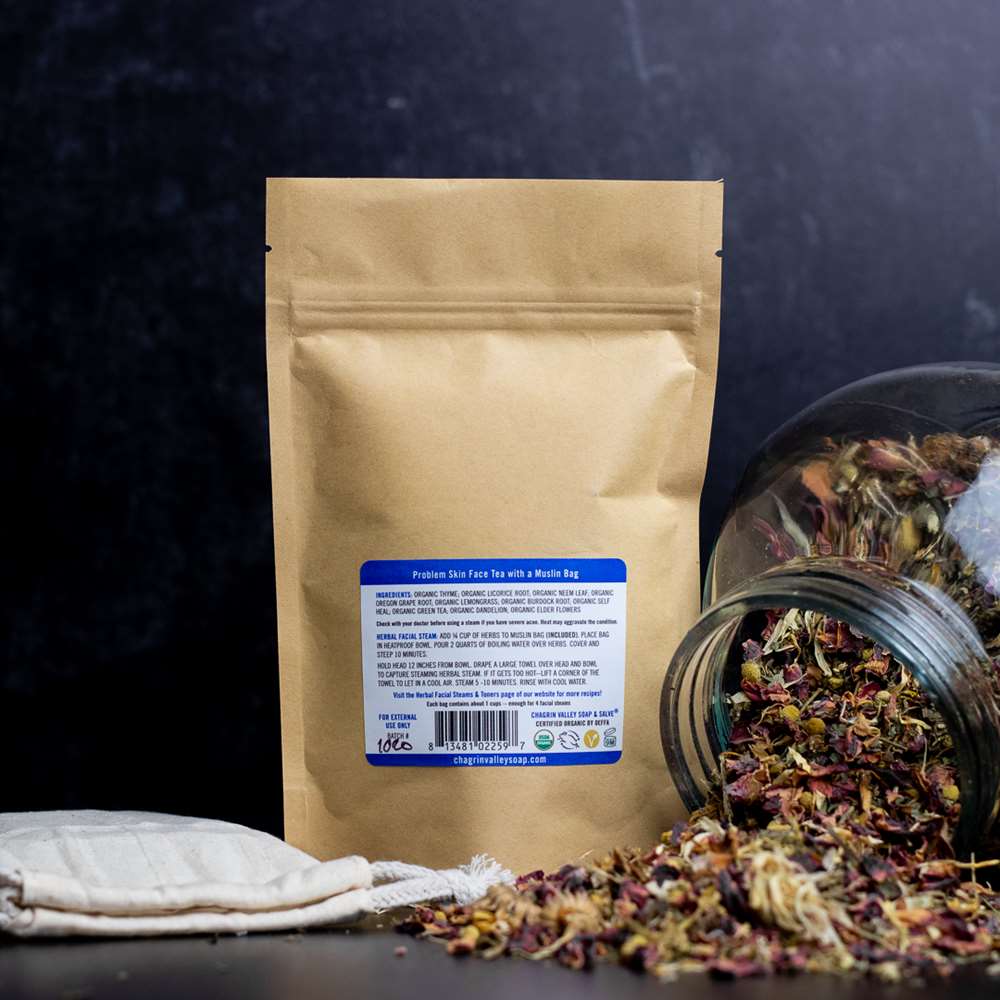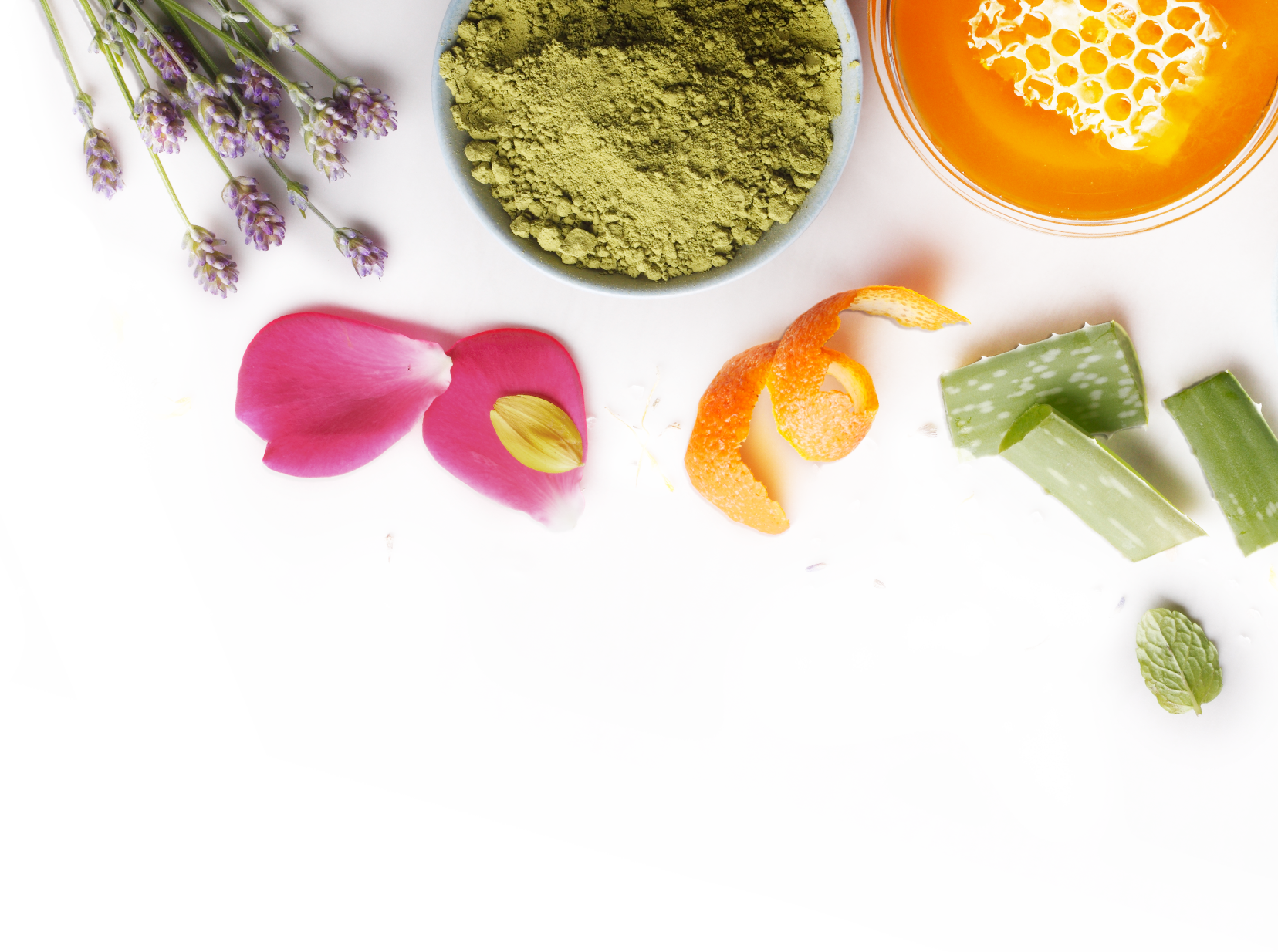 Effective, Feel Good Ingredients
The goal is simple: to Harness the Power & Simplicity of Nature® to cleanse, soothe, heal, and protect your skin and hair!
Our unique formulas rely on moisturizing oils and butters, healing botanicals, and pure essential oils. We choose every ingredient with one end-result in mind….the BEST possible natural skin care for YOU!
Featured Ingredients



Organic Oregon Grape Root
Frequently Asked Questions
Can Everyone Use an Herbal Facial Steams?

Although many people benefit from natural herbal facial steams, they are not appropriate for everyone.

Steam facials should not be used for those with cystic acne or rosacea and heat and sweating can often irritate eczema.

For folks who have extremely sensitive, damaged skin or who are prone to developing tiny broken veins or capillaries, herbal steams can be irritating and should be avoided unless suggested by a health-care provider.

People with health conditions such as asthma or heart trouble should consult their physician before doing facial steams. If you have sensitive or allergy-prone skin, you should always do a skin patch test before using any new herbal product.

Just like you should not sit too long in a steam room, you do not want to facial steam too long or too often. Listen to YOUR skin and your body! A word of caution-- If you feel light-headed or woozy during steaming, stop at once.

For more information read our blog, "How To Use Our Organic Herbal Teas For Facial Skincare"

---

View Answer Page
How Does a Facial Cleansing Oil Work?

How Does a Facial Cleansing Oil Work?

A cleansing oil works its magic in two simple ways . . .

oil dissolves oil
skin with balanced oil production is happy skin

1. The concept of the oil cleansing method is rooted in one of the most basic principles of chemistry, "like dissolves like."

Since water does not dissolve oil, if you wash with water you need some sort of soap or detergent. Think of soap as the middle-man that helps bring oil and water together so that the dirt and grease on your skin can be easily rinsed away.

Oils are what chemists call lipophilic, meaning that they are naturally attracted to other oils, including the excess skin oil (sebum) that causes breakouts and the oil by-products found in most makeup.

Even if you use water-based makeup, throughout the course of a day the makeup will mix with your natural facial oil.

A facial cleansing oil will dissolve away the dirty oil and makeup from your face and replenish it with clean, nourishing oil that protects and moisturizes throughout the day.

2. Using some good, natural, organic oil on your skin actually slows down its own oil production to maintain balance.

There is a huge misconception that using any oil on your face only creates more oil, more breakouts and leaves an oily residue. For years commercial skin care companies have told us we need to remove the oil from our skin, especially our faces.

The problem is that drying out your facial skin actually stimulates increase oil production--which is the opposite of what you are trying to achieve.

Our facial cleansing oil is formulated with a blend of organic oils and herbal infused oils that will balance sebum production and bind with the existing oil to unclog pores and cleanse impurities.

Using pure, organic oils whether to cleanse or simply moisturize will help balance sebum (natural skin oil) production, protect skin and keep it soft, smooth, and hydrated.

For more information please read our blog, "What Is A Facial Cleaning Oil? How Do I Use It?"

---

View Answer Page
Why Should I put OIL on my face?

Whether you call them "face oils" or "facial serums," nourishing, unrefined organic oils can moisturize, soothe and help restore natural balance to facial skin.

Our skin naturally loses the ability to retain moisture as we age. Our facial skin tends to become thinner and lose its elasticity. Our skin also produces less oil, which means it dries out more easily. This can exaggerate the look of fine lines and wrinkles. Facial oils can help prevent water loss and keep skin plump.

Application Hint: Apply facial oil right after washing skin and right before any other moisturizer to hold the water on the skin and seal in moisture.

While many people, especially those with oily or acne-prone skin tend to shy away from oil-based moisturizing, it can be a very important step in daily skin care. An organic facial oil helps to increase the moisture content in the skin and prevent further moisture loss.

Oily Skin

If you have oily skin, nourishing organic oils can help mimic the natural skin sebum which in turn sends signals to oil-producing cells that say, "Hey my skin is moisturized so stop producing oil."

Using products created to "dry out" oily skin, in an attempt to get rid of oily shine, will actually trigger the oil glands to increase oil production, which only exacerbates the oily skin problem. A wholesome moisturizer helps balance skin oil production.

Dry Skin

If you have dry skin an organic facial oil made from unrefined botanical oils creates a protective but breathable barrier that slows moisture evaporation and thus helps lock in moisture.

Irritated Skin

A natural face oil is ideal for sensitive and irritated skin. Sometimes, adequate hydration alone can help calm inflammation and soothe red irritated skin.

Maturing Skin

It is especially important for those (like me!) with maturing skin to keep your face adequately moisturized to help with fine lines and wrinkles. As we age, the skin's natural oils decreases, the skin dries out more easily and wrinkles appear deeper. A nourishing oil helps prevent water loss and plump the skin.

The main thing is to make sure that you are using the right kind of moisturizer.

The most nourishing face oils are those made with unrefined, certified organic plant-based oils. Unrefined oils are either cold-pressed or expeller-pressed.

They are minimally processed without chemicals under temperature-controlled conditions which ensures a nutrient-rich, high-quality natural oil.

USDA Certified Organic means the botanical oils are free of synthetic additives, pesticides, and preservatives.

Stay away from petroleum-based products that contain mineral oils that clog your pores and cause breakouts.

 

Creating A Facial Skin Care Routine

What Is A Facial Cleansing Oil? How Do I Use It?

 

---

View Answer Page