Finely milled vegetable root powders, kaolin clay and essential oils create a soft, silky natural body powder with a warm lavender scent. Use to absorb excess moisture, keep skin soft, dry, cool, and comfortable, soothe chafing, and as a gentle deodorant. Feel relaxed and refreshed as your spirit is swept away to a peaceful garden with the timeless classic scents of lavender and rosemary.

Product Overview

A calming, yet refreshing, talc-free organic body dusting powder formulated with finely milled vegetable root powders, skin-soothing botanicals, and silky clay that work together to absorb moisture to keep skin soft, dry, cool and comfortable.

Use after a shower or as an anytime skin refresher.

Great during hot humid weather
Helps skin stay cool and dry
Helps reduce chafing and heat rash
Soothes and softens skin
Great to use after a shower or bath
Absorbs excess moisture
Lavender & Rosemary essential oils have natural skin-soothing, antibacterial and deodorizing properties
Great as a light deodorant
Talc-free, cornstarch free, grain-free, synthetic-free

Although many natural body powders substitute cornstarch for talc, cornstarch can promote the growth of yeast and exacerbate rashes—so we don't use it!




Our organic Body Powders are packaged in paperboard tubes made from recycled paper with FSC certification. We are in the process of shifting to all paperboard sifter tops, some older tubes still have a plastic sifter top.
How To Use

For velvety soft skin, use on clean, DRY skin after bathing or showering

We recommend sprinkling the powder on your hand first and then applying it to a specific area as opposed to shaking it directly on the skin. It is less messy and will save you from wasting powder.

As a Body Powder

Tap a small amount of dusting powder into the palm of your hand, powder puff or powder brush.
Pat evenly over skin ensuring the powder is evenly spread and worked into the skin to stay fresh, dry and silky smooth.
Add more if needed.
For the delicate décolleté area (neck and upper chest) try a makeup brush.
If using body powder, do not use a moisturizer first. These two products do not play well together!

To Prevent Chafing

Pay special attention to areas where you perspire most.
Apply powder to those areas that are prone to chafing.
Sprinkle a small amount of powder onto your hand.
Gently massage the powder into the skin until it is fully incorporated.

As a Gentle Powder Underarm Deodorant

For best results, make sure your underarms are clean and dry.
Sprinkle a small amount of powder onto your hand, powder puff, or powder brush.
Rub your hands together and feel the silky, soft, naturally absorbent powders that will help keep you fresh.
Massage the powder into your underarms and cover the entire surface area of your armpits until it is absorbed into the skin.
It may take time for your body to adapt to any natural deodorant if you currently use antiperspirant.
During hot, muggy summer months some people like to add a bit of body powder on top of their deodorant

Our super absorbent, fresh scented body powders are so versatile and have many uses.




FunTips:

Freshen Sheets: Sprinkle are small amount of powder over the bottom bedsheet where you sleep. Use you hand to rub the powder into the sheet until there is a smooth layer of powder dust. Enjoy the silky feeling and refreshing fragrance as you slip into the bed. For extra freshness, dust your sheets in the morning before making your bed.




Head to the Beach: Pack your powder when going to the beach. Simply sprinkle the powder onto your hands and rub it onto sandy areas to remove sand from your body. Since the powder absorbs moisture from the skin, the sand has nowhere to stick!




A great product for traveling since one powder can do it all in a pinch

Sprinkle on your feet
Sprinkle anywhere you want to keep odors in check- shoes, gym bag, etc.
Sprinkle on your scalp to absorb dirt and oil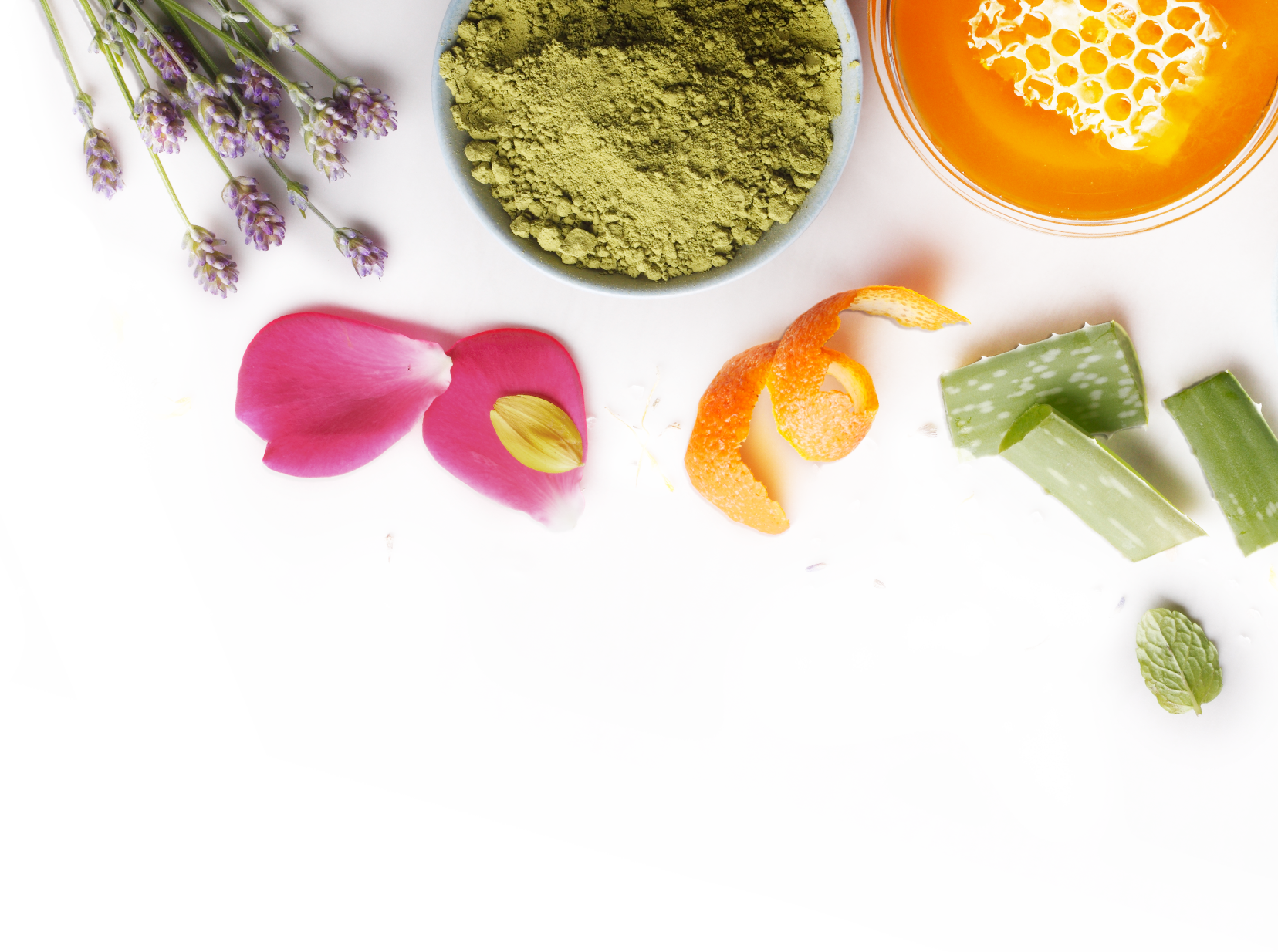 Effective, Feel Good Ingredients
The goal is simple: to Harness the Power & Simplicity of Nature® to cleanse, soothe, heal, and protect your skin and hair!
Our unique formulas rely on moisturizing oils and butters, healing botanicals, and pure essential oils. We choose every ingredient with one end-result in mind….the BEST possible natural skin care for YOU!
Featured Ingredients



Organic Lavender Essential Oil
Frequently Asked Questions
What are essential oils?

What Are Pure Essential Oils?

Have you ever enjoyed the scent of a fragrant flower or herb? The fragrance comes from potent, aromatic compounds called essential oils found in the flowers, stems, seeds, bark, roots, fruits, and other parts of plants. It often requires several pounds of a plant to produce a single bottle of essential oil.

Essential oils not only give plants their unique scents but also help lure plant pollinators and protect plants from insects and other predators.

The chemical composition of essential oils may provide valuable psychological and physical aromatherapeutic benefits for some people.

It is important to note that to be a true essential oil, the oil must be isolated from the plant material by physical means only. Essential oils are NEVER extracted using solvents.

Although synthetic fragrances or "nature identical" oils are available at a much lower cost, only natural plant essential oils will provide any aromatherapeutic benefits.

What Are Essential Oils (Much more detail)

How Essential Oils Are Extracted

Why We Use Only Real Plant Essential Oils?

---

If you are pregnant or under a doctor's care for any medical condition, please consult your healthcare provider before using essential oils.

Pregnancy & Children: We do not provide information on the safety of essential oils during Pregnancy or for use in Children because the available information is very ambiguous and often contradictory. If you're interested in using essential oils during pregnancy or with young children please do your own research and consult your doctor, midwife, or health care professional before use.

---

View Answer Page
Are Chagrin Valley Ingredients & Products USDA Certified Organic?

Chagrin Valley Soap & Salve is a USDA Certified Organic Company

The most important consideration in any business is its customers. Today's world of misleading claims, false advertising, and simple deception, often leaves consumers trying to discover the truth about personal products and their ingredients.

We want our customers to know that we are

committed to transparency in everything we do.

We want our customers to know that when we say "

organic," we mean it.
We believe that in becoming a USDA Certified Organic company, our customers do not have to wonder if we really use certified organic ingredients or if our organic products are truly organic.
So we choose to be a certified organic company

and abide by the strict standards required for organic certification.

Some of my favorite products are made with ingredients that just do not exist as certified organic. Why? At this time there are no standards created for ingredients specifically used in the personal care product industry. Organic certification of personal care products is based on the organic food standards set by the National Organic Program of the USDA.

But since we are a certified organic company, we are required to submit documentation that even our "non-organic ingredients" were produced without the use of toxic pesticides, genetically modified organisms (GMOs), sewage sludge, or irradiation.

Why Did We Become a Certified Organic Company?

What Do All of the Organic Labels Mean?

---

View Answer Page
What Do The Different Organic Symbols Mean?

We use two different organic symbols on our website.

Each symbol has a unique definition!

Organic Labels

The "certified organic" labeling has been developed by the USDA and refers to organic claims and labeling on food and personal care products in the United States. The USDA has very strict guidelines for the percentage of organic ingredients necessary to receive organic certification. Other countries have their own certification procedures, requirements, and standards. Labeling criteria and allowable ingredients differ from those in the US.



The USDA Organic Logo Label can be used on products that meet the standards of the first two tiers of the organic labeling system in which 95 - 100% of the ingredients are certified organic.

Most of our non-soap products fall into this category and display the USDA logo!

The Certified Organic by OEFFA label is used in our company for two reasons . . .

Soaps and Shampoos: These products contain at least 8% of the sodium hydroxide due to the process of soapmaking. Our "organic" soap is about 87% to 92% organic, but the USDA standard states that a product must be made of 95-100% organic ingredients in order to bear the USDA Certified Organic seal shown above. We are also not allowed to use the words "organic soap" on the label.

Wildharvested Ingredients: When using any agricultural ingredient (any ingredient that has a biological origin) that is not certified organic the same labeling rules we use for soap apply.

The USDA rules for proper labeling state that the products may display the certifying agent's logo but not the USDA organic logo. Our USDA certifying agency is OEFFA (The Ohio Ecological Food and Farm Association). Their logo is displayed on our "organic" soaps and shampoos.

Why do some soap companies use the word "organic" on their labels--even though it is against the rules? Click Here to Read More about Rules for Organic Labeling of Soap!

Unofficial Labels

We sometimes use an unofficial symbol for products made with "natural" ingredients that do not meet the criteria for either label above. You may see this type of symbol on products, like the Dead Sea Black Clay, Bamboo Charcoal, and Loofah Pumice Foot Soaps and our Mud & Clay and Rosemary Mint Charcoal Shampoo Bars.

Organic certification is based on organic farming and agriculture standards. As a result, the list of allowable non-agricultural ingredients (like clay, salt, mud etc) is based on raw materials used in agriculture or food production. Unfortunately, ingredients like some Clays, Pumice, Dead Sea Mud and Bamboo Charcoal are not used in farming or food production and thus do not appear on the list.

Although it may seem long, this is really a very brief description. For more detailed information please read, "What Do All Of The Organic Labels Mean?"

---

View Answer Page
Are Your Products and Ingredients Cruelty Free?

All of Chagrin Valley's natural soap, shampoo bars, and personal care products are certified cruelty-free by Leaping Bunny.

 Chagrin Valley Soap & Salve has been Leaping Bunny Certified since 2013. 

The Leaping Bunny Program was developed in 1996, by The Coalition for Consumer Information on Cosmetics (CCIC), to identify and support companies that are doing their part to help eliminate the unnecessary use and mistreatment of animals to test cosmetic products and ingredients. The CCIC is made up of eight animal protection groups including the Humane Society of the U.S., as well as groups from Canada and Europe.

At Chagrin Valley we do not test our finished products on animals (other than human volunteers). But what about the raw materials, the ingredients we use?

Many products display labels claiming that their finished product is 'not tested on animals' but this does not guarantee that the product ingredients are actually free from animal testing. 

The CCIC Standard is a pledge that a company makes to remove animal testing from all stages of product development. Our pledge to buy ingredients that are cruelty-free is integrated into the purchase agreement for all of our suppliers.

Personal care products displaying the "real" Leaping Bunny logo are certified 'cruelty-free' using the internationally recognized Humane Cosmetics Standards. These rigorous standards require that no animal testing is performed or authorized for finished products or any of the ingredients in any stage of product development by the company, its laboratories or its suppliers after a fixed cut-off date. All Leaping Bunny companies are subject to independent audits and pledge commitments that are renewed on an annual basis.

This annual renewal is a key requirement that sets the Leaping Bunny Program apart from other cruelty-free certification programs. Companies that manufacture products, as well as their ingredient suppliers, must annually recommit to upholding their promise to not conduct animal testing on any finished products, ingredients, or formulations.

Why is this annual commitment renewal important? "Because product formulations change, suppliers come and go, and manufacturers develop innovative lines to meet consumer needs. But we know that compassionate consumers need to be confident that no animal testing is involved in the products they use."

At Chagrin Valley Soap & Salve . . .

we do NOT test our products on animals
we do NOT use ingredients tested on animals
we do NOT sell into markets that require animal testing



The Leaping Bunny Program provides
the best assurance to consumers
that they are making compassionate shopping choices
by purchasing Cruelty-Free skin care!

---

View Answer Page