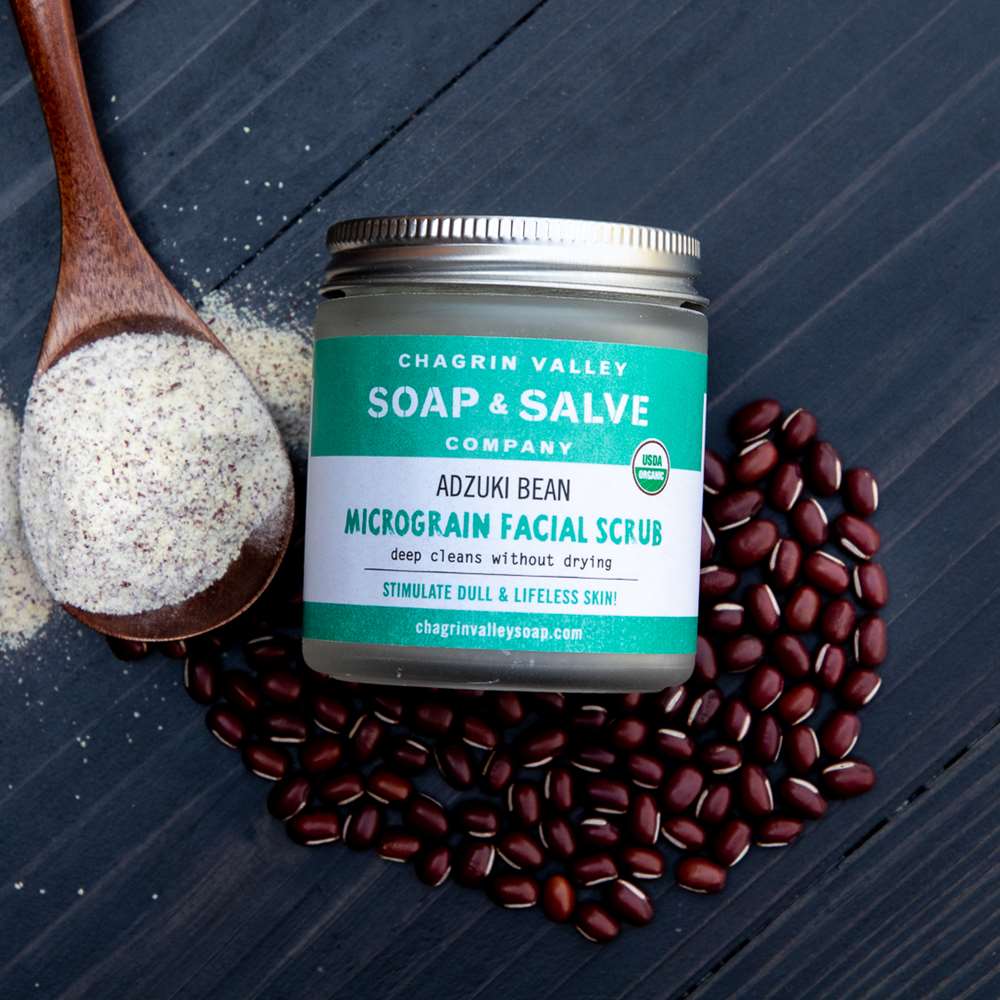 Micrograins cleanse pores by absorbing excess oils and removing dirt and dead skin cells. The soft grains gently buff away dull, dry skin, which helps promote circulation. 
Product Overview

Multipurpose exfoliating organic ADZUKI BEAN micrograins gently buff away dull, dry, flaky skin.

Used in Japanese skin care regimens for centuries, Adzuki beans contain a natural foaming agent called saponin that helps cleanse pores by absorbing excess oils, removing dirt and dead skin cells, drawing out impurities, and promoting circulation.

This adzuki bean face scrub exfoliates, brightens and nourishes the skin. It is a great mild exfoliant if you are looking for something gentle that will not strip skin of its natural oils. It is good for all skin types and can be especially helpful for enlarged pores, redness, irritation, and acne.

Silky grains exfoliate without damaging the skin
Removing dead skin cells encourages fresh skin cell formation
Promotes a soft smooth texture and a radiant glow
Helps unclog pores
Safe and gentle scrub for those prone to acne and blackheads

Adzuki beans can be used in so many ways. Read our blog Adzuki Beans in Natural Skin Care Skin to learn more about Adzuki Beans and recipes for complexion care.

Our organic adzuki beans are ground at an Amish mill right here in Ohio!
How To Use

Directions:

Simple Facial Scrub: Place about 1/2 teaspoon of powder in your palm. Add a few drops of warm water--enough to form a paste. Apply to wet face with wet fingertips, gently scrubbing in small circles, avoiding eye area. Rinse with warm water and pat dry. Optional--before drying, splash with a bit of cool water to close the pores.

The Simple Facial Scrub is great all by itself. If you like to experiment--there are many ways to use our versatile Organic Adzuki Micrograins!

Facial Mask: In a small bowl, mix 2 to 3 tablespoons of powder with 1 to 3 teaspoons of water. Apply mixture to your face and allow the paste to remain on face until it dries a bit (about 10 minutes) and gently rinse. Fun Tip---replace the water with green tea, yogurt, pure aloe vera gel or for extra moisturizing--one of our facial oils!


Exfoliate & Moisturize: Make a paste with the Adzuki powder and warm water. Add a dollop of your favorite Chagrin Valley moisturizer, face oil or olive oil, massage and rinse.


Exfoliate & Cleanse: Lather your favorite Chagrin Valley Complexion Soap, our Buttery Face Wash in your hand and mix in a small amount of Adzuki powder. Wash your face and rinse.

We recommend using this scrub once or twice a week when you first start. It is gentle enough to use more often if you wish, but always remember to listen to your skin and to pay attention to seasonal changes.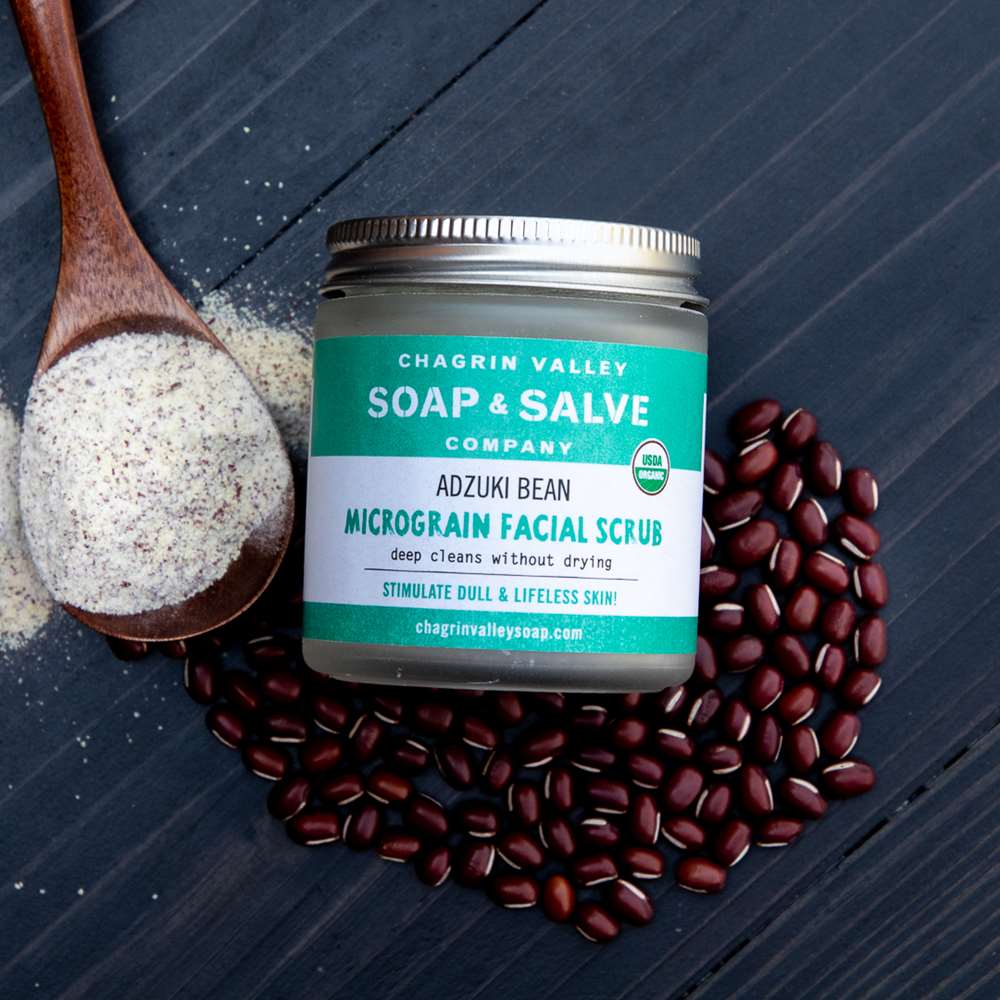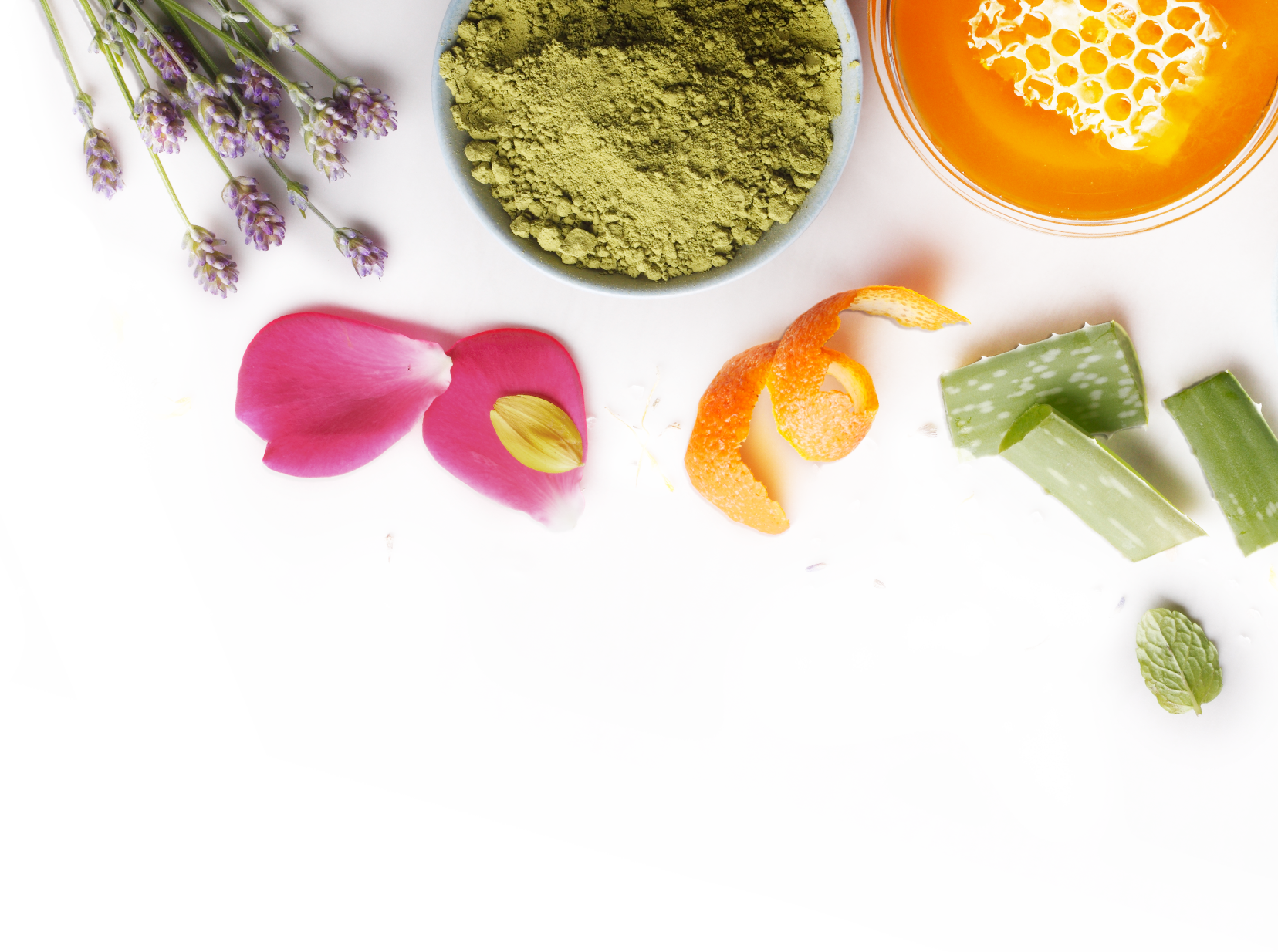 Effective, Feel Good Ingredients
The goal is simple: to Harness the Power & Simplicity of Nature® to cleanse, soothe, heal, and protect your skin and hair!
Our unique formulas rely on moisturizing oils and butters, healing botanicals, and pure essential oils. We choose every ingredient with one end-result in mind….the BEST possible natural skin care for YOU!
Featured Ingredients

All Ingredients: