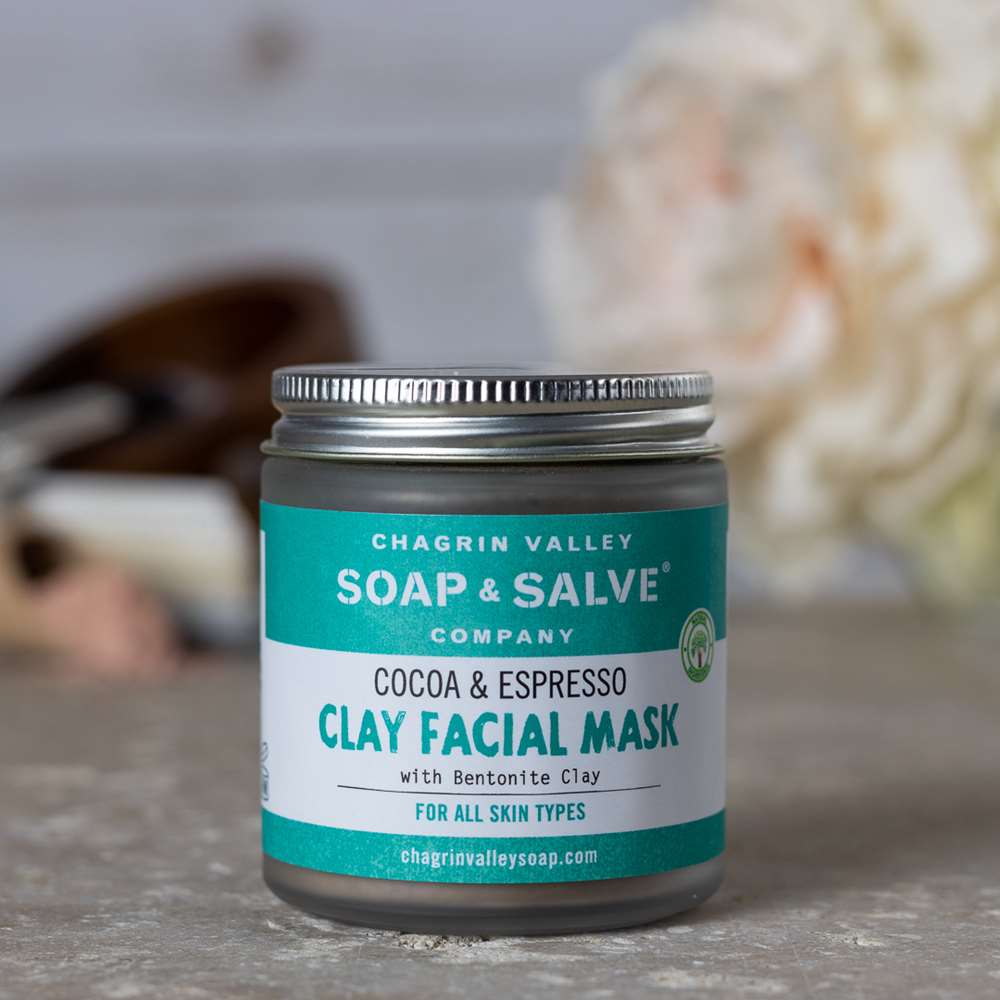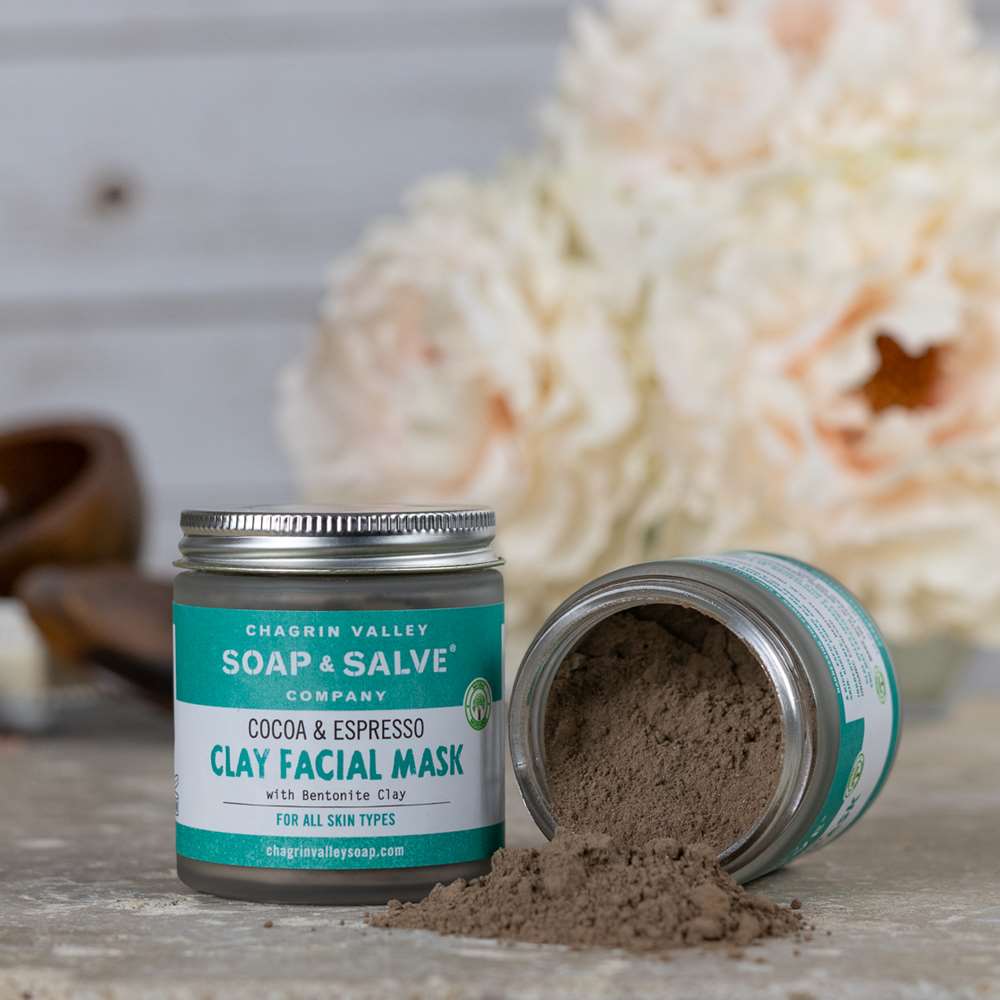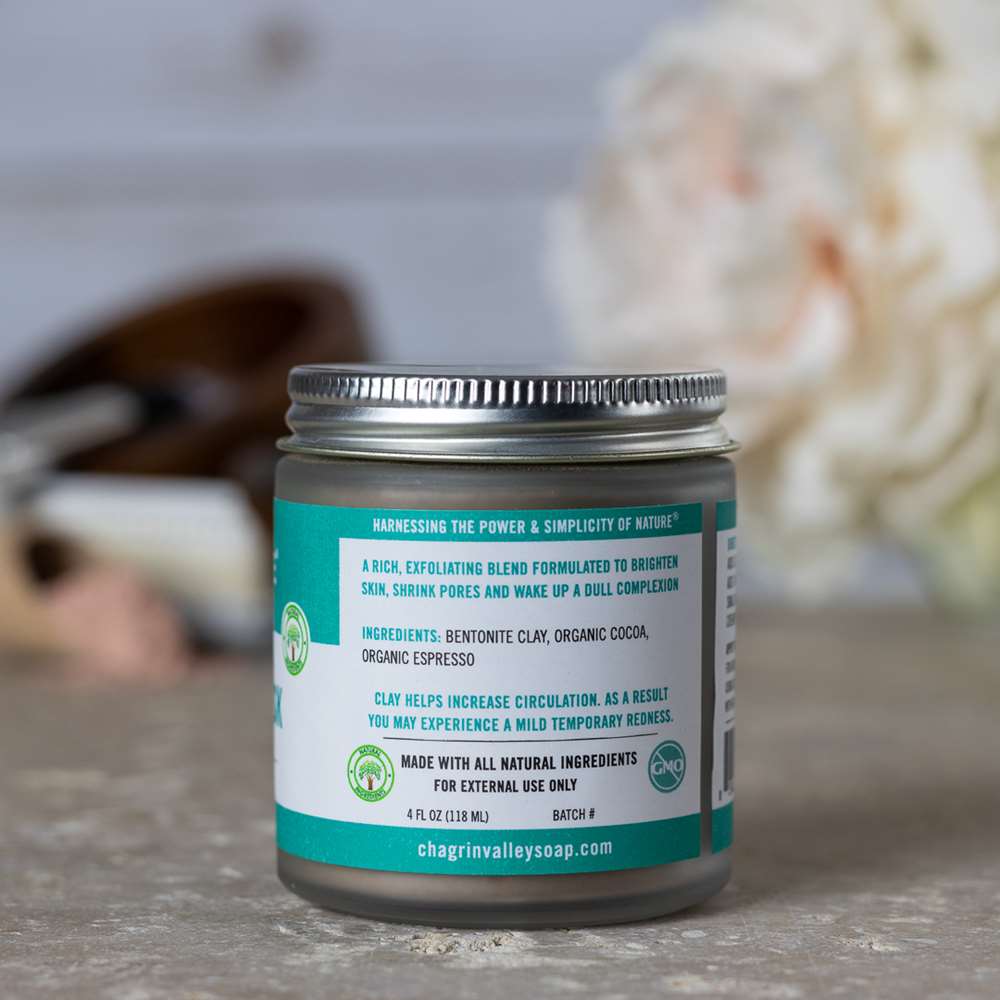 The intoxicating aroma of freshly-brewed coffee and rich cocoa provides the perfect skin-reinvigorating treat. A rich, exfoliating blend formulated to brighten skin, shrink pores and wake up a dull complexion.
Product Overview

Cocoa Espresso Facial Clay Mask is good for all skin types.

Organic Cocoa and Espresso combine to make a heavenly blend ideal for all skin types! Rich in antioxidants, this clay mask offers the skin a nutrient boost that improves circulation and skin clarity, to restore a healthy glow and leave your complexion feeling fresh. Bentonite Clay rounds out this luscious mask by drawing out oil and impurities to reveal bright, nourished skin.

About 8 to 12 uses per jar

BENTONITE CLAY - Composed mainly of weathered and aged volcanic ash sediments, Bentonite Clay is highly absorbent and perfect for those with oily, acne-prone skin.

Known for its purifying abilities, Bentonite extracts oil and dirt, unclogs and shrinks pores, and targets blemishes with its antibacterial properties. After doing its job detoxifying, Bentonite Clay infuses skin with minerals like calcium, magnesium, potassium, and silicon, all important components that help keep skin in good health!

ORGANIC COCOA - Loaded with antioxidants, powdered Cocoa can may limit the production of free radicals that can damage skin cells and speed up the aging process. Because of its high levels of caffeine and theobromine, Cocoa Powder can boost blood flow, which assists in the growth of new cells while tightening skin, reducing puffiness, and creating a youthful glow. Cocoa Powder is chock full of Vitamin E and minerals such as Calcium, Potassium and Zinc, which help promote collagen production and healthy cell development, giving skin a smooth, youthful appearance.

ORGANIC ESPRESSO - Do you love the way coffee gives you a boost in the morning? Well, it does the same thing for your skin! When applied topically, coffee stimulates blood flow, allowing the skin to appear bright, radiant and awake. Because caffeine constricts the skin, coffee gives your complexion a firm, tight appearance, while reducing puffiness. Coffee also has astringent properties, which aid in the shrinking of pores and regulation of sebum. The fine grind of Espresso offers a mild exfoliation that gently sloughs off dirt, oil and bacteria.




Clay Face Masks can be a versatile addition to any skincare regimen. We love our powder clay masks because, unlike the already prepared gel and cream masks, powder masks can be easily customized with extra mix-in ingredients* to provide your complexion with exactly what it needs as the seasons or your facial skin changes over time. The powder formula also stays fresh without preservatives.

*Learn More Blog: Clay Facial Mask Recipes & The Science Behind Them
How To Use

Creating an application technique that works for your skin will get you one step closer to a beautiful complexion.

Mixing The Clay

Step 1: Start with approx 1/2 to 1 Tablespoon of clay in a clay face mask bowl or any small non-metal bowl.

Step 2: Slowly add 1/4 teaspoon of room temperature or warm water and mix with a non-metal spoon.

Step 3: Continue adding small amounts of water and mixing until a creamy mud-like consistency is reached. Some clays need more water and some need less, so always begin with just a little water and continue to check the consistency. Be sure to mix well to a smooth clay paste.

Applying the Mask

Step 1: Begin with a clean*, dry face free of make-up, moisturizers, etc. (*Read the FAQ "Should I wash my face before using a facial clay mask?")

Step 2: Using a clay face mask applicator brush or a flat foundation brush, apply the mask to your face. You can apply using any technique that you like. I usually apply a thin first layer and then apply a second thicker layer so the mask is about 1/8″ thick.

If you have combination skin, read our blog about Targeted Application and Multi-Masking

Step 3: Allow mask to dry for 5-10 minutes. Drying times vary depending on the clay and your skin type. As the clay dries you will feel a pulling and tightening sensation on your skin.

For oily skin or a deep cleanse, allow the mask to dry almost completely and then remove--leaving the mask on longer does not add anything beneficial to the treatment and may cause increased redness.

The drying phase is when the clay draws moisture from the surface of the skin.

Thus for sensitive or dry skin or a more gentle cleanse, allow the mask to only dry around the edges of the face and nose and then remove (about 5 minutes).

Removing the Mask

Step 1: I like to remove a clay mask with warm water and my fingers.

To re-hydrate the mask a bit for easier removal, you can dampen a face cloth with warm water and hold it to the face before removal.

Since this mask is meant to be an exfoliating mask due to the ground espresso, use gentle upward circular motions with your fingers to help to stimulate circulation, polish your skin as the mask is removed.

Step 2: Gently pat face dry completely with a soft face towel.

After application of a clay mask, you will feel a tightening effect and the skin may even feel a bit itchy at first.

Clay helps increase circulation. As a result, you may experience mild temporary redness for up to 30 minutes.

Step 3: Moisturize! Follow-up with a facial oil or moisturizer

Step 4: Enjoy your super smooth and beautifully fresh skin!

If you are concerned about skin sensitivity do a small skin patch test.

For more detailed information please read our blogs

How To Use Clay Face Masks

Clay Facial Mask Recipes & The Science Behind Them

Multi-Masking and Targeted Application For Combination Facial Skin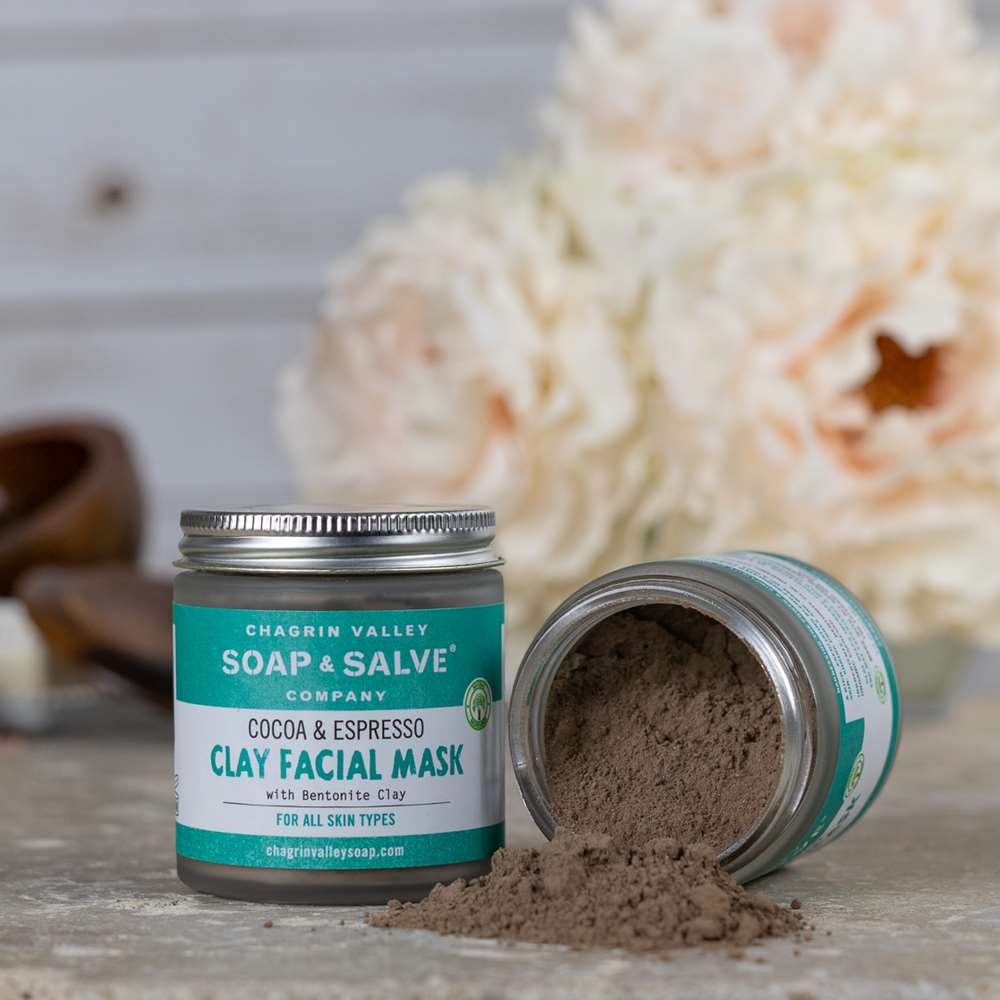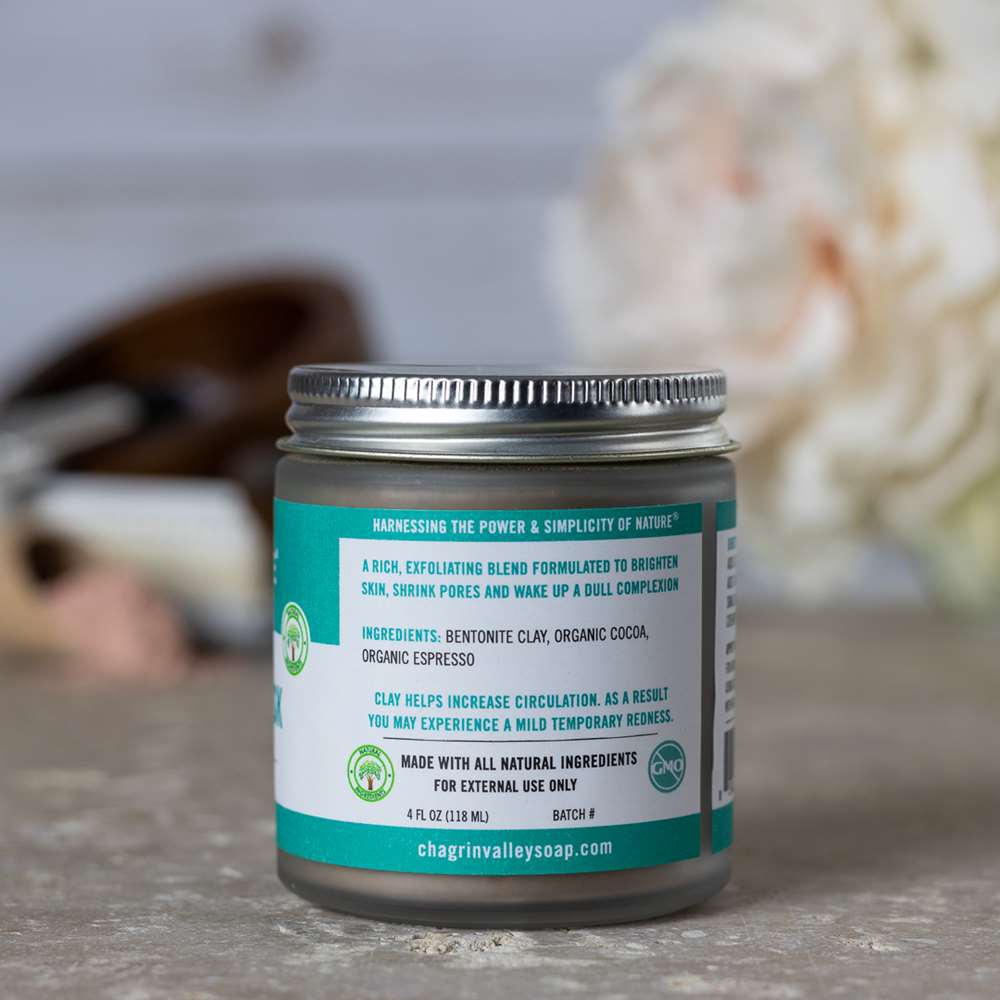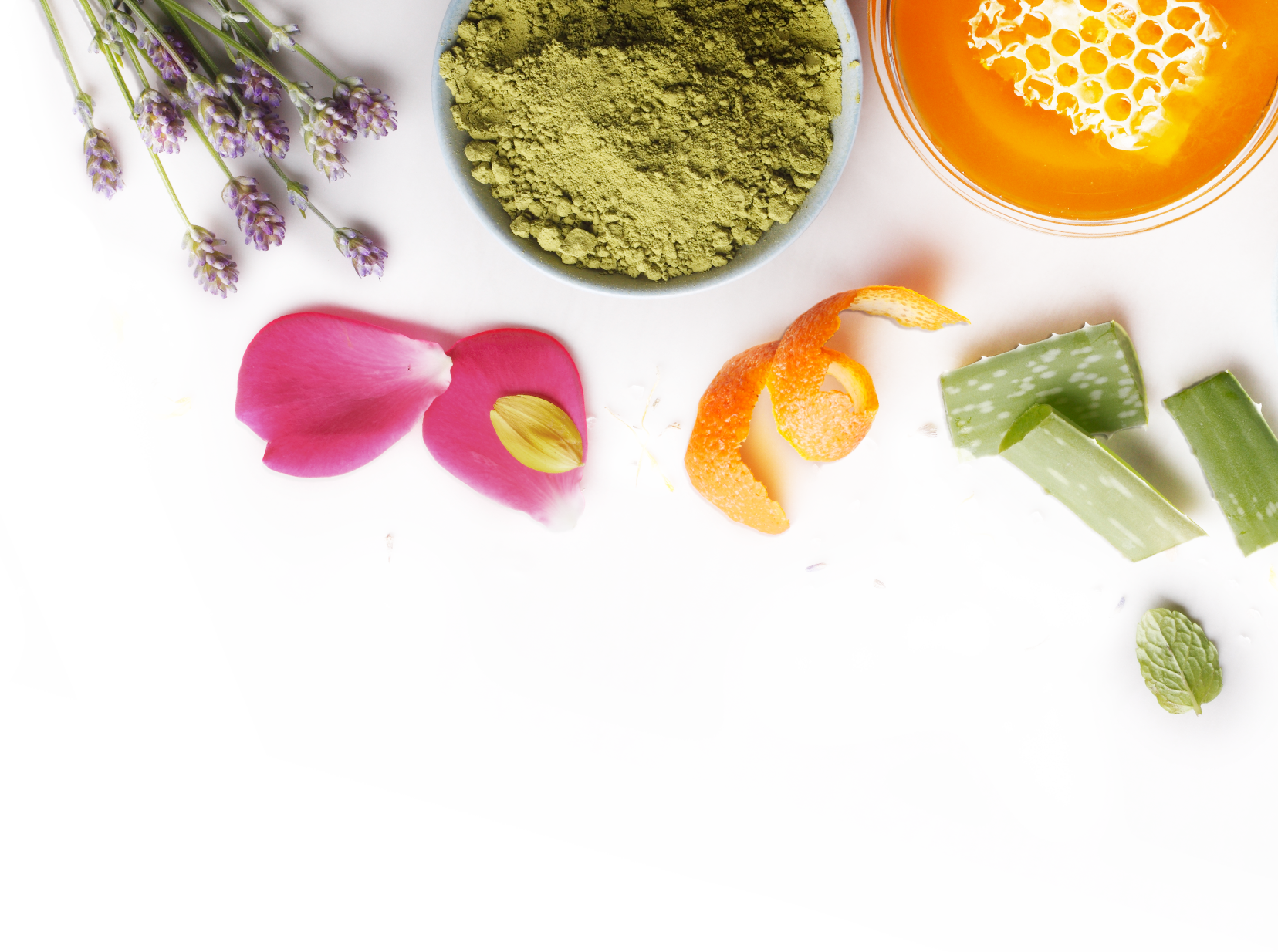 Effective, Feel Good Ingredients
The goal is simple: to Harness the Power & Simplicity of Nature® to cleanse, soothe, heal, and protect your skin and hair!
Our unique formulas rely on moisturizing oils and butters, healing botanicals, and pure essential oils. We choose every ingredient with one end-result in mind….the BEST possible natural skin care for YOU!
Featured Ingredients



All Ingredients:
*Ingredient is Fair Trade certified
Frequently Asked Questions
How do I use a Natural Clay Face mask?

My face likes most of our face masks, including our Adzuki Bean Scrib which I use with yogurt to create a great mask.

But our Activated Charcoal Clay Mask is the one that tones, smoothes, and just makes my facial skin glow.

However, based on all the ingredient research, that is definitely not the clay mask I would suggest for any 68-year-old, mature, face with dry skin. But it works for me!

So, finding the right face masks for your skin may take a bit of trial and error.

That being said, clay masks are quite a versatile product. I have written a number of blogs that can help with your "how to use" technique, recipes as well as an understanding of how clay masks do their magic.

How To Use Clay Face Masks

Clay Facial Mask Recipes & The Science Behind Them

Multi-Masking and Targeted Application For Combination Facial Skin

---

View Answer Page
Can I add other ingredients to my clay face mask besides water?

Clay Face Masks can be a versatile addition to any skincare regimen.

While clay powders are very effective when made into a simple paste with water, they can also be mixed with other ingredients for an added benefit or just for fun and experimentation.

There are many ingredients from your kitchen cupboard that can be added to a clay facial mask and each can provide its own possible skin benefits.

However, if you want to take advantage of "the science of clay" then you must understand that the property of clay that allows it to bind with impurities becomes activated by the chemical nature of water.

Understanding the idea that cosmetic clays need to be mixed with "water" to do their "thing," great additions would be hydrosols, teas, or any water-based liquid.

Directions: Simply use the tea or hydrosol in place of the water in your clay mask preparation. As then used as directed.

But what about other ingredients like eggs, yogurt, or honey?

For a lot more information about adding ingredients to your facial clay mask please read our blog "Clay Facial Mask Recipes & Some Science Behind Them"

---

View Answer Page
Should I wash my face before using a facial clay mask?

To Wash or Not To Wash . . .
that is the question!

Most of the time the directions included with a clay mask state, "begin with a clean face," but does that mean you need to actually "wash" your face first?

Whether or not to wash your face before using a facial clay is up for debate and you are likely to find a lot of conflicting information online.

To Wash

There are those who say you should "absolutely" wash your face in to order remove the surface layer of dirt, oil and makeup.

This surface grime can hinder the ability of the active clay ingredients to get into the pores and do their job.

Some also believe that when you apply a clay mask onto unclean skin, you may be trapping all sorts of dirt, bacteria and other impurities and possibly driving them deeper into the facial pores.




Not To Wash

Others believe that washing before applying a clay mask may be too drying for those with dry or sensitive skin types.

After washing pores are open and anything you apply will be more rapidly absorbed which may cause more irritation with sensitive skin. If you think about it, moisturizing is best done immediately after washing for that same reason.

In my opinion, the answer to this question really depends on the type or purpose of the mask you are using and your skin type. For example, if you are using a deep cleansing mask for oily or problem combination skin, a fresh wash with warm water opens your pores which prepares your skin for a deeper cleansing experience.

Basically, the same logic holds true for whether or not to shower before or after a clay mask treatment.

Showering Before: Again this method works well with deep cleansing masks for oily and combination skin. The warm water and steam from the shower open your pores.

Showering After: If you have drier skin, you want to apply the mask before taking a shower. The warm shower will actually his help seal in the moisture.

To be honest, I do not wash my face before applying a clay mask. However, I do not wear make-up or use heavy creams and basically, my face simply gets dirty from normal exposure to everyday dirt and pollutants. I have aging dryish skin and washing before applying the face mask makes my skin feel too dry afterward. I just use the clay mask and then after rinsing, I moisturize.

Now, all that being said, if your skin is oily, your face feels quite dirty or is loaded with make-up you may choose to do a quick wash before applying the clay.

---

View Answer Page
Which clay mask do I use if my skin is dry, oily and normal?

Our face has different zones in which the skin can vary in thickness, texture, pore size and the number of oil-producing glands.

Each zone may have very different needs and require individual attention.

So, what happens if you have multiple facial skin issues, like dryness, oily spots, and blemishes?

The answer is Multi-Masking . . .




What is Multi-Masking

Multi-masking is exactly what it sounds like. Instead of applying one face mask over your entire face, you apply different masks to different areas of the face in order to treat multiple skincare concerns at the same time.

For more information please read our blog Multi-Masking and Targeted Application For Combination Facial Skin

---

View Answer Page
Why Should I put OIL on my face?

Whether you call them "face oils" or "facial serums," nourishing, unrefined organic oils can moisturize, soothe and help restore natural balance to facial skin.

Our skin naturally loses the ability to retain moisture as we age. Our facial skin tends to become thinner and lose its elasticity. Our skin also produces less oil, which means it dries out more easily. This can exaggerate the look of fine lines and wrinkles. Facial oils can help prevent water loss and keep skin plump.

Application Hint: Apply facial oil right after washing skin and right before any other moisturizer to hold the water on the skin and seal in moisture.

While many people, especially those with oily or acne-prone skin tend to shy away from oil-based moisturizing, it can be a very important step in daily skin care. An organic facial oil helps to increase the moisture content in the skin and prevent further moisture loss.

Oily Skin

If you have oily skin, nourishing organic oils can help mimic the natural skin sebum which in turn sends signals to oil-producing cells that say, "Hey my skin is moisturized so stop producing oil."

Using products created to "dry out" oily skin, in an attempt to get rid of oily shine, will actually trigger the oil glands to increase oil production, which only exacerbates the oily skin problem. A wholesome moisturizer helps balance skin oil production.

Dry Skin

If you have dry skin an organic facial oil made from unrefined botanical oils creates a protective but breathable barrier that slows moisture evaporation and thus helps lock in moisture.

Irritated Skin

A natural face oil is ideal for sensitive and irritated skin. Sometimes, adequate hydration alone can help calm inflammation and soothe red irritated skin.

Maturing Skin

It is especially important for those (like me!) with maturing skin to keep your face adequately moisturized to help with fine lines and wrinkles. As we age, the skin's natural oils decreases, the skin dries out more easily and wrinkles appear deeper. A nourishing oil helps prevent water loss and plump the skin.

The main thing is to make sure that you are using the right kind of moisturizer.

The most nourishing face oils are those made with unrefined, certified organic plant-based oils. Unrefined oils are either cold-pressed or expeller-pressed.

They are minimally processed without chemicals under temperature-controlled conditions which ensures a nutrient-rich, high-quality natural oil.

USDA Certified Organic means the botanical oils are free of synthetic additives, pesticides, and preservatives.

Stay away from petroleum-based products that contain mineral oils that clog your pores and cause breakouts.

 

Creating A Facial Skin Care Routine

What Is A Facial Cleansing Oil? How Do I Use It?

 

---

View Answer Page
Why isn't the USDA Organic or OEFFA Organic Logo On This Product?

Organic certification is based on organic farming and agriculture standards, as a result the list of allowable non-agricultural ingredients (like clay, salt, mud, etc) is based on raw materials used in agriculture or food production not personal care products.

Since clays like kaolin and bentonite have farming/agricultural uses, they appear on the list. Unfortunately, ingredients like Pumice, Dead Sea Mud and Bamboo Charcoal are not used in farming or food production and thus do not appear on the list.

Products that use these ingredients like our Clay Facial Masks, and Bamboo Charcoal, Loofah Pumice Foot, and Dead Sea Mud soaps, as well as our Mud & Clay and Rosemary Mint Charcoal Shampoo Bars cannot display any organic symbol or even state that they are organic.

Since we are a certified organic company, we are not allowed to use any certified organic label or call any products that contain these ingredients "organic," even though they are made with certified organic ingredients that meet the same rigorous standards as those required for our "Organic" products.

Even though we can't label these products organic, if you read the ingredient list you will see that we still use USDA Certified Organic ingredients whenever possible.

For more detailed information, please read our blog, "What Do All of the Organic Labels Mean?"

---

View Answer Page