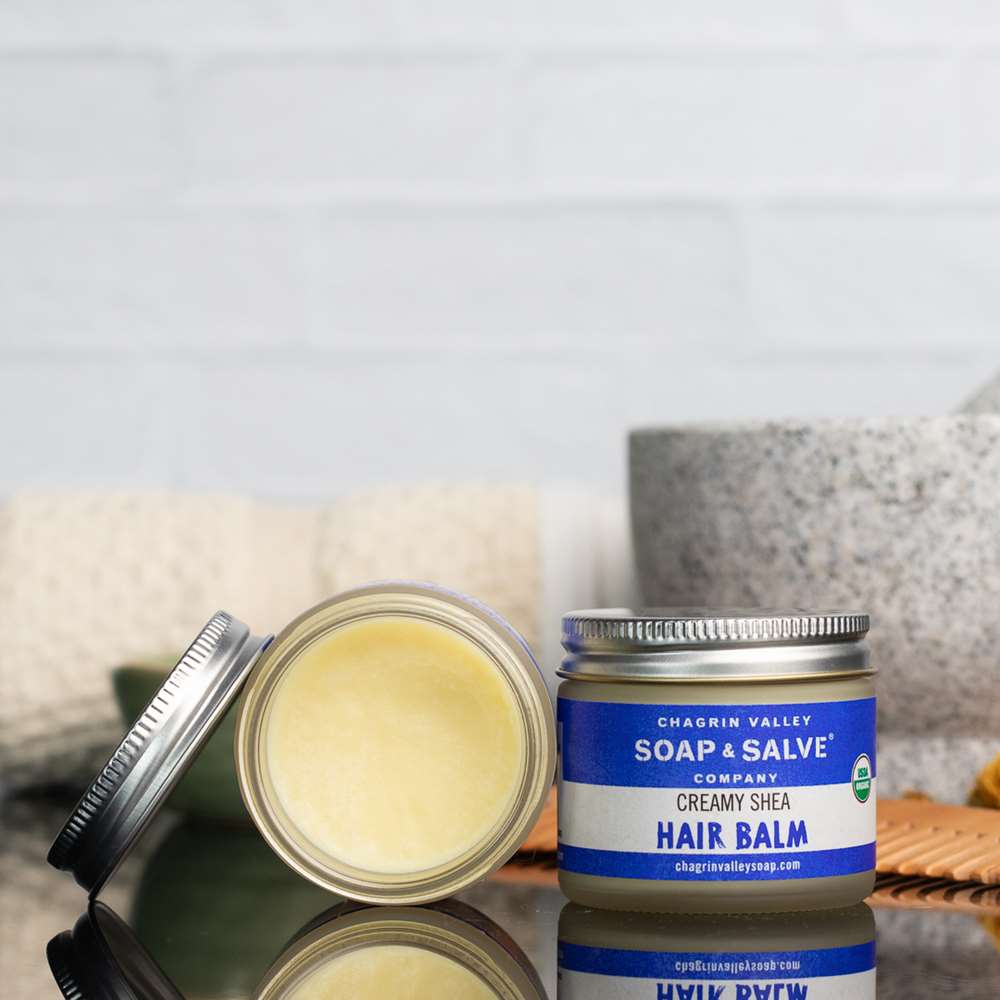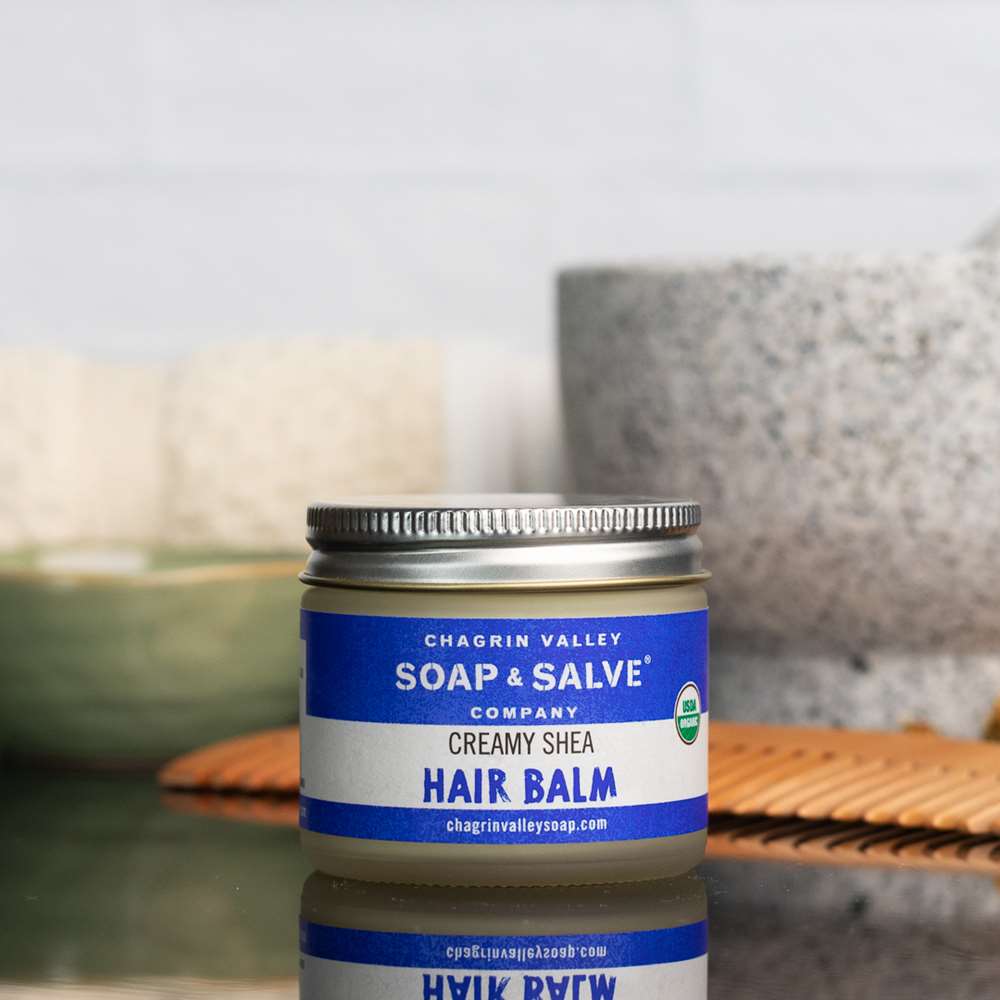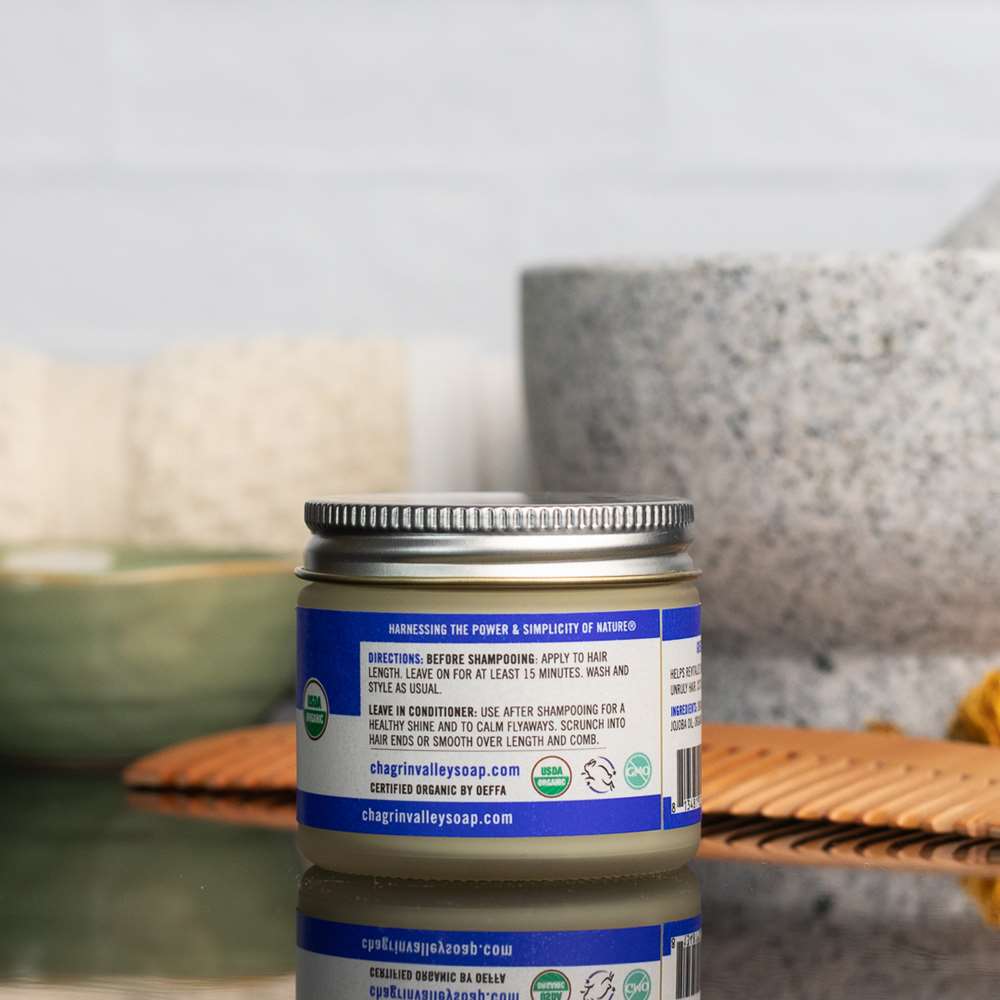 An organic hair balm made with virgin shea butter, great for dry, coarse, or coily hair, it can help revitalize damaged, dull and or over processed hair.
Product Overview

Good For: Coarsely Textured Hair, Tightly Coiled Curly Hair, Dry and Over-processed Hair

Hair butter balms are very versatile products that can be used as pre-wash conditioners, in-shower conditioners, intense conditioners, and leave-in conditioners.

If you have curly or coily coarse hair types, a hair butter balm is an excellent hair product if you want to go natural with your hair. Thicker in consistency than hair oil, a natural plant-based hair butter is an excellent product for styling, freshening a hair style, or repairing damaged hair.

Virgin Shea Butter provides deep nourishment for the hair shaft, lessens frizz, reduces dryness, and can help prevent ends from splitting and weak hair from breaking.

Rich in antioxidants, minerals, and vitamins, it can help moisturize and revitalize damaged, dull and over-processed hair resulting in improved luster and manageability. Shea butter also helps ease irritated scalp conditions.

Natural fatty acids condition and soften the hair, leaving it silky and smooth
Natural anti-inflammatory properties help heal scalp problems and encourage hair growth
Restores elasticity and moisture to promote strong healthy hair
Helps calm unruly hair
Cuts down on frizz
Adds sheen and luster
Helps protect hair from harsh environmental elements

Shea butter is great conditioning and styling ingredients for people with medium-to-coarse hair that is prone to frizz and dryness. If tightly coiled curly hair is your natural hair type, a shea butter cream is the perfect addition to your hair care routine. Read our Shea Butter Tutorial




Babassu oil nourishes, moisturizes, and restores hair strength, giving you shiny, healthy-looking hair. It can add volume to dry, flat hair without weighing it down. Since it is absorbed quickly it does not leave a greasy film. Babassu is a great smoothing agent to deter flyaways.

Since the structure of Jojoba Oil closely resembles that of our own natural scalp oils, it is considered nature's most effective natural moisturizer. It improves the health of the scalp and hair, provides shine, promotes hair growth, and helps dry and weak hair that is prone to breakage and split ends. It is a great oil for dry, flaky scalp and irritated scalp conditions.
How To Use

A hair butter conditions and moisturizes naturally medium-to-coarse hair, tightly coiled curly hair, or dry brittle hair and over-processed hair that is prone to frizz, breakage, and dryness.

They are also great to use sparingly for any hair type prone to flyaways. A good example is graying hair. Although gray hair may feel coarse or wiry, the actual structure of the strand has not changed. The hair follicles produce less natural oil which makes gray hair drier giving it that wiry texture.

---

The most important thing about using a hair butter is to make sure it is distributed evenly. Sectioning your hair into layers, a top and bottom layer, can make distribution easier. The thicker or coarser your hair the more layers you may need.

To allow better absorption and maximize its hydrating effects, use hair butter on damp or moist hair.

When applying a hair butter, focus on areas that need extra TLC like the hair ends since they are far from the scalp and lack natural oils.

Basic Instructions:

Place a small tiny pea size amount of butter into your palms and rub your palms and fingers together.
Rake your hands and fingers through your hair length like a comb to evenly distribute the oil through to the ends.
Follow the same procedure for each layer section of hair.

Deep Conditioning Treatment Use as a Hair Mask

Use it as a pre-shampoo, deep conditioning treatment once or twice a week depending on your hair type. Your hair will become softer and easier to manage.

Wet your hair
Follow the basic instructions above
Focus on the hair ends
Wrap buttered hair in a shower cap
Leave it on for an hour
Wash with a mild shampoo and style as usual
If you have damaged or very dry, coarse hair, leave the mask on overnight and wash off the next day

Tip: Any time you are leaving the butter on your hair, cover your hair with a shower cap. A shower cap keeps your head warm, preventing the butter drying out on your hair strands.

Cream Hair Butter as an In-Shower Conditioner

Apply the butter using the basic method above and let it sit for 10 minutes while you complete the rest of your shower. Wash, rinse, and style as usual.

As A Leave-In Conditioner

Use as a leave in conditioner after shampooing to help prevent split ends, calm frizz and flyaways and add a healthy shine. Place a small amount of butter in the palm of your hand, rub palms together and scrunch into damp hair ends or smooth from mid-length to the hair ends. Comb thoroughly to evenly distribute the butter. Do not wash. Style as usual.

Use as a pomade butter to touch up problem spots or help keep curls in place. Rub a tiny bit of hair butter in your palms, apply to clean, dry hair to smooth down coarse or wiry flyaway hair strands, giving hair a healthy sheen.

Should You Oil or Cream The Scalp?

For most people it is recommended to avoid applying oils or butters to the scalp. So when using a hair butter begin at least about three inches from the scalp and work all the way to the ends.

Whether or not to oil your scalp seems to be up for debate. While many articles encourage applying oil directly to your scalp, others state that applying oil directly on your scalp may put you at higher risk for dandruff. But some people with dry hair also have a dry scalp. If you typically oil your scalp without any problems then continue to do what your hair and scalp like.

For Dry Scalp: Using your fingertips gently massage a small amount of hair balm into your scalp. The massaging action aids in the absorption. Leave on for at least 15 minutes and then wash and style as usual.

Helpful Hints

When using a hair butter more is NOT better. Too much conditioning cream can weigh your hair down, cause excess buildup, and give hair a greasy look and feel.
Be sure to wash your hair to remove the residue from a previous application before applying more hair cream.
Combining a hair butter with other hair products like mousses and gels may cause heavy buildup and greasiness.

Learn more: Read "What is Your Hair Type?"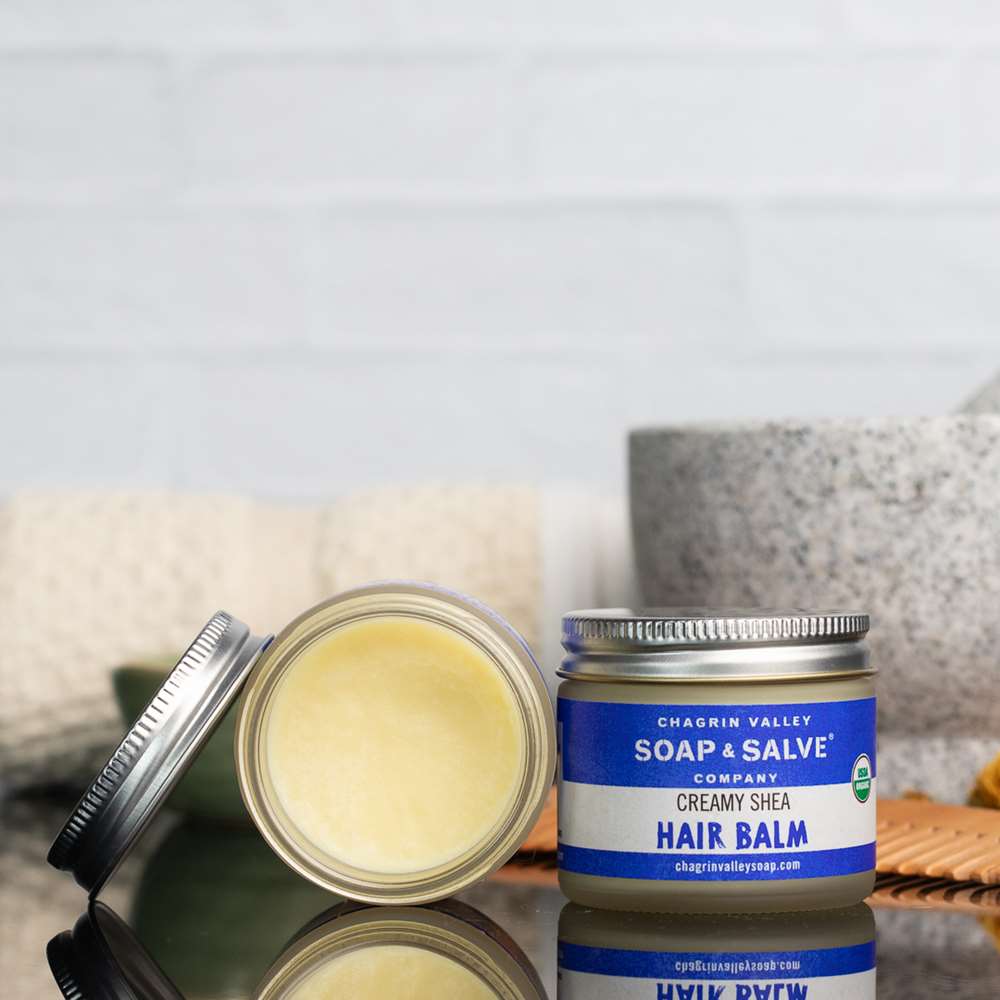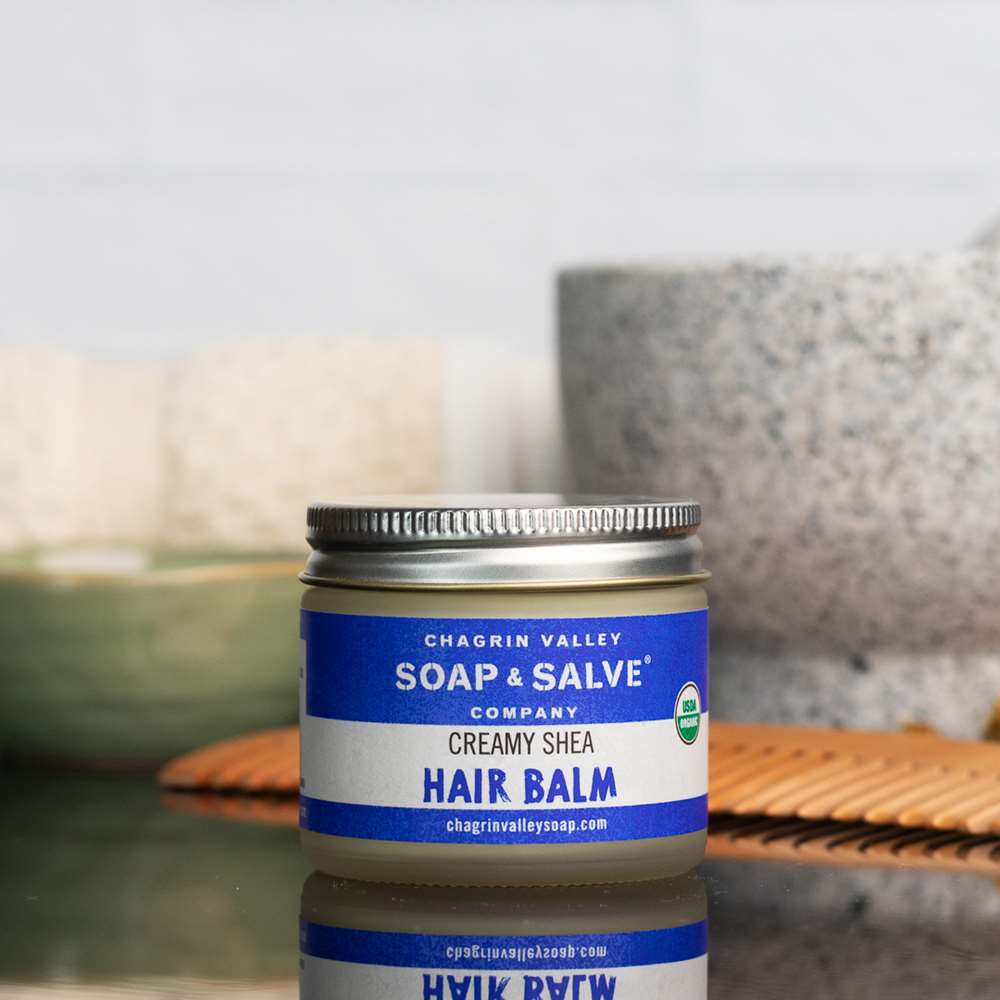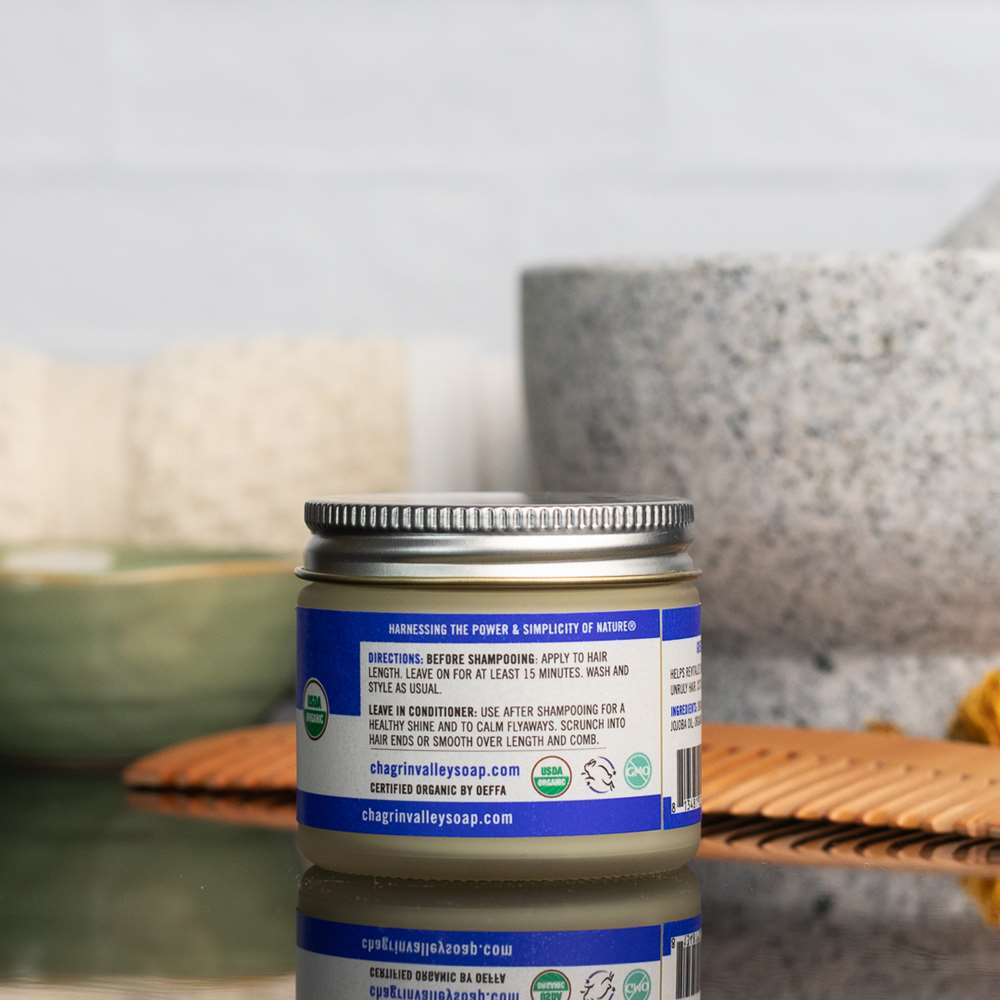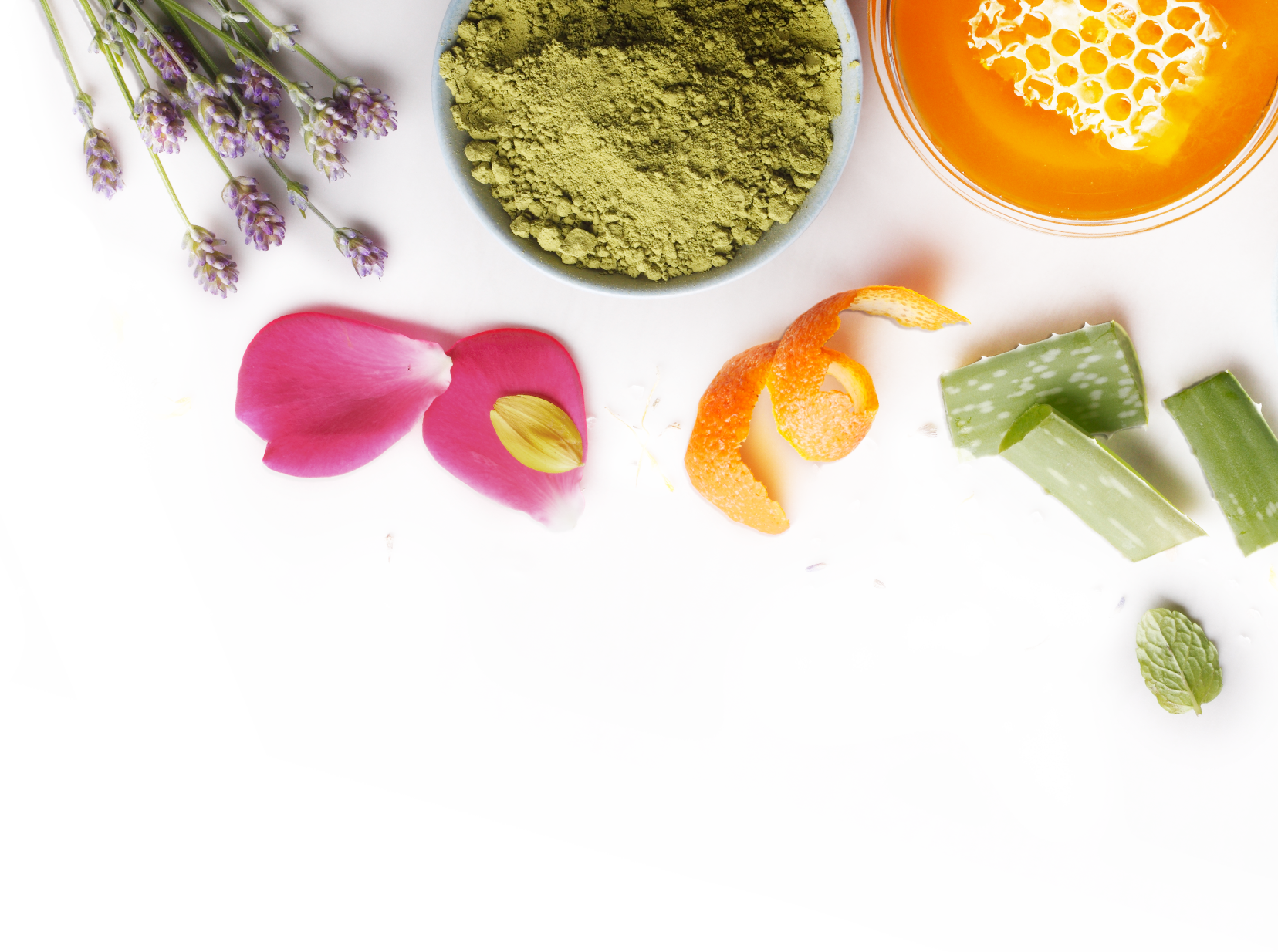 Effective, Feel Good Ingredients
The goal is simple: to Harness the Power & Simplicity of Nature® to cleanse, soothe, heal, and protect your skin and hair!
Our unique formulas rely on moisturizing oils and butters, healing botanicals, and pure essential oils. We choose every ingredient with one end-result in mind….the BEST possible natural skin care for YOU!
Featured Ingredients

Organic Virgin Shea Butter*

All Ingredients:
*Ingredient is Fair Trade Certified


Shea Butter Note
Our Shea Butter is unrefined and has not been bleached or deodorized.
Pure unrefined shea butter has an earthy, nutty, smokey scent that ranges from mild to strong and can be quite pungent. Since our shea butter is a natural, unrefined product it retains its natural scent, color, and nutritional benefits. The scent and color of unrefined shea often vary from batch to batch.
Read our Shea Butter Tutorial which explains the various types of shea butter as well as why we believe that the benefits of unrefined shea butter far outweigh the cons of its smokey, pungent scent.
Frequently Asked Questions
What Is Your Hair Type?

 What Is Your Hair Type?

In my youth I had pin-straight hair and was envious of friends with wavy and curly hair. But those friends were jealous of my straight hair! Whether your hair type is straight, wavy, curly, coily, or somewhere in between, your locks are beautiful. 

In the same way that understanding your skin type is important for creating an effective skincare routine, determining your hair type can play a huge role in helping you to reach your hair goals.

Hair type has 4 major categories: straight hair (type 1), wavy hair (type 2), curly hair (type 3), and coily hair (type 4). These 4 types of hair are further categorized into A, B, and C subtypes creating 12 total categories.

 

The best way to determine your hair type is to see your hair in its natural state. By simply looking at your hair you can recognize some obvious characteristics. The next time you wash your hair, allow it to air-dry without any styling or hair products. This will help you to define the natural shape or pattern (texture) of your hair. For example:

If your hair dries straight without a bend or curl, then you have straight hair (type 1).
If your hair dries with a slight curve or "S" shape, then you have wavy hair (type 2).
If your hair dries with a defined curl, then you have curly hair (type 3). This type of curly hair has springy ringlets or corkscrew curl patterns but is not as dense as coily hair.
If as your hair dries it shrinks to form tight curls or dense spirals, then you have coily hair (type 4) which is often called a "natural" hair type. This hair type is more fragile and prone to breakage than others, requiring a more specialized hair care routine.

It is important to remember that most people do not have just one type of hair. They often have two different hair textures on various parts of their head.

Each of these hair textures will need special care and attention to enhance its natural best characteristics. Also, even though two people share the same natural wave, it does not mean they possess the same exact hair type. You are unique!

 

What Is the Density and Thickness of Your Hair?

The words "thick" and "thin" can be confusing since you can have a lot of very thin hair and vice versa.

The density is the thickness or diameter of an individual hair strand. To determine your hair density use a single strand hair and compare it to the size of a piece of typical sewing thread. Fine hair is thinner than the thread, medium hair is similar in width, and coarse hair is wider. Hair density can affect how it will react to certain products and how well it will hold different hairstyles. There are 3 basic categories:

Thin or fine
Medium
Thick or coarse

Thin hair does not style very easily. Medium hair is relatively easy to style and can hold curls for a longer time period. Thicker strands are very easy to curl, but because they are less pliable, they can be difficult to style or hold their shape.

Overall thickness refers to the total amount of hair on your scalp, which can range from thin to thick. When you gather your hair into a ponytail how much hair can you collect?

 

What Is Hair Porosity?

Porosity refers to your hair's ability to absorb moisture as well as hair products. You can easily determine the porosity of your hair with a simple experiment.

Place a single strand of hair into a bowl of water.
Does the strand sink to the bottom? If yes, it has high porosity, which means it is soaking up a lot of moisture due to

 gaps or tears around the cuticle. 

Does the strand sink, but only a bit? If yes, your hair is absorbing just enough moisture to keep it healthy and well-balanced.
Does the strand float above the surface of the water? If yes, your hair has low porosity, which means it does not absorb moisture easily.

It seems like hair with high porosity would be well hydrated all the time since it can easily absorb moisture easily. However, due to the gap areas around the cuticle, the hair also loses moisture very easily, which can result in hair that is dry, brittle, frizzy, and prone to breakage.

On the other hand, that flattened cuticles of hair with a low porosity actually blocks moisture from being absorbed into the strands. Since hair care products are not readily absorbed, product buildup on hair strands is often a problem. Hair care products should be applied sparingly while hair is still damp so product is more easily absorbed and distributed.

To keep your hair healthy and nourished, it is important to develop a haircare routine that includes proper hydration. Knowing your hair type is crucial, as it helps you choose the right products for straight, wavy, curly, or coily/kinky hair.

---

View Answer Page
What Is A Natural Shampoo Bar?

Shampoo Bars Are One Of Our Favorite Discoveries!

The wholesome goodness of our handcrafted soap is available for your hair.

Shampoo bars are an all natural conditioning shampoo in a solid bar form. Yes, this is real shampoo in a solid bar. Shampoo bars are not a new idea.

They were commonly used before liquid detergent shampoos and conditions were invented in the 1940s.

Although the process for making a shampoo bar is the same as making soap, our shampoo bar "recipes" are specially formulated with natural plant oils, butters, botanicals and essential oils that nourish your hair and scalp.

Our shampoo bars contain no artificial fragrance, color, preservatives, detergents, alcohol, urea, formaldehyde, sodium lauryl sulfate, DEA, propylene glycol - or any of the other synthetic hair care additives.

Each of our shampoo bar selections contains a different blend of natural plant oils, essential oils, and herb infused oils. No two recipes are the same.

Which Shampoo Bar Is Best For My Hair?

Click here for help choosing an all natural shampoo bar!

Everything You Want To Know About Shampoo Bars!

Please read "Everything About Shampoo Bars!"

---

View Answer Page
Are Chagrin Valley Ingredients & Products USDA Certified Organic?

Chagrin Valley Soap & Salve is a USDA Certified Organic Company

The most important consideration in any business is its customers. Today's world of misleading claims, false advertising, and simple deception, often leaves consumers trying to discover the truth about personal products and their ingredients.

We want our customers to know that we are

committed to transparency in everything we do.

We want our customers to know that when we say "

organic," we mean it.
We believe that in becoming a USDA Certified Organic company, our customers do not have to wonder if we really use certified organic ingredients or if our organic products are truly organic.
So we choose to be a certified organic company

and abide by the strict standards required for organic certification.

Some of my favorite products are made with ingredients that just do not exist as certified organic. Why? At this time there are no standards created for ingredients specifically used in the personal care product industry. Organic certification of personal care products is based on the organic food standards set by the National Organic Program of the USDA.

But since we are a certified organic company, we are required to submit documentation that even our "non-organic ingredients" were produced without the use of toxic pesticides, genetically modified organisms (GMOs), sewage sludge, or irradiation.

Why Did We Become a Certified Organic Company?

What Do All of the Organic Labels Mean?

---

View Answer Page