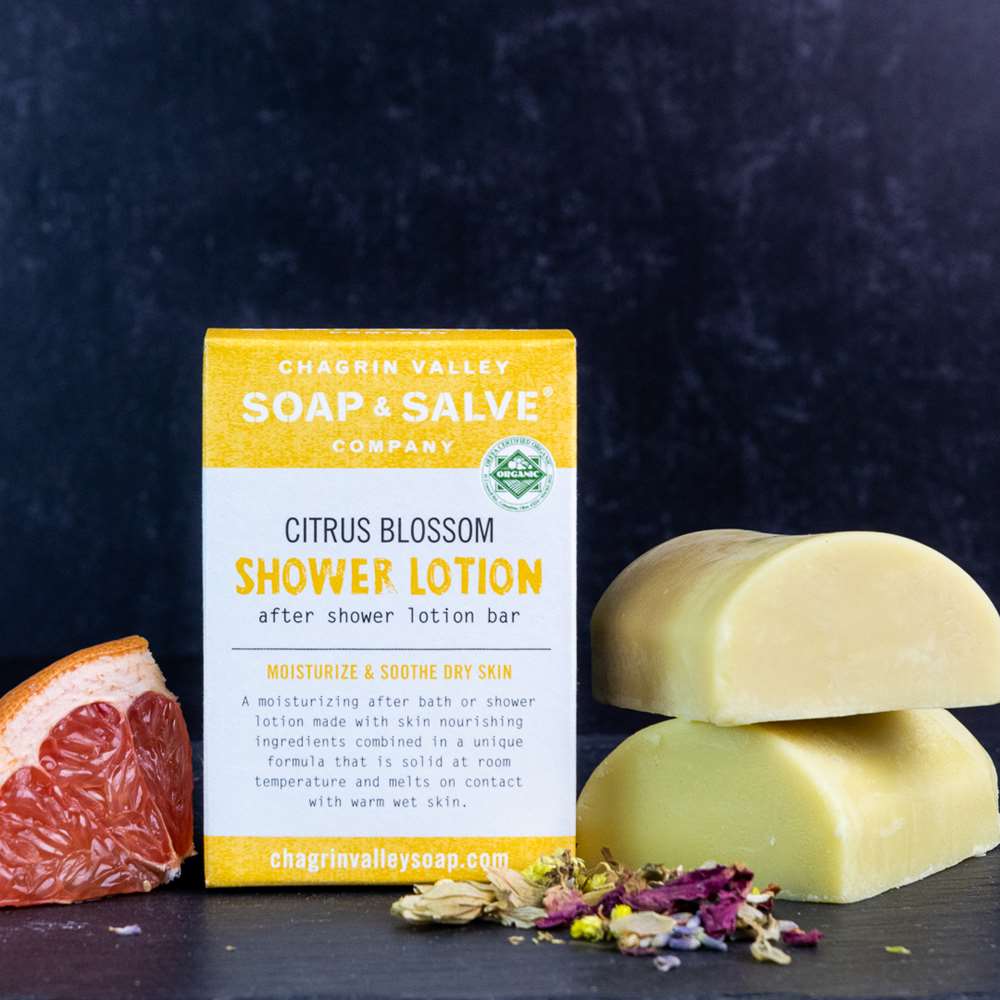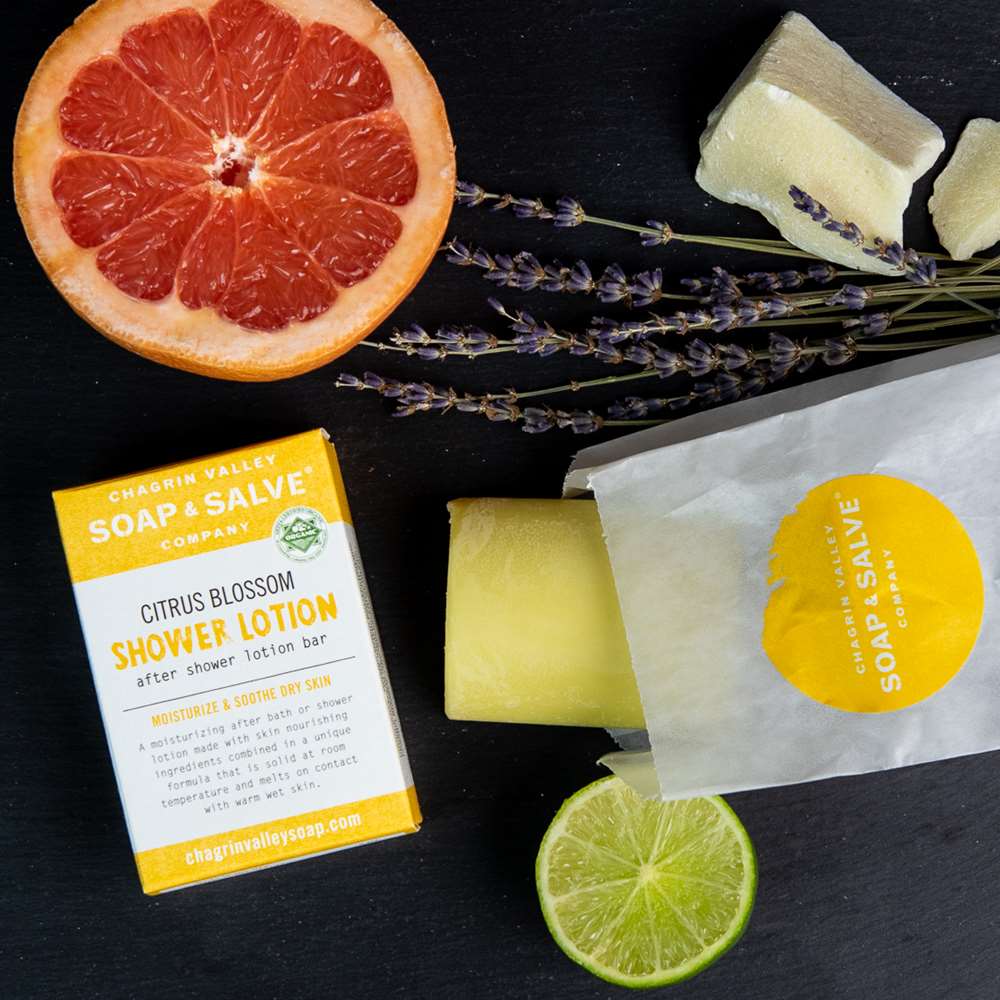 Hydrate your skin with our in-shower body lotion bar that works with the humidity and warmth of the shower to create softer, smoother skin. Enriched with mango and illipe butters to nourish dry, itchy skin. The blissful scent is reminiscent of strolling through a citrus grove on a sunny day.
Product Overview

Since we have always been told to apply moisturizers as soon as we hop out of the shower, why not use your shower as the optimal environment for skin hydration.

Our in-shower body lotion bar works like a conditioner for your skin. Using the humidity and warmth of the shower, it helps seal in the moisture from your wet skin to create softer, smoother skin. This rich, emollient solid shower lotion is infused with a refreshing scent with complex citrus notes.

Melts on contact with warm wet skin

Unrefined natural

butters are

rich in natural vitamins and nutrients and penetrate deeply to

target dry skin
Creates a protective barrier to soothe and moisturize dry, sensitive, or itchy skin
Leaves skin feeling soft, smooth, and naturally healthy
Mango Butter, a great source of essential fatty acids, is cold-pressed from the seed kernel of the Mango tree
Illipe Butter moisturizes the skin, and many believe it to be the most nourishing of the healing butters

We call our Organic Citrus Blossom Essential Oil blend our "Happiness and Sunshine" scent. The vibrant citrus aroma promotes the positive energy and blissful spirit of a sunny day. Brighten your day with a delightful, uplifting scent that helps calm anxiety and enhance feelings of creativity and inspiration.

The packaging inside the box is a recyclable, compostable glassine bag made from wood pulp.
How To Use

Directions:

Great for the bath or shower: After soaping & rinsing, massage the bar over your warm wet skin. Pay special attention to extra dry places. Your warm skin will readily melt the nourishing bar. You can rinse a bit or just pat dry.*

As a hair treat: rub some butter on your hands and run your buttered fingers through the length of your hair!

As a bath treat: cut a sliver off the bar, drop into your tub and watch as it melts away releasing skin loving ingredients.

As a lotion bar: No time for a bath or shower--rub the nourishing oils and butters into dry skin areas.

* When using in bath or shower, always take care as your bath or shower may become slippery.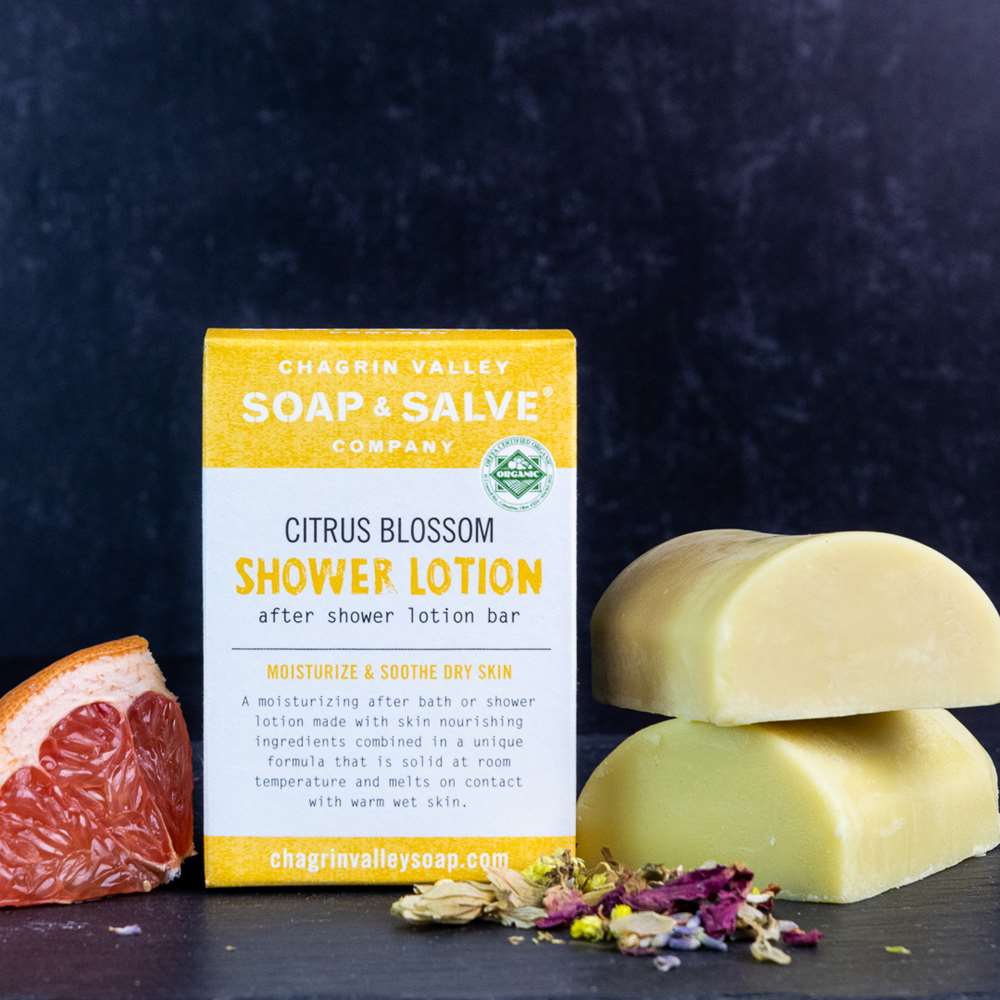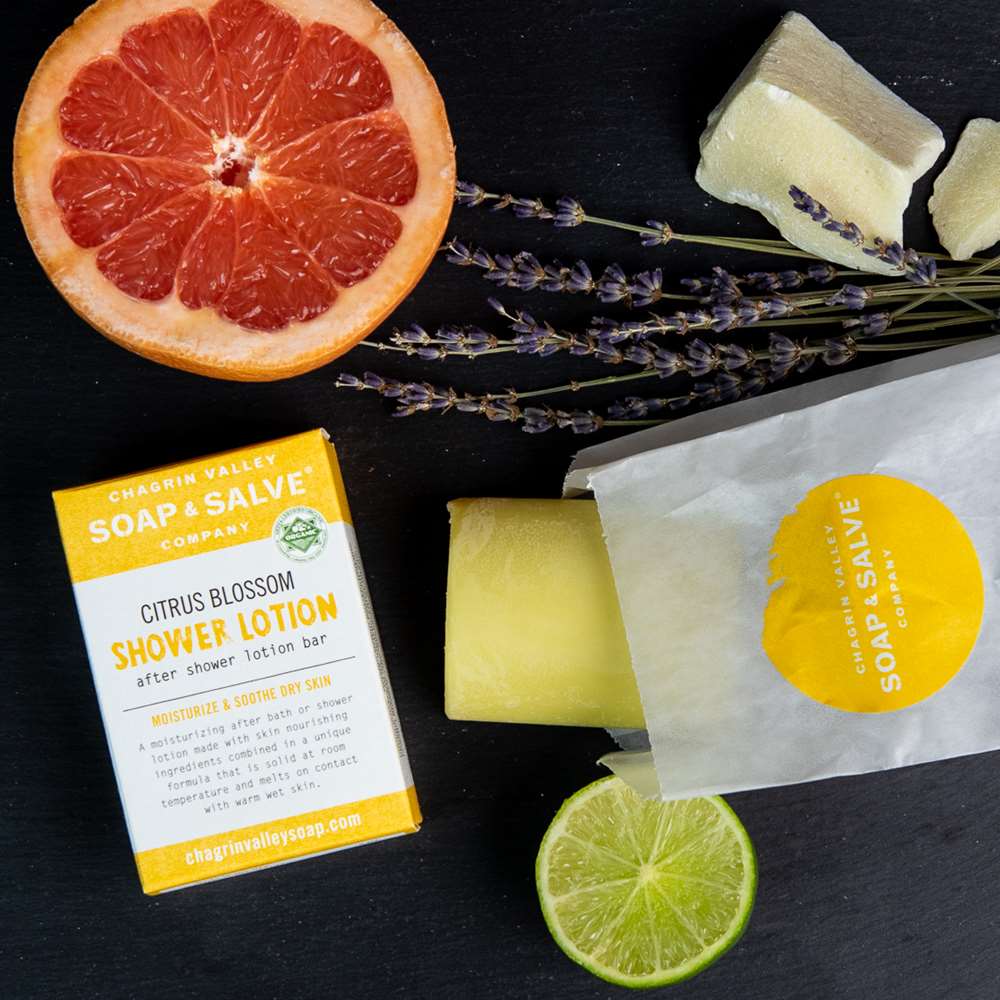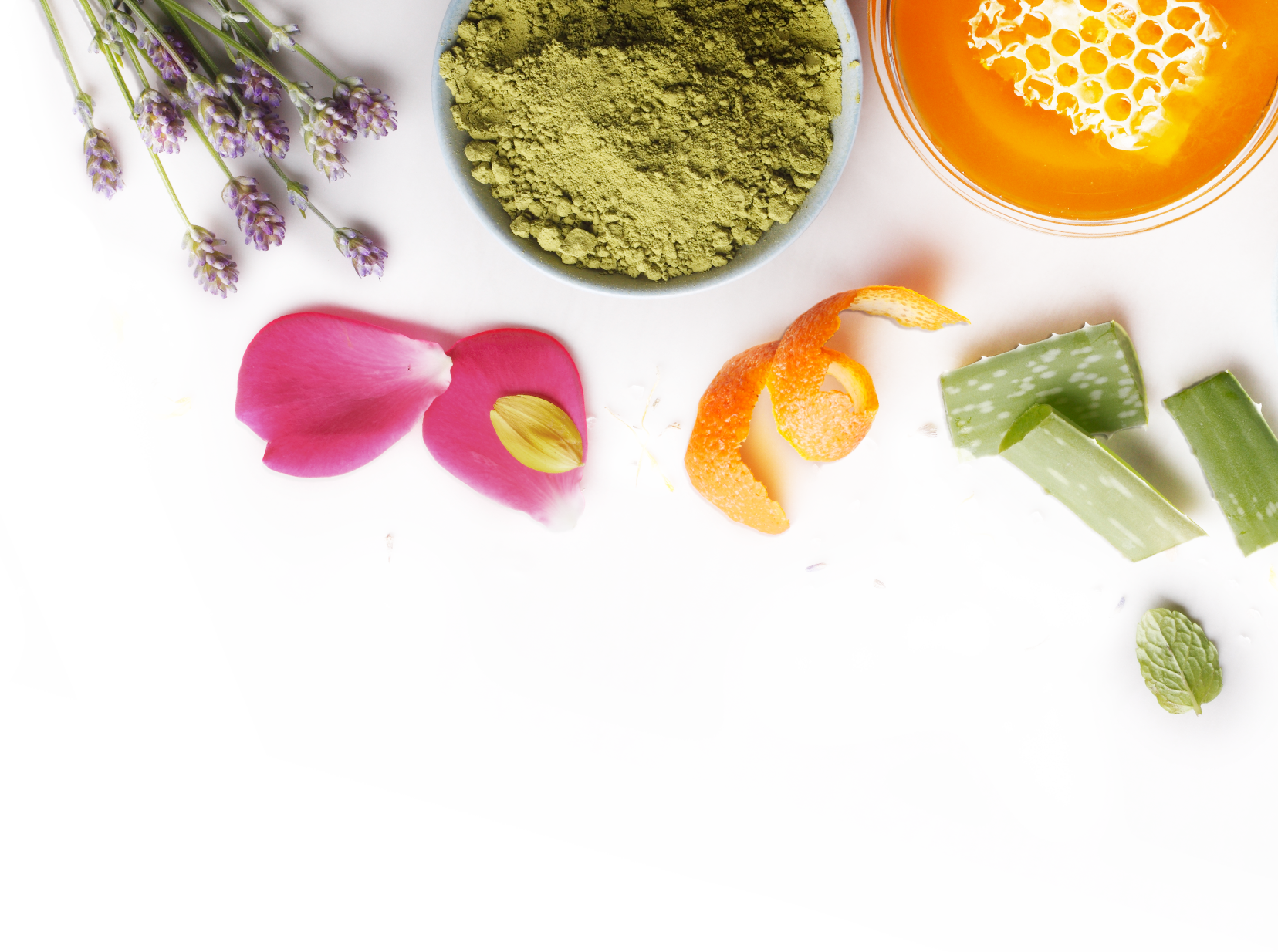 Effective, Feel Good Ingredients
The goal is simple: to Harness the Power & Simplicity of Nature® to cleanse, soothe, heal, and protect your skin and hair!
Our unique formulas rely on moisturizing oils and butters, healing botanicals, and pure essential oils. We choose every ingredient with one end-result in mind….the BEST possible natural skin care for YOU!
Featured Ingredients

Organic Grapefruit Essential Oil
Organic Bergamot Essential Oil
All Ingredients:
,
,
,
,
,
,
,
,
,
,
*Ingredient is Fair Trade Certified
Made with certified organic Mango Butter, Cocoa Butter & Avocado Oil
Certified Organic By OEFFA
A USDA Accredited Organic Certifying Agent
Frequently Asked Questions
Why Should I Use A Natural Organic Body Cream?

Why use a natural organic body cream . . .

It is Natural

Well, first of all, it's an all-natural product. Commercial lotions are NOT. Our Body Balms and Whipped Shea Butters only contain the ingredients that they need to moisturize your skin.

Creams and lotions formulated with synthetic ingredients often aggravate sensitive skin, exacerbate irritated skin conditions, and trigger allergic dermatitis.

The organic oils and butters we use do NOT contain petroleum based chemicals (Mineral Oil, Petrolatum, Paraffin), chemical emulsifiers (DEA, MEA, TEA), chemical preservatives (Parabens, Urea), Propylene Glycol, artificial colors, or synthetic fragrances.

No Preservatives

Have you ever noticed that when you use your body lotion your skin never stays moist and you find yourself going back to the lotion bottle over and over?

Look at the ingredients. The main ingredient in lotion is water! Once water is added to make a lotion, preservatives are needed to prevent mold and bacteria growth.

No Alcohol or Petroleum Ingredients

Commercial lotions often contain isopropyl alcohol and/or mineral oil. Both of these actually are very drying to your skin. The alcohol gives a temporary sense of coolness due to evaporation.

Mineral oil is a clear, liquid oil with no scent and will not spoil. It is very inexpensive because it is the liquid by-product of the distillation of petroleum to produce gasoline and other petroleum-based products from crude oil. It is found in lotions, soaps, baby oil, cosmetics, and motor oil. Mineral oil

It is great for oiling your wooden cutting boards--but not your skin. Mineral oil does not penetrate to soften. It is difficult to absorb, coats your skin and clogs the pores. If you would like to have healthy skin, stay away from mineral oils, animal fat, petroleum, and synthetic oil based skincare.

It Has So Many Uses

We know that natural body butters make great moisturizing body creams. But here are some other ways we have used these balms and butters:

Get rid of those cracked heels
Gently massage into very dry areas on your face
Soothe and smooth skin after shaving
Add a dollop to your hot bath water instead of using synthetic bath oils
Massage some into your cuticles to soften them
Massage into your lips for a great all natural lip balm

HINT: If you enjoy the application "feeling" of a lotion better than a cream, try massaging our rich Whipped Butters into warm, wet skin after a bath or shower. Wait a few moments and gently pat dry. (Do not rub the skin dry!)

Since a lotion is just a lot of water mixed with oils, a rich natural butter on warm wet skin will have a similar feel.

Remember, the skin is the body's largest organ
and it needs to breathe as part of its
important role in maintaining overall health!

---

View Answer Page
Are Chagrin Valley Ingredients & Products USDA Certified Organic?

Chagrin Valley Soap & Salve is a USDA Certified Organic Company

The most important consideration in any business is its customers. Today's world of misleading claims, false advertising, and simple deception, often leaves consumers trying to discover the truth about personal products and their ingredients.

We want our customers to know that we are

committed to transparency in everything we do.

We want our customers to know that when we say "

organic," we mean it.
We believe that in becoming a USDA Certified Organic company, our customers do not have to wonder if we really use certified organic ingredients or if our organic products are truly organic.
So we choose to be a certified organic company

and abide by the strict standards required for organic certification.

Some of my favorite products are made with ingredients that just do not exist as certified organic. Why? At this time there are no standards created for ingredients specifically used in the personal care product industry. Organic certification of personal care products is based on the organic food standards set by the National Organic Program of the USDA.

But since we are a certified organic company, we are required to submit documentation that even our "non-organic ingredients" were produced without the use of toxic pesticides, genetically modified organisms (GMOs), sewage sludge, or irradiation.

Why Did We Become a Certified Organic Company?

What Do All of the Organic Labels Mean?

---

View Answer Page
What are essential oils?

What Are Pure Essential Oils?

Have you ever enjoyed the scent of a fragrant flower or herb? The fragrance comes from potent, aromatic compounds called essential oils found in the flowers, stems, seeds, bark, roots, fruits, and other parts of plants. It often requires several pounds of a plant to produce a single bottle of essential oil.

Essential oils not only give plants their unique scents but also help lure plant pollinators and protect plants from insects and other predators.

The chemical composition of essential oils may provide valuable psychological and physical aromatherapeutic benefits for some people.

It is important to note that to be a true essential oil, the oil must be isolated from the plant material by physical means only. Essential oils are NEVER extracted using solvents.

Although synthetic fragrances or "nature identical" oils are available at a much lower cost, only natural plant essential oils will provide any aromatherapeutic benefits.

What Are Essential Oils (Much more detail)

How Essential Oils Are Extracted

Why We Use Only Real Plant Essential Oils?

---

If you are pregnant or under a doctor's care for any medical condition, please consult your healthcare provider before using essential oils.

Pregnancy & Children: We do not provide information on the safety of essential oils during Pregnancy or for use in Children because the available information is very ambiguous and often contradictory. If you're interested in using essential oils during pregnancy or with young children please do your own research and consult your doctor, midwife, or health care professional before use.

---

View Answer Page
Are Your Products and Ingredients Cruelty Free?

All of Chagrin Valley's natural soap, shampoo bars, and personal care products are certified cruelty-free by Leaping Bunny.

The Leaping Bunny Program was developed in 1996, by The Coalition for Consumer Information on Cosmetics (CCIC), to identify and support companies that are doing their part to help eliminate the unnecessary use and mistreatment of animals to test cosmetic products and ingredients. The CCIC is made up of eight animal protection groups including the Humane Society of the U.S., as well as groups from Canada and Europe.

At Chagrin Valley we do not test our finished products on animals (other than human volunteers), but what about the raw materials, the ingredients we use? Many products display labels claiming that their finished product is 'not tested on animals' but this does not guarantee that the product ingredients are actually free from animal testing.

The CCIC Standard is a pledge that a company makes to remove animal testing from all stages of product development. Our pledge to buy ingredients that are cruelty-free is integrated into the purchase order contract for all of our suppliers.

Personal care products displaying the "real" Leaping Bunny logo are certified 'cruelty-free' using the internationally recognized Humane Cosmetics Standards. These rigorous standards require that no animal testing is performed or authorized for finished products or ingredients in any stage of product development by the company, its laboratories or its suppliers after a fixed cut-off date. All Leaping Bunny companies are subject to independent audits and pledge commitments are renewed on an annual basis.

At Chagrin Valley Soap & Salve . . .

we do NOT test our products on animals
we do NOT use ingredients tested on animals
we do NOT sell into markets that require animal testing



The Leaping Bunny Program provides
the best assurance to consumers
that they are making compassionate shopping choices
by purchasing Cruelty-Free skin care!

---

View Answer Page
Do Chagrin Valley Natural Skincare Products Contain GMO's?

Chagrin Valley Soap & Salve is a USDA Certified Organic company.

We are required to submit documentation that ALL of our ingredients, even our "non-organic ingredients," were produced without the use GMOs.

Since the U.S. National Organics Program forbids the use of genetic modification in products to be certified as organic, purchasing organic is a great way to lower your exposure to GMO's.

Genetically Modified Organisms refers to any animal, plant or microorganism that has been changed in a lab at the gene level. It is also known as "genetic engineering."

Read more about "Non-GMO Skin Care Ingredients"

---

View Answer Page