A beautifully balanced scent reminiscent of a fresh, cool spring morning that helps relieve tension while revitalizing the spirit.
Product Overview

Feeling overwhelmed and need to chill? Our certified organic Sage Mist Aromatherapy Roll-on is a mentally and spiritually cleansing blend that clears and focuses the mind. It helps relieve stress, anxiety, and irritability, and awakens a fatigued mind and body.

The purpose of aromatherapy is to elicit some reaction in the body. Since we are all unique, not all oils will benefit everyone in the same manner.

General Aroma: Complex, Warm, Fresh, Sweet, Sage scent with a hint of mint

Suggested Attributes: Calming, Balancing, Inspiring, Sensual, Centering, Focusing, Refreshing, Grounding, Clarity

Suggested Uses: Perfume; Pulse Point Aromatherapy for mental clarity/focus, relaxation, stress relief, meditation, clearing negative energy, and spiritual cleansing

Our Aromatherapy Roll-Ons are designed and diluted for topical use. They are pre-blended at a skin-safe dilution for adults in a moisturizing combination of organic Jojoba and Sunflower Oils.

They are packaged in a convenient 10 mL amber glass bottle with a stainless steel rollerball top for smooth application.

---

Featured Essential Oils

Essential oils are USDA Certified Organic, ethically and sustainably sourced

Sage Essential Oil: Balancing, Uplifting, Soothing & Mental Clarity

Sage Essential Oil has a fresh, fruity, warm, spicy, and herbaceous aroma that promotes feelings of balance and relaxation. It provides a balancing, soothing yet uplifting, and strengthening effect on the senses to help ease negative moods, calm nerves, lessen anxiety and stress, and ease head and neck tension. The warm aroma helps reduce emotional exhaustion and mental fatigue while promoting a sense of attentiveness, to clarify the mind and improve memory and cognition.

Clary Sage Essential Oil: Tranquility, Calming, Contentment & Sensual

Clary Sage Essential Oil has a soft, earthy, herbaceous, and slightly floral scent that promotes feelings of relaxation, joy, and tranquility while alleviating anxiety, stress, depression, and irritability by inducing a sense of wellbeing and contentment. Its uplifting qualities enhance the mood to improve self-esteem, mental clarity, and focus while reducing mental fatigue and lack of motivation. The fresh scent creates a relaxing environment for a restful night's sleep by reducing anxiety.

Organic Peppermint Essential Oil: Invigorating, Refreshing, Restoring, Focus & Awakening

The fresh, cooling, strong mint scent of Peppermint Essential Oil invigorates the mind and senses, while inspiring a sense of peace and relaxation and promoting feelings of energy as well. The uplifting, invigorating, and stimulating aroma helps promote concentration and memory, awakens and refreshes the senses, soothes feelings of irritability, boosts energy, and enhances mental focus. It helps relieve mental fatigue, apathy, feelings of nervous tension, headaches, and depression. Peppermint contains menthol known for its soothing effect on stuffy noses and chest congestion due to colds or allergies. Some researchers believe that it relaxes the gastric muscles to help ease motion sickness and nausea.

Myrtle Essential Oil: Balancing, Refreshing, Clearing & Calming

Myrtle Essential Oil has a fresh, sweet, and slightly camphoraceous aroma that can help calm the mind and ease anxiety. Its mild sedative action can help promote restful sleep. The uplifting qualities help promote positive, balanced, and calm feelings to ease anxiety. The refreshing scent can help clear the mind when it feels foggy and relieve headaches. Like other relatives of the eucalyptus family, Myrtle can help ease congestion due to colds or allergies.

For more in-depth information about all of the essential oils used in this product, click on the name of the essential oil in the ingredient list.

We hope you enjoy the aromatherapeutic properties of this inspiring organic roll-on, along with its lovely fragrance!
How To Use

To help combat negative energy, relieve tension and renew the spirit, shake gently and then freely roll over pulse or pressure points such as temples, under the nose, behind ears, back of the neck, insides of wrists, bottoms of feet, or anywhere that feels good. Re-apply as desired.

This roll-on essential oil is pre-blended at a skin-safe dilution in moisturizing organic carrier oils. It is safe to apply topically on adults without further dilution. If you have sensitive skin, we recommend doing a patch test before using.

For more information please read our blog: "How To Use Roll-On Aromatherapy"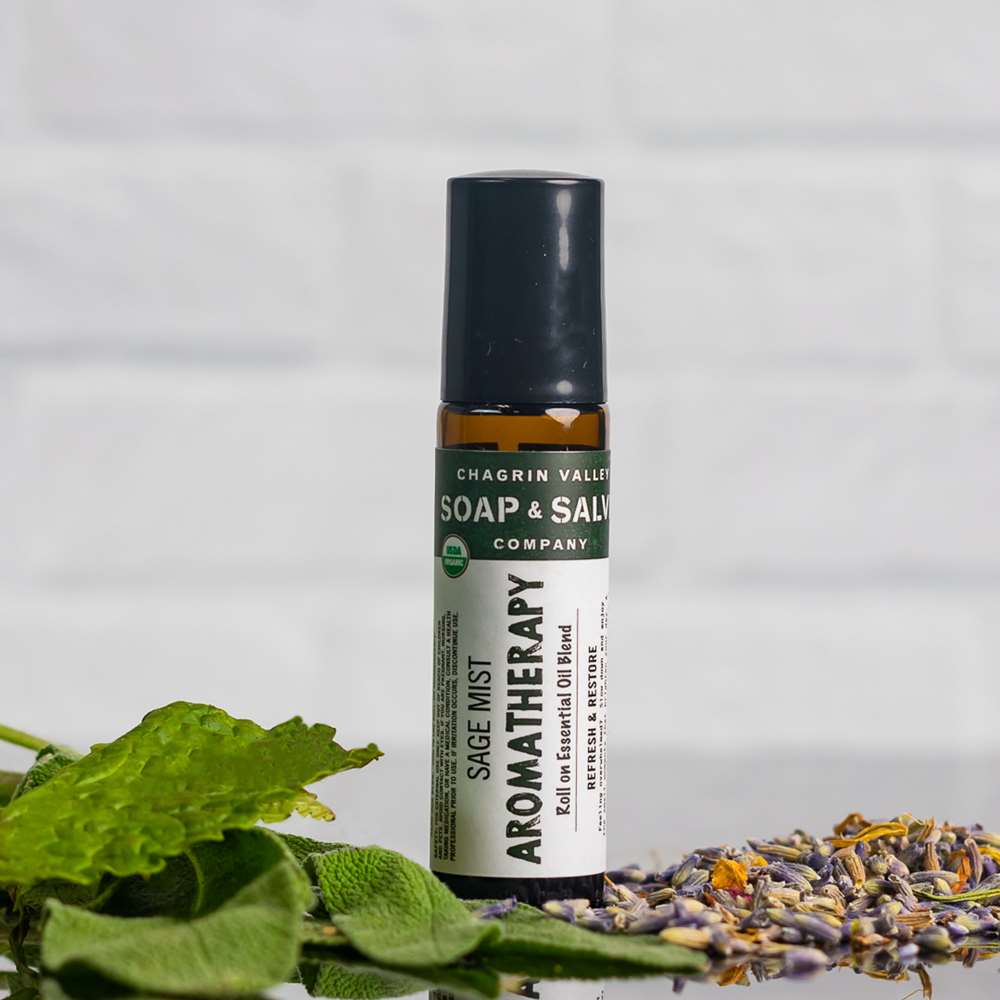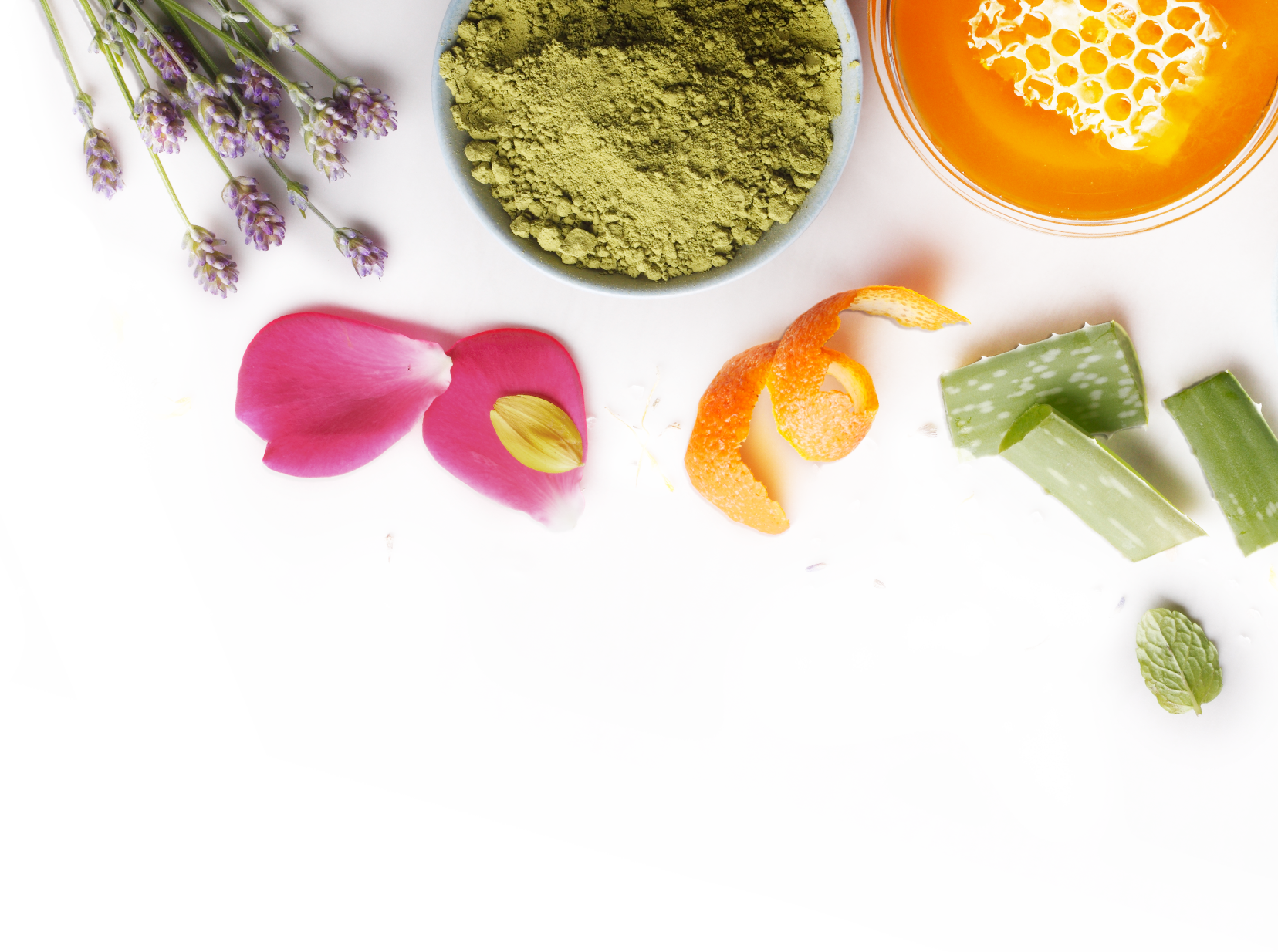 Effective, Feel Good Ingredients
The goal is simple: to Harness the Power & Simplicity of Nature® to cleanse, soothe, heal, and protect your skin and hair!
Our unique formulas rely on moisturizing oils and butters, healing botanicals, and pure essential oils. We choose every ingredient with one end-result in mind….the BEST possible natural skin care for YOU!
Featured Ingredients

Organic Sage Essential Oil

Organic Clary Sage Essential Oil

Organic Myrtle Essential Oil
All Ingredients:
Precautions and Safety
Pregnancy & Children: We do not provide information on the safety of essential oils during Pregnancy or for use in Children because the available information is very ambiguous and often contradictory. If you are interested in using essential oils during pregnancy, while breastfeeding or with young children please do your own research and consult your doctor, midwife, or health care professional before use.
Essential oils are natural, but that does not mean they can be used without taking precautions. The following list includes some general guidelines to help ensure the safe use of essential oils.
Keep out of reach of children and pets.
If you are pregnant, nursing, taking medication, have a medical condition, or have medical concerns regarding yourself or your family consult a qualified licensed health professional prior to using essential oils. Chemical compounds in some essential oils can produce adverse effects when combined with some medications even when applied topically.
For EXTERNAL use only.
Keep away from eyes, ear canals, mucous membranes, and other sensitive areas. If you get essential oils on your fingers be sure to wash your hands.
Do not apply to broken or irritated skin. If skin sensitivity occurs, discontinue use.
Possible skin sensitivity. As with anything new that is applied to the skin, we recommend a patch test especially if you have sensitive skin. Test only one new oil or blend at a time to determine how your body responds.
While essential oils may help to soothe the symptoms of viruses such as flu, there is no evidence at this time to suggest that inhaling or applying essential oils to the skin can prevent viruses from entering the body to prevent infection in the first place.

Store essential oils at room temperature. Essential oils are flammable and should not be used or stored near open flames, candles, gas stoves, or fireplaces.

Do not attempt to self-diagnose or prescribe any natural substances for conditions that require professional attention.
This product does not claim to diagnose, treat, cure, or prevent any illness or disease. This information has not been evaluated by the Food and Drug Administration. This notice is required by the Federal Food, Drug and Cosmetic Act.
Frequently Asked Questions
What is aromatherapy

Aromatherapy is the inhaled or topical use of aromatic plant essences like essential oils to support wellbeing and help maintain the balance of the mind, body, and spirit.

Aromatherapy has been used by ancient cultures for thousands of years to promote psychological and physical wellbeing.

There are a variety of ways to add a bit of aromatherapy into your life using essential oils. Each essential oil offers a range of unique aromatherapeutic properties, uses, and effects. Different oils can also be combined to create a synergistic blend with its own unique benefits.

So how and why does the aroma of essential oils affect our mood? The way in which our sense of smell is wired to our brain is quite unique among our senses. The part of your brain that processes and interprets scents also deals with memory and emotions. This relationship may help explain why smells often trigger specific memories or emotions.

When we inhale through our nose, the scent molecules in essential oils travel across millions of tiny olfactory neurons that sit on the roof of the nasal cavity.

Once triggered, the olfactory neurons send messages to the olfactory bulbs, two lobes at the base of the brain. But olfactory messages do not stop there. They also trigger brain regions like the limbic system which plays an important role in emotion, mood, stress levels, and behavior as well as heart rate, breathing, blood pressure, and memory.

Essential oils can lift your mood and make you feel fabulous with a simple whiff of their natural aroma. Each oil has a different chemical make-up and therefore a different effect.

The purpose of aromatherapy is to elicit some reaction in the body. Since we are all unique, not all oils will benefit everyone in the same manner. There is some research and a lot of anecdotal evidence that has shown the positive benefits of aromatherapy, such as relief from anxiety, improved sleep, and improved quality of life. But there is still so much to learn.

For more detailed information I would like to point you to our blog "What is Aromatherapy?" especially the sections near the bottom entitled "Safety" and "Research."

There I explore questions like Safety, Can Essential Oils Be Absorbed Through the Skin? and Are the Effects of Aromatherapy Real or Placebo?

---

View Answer Page
What Are Dilution Rates?

Applying essential oils topically (on the skin) without dilution is a highly debated subject. Not only are essential oils much more potent than the botanicals from which they are extracted, but some are much more "potent" than others

Due to their high concentration, the general consensus among certified aromatherapists is that you should not apply undiluted essential oils onto the skin except under the supervision of a professional.

For most body care formulations, it is recommended that essential oils make up no more than 2% of your total end product weight or volume.

When deciding the proper dilution for a single essential oil, an essential oil blend, or any product containing essential oils there are a few main factors that need to be considered.

Which essential oil or oils are being used?
How is the final product being used?
Where is the final product being used?

Unfortunately, the information about proper dilution rate is often ambiguous and contradictory.

To learn how to dilute essential oils for topical use, please read our blog, "Essential Oil Basics: A Guide to Dilution Rates" in which I discuss the following topics:

What does the term "neat" mean?
Factors to consider when diluting essential oils
How to calculate essential oil dilution rates
How to use an essential oil dilution chart
Why all dilution charts do not provide the same dilution rates

---

View Answer Page
Can I Use Your Natural Skincare Products While Pregnant or Nursing?

We often receive questions as to whether our soaps, shampoos, and other natural products are safe to use during pregnancy.

We recommend that expectant and nursing mothers check with their midwife or physician before changing a skincare routine with our organic products, or any other line of products.

Read the label on a bar of commercial soap. Read the label on your jar of moisturizer.

Now read the ingredients in a Chagrin Valley product.

We use quality natural and USDA Certified Organic ingredients. No synthetic additives, colorants, fragrances, preservatives, or chemical derivatives are used.

There is nothing in our all-natural basic soap or other products that could cause a problem in pregnancy.

Topically applying the herbs present in many of our soaps is also not a problem. Your skin will absorb much less herb from the soap than if you would sprinkle them on your food.

Essential Oils

The issue that seems to be of most concern is the use of essential oils during pregnancy.

There is a lot of confusing, ambiguous, and inaccurate information concerning the use of essential oils in pregnancy.

The question of safety and safety testing has a lot to do with several factors.

The type and composition of the specific essential oil. Essential oils differ greatly in strength and composition.


The quality of the essential oil. Many "cheap essential oils" are not pure and maybe cut with synthetic chemicals.


The actual "dose" of herb/essential oils. Most of the clinical research on essential oil safety is based on information for internal (actually ingesting) large doses of herbs, essential oils, or herbal "medicines." Obviously there have been no tests done on pregnant women.


How the essential oil is being used. The concentration of essential oils that are absorbed through inhalation, as in aromatherapy, and massage is much lower than if you were actually ingesting the oil.

But also, aromatherapy and massage therapy use much higher concentrations of essential oils than you find in soap or even in eating the herb. With aromatherapy, you are inhaling the high concentrations which get absorbed via the lungs and in massage therapy, the essential oils remain on your skin and are absorbed.

Our scented soaps are gently scented with essential oils, but the choice is between you and your health care professional. The most critical time is the first trimester.

Just about every one of our products, like lip balms, whipped butters, soaps, shampoos, and deodorants has a "no added scent" version.

When there is a growing baby to consider, if you are at all uncertain as to the safety of an essential-oil containing product, or any ingredient, please consult your doctor, midwife, or health care professional!

When it comes to safety during pregnancy it is understandable that many massage therapists and aromatherapists decide to err on the side of caution in recommending the avoidance of certain essential oils.

Some Herbalists and Aromatherapist believe that essential oils that are normally safe to use, are safe during pregnancy, while others will recommend avoiding all essential oils during pregnancy.

Some essential oils that are normally quite safe have hormone-like effects and some even stimulate uterine muscles, both of which would be contraindicated during pregnancy.

Please do not ask us if one of our products is safe to use during pregnancy--we will simply refer you to this page.

We do not provide a list of essential oils considered safe during pregnancy because the information available is very contradictory. One aromatherapy source will list an essential oil as problematic while another one states it is fine.

The information is also changing constantly. Please do your own research and consult your doctor, midwife, or health care professional for the most up-to-date information.

Sensitive Skin Can Strike During Pregnancy

Even if you have never had sensitive skin in the past, you may notice that a product you have been using for several years now irritates your skin.

The stretching belly is often the most sensitive spot. Other potential problem areas include the hips, thighs, and bottom where the skin may become dry and flaky.

Although the exact cause is not known, raging hormones do make you more sensitive to a wide range of things, and also your skin is thinning and stretching as you, and your baby, grow.

These changes can behave in unpredictable ways. For example, if you have eczema you may suffer from major flare-ups or complete remission during pregnancy.

Keep your body well moisturized and avoid products that contain synthetic additives, colorants, fragrances, or preservatives. Any of these can exacerbate sensitive skin problems.

Before trying a new product, you can always do a patch test to test for sensitivity.

And again, we recommend that expectant and nursing mothers check with their midwife or physician before changing a skincare routine with our products, or any other line of products.

Pregnancy & Children: We do not provide information on the safety of essential oils during Pregnancy or for use in Children because the available information is very ambiguous and often contradictory. If you're interested in using essential oils during pregnancy or with young children please do your own research and consult your doctor, midwife, or health care professional before use.

---

View Answer Page
Can I Use Your Products on my Baby or Young Children?

We often receive questions as to whether our soaps, shampoos, and other items are safe to use on young children.

A baby's skin, so thin and delicate, is no place for harmful synthetic chemicals.

Sadly, even some of the most trusted baby brands add nasty chemicals to their products.

Read the label on a bar of commercial baby soap or shampoo. Read the label on a bottle of commercial baby oil. Now read the ingredients in Chagrin Valley products.

We recommend starting with our Milk & Honey Baby Soap. We also recommend our two Castile soaps and Carrot & Honey Soap. They are unscented and, as with all of our products, contain no artificial ingredients!

My grandkids use our Milk & Honey bar as a baby shampoo--just keep the soap away from their eyes.

When you think your child is ready, try some new soaps.

As with all new products, it is best to do a skin patch test prior to full usage to test for any skin allergies or sensitivities. If you have any questions or concerns always check with your doctor or health care professional.

It is best to add only one new soap or product at a time and use it for a while before switching to a new soap.

Essential Oils & Children: We do not provide information on the safety of essential oils for use in Children because the available information is very ambiguous and often contradictory. If you are interested in using essential oils with young children please consult your health care professional before use.


Please do not ask us to diagnose your child's skin problems, we are not health care professionals. Our recommendations are based on what our customers have shared.

Click Here to visit our page of Organic Baby products!

---

View Answer Page
I Have Allergies What Natural Skincare Products Are Safe For Me?

Help! I Have Allergies

Trying to choose the right natural soaps or skincare products can be a bit overwhelming especially when you have allergies and/or skin sensitivities.

Since we proudly list every ingredient in all of our products, reading the ingredient list will help to eliminate ingredients that may cause you problems.

We always recommend doing a patch test before using any new products especially if you have sensitive skin or allergies.

We receive so many emails asking for help with allergies, we created categories in our "Help Me Choose" section to provide information for those with allergies or sensitivities to nuts, coconut, shea butter and gluten.

Check out our help me choose pages!!

If you are allergic or sensitive to any of the ingredients in our products, they may cause skin irritation. Even natural ingredients may cause sensitivities.

People with severe allergies--please note: If you have severe anaphylactic-type reactions to ANY of the ingredients in ANY of our products, please do not buy our products. We have dedicated soap rooms and product rooms that are kept meticulously clean, but we cannot guarantee against possible cross-contamination of individual ingredients.

---

View Answer Page
What are essential oils?

What Are Pure Essential Oils?

Have you ever enjoyed the scent of a fragrant flower or herb? The fragrance comes from potent, aromatic compounds called essential oils found in the flowers, stems, seeds, bark, roots, fruits, and other parts of plants. It often requires several pounds of a plant to produce a single bottle of essential oil.

Essential oils not only give plants their unique scents but also help lure plant pollinators and protect plants from insects and other predators.

The chemical composition of essential oils may provide valuable psychological and physical aromatherapeutic benefits for some people.

It is important to note that to be a true essential oil, the oil must be isolated from the plant material by physical means only. Essential oils are NEVER extracted using solvents.

Although synthetic fragrances or "nature identical" oils are available at a much lower cost, only natural plant essential oils will provide any aromatherapeutic benefits.

What Are Essential Oils (Much more detail)

How Essential Oils Are Extracted

Why We Use Only Real Plant Essential Oils?

---

If you are pregnant or under a doctor's care for any medical condition, please consult your healthcare provider before using essential oils.

Pregnancy & Children: We do not provide information on the safety of essential oils during Pregnancy or for use in Children because the available information is very ambiguous and often contradictory. If you're interested in using essential oils during pregnancy or with young children please do your own research and consult your doctor, midwife, or health care professional before use.

---

View Answer Page