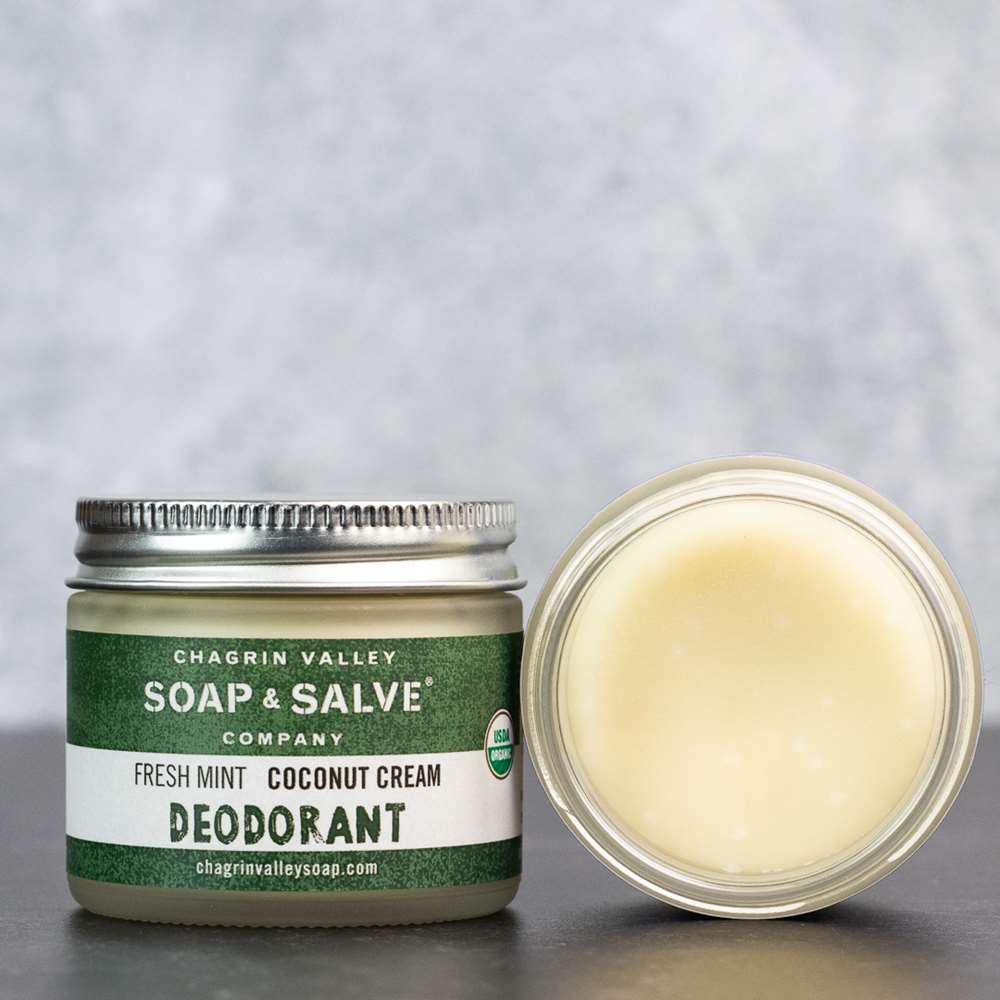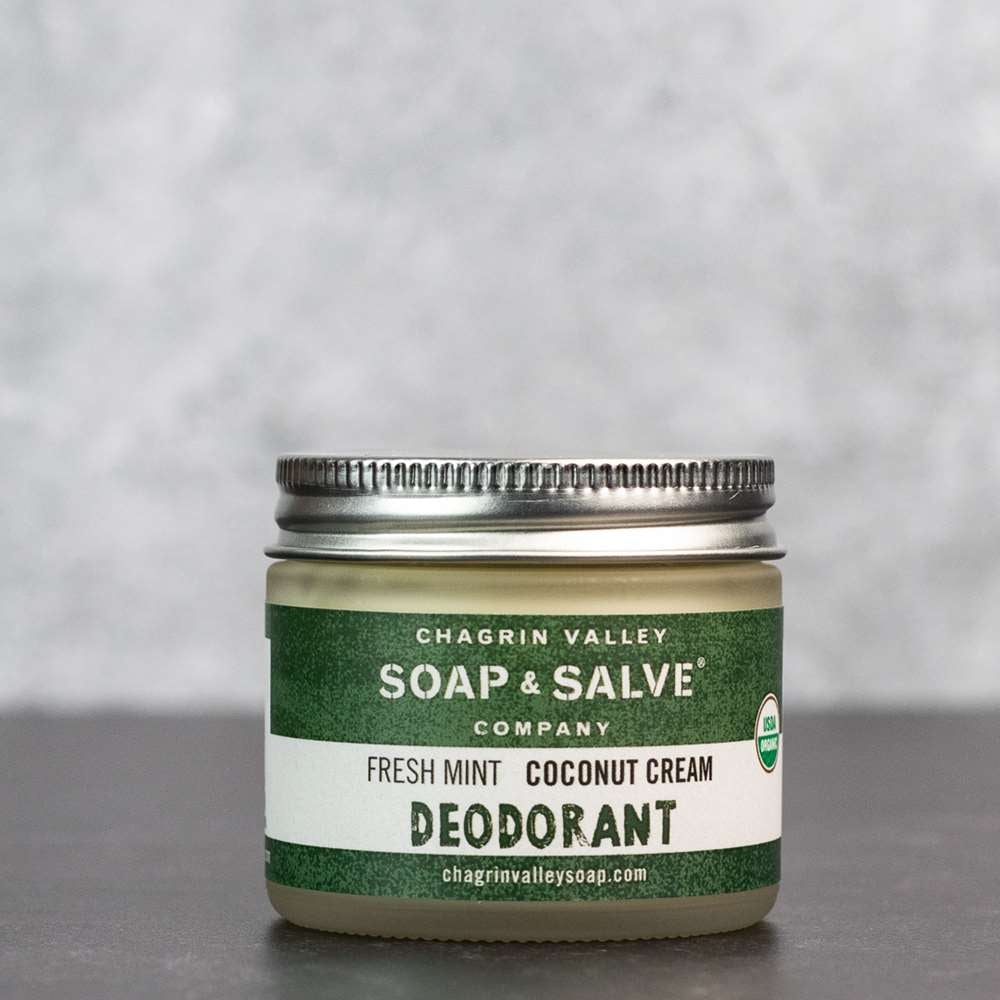 An organic deodorant with a bright minty scent that readily absorbs into the skin. Shea butter, jojoba oil and coconut oil soothe delicate underarms while organic root powders helps absorb perspiration. Essential oils and baking soda neutralize odor causing bacteria, so you stay fresh naturally.
Product Overview

Our organic Extra Strength Cream natural deodorant, with a refreshing, minty scent, is a soft solid that is tough on odors and readily absorbs into your skin.

Made with soothing and moisturizing ingredients that effectively neutralize odor and help absorb wetness, so you stay fresh naturally.

We call this our "extra strength" formula because it contains more baking soda than our stick deodorants.

Baking Soda is effective at absorbing all types of moisture, including sweat, which makes it useful for keeping underarms dry. It also effectively kills odor causing bacteria. By neutralizing the acid in sweat, the underarm environment becomes less friendly to odor-causing bacteria thus preventing body odor from forming. While some people with sensitive skin choose to stay away from baking soda, others actually prefer it because it is the only thing that actually works for them! In general, baking soda tends to perform better at fighting odors than other ingredients found in natural deodorants.

Tapioca Flour and Arrowroot, are fine, super-absorbent powders that help pull sweat away from the skin. They work in a natural deodorant to reduce perspiration and odor due to these moisture-absorbing properties. These root powders also offers soothing relief from underarm itchiness caused by irritation.

Virgin Coconut Oil is an easily penetrating, nourishing, moisturizing oil. Unlike fractionated coconut oil, unrefined coconut oil contains fatty acids which are known for their antibacterial properties. A coconut oil based deodorant helps soothe skin and helps reduce bacteria.

This Fresh Mint blend of organic essential oils are known for their antibacterial properties and provides an invigorating scent with complex minty notes.




An aluminium free, paraben free, synthetic-free, artificial fragrance-free, plastic-free, eco-friendly, UDSA organic, and sustainable natural deodorant
How To Use

How To Use a Natural Cream Deodorant

Our cream deodorant is best applied after showering or bathing.

Apply to clean, dry underarms.
Using clean fingers scoop out a pea-size amount on your fingertip. A pea-sized amount may not look like much on your finger, but trust us -- a little bit goes a long way. (See Ida's favorite technique below)
Apply it down the center of your armpit.
Gently massage and allow the cream to absorb completely as it melts on your warm skin (like you would apply moisturizer).
NOTE: If it is cold, like in winter, allow the cream to sit a few seconds and the warmth of your skin will quickly soften the cream. The idea to use the least amount of friction during the application.
Again, use this deodorant cream sparingly you only need a little. If you feel sticky after applying, chances are you have used too much!
After applying the deodorant, it is best to give your underarms some time to absorb the cream before putting on your shirt. You don't want deodorant sticking to your clothes and possibly leaving a stain.
To prevent irritation, do not apply the deodorant cream immediately after shaving your armpits.

---

Ida's Technique

For me, the pea-sized amount is enough for both arms, so my technique is a simple one.
I scoop out a pea-sized amount of deodorant with my clean index finger on my right hand--I am righthanded.
Then I rub the deodorant between the two fingers on my right hand and the same two fingers on my left hand.
I use these fingers to apply the deodorant (one for each armpit).
The deodorant softens from the warmth of my fingers and helps create a smoother more uniform application.
I gently massage the cream deodorant into my skin until it is no longer visible.

---

Obviously we do not all have the same size armpits. While a pea-sized amount is usually enough for both armpits, some people may need a pea-size for each armpit. Start small first and see how it goes. Just remember - more deodorant does not mean more effective. More is NOT better!

If you tend to sweat a lot, then you can reapply the deodorant cream throughout the day. Wipe your armpits clean with a damp cloth or paper towel and reapply. Applying deodorant onto unclean, damp, or sweaty underarms may cause irritation.

What If You Do Not Want To Use Your Fingers?

We recommend applying cream deodorant with your fingers since you have more control over the amount of product going on your underarm at each application. It is easier to give the entire underarm area a uniform coat of deodorant without using too much. Basically, you can tailor the application to your personal needs.

However, if you have long fingernails, find it inconvenient, or the thought of applying deodorant with your fingertips has you questioning whether you want to use it, we have some suggestions.

The rounded back of a small spoon works well. Scoop up a pea-sized amount of the cream onto the back of the spoon and then use the rounded surface to gently spread and massage the deodorant into your skin.*
Some people use a popsicle stick or tongue depressor. While this is a good trick for getting the deodorant out of the jar, we found it difficult to apply with a stick. So, use the stick to scoop out your pea-size piece of deodorant and place it in the center of your armpit and then use your fingers to massage it into your skin.

We also have very creative customers who love our cream deodorants!

One customer shared that they used an old, clean, empty roll-on deodorant container as an applicator. Just dab the rollerball straight into the cream (not too much) and gently apply to your armpits. We thought this was quite clever and tried it with one of our empty rollerball bottles from our essential oil roll-ons and it worked quite well.
Another customer made an applicator ball using a glass bead about 3/4 inch round and a section of a chopstick. As they say, where there's a will there's a way!

*For those who would like an applicator for our cream deodorants, try the back side of our reusable, sustainable oval bamboo spatula. (In the picture above)

We always recommend a Patch Test the first time you try any new product, especially if you have sensitive skin. In case your body doesn't agree with one of the ingredients, do a Patch Test before a full application. Discontinue if irritation occurs.

Our cream deodorants are not happy in hot mailboxes or on sunny porches. Please be sure to pick up your package ASAP once it arrives. It is natural for natural Cream Deodorant to soften under warm temperatures. Softening or melting will not impact the performance. If your deodorant melts or softens too much, simply mix well and then pop the container in your refrigerator for about 30 minutes.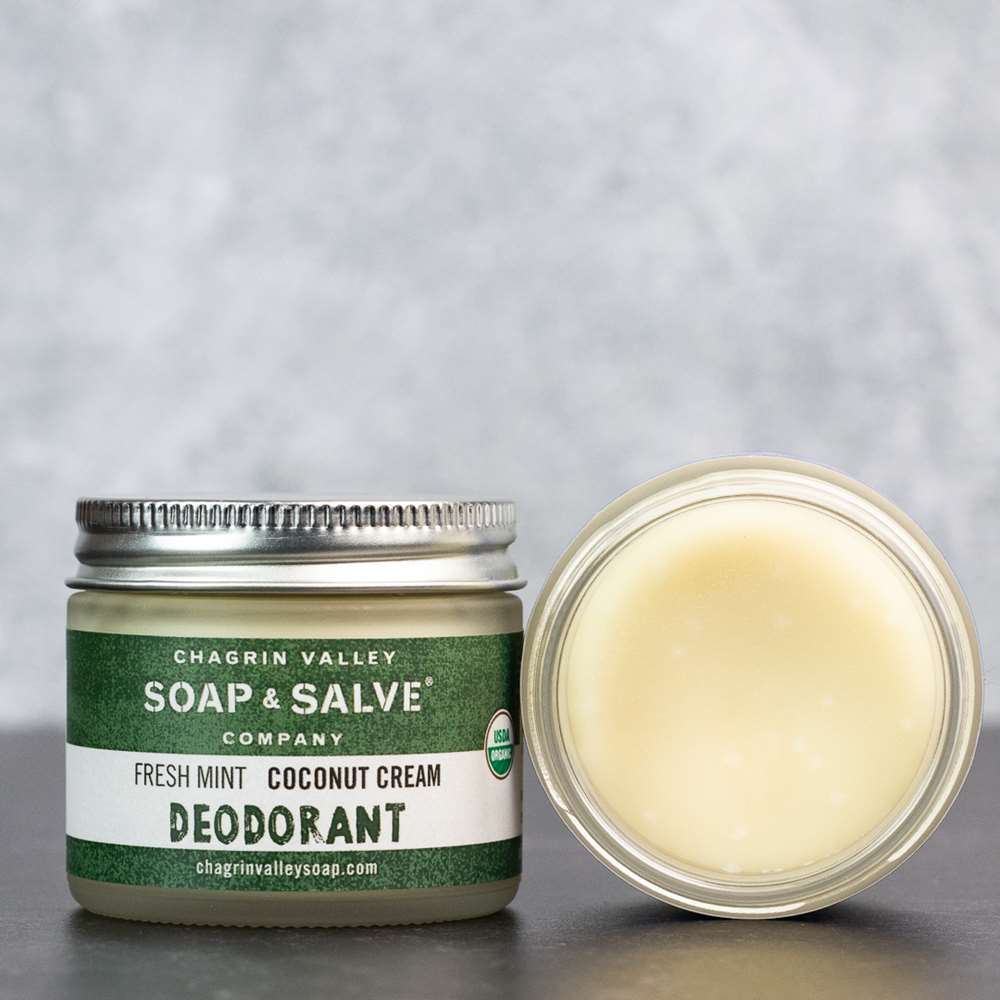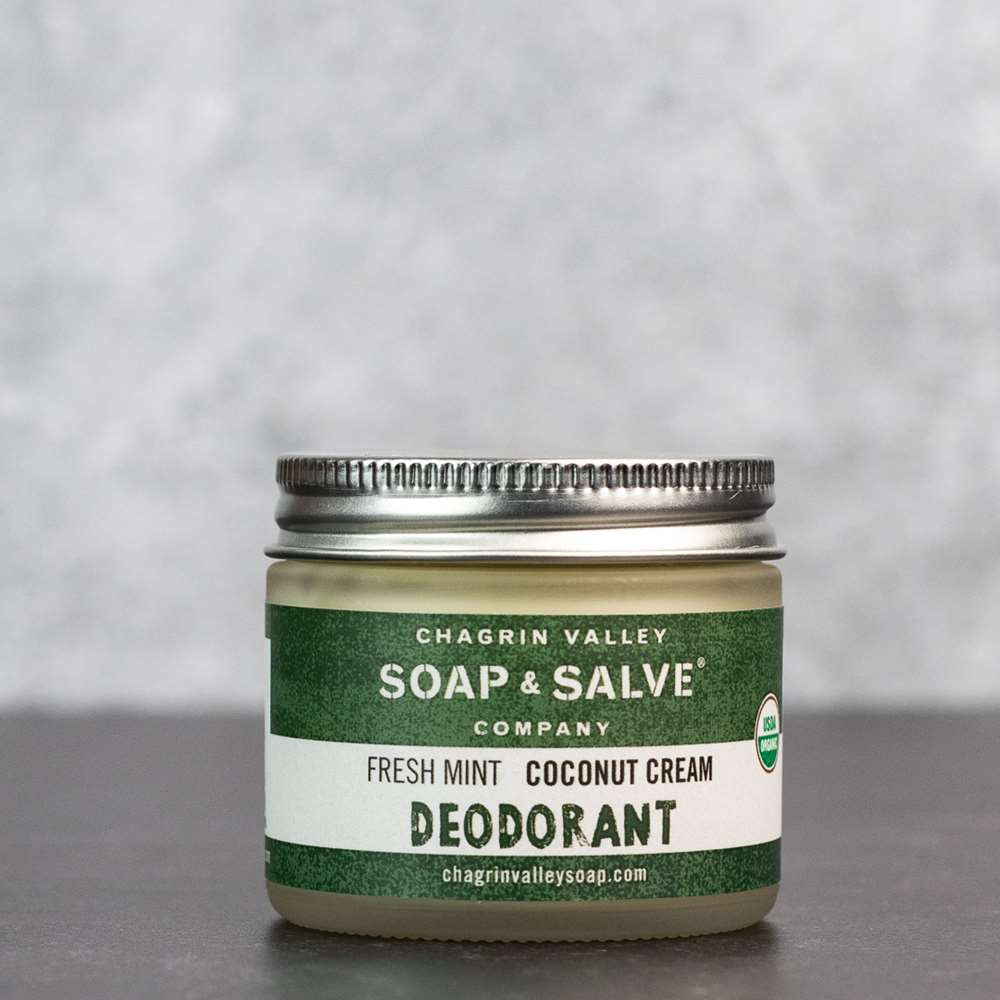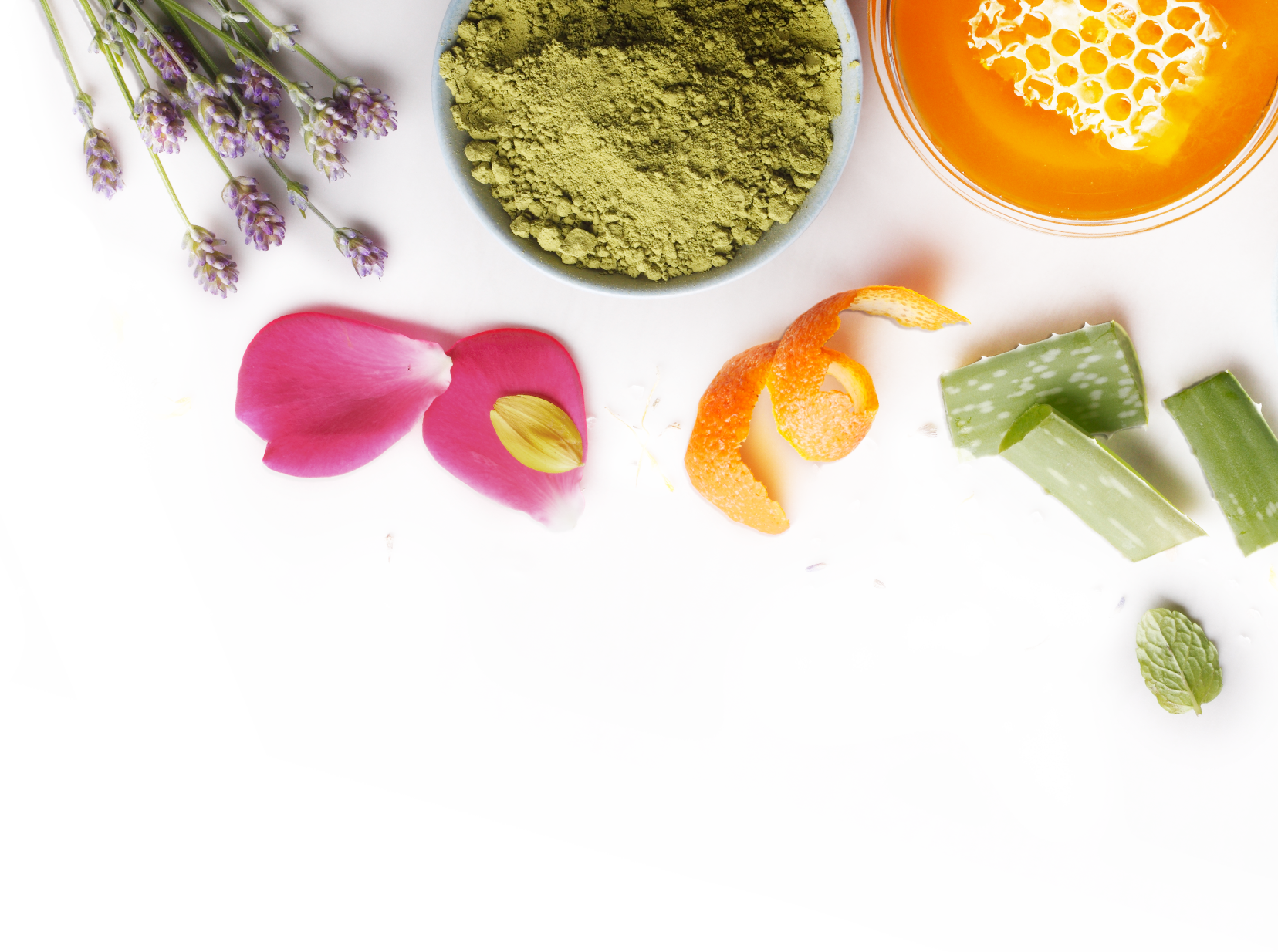 Effective, Feel Good Ingredients
The goal is simple: to Harness the Power & Simplicity of Nature® to cleanse, soothe, heal, and protect your skin and hair!
Our unique formulas rely on moisturizing oils and butters, healing botanicals, and pure essential oils. We choose every ingredient with one end-result in mind….the BEST possible natural skin care for YOU!
Featured Ingredients

Organic Virgin Coconut Oil*

Organic Spearmint Essential Oil

Organic Tea Tree Essential Oil
All Ingredients:
,
,
,
,
,
,
,
,
,
,
,
,
*Ingredient is Fair Trade Certified
Frequently Asked Questions
Do I need an "Armpit Detox" when switching to natural deodorant?

Many people transition seamlessly to a natural deodorant. Others report a transition period.

I do not believe in "armpit detox" the way in which it is described by many companies that sell natural deodorant. Armpit "detox" is simply a normal adjustment period.

Our bodies are quite resistant to change. Our bodies enjoy the status quo. They see change as a disruption and often resist change even if it is a positive one.

The bottom line--our body needs time to adjust to change and since each of us is a unique individual and our armpit microbiome is different the timeline varies from person to person.

Ultimately, it depends on your unique body chemistry.

Since there was so much information I wanted to share, I have written two blogs:

Part 1: Causes of Armpit Rash - Transitioning To Natural Deodorant, discusses the adjustment period and the possible causes of irritation and or rashes that some may experience when switching from a conventional antiperspirant/deodorant to an all natural deodorant.

Part 2: Transitioning To Natural Deodorant, provides some suggestions to help with the adjustment period and or to help alleviate the causes of irritation reviewed below. Part 2 also answers some common questions about using a natural deodorant.

---

View Answer Page
Why Is Underarm Skin More Sensitive?

Did you ever notice that so many people are ticklish under their arm? Your underarms are one of the most sensitive parts of your body.

Why Are Underarms More Sensitive?

Underarm skin is a bit thinner than the skin on other parts of your body

Underarm skin is not exposed to outside elements which can make skin tougher

Underarms usually get very little sunlight

The warm, moist environment is a breeding ground for bacteria

The friction that occurs when underarms rub against skin or clothing can cause skin irritation

Underarms are home to lots of nerves and lymph nodes

You may notice that you can feel a simple touch more than you can on other areas of the body. When you add up all of these factors you can see why underarm skin is not only more sensitive, but also more prone to irritation.


Underarm Care

Keep your underarms clean


Shaving can really irritate sensitive skin

Be sure to moisturize after shaving
Shave at night before bedtime to allow the skin to heal a bit overnight



Underarm pores can get clogged, so it is a good idea to gently exfoliate the area periodically

Since this area is so sensitive, use the gentler products madde to exfoliate your face rather than your body
Do not use scratchy accessories, like loofahs, when washing which may irritate sensitive skin



Use a natural, organic, moisturizing deodorant

---

View Answer Page
What If My Natural Skincare Product Melts in Warm Weather?

Why Do Some Products Melt in Warm Weather?

We do not use synthetic stabilizers or waxes, so our delicate natural products packaged in glass jars and metal tins are sensitive to temperature changes.

While shipping during warm weather seasons presents a real challenge to our natural skin care company, we accept the challenge in order to maintain our standard of natural and nourishing skin care. We hope you agree.

During warm weather, products may soften or even melt as they sit in warm mail trucks, mailboxes, or on front porches.

The quality and healing properties of our products are not affected by melting.

On very sunny or warm days, BEFORE opening the jars or tins, place the items in your refrigerator for a few hours to allow them to harden, just in case they have melted in transit. If you open items, especially those in tins, to check if melting has occurred, they may spill and make a mess!

What To Do About Melting

Cream Deodorants

If you think that your balm-like deodorant is melted or runny, BEFORE opening the jar, pop it in the freezer for 10 - 15 minutes. As it begins to harden give it a stir (so that the solids do not sink to the bottom) and place it back in the freezer until firm!

Sometimes a cream deodorant can melt during warm transit and then slowly re-solidify before you receive it. This melting and slow cooling can result in a grainy feeling. If your deodorant feels grainy, simply melt it, mix thoroughly, and place it in the refrigerator until solid.

Since the stick deodorant are made with more beeswax, they are less sensitive to an increase in outside temperature.

Whipped Body Butters

Place a melted body butter in the refrigerator until firm.

Our hand-whipped process adds tiny air bubbles that increase the volume, just like whipping cream. If a whipped product melts, the air bubbles collapse and the volume is decreased.

So, although the jar was filled to the top initially, there will be less volume in the container (since it has deflated) and the container may actually look half full.

After cooling a melted Whipped Butter will be the consistency of our body balm and is still a great moisturizer.

Sugar Scrubs

If a Sugar Scrub melts, the oil may separate out a bit. Give it a good mix and place it in the refrigerator for about 10 to 15 minutes. As it begins to harden up give it another stir to disperse the sugars and place it back in the refrigerator. Once it's solidified and mixed it will be great to use! Again because it is a whipped product, the container may have less volume when the whipped butters melt.

Read more about melting products and what to do in our blog "Natural Skin Care Products Melt In Hot Weather."

---

View Answer Page
Why are there little white beads or specks in some products?

The whitish specks are concentrated beads of nourishing plant butters which solidify into little butter bits as they cool.

Natural unrefined and unprocessed butters, like our Virgin Shea and Cocoa, will occasionally separate in some products with changes in temperature.

Although we see the little beads most often in the Summer months, changes in temperature as the products make their journey can happen any time of year. The concentrated beads of butter will melt as you massage the product into your skin.

Our goal is to create the best natural, wholesome, nourishing skincare possible, so we formulate our products without synthetic stabilizers, emulsifiers, or waxes.

Most companies do not use unrefined or virgin botanical butters because they are so difficult to work with, but we know that unrefined butters are much more nourishing!

For more information read our "Shea Butter Tutorial."

---

View Answer Page
Are Chagrin Valley Ingredients & Products USDA Certified Organic?

Chagrin Valley Soap & Salve is a USDA Certified Organic Company

The most important consideration in any business is its customers. Today's world of misleading claims, false advertising, and simple deception, often leaves consumers trying to discover the truth about personal products and their ingredients.

We want our customers to know that we are

committed to transparency in everything we do.

We want our customers to know that when we say "

organic," we mean it.
We believe that in becoming a USDA Certified Organic company, our customers do not have to wonder if we really use certified organic ingredients or if our organic products are truly organic.
So we choose to be a certified organic company

and abide by the strict standards required for organic certification.

Some of my favorite products are made with ingredients that just do not exist as certified organic. Why? At this time there are no standards created for ingredients specifically used in the personal care product industry. Organic certification of personal care products is based on the organic food standards set by the National Organic Program of the USDA.

But since we are a certified organic company, we are required to submit documentation that even our "non-organic ingredients" were produced without the use of toxic pesticides, genetically modified organisms (GMOs), sewage sludge, or irradiation.

Why Did We Become a Certified Organic Company?

What Do All of the Organic Labels Mean?

---

View Answer Page
What are essential oils?

What Are Pure Essential Oils?

Have you ever enjoyed the scent of a fragrant flower or herb? The fragrance comes from potent, aromatic compounds called essential oils found in the flowers, stems, seeds, bark, roots, fruits, and other parts of plants. It often requires several pounds of a plant to produce a single bottle of essential oil.

Essential oils not only give plants their unique scents but also help lure plant pollinators and protect plants from insects and other predators.

The chemical composition of essential oils may provide valuable psychological and physical aromatherapeutic benefits for some people.

It is important to note that to be a true essential oil, the oil must be isolated from the plant material by physical means only. Essential oils are NEVER extracted using solvents.

Although synthetic fragrances or "nature identical" oils are available at a much lower cost, only natural plant essential oils will provide any aromatherapeutic benefits.

What Are Essential Oils (Much more detail)

How Essential Oils Are Extracted

Why We Use Only Real Plant Essential Oils?

---

If you are pregnant or under a doctor's care for any medical condition, please consult your healthcare provider before using essential oils.

Pregnancy & Children: We do not provide information on the safety of essential oils during Pregnancy or for use in Children because the available information is very ambiguous and often contradictory. If you're interested in using essential oils during pregnancy or with young children please do your own research and consult your doctor, midwife, or health care professional before use.

---

View Answer Page
I Have Allergies What Natural Skincare Products Are Safe For Me?

Help! I Have Allergies

Trying to choose the right natural soaps or skincare products can be a bit overwhelming especially when you have allergies and/or skin sensitivities.

Since we proudly list every ingredient in all of our products, reading the ingredient list will help to eliminate ingredients that may cause you problems.

We always recommend doing a patch test before using any new products especially if you have sensitive skin or allergies.

We receive so many emails asking for help with allergies, we created categories in our "Help Me Choose" section to provide information for those with allergies or sensitivities to nuts, coconut, shea butter and gluten.

Check out our help me choose pages!!

If you are allergic or sensitive to any of the ingredients in our products, they may cause skin irritation. Even natural ingredients may cause sensitivities.

People with severe allergies--please note: If you have severe anaphylactic-type reactions to ANY of the ingredients in ANY of our products, please do not buy our products. We have dedicated soap rooms and product rooms that are kept meticulously clean, but we cannot guarantee against possible cross-contamination of individual ingredients.

---

View Answer Page
Is There an Expiration Date On My Natural Skincare Product?

Product Expiration Dates

We hand make all of our own products in small batches to ensure freshness, consistency, and perfection.

Our products are not made to sit on store shelves for years and years.

Although there are natural preservatives within the chemical structure of many natural ingredients, they not as potent as the synthetic preservatives used in commercial products to prolong shelf-life.

Other than soap, our products are remade every few weeks and none are very old when they are sold. Our non-soap products should be opened within 6 months of purchase.

Since we use no preservatives or chemical stabilizers, the more important question is, "how long will the product last once it has been opened?

Once opened, skin care products become exposed to dirt and microorganisms (bacteria, yeasts, and molds) that are found in the air and on the skin.

As soon as you open and begin to use any product, simply the way in which you use it will affect its lifespan.

So, we use the PAO (period-after-opening) symbol. These symbols are already available on the product pages of our website and we are in the process of adding them to all of our labels.

The POA symbol is a standard symbol that identifies the useful lifetime of a skin care product after it has been opened for the first time.

As you can see from the picture, the symbol is an open jar with a written number and the letter "M" for the word "months."

A product with a "9M" would mean that it is good for 9 months after opening.

Tip: write the date you open a product for the first time on its label so you can keep track of the period after opening.

Our POA number represents our best suggestion. There are many factors that can affect the lifespan of a product. If a product is discolored, has an unpleasant smell or looks odd, the product should not be used and should be discarded.

Each time you place your warm fingers into a tin or jar, you melt some of the butter which can change the consistency of the product.
Fingers also introduce bacteria and other contaminants into the product.
If a product has not been stored properly, for example, if the lid has been left off for long periods of time, the product may 'go off' before the period after opening has passed.
As scented products age, some of the natural essential oil scent may be lost. Pure essential oils just do not have the staying power of synthetic fragrance oils.
Over time, natural colors may also fade.

If you're like me, and you find an old dusty product hiding in a drawer, makeup bag, or even a suitcase from your last trip, you can call us with the lot number and we can verify its age. Obviously, if it seems off in any way, toss it!

Please note: This PAO symbol is widely used in Europe to recommend the length of time a product remains usable after opening, for products that have a shelf-life of at least 30 months. Our products do NOT have a shelf-life of 30 months before opening.

---

View Answer Page