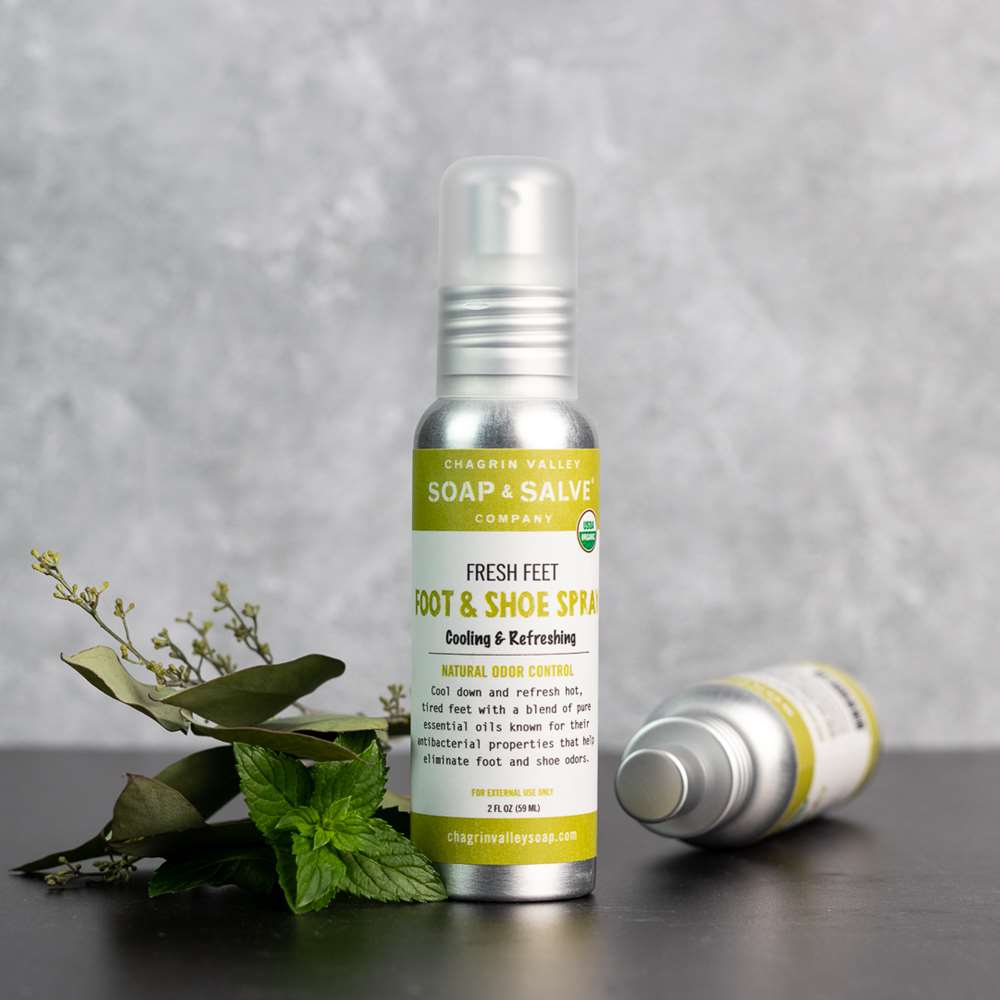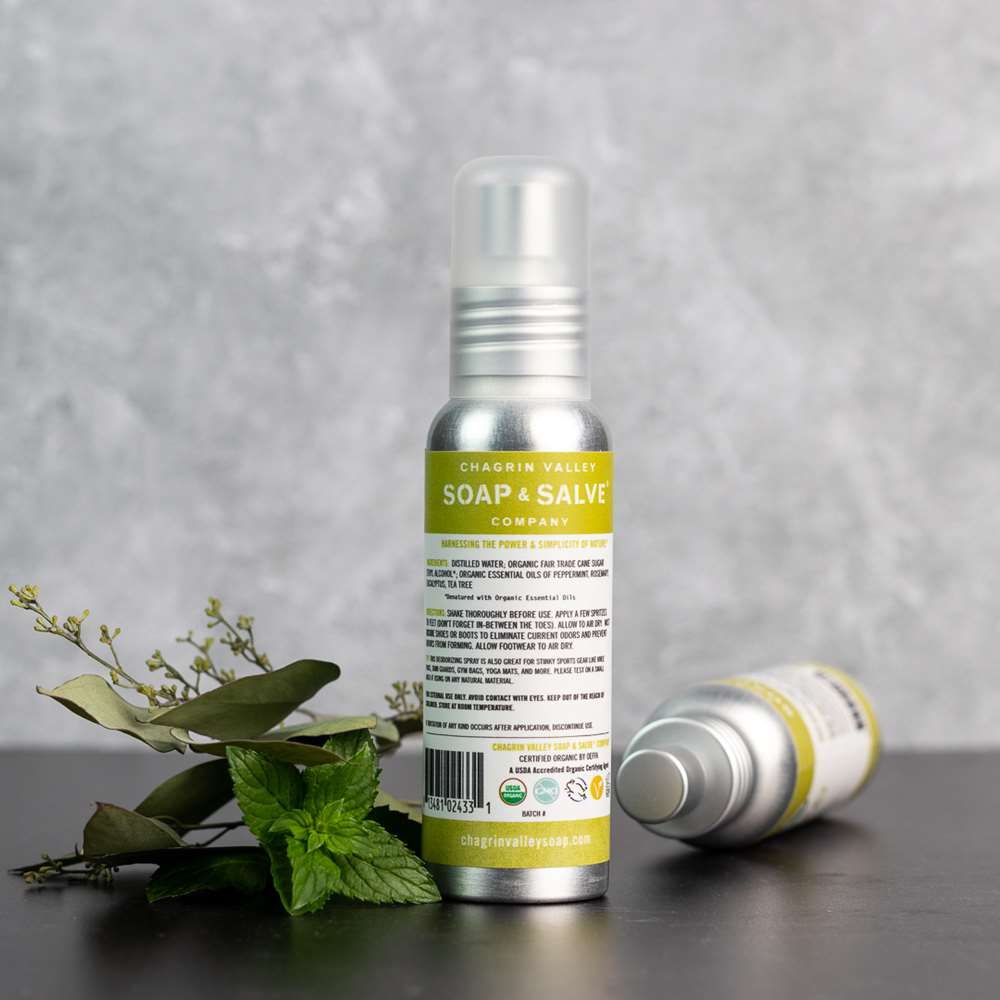 Cool down and refresh hot, tired feet with a blend of pure essential oils known for their antibacterial properties that help eliminate foot and shoe odors.
Product Overview

Our customers asked for a Foot Spray with the same scent as our other Fresh Feet products, so here it is!

Foot odor is caused by warm, sweaty feet and the bacteria that grow in the damp environment in your shoes. Being on your feet for long periods of time can cause unpleasant odor, irritation, and itching.

Our Fresh Feet Foot & Shoe Spray is made with a blend of organic essential oils known for their antibacterial properties. It is the perfect spritz to eliminate unpleasant odors caused by sweat and bacteria, cool down and refresh hot, tired feet, and refresh shoes and sneakers. Our formula contains a bit of organic ethanol (alcohol) which helps it dry quickly and helps disperse the essential oils.

Kick-off your shoes with confidence!

Freshens feet and shoes without harsh chemicals
Eliminates odor effectively and naturally
Essential oil blend helps combat bacteria and fungus
Gentle formula is safe to use on skin and shoes*

So Many Uses

Spray socks and shoes after a run or workout
Use anytime feet begin to feel hot or sweaty

Great for stinky sports gear like knee pads, shin guards, gym bags, yoga mats, and more.

The Fresh Feet spray comes in a convenient 2-ounce travel size aluminum bottle with a sprayer so you can have Fresh Feet wherever you go. Shake well before using.

*Please test a small portion if using on any natural material.
How To Use

Shake well before each use!

FOR FEET

Begin the day with clean, dry feet
Apply a few sprays to your feet and in-between your toes and rub it thoroughly into your skin
It may also be sprayed into your hands and then rubbed into your feet

Allow feet to air dry

FOR SHOES

Lightly spray the insides of your socks and shoes to eliminate current odors and prevent odor from forming. Do not saturate--you want the socks and shoes dry before wearing. (

I like to use my spray at night so the shoes have a bit of time to air dry before wearing.)




Be sure to spray into the toe of the shoe (a lot of germs and odors hide in there!)


For tough odors, deodorize your shoes overnight. Spray Fresh Feet on the inside of your shoes and place them in a plastic bag or sealed container.


Let shoes dry before wearing

For external use only. Keep out of reach of children. Avoid contact with eyes. If you experience any irritation, please discontinue use.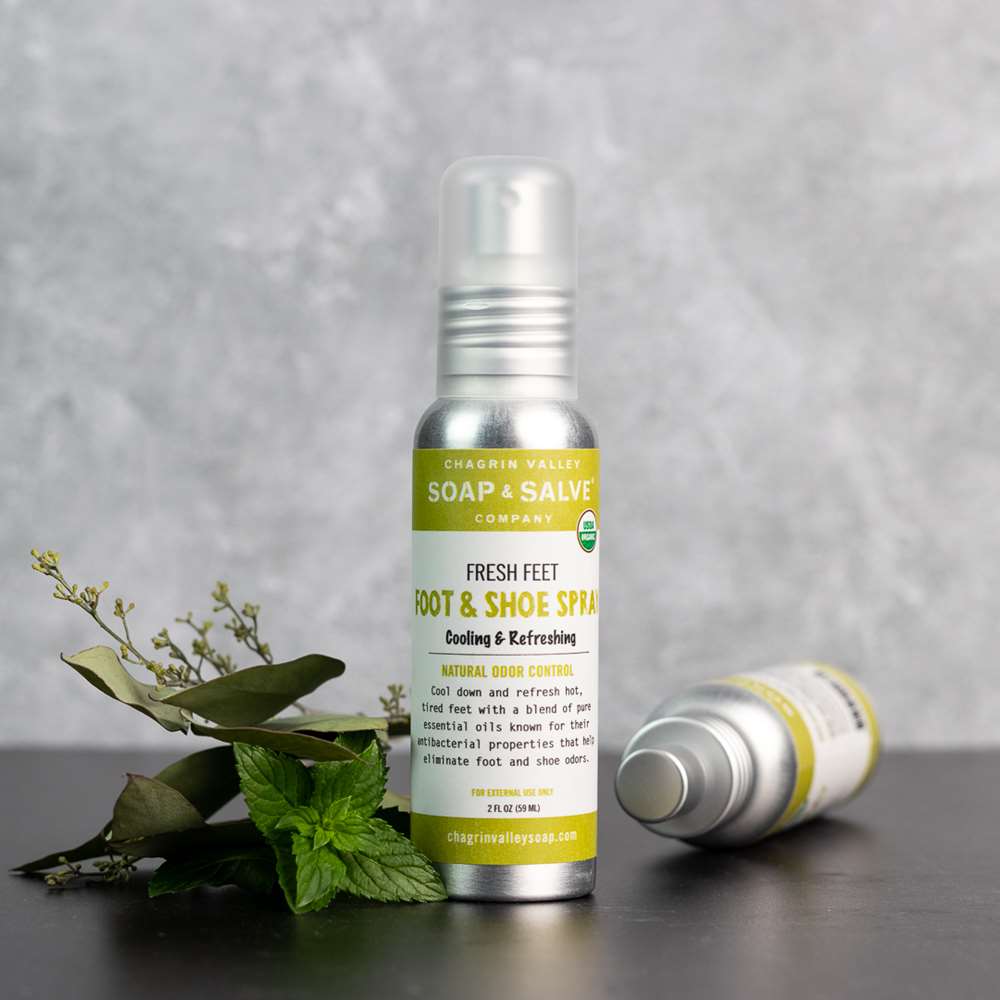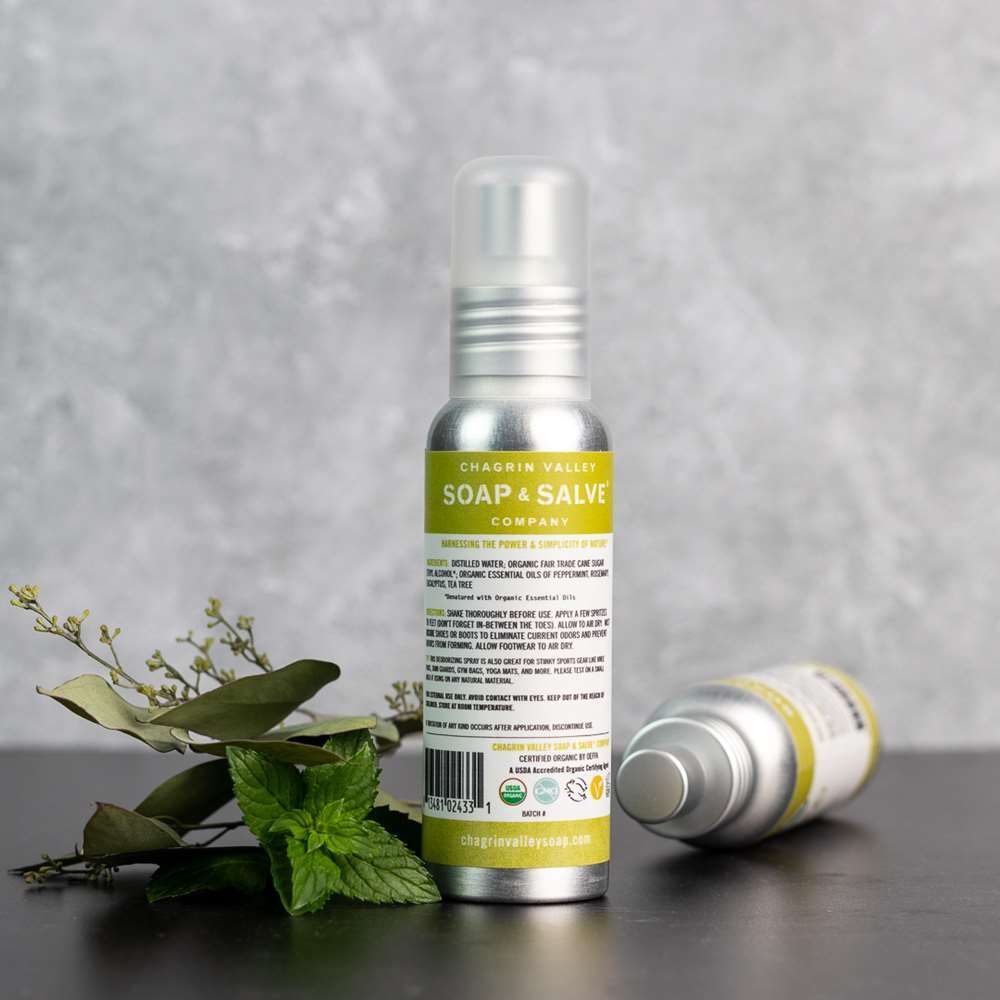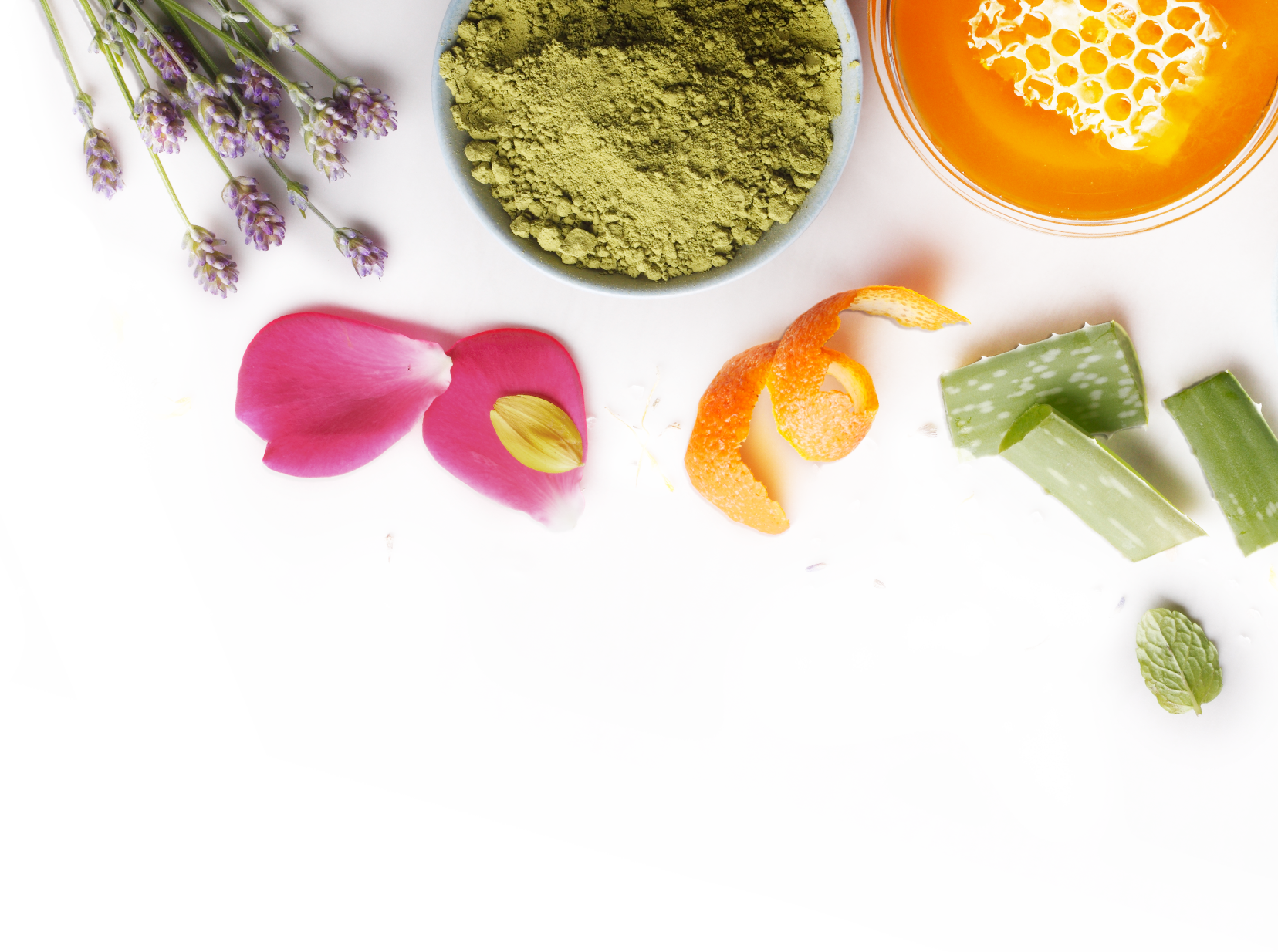 Effective, Feel Good Ingredients
The goal is simple: to Harness the Power & Simplicity of Nature® to cleanse, soothe, heal, and protect your skin and hair!
Our unique formulas rely on moisturizing oils and butters, healing botanicals, and pure essential oils. We choose every ingredient with one end-result in mind….the BEST possible natural skin care for YOU!
Featured Ingredients

Organic Tea Tree Essential Oil

Organic Peppermint Essential Oil

Organic Rosemary Essential Oil
All Ingredients:
*Ingredient is Fair Trade Certified
We denature our organic alcohol with organic essential oils.
For External Use Only
Precautions:
Store out of the reach of young children, and use only under adult supervision.
According to the American Association of Poison Control Centers, "Even a small amount of alcohol can cause alcohol poisoning in children." In the short time between January 1, 2020, and April 30, 2020, "poison control centers have managed 7,593 exposure cases about hand sanitizer in children 12 years and younger." Source
If you or your child ingests the product, call the poison control center or a medical professional immediately.



Sprays containing alcohol are flammable. Keep away from fire or open flame.


Do not use on or near the face. Avoid contact with eyes or open sores.
Frequently Asked Questions
What are essential oils?

What Are Pure Essential Oils?

Have you ever enjoyed the scent of a fragrant flower or herb? The fragrance comes from potent, aromatic compounds called essential oils found in the flowers, stems, seeds, bark, roots, fruits, and other parts of plants. It often requires several pounds of a plant to produce a single bottle of essential oil.

Essential oils not only give plants their unique scents but also help lure plant pollinators and protect plants from insects and other predators.

The chemical composition of essential oils may provide valuable psychological and physical aromatherapeutic benefits for some people.

It is important to note that to be a true essential oil, the oil must be isolated from the plant material by physical means only. Essential oils are NEVER extracted using solvents.

Although synthetic fragrances or "nature identical" oils are available at a much lower cost, only natural plant essential oils will provide any aromatherapeutic benefits.

What Are Essential Oils (Much more detail)

How Essential Oils Are Extracted

Why We Use Only Real Plant Essential Oils?

---

If you are pregnant or under a doctor's care for any medical condition, please consult your healthcare provider before using essential oils.

Pregnancy & Children: We do not provide information on the safety of essential oils during Pregnancy or for use in Children because the available information is very ambiguous and often contradictory. If you're interested in using essential oils during pregnancy or with young children please do your own research and consult your doctor, midwife, or health care professional before use.

---

View Answer Page
Can I Use Your Products on my Baby or Young Children?

We often receive questions as to whether our soaps, shampoos, and other items are safe to use on young children.

A baby's skin, so thin and delicate, is no place for harmful synthetic chemicals.

Sadly, even some of the most trusted baby brands add nasty chemicals to their products.

Read the label on a bar of commercial baby soap or shampoo. Read the label on a bottle of commercial baby oil. Now read the ingredients in Chagrin Valley products.

We recommend starting with our Milk & Honey Baby Soap. We also recommend our two Castile soaps and Carrot & Honey Soap. They are unscented and, as with all of our products, contain no artificial ingredients!

My grandkids use our Milk & Honey bar as a baby shampoo--just keep the soap away from their eyes.

When you think your child is ready, try some new soaps.

As with all new products, it is best to do a skin patch test prior to full usage to test for any skin allergies or sensitivities. If you have any questions or concerns always check with your doctor or health care professional.

It is best to add only one new soap or product at a time and use it for a while before switching to a new soap.

Essential Oils & Children: We do not provide information on the safety of essential oils for use in Children because the available information is very ambiguous and often contradictory. If you are interested in using essential oils with young children please consult your health care professional before use.


Please do not ask us to diagnose your child's skin problems, we are not health care professionals. Our recommendations are based on what our customers have shared.

Click Here to visit our page of Organic Baby products!

---

View Answer Page
Are Chagrin Valley Ingredients & Products USDA Certified Organic?

Chagrin Valley Soap & Salve is a USDA Certified Organic Company

The most important consideration in any business is its customers. Today's world of misleading claims, false advertising, and simple deception, often leaves consumers trying to discover the truth about personal products and their ingredients.

We want our customers to know that we are

committed to transparency in everything we do.

We want our customers to know that when we say "

organic," we mean it.
We believe that in becoming a USDA Certified Organic company, our customers do not have to wonder if we really use certified organic ingredients or if our organic products are truly organic.
So we choose to be a certified organic company

and abide by the strict standards required for organic certification.

Some of my favorite products are made with ingredients that just do not exist as certified organic. Why? At this time there are no standards created for ingredients specifically used in the personal care product industry. Organic certification of personal care products is based on the organic food standards set by the National Organic Program of the USDA.

But since we are a certified organic company, we are required to submit documentation that even our "non-organic ingredients" were produced without the use of toxic pesticides, genetically modified organisms (GMOs), sewage sludge, or irradiation.

Why Did We Become a Certified Organic Company?

What Do All of the Organic Labels Mean?

---

View Answer Page