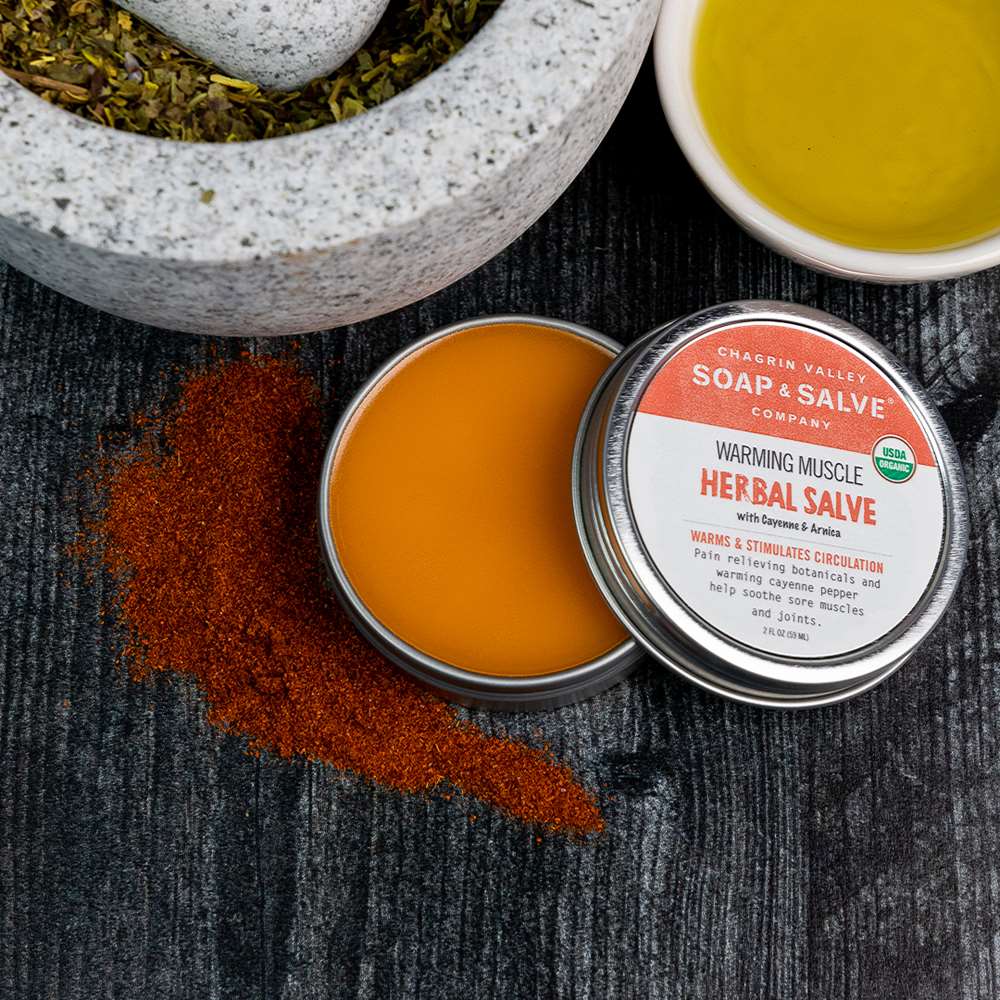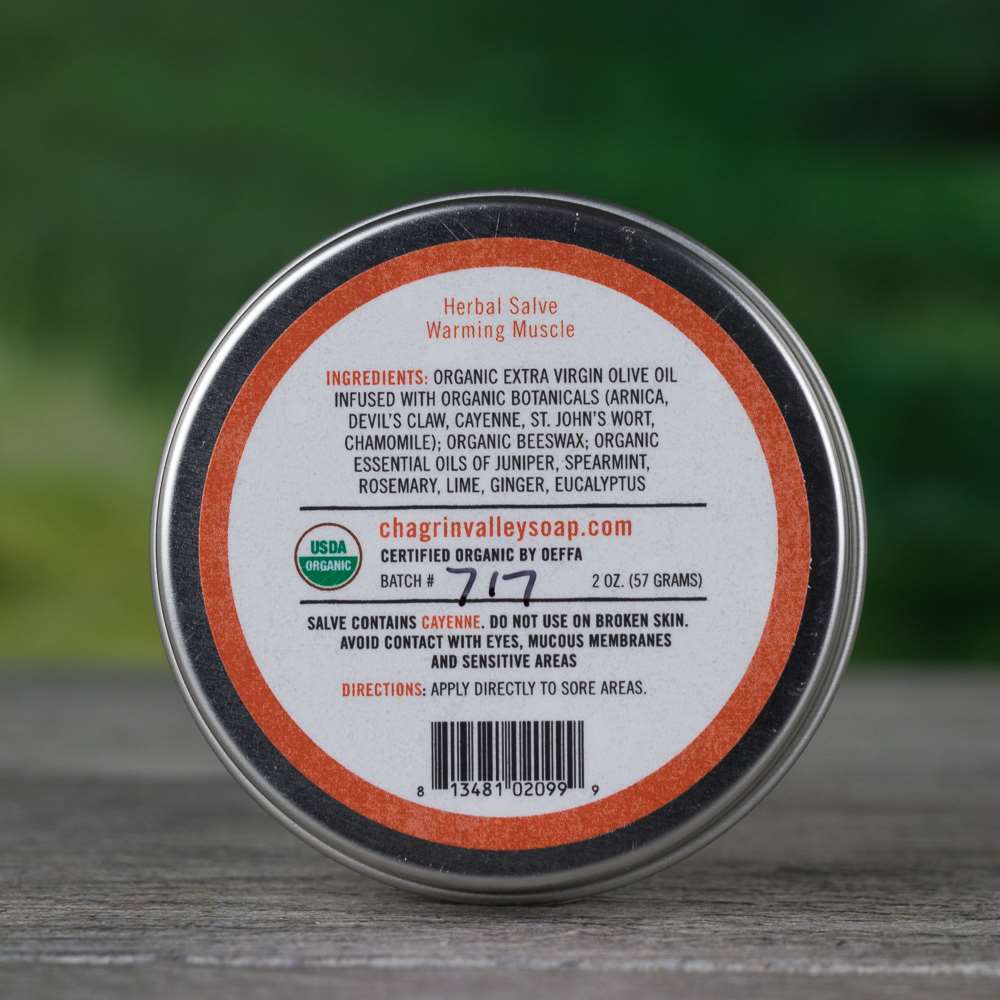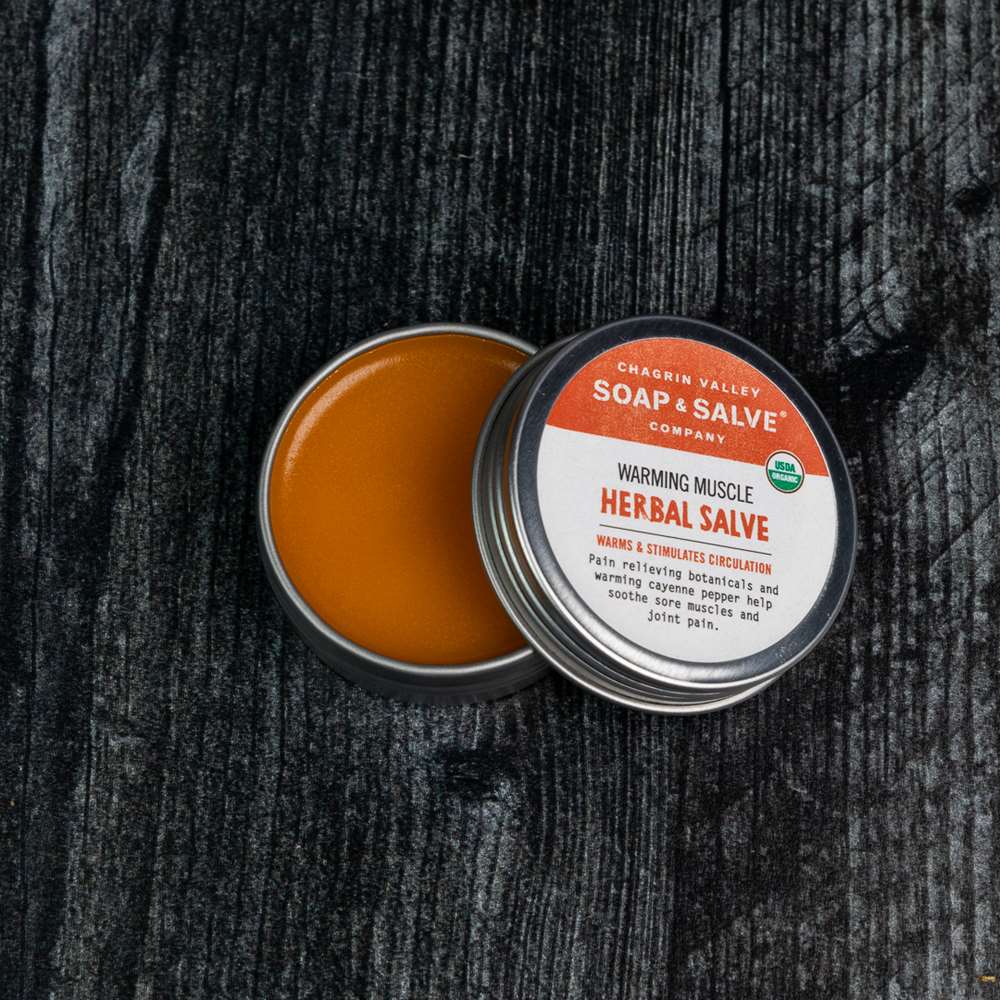 A penetrating salve, with pain relieving arnica, healing St John's wort and warming cayenne pepper, that helps ease arthritis, muscle and joint pain.
Product Overview

A penetrating organic salve with pain-easing arnica, healing St. John's wort and warming cayenne pepper. Cayenne pepper contains capsaicin, a natural anti-inflammatory that blocks a neurotransmitter that transmits pain signals from the nerves to the central nervous system.

This warming salve quickly melts into your skin and can help temporarily relieve pain from sore muscles, stiff joints, arthritis, muscle spasms, menstrual cramps, and even mild nerve pain.

Soothing oils soften skin while the synergistic blend of herbs and essential oils gently warms and stimulates circulation, to help relieve muscle tension and stiff joints.

The essential oil blend provides a refreshing and revitalizing scent.

Cayenne

Excites heat sensors in the skin to provide a warm feeling to the skin and underlying tissue layers

Stimulates circulation
Use before exercising to warm and loosen muscles and joints
Arnica

is a well-known anti-inflammatory herb that helps soothe sore muscles, sprains, and bruises by improving the local blood supply and to speed up the healing process

Topical St John's wort

has anti-inflammatory properties and helps relieve muscle pain and mild to moderate nerve pain

When applied topically, the warming abilities of ginger

essential oil help to improve circulation and relieve tension in tired muscles

Spearmint

essential oil contains menthol, a common compound that helps reduce pain, relax the muscles and increase circulation to the affected area

Eucalyptus

essential oil helps to reduce inflammation and ease joint and muscle pain

For a cooling salve that helps relieve muscle & joint pain, congestion and fatigue try our Cool Menthol Salve

Although this salve is safe for most folks, to be safe always do a patch test to see how your skin reacts.
How To Use

Capsaicin provides only temporary relief, so it must be applied a few times a day.

Use to soothe the everyday aches and pains
Massage directly onto the skin focusing on sore joints and muscles
Apply enough to cover the painful area, and rub it into your skin until it disappears
Wash your hands immediately to avoid accidentally getting it into your eyes, nose, or mouth
I have used it to help arthritic hands apply before bed and cover with a pair of thin pair of cotton gloves

Although it is safe for most folks with sensitive skin, to be safe always do a patch test to see how your skin reacts. For the patch test:

Capsaicin increases blood flow to the local area and may cause redness, so a slight reddening of the skin is okay as long as it is not accompanied by a rash-like irritation
The salve should feel pleasant and gently warming--it should NOT burn
If it feels like a burn--do not use the salve

While a product with capsaicin may temporarily help relieve some painful conditions, it is not a cure and it may work for some people and not others. Use consistently for the most noticeable results.

Stop using the salve if the skin becomes irritated, red, swollen, or itchy. Also, be aware that these side effects can be aggravated by hot, humid weather, or sweating.

Always consult your medical professional if you have any questions, concerns or if your condition worsens.

We handcraft our Herbal Salves in small batches using organic oils, organic botanicals, and organic essential oils to ensure the highest quality and freshness. As a result, our organic salves have a natural shelf life. There are steps you can take to preserve the freshness of your salve.

To prevent contamination use clean hands for application, avoid introducing moisture to the salve, and always keep the lid closed between uses.
To ensure the best efficacy, our salves should be used within 6 months after opening.
Always keep the salve in a temperature-stable environment.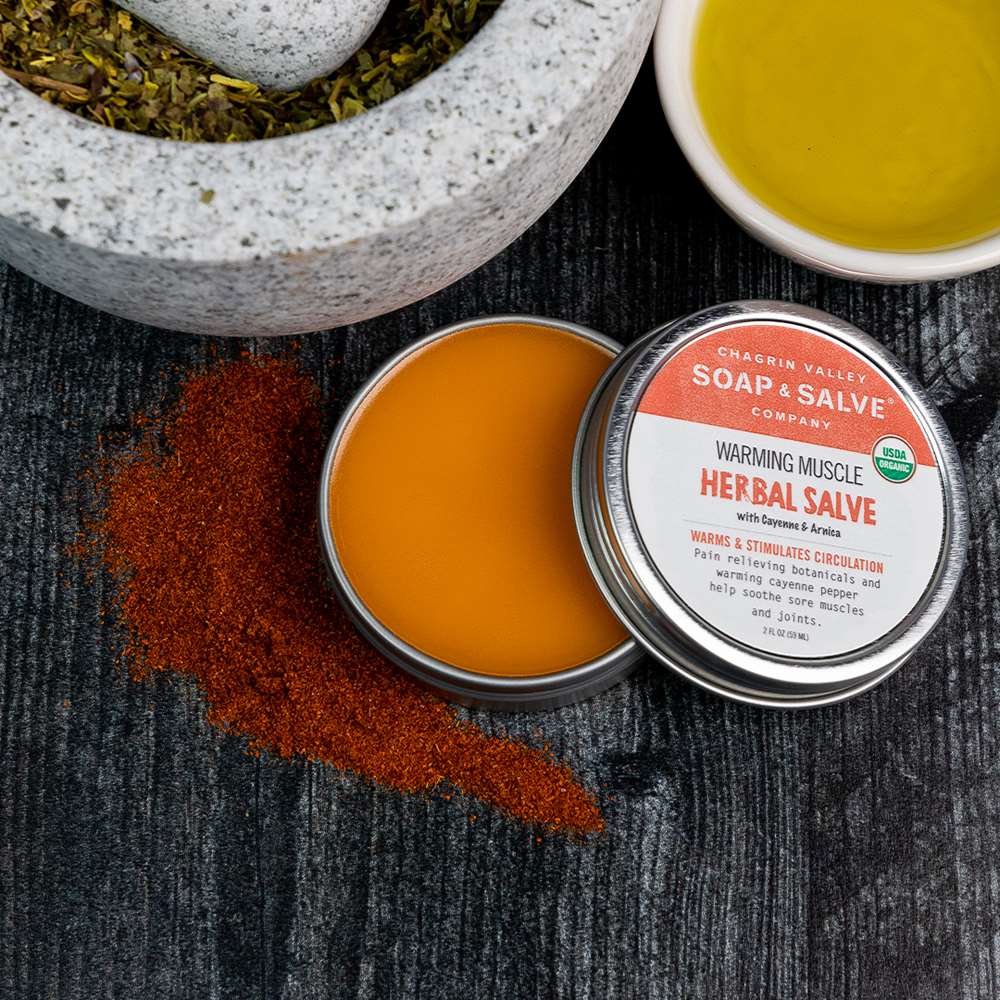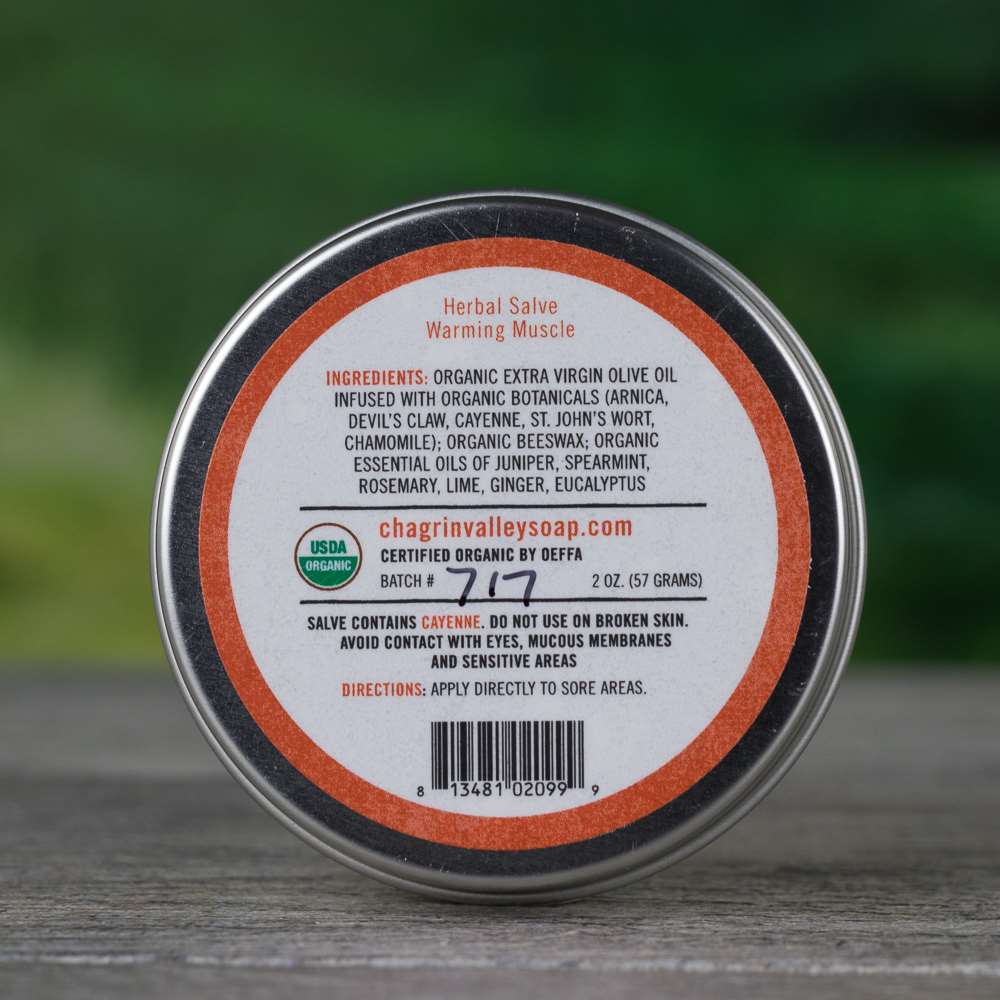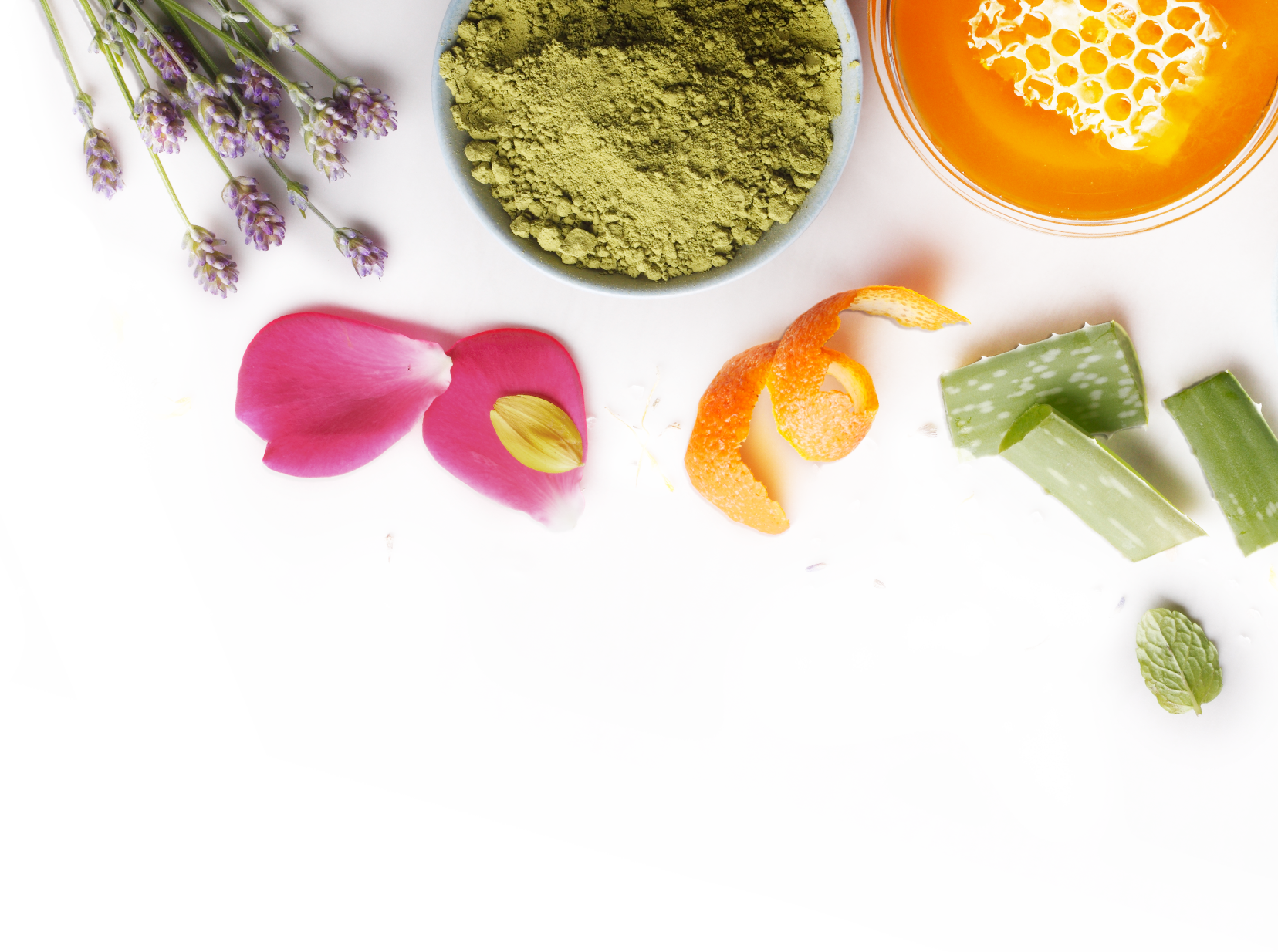 Effective, Feel Good Ingredients
The goal is simple: to Harness the Power & Simplicity of Nature® to cleanse, soothe, heal, and protect your skin and hair!
Our unique formulas rely on moisturizing oils and butters, healing botanicals, and pure essential oils. We choose every ingredient with one end-result in mind….the BEST possible natural skin care for YOU!
Featured Ingredients



Organic Ginger Essential Oil
All Ingredients:
,
,
,
,
,
,
,
,
,
,
,
,
,
Organic Extra Virgin Olive Oil is infused with Organic Botanicals Arnica, Devil's Claw, Cayenne, St. John's Wort, and Chamomile
Please note:
Salve contains Cayenne, do NOT use on broken or irritated skin--it will sting

After applying, be sure to wash your hands thoroughly

Avoid contact with eyes, nose, mouth, mucous membranes, and other sensitive areas
This salve is intended for adults or older teens, not young children

Capsaicin can make your skin more sensitive to the sun and heat--Do not use a heating pad on the area you are treating

It may be a week or so before you feel the full effect
Frequently Asked Questions
What are essential oils?

What Are Pure Essential Oils?

Have you ever enjoyed the scent of a fragrant flower or herb? The fragrance comes from potent, aromatic compounds called essential oils found in the flowers, stems, seeds, bark, roots, fruits, and other parts of plants. It often requires several pounds of a plant to produce a single bottle of essential oil.

Essential oils not only give plants their unique scents but also help lure plant pollinators and protect plants from insects and other predators.

The chemical composition of essential oils may provide valuable psychological and physical aromatherapeutic benefits for some people.

It is important to note that to be a true essential oil, the oil must be isolated from the plant material by physical means only. Essential oils are NEVER extracted using solvents.

Although synthetic fragrances or "nature identical" oils are available at a much lower cost, only natural plant essential oils will provide any aromatherapeutic benefits.

What Are Essential Oils (Much more detail)

How Essential Oils Are Extracted

Why We Use Only Real Plant Essential Oils?

---

If you are pregnant or under a doctor's care for any medical condition, please consult your healthcare provider before using essential oils.

Pregnancy & Children: We do not provide information on the safety of essential oils during Pregnancy or for use in Children because the available information is very ambiguous and often contradictory. If you're interested in using essential oils during pregnancy or with young children please do your own research and consult your doctor, midwife, or health care professional before use.

---

View Answer Page
Are Chagrin Valley Ingredients & Products USDA Certified Organic?

Chagrin Valley Soap & Salve is a USDA Certified Organic Company

The most important consideration in any business is its customers. Today's world of misleading claims, false advertising, and simple deception, often leaves consumers trying to discover the truth about personal products and their ingredients.

We want our customers to know that we are

committed to transparency in everything we do.

We want our customers to know that when we say "

organic," we mean it.
We believe that in becoming a USDA Certified Organic company, our customers do not have to wonder if we really use certified organic ingredients or if our organic products are truly organic.
So we choose to be a certified organic company

and abide by the strict standards required for organic certification.

Some of my favorite products are made with ingredients that just do not exist as certified organic. Why? At this time there are no standards created for ingredients specifically used in the personal care product industry. Organic certification of personal care products is based on the organic food standards set by the National Organic Program of the USDA.

But since we are a certified organic company, we are required to submit documentation that even our "non-organic ingredients" were produced without the use of toxic pesticides, genetically modified organisms (GMOs), sewage sludge, or irradiation.

Why Did We Become a Certified Organic Company?

What Do All of the Organic Labels Mean?

---

View Answer Page
Are Your Products and Ingredients Cruelty Free?

All of Chagrin Valley's natural soap, shampoo bars, and personal care products are certified cruelty-free by Leaping Bunny.

The Leaping Bunny Program was developed in 1996, by The Coalition for Consumer Information on Cosmetics (CCIC), to identify and support companies that are doing their part to help eliminate the unnecessary use and mistreatment of animals to test cosmetic products and ingredients. The CCIC is made up of eight animal protection groups including the Humane Society of the U.S., as well as groups from Canada and Europe.

At Chagrin Valley we do not test our finished products on animals (other than human volunteers), but what about the raw materials, the ingredients we use? Many products display labels claiming that their finished product is 'not tested on animals' but this does not guarantee that the product ingredients are actually free from animal testing.

The CCIC Standard is a pledge that a company makes to remove animal testing from all stages of product development. Our pledge to buy ingredients that are cruelty-free is integrated into the purchase order contract for all of our suppliers.

Personal care products displaying the "real" Leaping Bunny logo are certified 'cruelty-free' using the internationally recognized Humane Cosmetics Standards. These rigorous standards require that no animal testing is performed or authorized for finished products or ingredients in any stage of product development by the company, its laboratories or its suppliers after a fixed cut-off date. All Leaping Bunny companies are subject to independent audits and pledge commitments are renewed on an annual basis.

At Chagrin Valley Soap & Salve . . .

we do NOT test our products on animals
we do NOT use ingredients tested on animals
we do NOT sell into markets that require animal testing



The Leaping Bunny Program provides
the best assurance to consumers
that they are making compassionate shopping choices
by purchasing Cruelty-Free skin care!

---

View Answer Page
Do Chagrin Valley Natural Skincare Products Contain GMO's?

Chagrin Valley Soap & Salve is a USDA Certified Organic company.

We are required to submit documentation that ALL of our ingredients, even our "non-organic ingredients," were produced without the use GMOs.

Since the U.S. National Organics Program forbids the use of genetic modification in products to be certified as organic, purchasing organic is a great way to lower your exposure to GMO's.

Genetically Modified Organisms refers to any animal, plant or microorganism that has been changed in a lab at the gene level. It is also known as "genetic engineering."

Read more about "Non-GMO Skin Care Ingredients"

---

View Answer Page