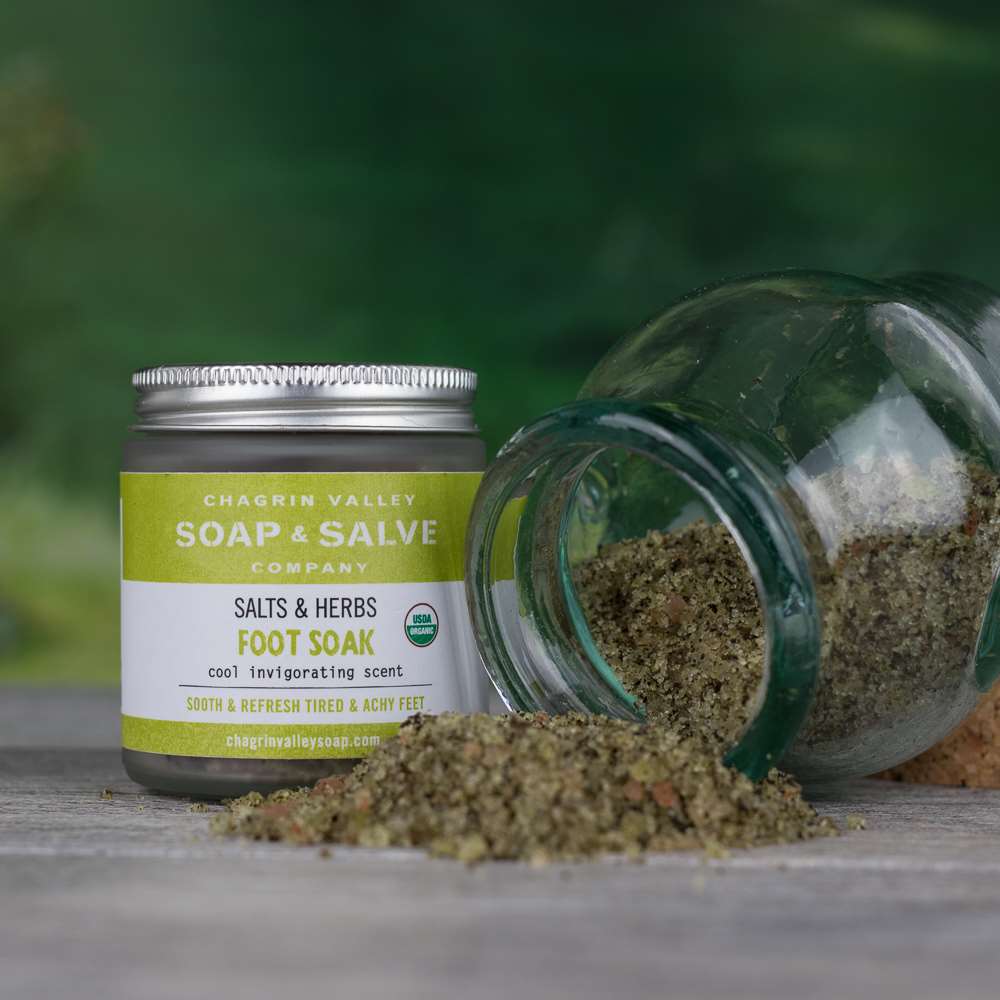 Slip your weary feet into a soothing therapeutic soak that helps relax sore muscles, deodorize and refresh tired feet.
Product Overview

Slip your weary, achy feet into a soothing therapeutic soak that helps relax sore muscles. A soothing soak before a pedicure. Feet feel cool, refreshed, soft and healthy. Treat your feet to the luxury they deserve.

Antiseptic, deodorizing, refreshing herbs and essential oils stimulates blood circulation to refresh tired feet
Mineral salts reduce swelling, increase circulation
Avocado oil help soften rough, dry skin and calluses
Essential oil of peppermint cools and invigorates while stimulating circulation
Tea Tree, Rosemary and Eucalyptus fight bacteria and fungus while offering stress relief as well.

Precautions: If you have any medical condition such as diabetes, heart disease, hypertension or blood circulation disorders consult your health care provider before using.
How To Use

Directions:

Place 2 to 3 tablespoons into foot sized basin
Begin by adding very hot water to dissolve salts and get herbs brewing
Add cooler water to a comfortable (not too hot) temperature—ankle height
Swirl around to help dissolve and distribute the salts
Soak feet 10-15 minutes
Place a blanket over the basin to retain water temperature if desired
Rinse and towel dry

Special Treats:

Massage: Place smooth stones or marbles in basin before adding water and caress your feet over the stones while you soak
For dry flaky skin: Add a quarter cup of milk to Foot Soak. The lactic acid in milk loosens dead skin
For bad foot odor: add 1 to 2 tablespoons of baking soda to foot soak.Place smooth stones or marbles in the basin before adding water

For a complete feet treat, combine with our Loofah Pumice Foot Soap and Minty Feet Salve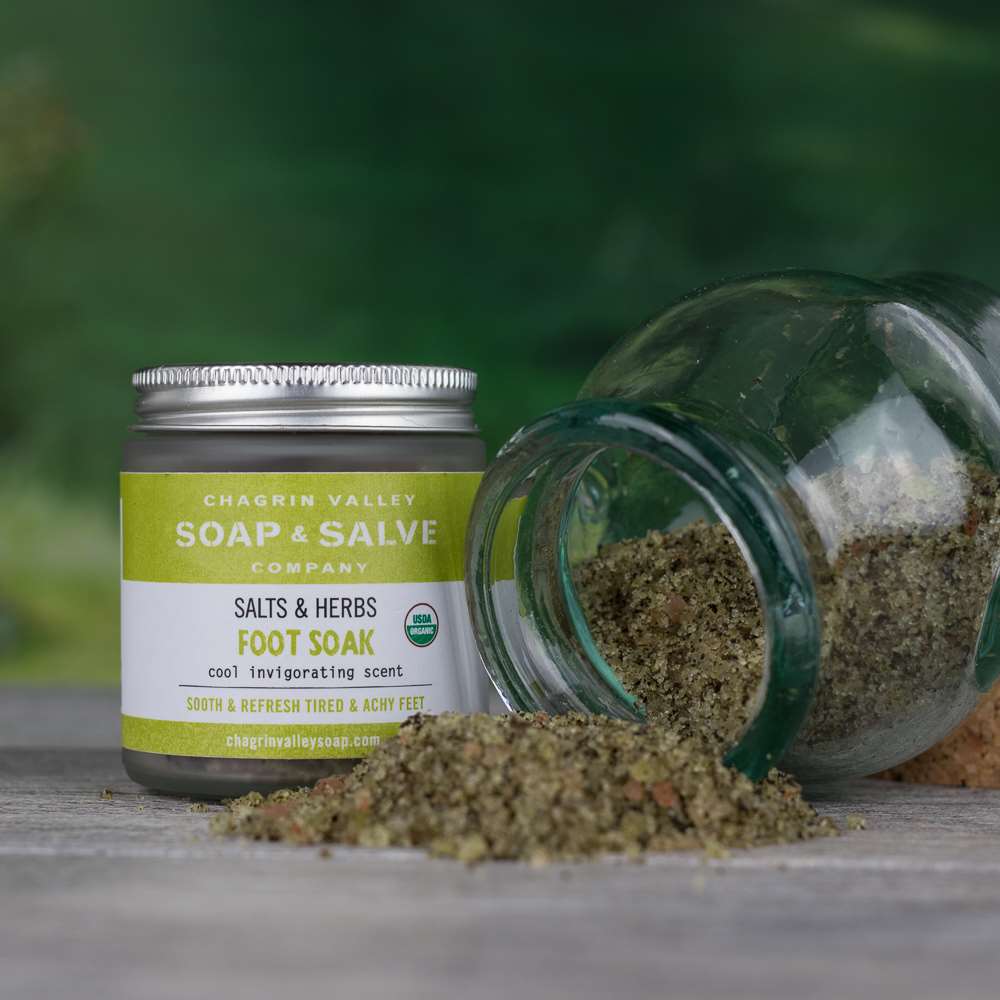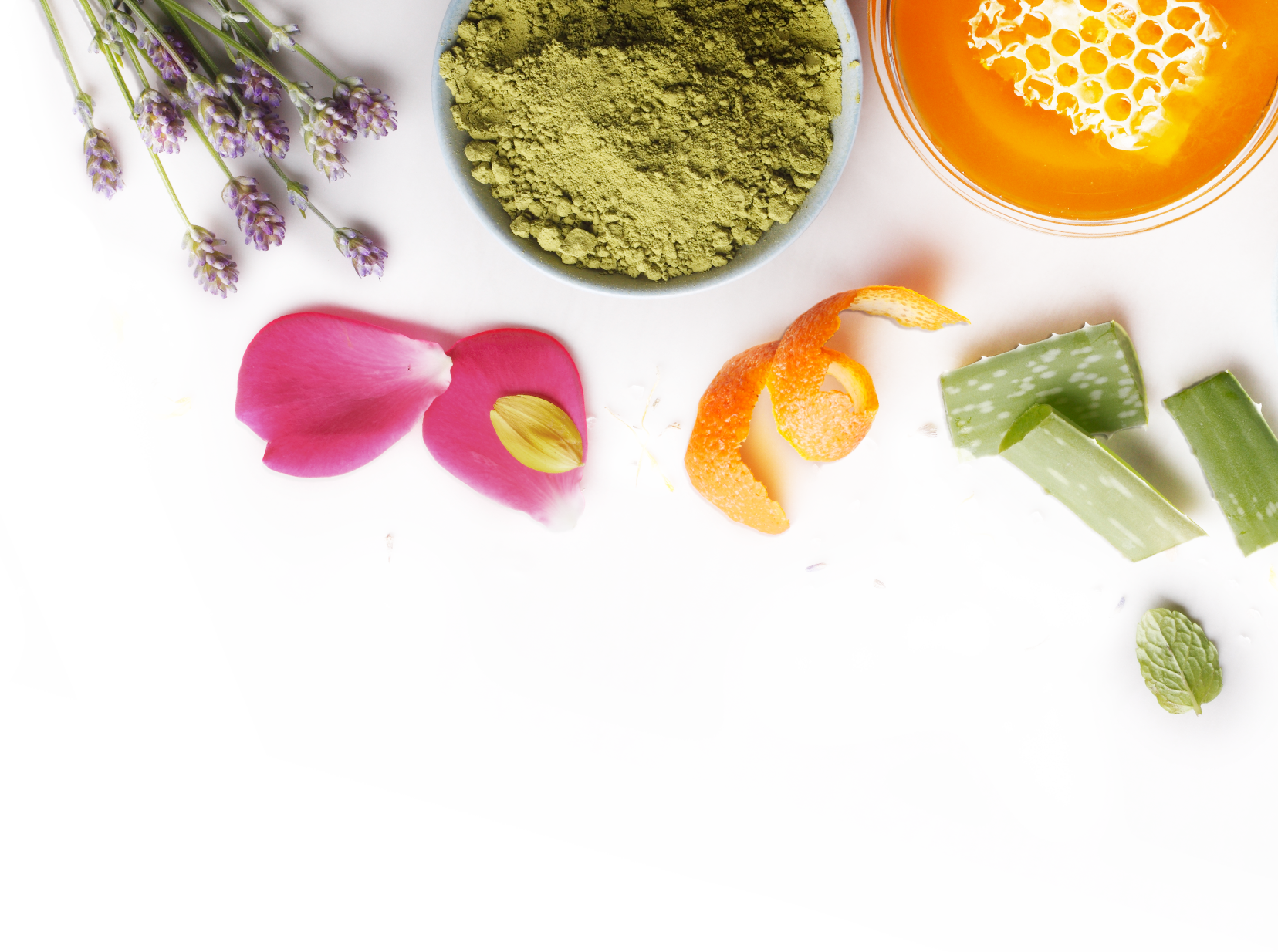 Effective, Feel Good Ingredients
The goal is simple: to Harness the Power & Simplicity of Nature® to cleanse, soothe, heal, and protect your skin and hair!
Our unique formulas rely on moisturizing oils and butters, healing botanicals, and pure essential oils. We choose every ingredient with one end-result in mind….the BEST possible natural skin care for YOU!
Featured Ingredients



Organic Tea Tree Essential Oil
All Ingredients:
Our salts are tested for purity, naturally harvested, untreated and organic compliant.
Frequently Asked Questions
What are essential oils?

What Are Pure Essential Oils?

Have you ever enjoyed the scent of a fragrant flower or herb? The fragrance comes from potent, aromatic compounds called essential oils found in the flowers, stems, seeds, bark, roots, fruits, and other parts of plants. It often requires several pounds of a plant to produce a single bottle of essential oil.

Essential oils not only give plants their unique scents but also help lure plant pollinators and protect plants from insects and other predators.

The chemical composition of essential oils may provide valuable psychological and physical aromatherapeutic benefits for some people.

It is important to note that to be a true essential oil, the oil must be isolated from the plant material by physical means only. Essential oils are NEVER extracted using solvents.

Although synthetic fragrances or "nature identical" oils are available at a much lower cost, only natural plant essential oils will provide any aromatherapeutic benefits.

What Are Essential Oils (Much more detail)

How Essential Oils Are Extracted

Why We Use Only Real Plant Essential Oils?

---

If you are pregnant or under a doctor's care for any medical condition, please consult your healthcare provider before using essential oils.

Pregnancy & Children: We do not provide information on the safety of essential oils during Pregnancy or for use in Children because the available information is very ambiguous and often contradictory. If you're interested in using essential oils during pregnancy or with young children please do your own research and consult your doctor, midwife, or health care professional before use.

---

View Answer Page
Are Chagrin Valley Ingredients & Products USDA Certified Organic?

Chagrin Valley Soap & Salve is a USDA Certified Organic Company

The most important consideration in any business is its customers. Today's world of misleading claims, false advertising, and simple deception, often leaves consumers trying to discover the truth about personal products and their ingredients.

We want our customers to know that we are

committed to transparency in everything we do.

We want our customers to know that when we say "

organic," we mean it.
We believe that in becoming a USDA Certified Organic company, our customers do not have to wonder if we really use certified organic ingredients or if our organic products are truly organic.
So we choose to be a certified organic company

and abide by the strict standards required for organic certification.

Some of my favorite products are made with ingredients that just do not exist as certified organic. Why? At this time there are no standards created for ingredients specifically used in the personal care product industry. Organic certification of personal care products is based on the organic food standards set by the National Organic Program of the USDA.

But since we are a certified organic company, we are required to submit documentation that even our "non-organic ingredients" were produced without the use of toxic pesticides, genetically modified organisms (GMOs), sewage sludge, or irradiation.

Why Did We Become a Certified Organic Company?

What Do All of the Organic Labels Mean?

---

View Answer Page
I Have Allergies What Natural Skincare Products Are Safe For Me?

Help! I Have Allergies

Trying to choose the right natural soaps or skincare products can be a bit overwhelming especially when you have allergies and/or skin sensitivities.

Since we proudly list every ingredient in all of our products, reading the ingredient list will help to eliminate ingredients that may cause you problems.

We always recommend doing a patch test before using any new products especially if you have sensitive skin or allergies.

We receive so many emails asking for help with allergies, we created categories in our "Help Me Choose" section to provide information for those with allergies or sensitivities to nuts, coconut, shea butter and gluten.

Check out our help me choose pages!!

If you are allergic or sensitive to any of the ingredients in our products, they may cause skin irritation. Even natural ingredients may cause sensitivities.

People with severe allergies--please note: If you have severe anaphylactic-type reactions to ANY of the ingredients in ANY of our products, please do not buy our products. We have dedicated soap rooms and product rooms that are kept meticulously clean, but we cannot guarantee against possible cross-contamination of individual ingredients.

---

View Answer Page