Hydrate your skin with a rich emollient in-shower lotion bar, infused with delicious organic vanilla beans to create softer, smoother skin.
Product Overview

We have always been told to apply moisturizers as soon as we hop out of the shower, so why not use your shower as the optimal environment for skin hydration.

Our in-shower body lotion bar works like a conditioner for your skin. Using the humidity and warmth of the shower, it helps seal in the moisture from your wet skin to create softer, smoother skin.

This rich emollient shower lotion is infused with loads of organic vanilla beans, The aroma of real vanilla beans is delicious, but vanilla is more than just a pretty scent. The major constituent of vanilla beans, vanillin, is a powerful antioxidant that helps skin repair cell damage.

Melts on contact with warm wet skin

Unrefined natural

butters are

rich in natural vitamins and nutrients and penetrate deeply to

target dry skin
Creates a protective barrier to soothe and moisturize dry, sensitive or itchy skin
Leaves skin feeling soft, smooth and naturally healthy
Mango Butter, a great source of essential fatty acids, is cold pressed from the seed kernel of the Mango tree
Illipe Butter moisturizes the skin, and many believe it to be the most nourishing of the healing butters

Contains no essential oils, only the decadent scent of real vanilla beans.

The packaging inside the box is a recyclable, compostable glassine bag made from wood pulp.
How To Use

Directions:

Great for the bath or shower: After soaping & rinsing, massage the bar over your warm wet skin. Pay special attention to extra dry places. Your warm skin will readily melt the nourishing bar. You can rinse a bit or just pat dry.*

As a hair treat: rub some butter on your hands and run your buttered fingers through the length of your hair!

As a bath treat: cut a sliver off the bar, drop into your tub and watch as it melts away releasing skin loving ingredients.

As a lotion bar: No time for a bath or shower--rub the nourishing oils and butters into dry skin areas.

* When using in bath or shower, always take care as your bath or shower may become slippery.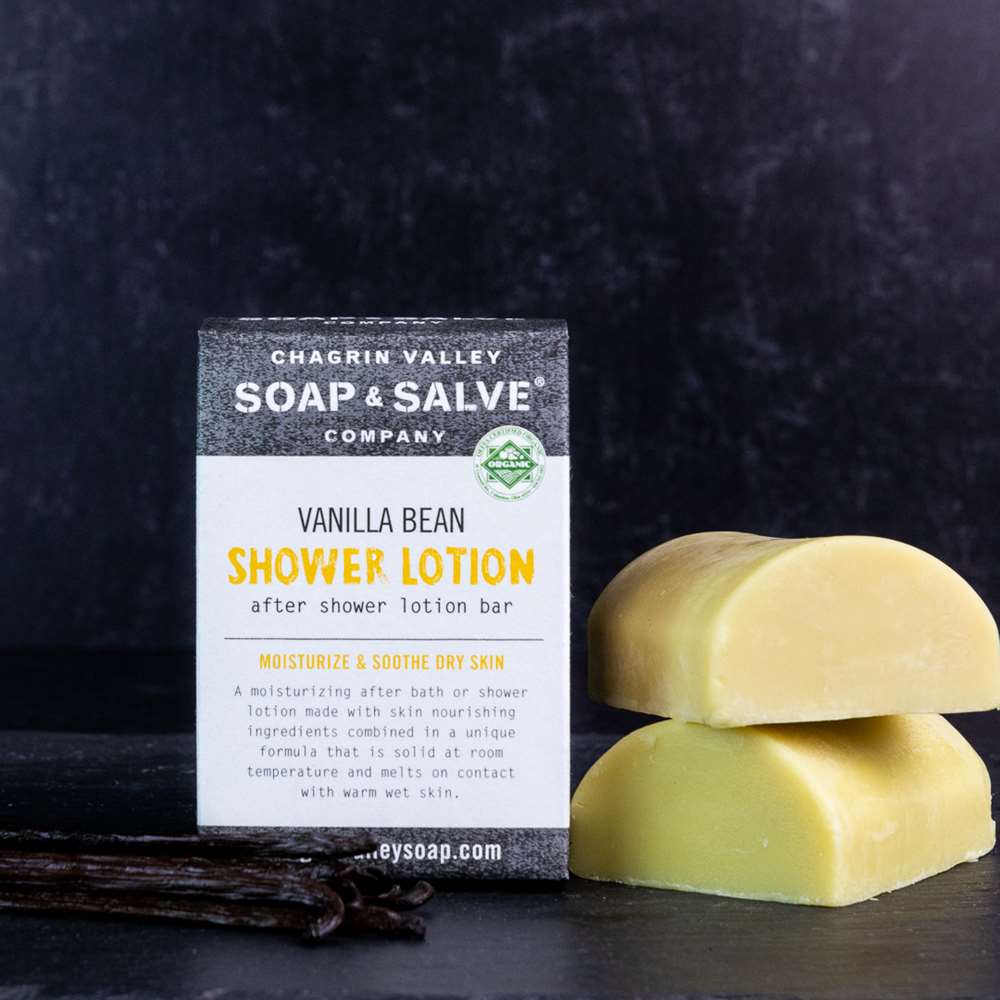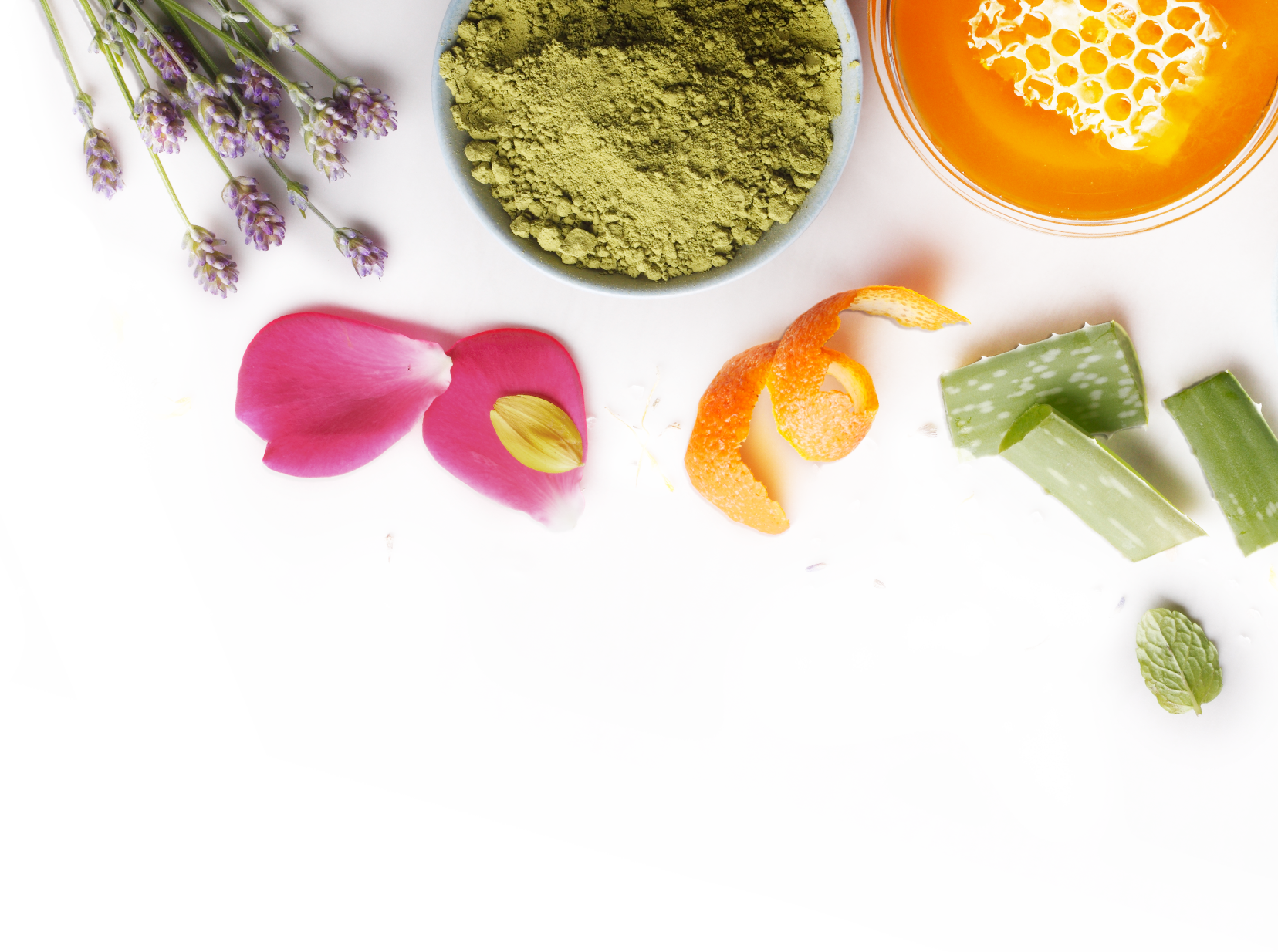 Effective, Feel Good Ingredients
The goal is simple: to Harness the Power & Simplicity of Nature® to cleanse, soothe, heal, and protect your skin and hair!
Our unique formulas rely on moisturizing oils and butters, healing botanicals, and pure essential oils. We choose every ingredient with one end-result in mind….the BEST possible natural skin care for YOU!
Featured Ingredients


All Ingredients:
*Ingredient is Fair Trade Certified
Made with certified organic Mango Butter, Cocoa Butter & Vanilla Beans
Certified Organic By OEFFA
A USDA Accredited Organic Certifying Agent
Frequently Asked Questions
Why Are The Prices of Vanilla Bean Products Always Increasing?

Growing & Harvesting Vanilla Beans is Labor Intensive

Each vanilla bean blossom will only produce one fruit or bean pod. The blossom, which opens for only one day must be hand-pollinated within a few hours after it opens, otherwise, it wilts and dies.

Since growing vanilla beans is so labor-intensive, it is the second most expensive spice after saffron.

The Curing Process is Very Time-Consuming.

After the seed pods are harvested the seed pods, each one is soaked in hot water, then laid out in the Sun during the day and then, while warm, are wrapped in blankets and allowed to sweat overnight.

Weather & Poor Crops

The price of Madagascan vanilla rose by nearly 150 percent after a poor harvest in 2015.

In March 2017, Cyclone Enawo hit Madagascar. Since about 80% of the world's vanilla fields are in Madagascar, the price of vanilla beans soared even higher.

The Demand for Natural Vanilla

The demand for vanilla beans has been steadily increasing, not only due to poor crops and weather but also due to consumer demand for natural foods that are free of artificial ingredients.

Consumers now want real vanilla, not imitation flavoring. Vanilla is not only used in vanilla-flavored products, it is also added to other products like chocolate to counter the bitterness of genuine cocoa.

For more detail read our blog, "Why Vanilla Beans Are So Expensive?"

---

View Answer Page
Are Chagrin Valley Ingredients & Products USDA Certified Organic?

Chagrin Valley Soap & Salve is a USDA Certified Organic Company

The most important consideration in any business is its customers. Today's world of misleading claims, false advertising, and simple deception, often leaves consumers trying to discover the truth about personal products and their ingredients.

We want our customers to know that we are

committed to transparency in everything we do.

We want our customers to know that when we say "

organic," we mean it.
We believe that in becoming a USDA Certified Organic company, our customers do not have to wonder if we really use certified organic ingredients or if our organic products are truly organic.
So we choose to be a certified organic company

and abide by the strict standards required for organic certification.

Some of my favorite products are made with ingredients that just do not exist as certified organic. Why? At this time there are no standards created for ingredients specifically used in the personal care product industry. Organic certification of personal care products is based on the organic food standards set by the National Organic Program of the USDA.

But since we are a certified organic company, we are required to submit documentation that even our "non-organic ingredients" were produced without the use of toxic pesticides, genetically modified organisms (GMOs), sewage sludge, or irradiation.

Why Did We Become a Certified Organic Company?

What Do All of the Organic Labels Mean?

---

View Answer Page
Can I Use Your Natural Skincare Products While Pregnant or Nursing?

We often receive questions as to whether our soaps, shampoos, and other natural products are safe to use during pregnancy.

We recommend that expectant and nursing mothers check with their midwife or physician before changing a skincare routine with our organic products, or any other line of products.

Read the label on a bar of commercial soap. Read the label on your jar of moisturizer.

Now read the ingredients in a Chagrin Valley product.

We use quality natural and USDA Certified Organic ingredients. No synthetic additives, colorants, fragrances, preservatives, or chemical derivatives are used.

There is nothing in our all-natural basic soap or other products that could cause a problem in pregnancy.

Topically applying the herbs present in many of our soaps is also not a problem. Your skin will absorb much less herb from the soap than if you would sprinkle them on your food.

Essential Oils

The issue that seems to be of most concern is the use of essential oils during pregnancy.

There is a lot of confusing, ambiguous, and inaccurate information concerning the use of essential oils in pregnancy.

The question of safety and safety testing has a lot to do with several factors.

The type and composition of the specific essential oil. Essential oils differ greatly in strength and composition.


The quality of the essential oil. Many "cheap essential oils" are not pure and maybe cut with synthetic chemicals.


The actual "dose" of herb/essential oils. Most of the clinical research on essential oil safety is based on information for internal (actually ingesting) large doses of herbs, essential oils, or herbal "medicines." Obviously there have been no tests done on pregnant women.


How the essential oil is being used. The concentration of essential oils that are absorbed through inhalation, as in aromatherapy, and massage is much lower than if you were actually ingesting the oil.

But also, aromatherapy and massage therapy use much higher concentrations of essential oils than you find in soap or even in eating the herb. With aromatherapy, you are inhaling the high concentrations which get absorbed via the lungs and in massage therapy, the essential oils remain on your skin and are absorbed.

Our scented soaps are gently scented with essential oils, but the choice is between you and your health care professional. The most critical time is the first trimester.

Just about every one of our products, like lip balms, whipped butters, soaps, shampoos, and deodorants has a "no added scent" version.

When there is a growing baby to consider, if you are at all uncertain as to the safety of an essential-oil containing product, or any ingredient, please consult your doctor, midwife, or health care professional!

When it comes to safety during pregnancy it is understandable that many massage therapists and aromatherapists decide to err on the side of caution in recommending the avoidance of certain essential oils.

Some Herbalists and Aromatherapist believe that essential oils that are normally safe to use, are safe during pregnancy, while others will recommend avoiding all essential oils during pregnancy.

Some essential oils that are normally quite safe have hormone-like effects and some even stimulate uterine muscles, both of which would be contraindicated during pregnancy.

Please do not ask us if one of our products is safe to use during pregnancy--we will simply refer you to this page.

We do not provide a list of essential oils considered safe during pregnancy because the information available is very contradictory. One aromatherapy source will list an essential oil as problematic while another one states it is fine.

The information is also changing constantly. Please do your own research and consult your doctor, midwife, or health care professional for the most up-to-date information.

Sensitive Skin Can Strike During Pregnancy

Even if you have never had sensitive skin in the past, you may notice that a product you have been using for several years now irritates your skin.

The stretching belly is often the most sensitive spot. Other potential problem areas include the hips, thighs, and bottom where the skin may become dry and flaky.

Although the exact cause is not known, raging hormones do make you more sensitive to a wide range of things, and also your skin is thinning and stretching as you, and your baby, grow.

These changes can behave in unpredictable ways. For example, if you have eczema you may suffer from major flare-ups or complete remission during pregnancy.

Keep your body well moisturized and avoid products that contain synthetic additives, colorants, fragrances, or preservatives. Any of these can exacerbate sensitive skin problems.

Before trying a new product, you can always do a patch test to test for sensitivity.

And again, we recommend that expectant and nursing mothers check with their midwife or physician before changing a skincare routine with our products, or any other line of products.

Pregnancy & Children: We do not provide information on the safety of essential oils during Pregnancy or for use in Children because the available information is very ambiguous and often contradictory. If you're interested in using essential oils during pregnancy or with young children please do your own research and consult your doctor, midwife, or health care professional before use.

---

View Answer Page
Can I Use Your Products on my Baby or Young Children?

We often receive questions as to whether our soaps, shampoos, and other items are safe to use on young children.

A baby's skin, so thin and delicate, is no place for harmful synthetic chemicals.

Sadly, even some of the most trusted baby brands add nasty chemicals to their products.

Read the label on a bar of commercial baby soap or shampoo. Read the label on a bottle of commercial baby oil. Now read the ingredients in Chagrin Valley products.

We recommend starting with our Milk & Honey Baby Soap. We also recommend our two Castile soaps and Carrot & Honey Soap. They are unscented and, as with all of our products, contain no artificial ingredients!

My grandkids use our Milk & Honey bar as a baby shampoo--just keep the soap away from their eyes.

When you think your child is ready, try some new soaps.

As with all new products, it is best to do a skin patch test prior to full usage to test for any skin allergies or sensitivities. If you have any questions or concerns always check with your doctor or health care professional.

It is best to add only one new soap or product at a time and use it for a while before switching to a new soap.

Essential Oils & Children: We do not provide information on the safety of essential oils for use in Children because the available information is very ambiguous and often contradictory. If you are interested in using essential oils with young children please consult your health care professional before use.


Please do not ask us to diagnose your child's skin problems, we are not health care professionals. Our recommendations are based on what our customers have shared.

Click Here to visit our page of Organic Baby products!

---

View Answer Page
I Have Allergies What Natural Skincare Products Are Safe For Me?

Help! I Have Allergies

Trying to choose the right natural soaps or skincare products can be a bit overwhelming especially when you have allergies and/or skin sensitivities.

Since we proudly list every ingredient in all of our products, reading the ingredient list will help to eliminate ingredients that may cause you problems.

We always recommend doing a patch test before using any new products especially if you have sensitive skin or allergies.

We receive so many emails asking for help with allergies, we created categories in our "Help Me Choose" section to provide information for those with allergies or sensitivities to nuts, coconut, shea butter and gluten.

Check out our help me choose pages!!

If you are allergic or sensitive to any of the ingredients in our products, they may cause skin irritation. Even natural ingredients may cause sensitivities.

People with severe allergies--please note: If you have severe anaphylactic-type reactions to ANY of the ingredients in ANY of our products, please do not buy our products. We have dedicated soap rooms and product rooms that are kept meticulously clean, but we cannot guarantee against possible cross-contamination of individual ingredients.

---

View Answer Page
Do Chagrin Valley Natural Skincare Products Contain GMO's?

Chagrin Valley Soap & Salve is a USDA Certified Organic company.

We are required to submit documentation that ALL of our ingredients, even our "non-organic ingredients," were produced without the use GMOs.

Since the U.S. National Organics Program forbids the use of genetic modification in products to be certified as organic, purchasing organic is a great way to lower your exposure to GMO's.

Genetically Modified Organisms refers to any animal, plant or microorganism that has been changed in a lab at the gene level. It is also known as "genetic engineering."

Read more about "Non-GMO Skin Care Ingredients"

---

View Answer Page
Are Your Products and Ingredients Cruelty Free?

All of Chagrin Valley's natural soap, shampoo bars, and personal care products are certified cruelty-free by Leaping Bunny.

 Chagrin Valley Soap & Salve has been Leaping Bunny Certified since 2013. 

The Leaping Bunny Program was developed in 1996, by The Coalition for Consumer Information on Cosmetics (CCIC), to identify and support companies that are doing their part to help eliminate the unnecessary use and mistreatment of animals to test cosmetic products and ingredients. The CCIC is made up of eight animal protection groups including the Humane Society of the U.S., as well as groups from Canada and Europe.

At Chagrin Valley we do not test our finished products on animals (other than human volunteers). But what about the raw materials, the ingredients we use?

Many products display labels claiming that their finished product is 'not tested on animals' but this does not guarantee that the product ingredients are actually free from animal testing. 

The CCIC Standard is a pledge that a company makes to remove animal testing from all stages of product development. Our pledge to buy ingredients that are cruelty-free is integrated into the purchase agreement for all of our suppliers.

Personal care products displaying the "real" Leaping Bunny logo are certified 'cruelty-free' using the internationally recognized Humane Cosmetics Standards. These rigorous standards require that no animal testing is performed or authorized for finished products or any of the ingredients in any stage of product development by the company, its laboratories or its suppliers after a fixed cut-off date. All Leaping Bunny companies are subject to independent audits and pledge commitments that are renewed on an annual basis.

This annual renewal is a key requirement that sets the Leaping Bunny Program apart from other cruelty-free certification programs. Companies that manufacture products, as well as their ingredient suppliers, must annually recommit to upholding their promise to not conduct animal testing on any finished products, ingredients, or formulations.

Why is this annual commitment renewal important? "Because product formulations change, suppliers come and go, and manufacturers develop innovative lines to meet consumer needs. But we know that compassionate consumers need to be confident that no animal testing is involved in the products they use."

At Chagrin Valley Soap & Salve . . .

we do NOT test our products on animals
we do NOT use ingredients tested on animals
we do NOT sell into markets that require animal testing



The Leaping Bunny Program provides
the best assurance to consumers
that they are making compassionate shopping choices
by purchasing Cruelty-Free skin care!

---

View Answer Page