A rich, emollient organic body oil infused with loads of organic vanilla beans. Massage it directly on your skin or add to a warm bath and oil drench your skin with love.
Product Overview

A rich, emollient organic body oil infused with loads of organic vanilla beans. Whether you massage the oil directly on your skin, add it to a warm bath or use it in your shower, the delicious, sensual aroma of real vanilla beans, helps soothe your soul, relax nerves, ease tension and lift your mood.

Vanilla is more than just a pretty scent. The major constituent of vanilla beans, vanillin, is a powerful antioxidant that helps skin repair cell damage.

Moisturizing Oils

Nutrient-rich Organic Sunflower Seed Oil is an easily absorbed, light, and highly moisturizing oil

that helps soothe irritated skin conditions, promotes smoother skin, and is good for all skin types.

A rich source of fatty acids, Organic Unrefined Evening Primrose Oil is a soothing, moisturizing, and nourishing oil, especially for a massage that helps ease irritated skin conditions like eczema and is exceptional for dry, aging skin.

One of nature's most effective natural moisturizers, Organic Jojoba Oil is a natural liquid wax with a chemical structure similar to that of our natural skin oil and is a good choice for all skin types. Its anti-inflammatory properties help ease irritated skin conditions like eczema and psoriasis.
Moisturizing Organic Unrefined Sweet Almond Oil, a soothing, lightweight oil, is easily absorbed leaving the skin soft and smooth. This slippery oil is popular for massage since it allows hands to glide easily over the skin.

Whether you massage the oil directly on your skin or add it to a warm bath, this all-natural body oil will drench your skin with love.

All Natural, Certified Organic, Vegan, Cruelty-Free, Non-GMO
Moisturize and nourish skin, leaving it feeling silky smooth and radiant
The sensual aroma helps relax nerves, ease tension, soothe your soul and lift your spirits
A spot treatment for stress--massage into temples or other pulse points for a delightful treat
Contains no essential oils for those with very sensitive skin, just the delicious scent of fragrant vanilla beans

For a moisturizing after-shower treat, add a sprayer available on our Accessories page!

No added scent. Just the decadent aroma of natural vanilla beans!

While body lotions may contain some moisturizing ingredients, they are mostly made of water (notice the first ingredient listed). Our body oils can be used from head to toe instead of lotion.

If you enjoy the application "feeling" of a lotion, try massaging our body oil into warm, damp skin right after a bath or shower. Wait a few moments and gently pat dry. (Do not rub the skin dry!)
How To Use

Simply put, a body oil is an oil used to soothe, nourish, and hydrate the skin on the body. But as you read more about how to use it, you will realize that a natural body oil is one the most versatile products you can include in your skin care arsenal.

As a Bath Oil

For a skin-softening fragrant bathing experience you can make any bath time feel like a day at the spa by adding a bath oil to your warm bath. Soaking in warm water helps make the skin more pliable and opens the pores by loosening the dirt and debris which is easily washed away.

A warm water bath also helps skin better absorb moisture, helps relax your body and mind, ease stress, calm the soul, balance emotions, arouse your senses, relieve fatigue and soothe sore muscles.

Bathtub sizes vary, but we usually recommend adding 1 to 2 tablespoon of oil to warm bath water. Then slide into the tub, relax and allow the oils work their magic. Be careful because the oils can make the bath slippery.

Some suggestions from our bath-loving customers and family:

Add the oils while water is still running in order to distribute the product more evenly.
Run the bath first and add the oil to the still water, creating a little puddle of aromatic oil to slide into. You can then rub some bath oil into your skin.
Rather than placing the oil in the tub, pour a bit into your hands and massage it gently onto the skin before getting into the tub. Focus on areas that may need extra care, such as dry elbows and knees.
If using an aromatherapy bath oil be sure to take some deep breaths in order to reap the benefits from the essential oils.
After a bath remember to pat (not rub) the skin dry.

A bath before bed is one of most effective ways to slow down your mind and unwind. Soaking in warm scented water helps muscles release tension. When you step out of your oil-infused bath, you will notice a difference in your skin, your body and your mind. If your skin is very dry or irritated, pat your skin dry a bit and follow up your bath with a light massage of oil on damp skin.

Herbal bath oils are perfect all on their own but anytime you prepare a bath you can combine bath oils with other great skincare products like our Simply Salt Bath Salt or Bathing Herbs.

For The Shower

No time to bathe or don't have a bath tub? No worries! A body oil can be used before your shower, in your shower, or after your shower. Always be cautious of slippery shower tubs!

Before the Shower: If you suffer from very dry or irritated skin, pour a bit of oil into your hands and massage it gently into the skin. Allow it to sink in a minute or two before stepping into the shower. Focus on areas that may need extra care, such as dry elbows and knees. Cleanse your body as normal.

The oil creates a barrier between your skin, the water, and the soap to help mitigate some of the moisture loss. If using an aromatherapy oil, cup your hands, bring them close to your face and take a deep breath in and out before stepping into the shower. If desired you can follow up with a bit of oil after your shower.

In the Shower: Apply the body oil right in the shower as the last step in your routine. For ease of use, I suggest placing some bath oil into a spray or squirt bottle. After cleansing your skin, squirt a bit of oil into your hands or spray it directly on your body. Massage it gently into the skin. Allow the oil to sink in a minute or two. You can then give your body a quick rinse or just step out of the shower. Pat skin dry.

After the Shower: One of the most common and highly recommended ways to use a body oil (or any moisturizer) is to apply it immediately after a shower or bath. Since our skin absorbs some water during a shower, it is important to take advantage of the small window of opportunity after cleansing, about 15 minutes, to seal that moisture into the skin.

Simply put a few drops in the palm of your hand (a little goes a long way), rub your hands together to warm the oil, and massage it into your warm, damp skin. Allow a minute for the oils to penetrate. Gently pat skin dry so as not to rub off the moisturizing oils.

As a Body Oil

Technically all of the methods discussed in this blog are ways to use a natural oil on your body. While typically the best time to apply body oil is when the skin is warm and slightly damp, you can apply body oil at any time of the day to add a targeted boost of hydration to the skin whenever needed.

Give those extra dry places, like dry elbow, heels, and knees a bit of extra TLC by massaging in a few drops of body oil on dried skin.

When applying body oil to dried skin, some people like to mist skin with a bit of warm water and then apply the oil. You can also moisten your hands.

As a Massage Oil

I cannot say enough about the benefits of massage. Massage can boost circulation, ease away tension, and works wonders on sore or tired muscles. If using an aromatherapy body oil you will experience the benefits of both topical and inhalation aromatherapy.

Whether you are massaging yourself or someone else, pour a small amount of oil into clean hands and allow it to warm up between your palms. You can also place the bottle in some warm water before dispensing.

Massage into skin using long, slow, gentle movements in circular pattern. Take a few deep breaths as you apply the oils and feel the tension slip away.

A warm massage oil feels amazing.

a warm massage oil containing essential oils will have an increased rate of penetration of those oils most likely due to the increased blood flow caused by an increase in temperature
massaging the area where the oil is to be applied can boost circulation and increase absorption

Even More Ways To Use a Bath & Body Oil

Apply body oil before you shave anywhere. It protects the skin against razor burn and allows for a closer, smoother shave.
Use a moisturizer after you shave.
If using body oils scented with pure essential oils, take advantage of their aromatherapeutic healing powers. Special blends can ease stress, relieve headache, help with mind and body fatigue and much more. Rub a drop of aromatherapeutic oil on your temples, neck or other pulse points. Place some on your wrist to use as a "sniffing" spot.
Use a few drops to revive and smooth dry or frizzy hair.

When using in bath or shower, always take care as your bath may become slippery.




If you have very sensitive skin or are simply trying a new product for the first time, we always recommend doing a patch test.

For external use only. Discontinue use if irritation occurs. Best if used within 6 months of opening.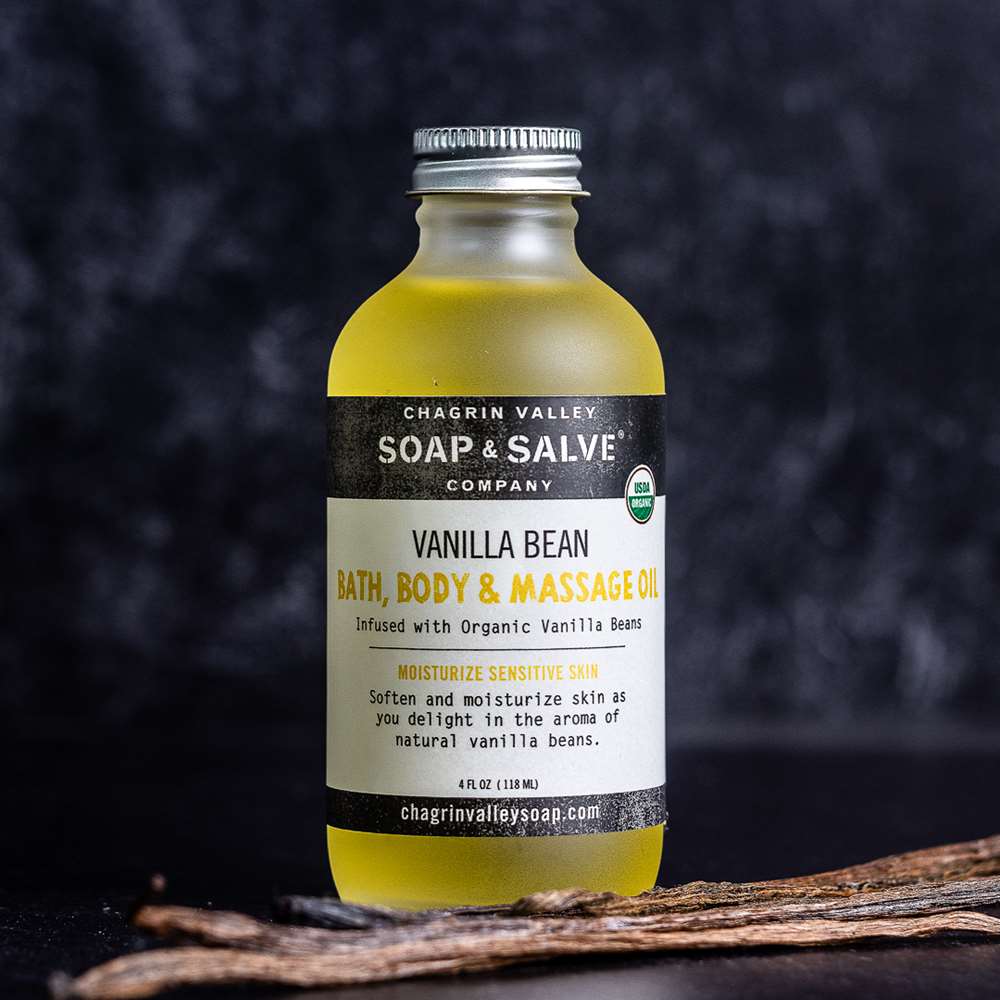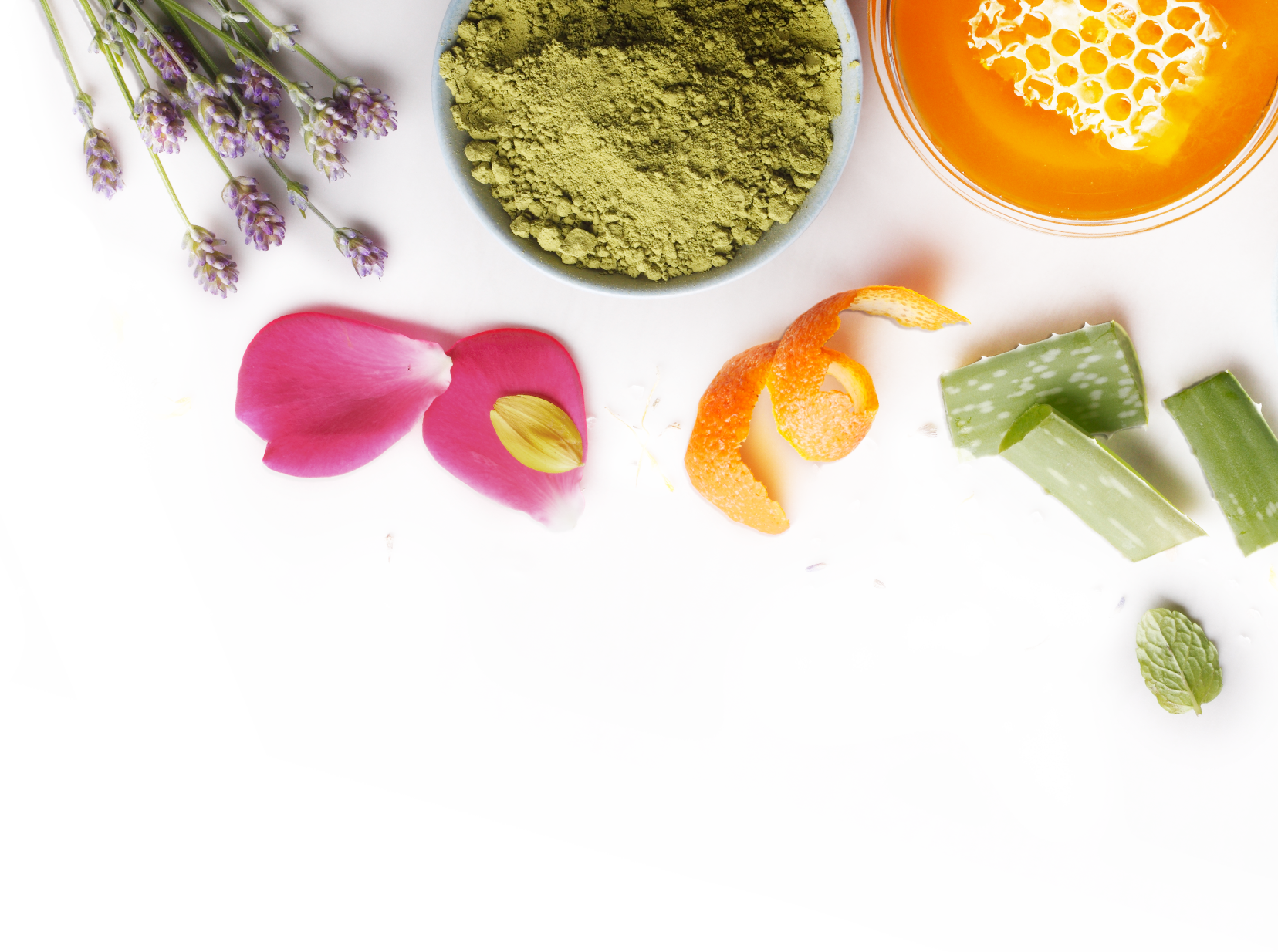 Effective, Feel Good Ingredients
The goal is simple: to Harness the Power & Simplicity of Nature® to cleanse, soothe, heal, and protect your skin and hair!
Our unique formulas rely on moisturizing oils and butters, healing botanicals, and pure essential oils. We choose every ingredient with one end-result in mind….the BEST possible natural skin care for YOU!
Featured Ingredients


Organic Evening Primrose Oil
All Ingredients:
Organic Oils are infused with Organic Vanilla Beans.
Frequently Asked Questions
Why Are The Prices of Vanilla Bean Products Always Increasing?

Growing & Harvesting Vanilla Beans is Labor Intensive

Each vanilla bean blossom will only produce one fruit or bean pod. The blossom, which opens for only one day must be hand-pollinated within a few hours after it opens, otherwise, it wilts and dies.

Since growing vanilla beans is so labor-intensive, it is the second most expensive spice after saffron.

The Curing Process is Very Time-Consuming.

After the seed pods are harvested the seed pods, each one is soaked in hot water, then laid out in the Sun during the day and then, while warm, are wrapped in blankets and allowed to sweat overnight.

Weather & Poor Crops

The price of Madagascan vanilla rose by nearly 150 percent after a poor harvest in 2015.

In March 2017, Cyclone Enawo hit Madagascar. Since about 80% of the world's vanilla fields are in Madagascar, the price of vanilla beans soared even higher.

The Demand for Natural Vanilla

The demand for vanilla beans has been steadily increasing, not only due to poor crops and weather but also due to consumer demand for natural foods that are free of artificial ingredients.

Consumers now want real vanilla, not imitation flavoring. Vanilla is not only used in vanilla-flavored products, it is also added to other products like chocolate to counter the bitterness of genuine cocoa.

For more detail read our blog, "Why Vanilla Beans Are So Expensive?"

---

View Answer Page
Are Chagrin Valley Ingredients & Products USDA Certified Organic?

Chagrin Valley Soap & Salve is a USDA Certified Organic Company

The most important consideration in any business is its customers. Today's world of misleading claims, false advertising, and simple deception, often leaves consumers trying to discover the truth about personal products and their ingredients.

We want our customers to know that we are

committed to transparency in everything we do.

We want our customers to know that when we say "

organic," we mean it.
We believe that in becoming a USDA Certified Organic company, our customers do not have to wonder if we really use certified organic ingredients or if our organic products are truly organic.
So we choose to be a certified organic company

and abide by the strict standards required for organic certification.

Some of my favorite products are made with ingredients that just do not exist as certified organic. Why? At this time there are no standards created for ingredients specifically used in the personal care product industry. Organic certification of personal care products is based on the organic food standards set by the National Organic Program of the USDA.

But since we are a certified organic company, we are required to submit documentation that even our "non-organic ingredients" were produced without the use of toxic pesticides, genetically modified organisms (GMOs), sewage sludge, or irradiation.

Why Did We Become a Certified Organic Company?

What Do All of the Organic Labels Mean?

---

View Answer Page
Can I Use Your Natural Skincare Products While Pregnant or Nursing?

We often receive questions as to whether our soaps, shampoos, and other natural products are safe to use during pregnancy.

We recommend that expectant and nursing mothers check with their midwife or physician before changing a skincare routine with our organic products, or any other line of products.

Read the label on a bar of commercial soap. Read the label on your jar of moisturizer.

Now read the ingredients in a Chagrin Valley product.

We use quality natural and USDA Certified Organic ingredients. No synthetic additives, colorants, fragrances, preservatives, or chemical derivatives are used.

There is nothing in our all-natural basic soap or other products that could cause a problem in pregnancy.

Topically applying the herbs present in many of our soaps is also not a problem. Your skin will absorb much less herb from the soap than if you would sprinkle them on your food.

Essential Oils

The issue that seems to be of most concern is the use of essential oils during pregnancy.

There is a lot of confusing, ambiguous, and inaccurate information concerning the use of essential oils in pregnancy.

The question of safety and safety testing has a lot to do with several factors.

The type and composition of the specific essential oil. Essential oils differ greatly in strength and composition.


The quality of the essential oil. Many "cheap essential oils" are not pure and maybe cut with synthetic chemicals.


The actual "dose" of herb/essential oils. Most of the clinical research on essential oil safety is based on information for internal (actually ingesting) large doses of herbs, essential oils, or herbal "medicines." Obviously there have been no tests done on pregnant women.


How the essential oil is being used. The concentration of essential oils that are absorbed through inhalation, as in aromatherapy, and massage is much lower than if you were actually ingesting the oil.

But also, aromatherapy and massage therapy use much higher concentrations of essential oils than you find in soap or even in eating the herb. With aromatherapy, you are inhaling the high concentrations which get absorbed via the lungs and in massage therapy, the essential oils remain on your skin and are absorbed.

Our scented soaps are gently scented with essential oils, but the choice is between you and your health care professional. The most critical time is the first trimester.

Just about every one of our products, like lip balms, whipped butters, soaps, shampoos, and deodorants has a "no added scent" version.

When there is a growing baby to consider, if you are at all uncertain as to the safety of an essential-oil containing product, or any ingredient, please consult your doctor, midwife, or health care professional!

When it comes to safety during pregnancy it is understandable that many massage therapists and aromatherapists decide to err on the side of caution in recommending the avoidance of certain essential oils.

Some Herbalists and Aromatherapist believe that essential oils that are normally safe to use, are safe during pregnancy, while others will recommend avoiding all essential oils during pregnancy.

Some essential oils that are normally quite safe have hormone-like effects and some even stimulate uterine muscles, both of which would be contraindicated during pregnancy.

Please do not ask us if one of our products is safe to use during pregnancy--we will simply refer you to this page.

We do not provide a list of essential oils considered safe during pregnancy because the information available is very contradictory. One aromatherapy source will list an essential oil as problematic while another one states it is fine.

The information is also changing constantly. Please do your own research and consult your doctor, midwife, or health care professional for the most up-to-date information.

Sensitive Skin Can Strike During Pregnancy

Even if you have never had sensitive skin in the past, you may notice that a product you have been using for several years now irritates your skin.

The stretching belly is often the most sensitive spot. Other potential problem areas include the hips, thighs, and bottom where the skin may become dry and flaky.

Although the exact cause is not known, raging hormones do make you more sensitive to a wide range of things, and also your skin is thinning and stretching as you, and your baby, grow.

These changes can behave in unpredictable ways. For example, if you have eczema you may suffer from major flare-ups or complete remission during pregnancy.

Keep your body well moisturized and avoid products that contain synthetic additives, colorants, fragrances, or preservatives. Any of these can exacerbate sensitive skin problems.

Before trying a new product, you can always do a patch test to test for sensitivity.

And again, we recommend that expectant and nursing mothers check with their midwife or physician before changing a skincare routine with our products, or any other line of products.

Pregnancy & Children: We do not provide information on the safety of essential oils during Pregnancy or for use in Children because the available information is very ambiguous and often contradictory. If you're interested in using essential oils during pregnancy or with young children please do your own research and consult your doctor, midwife, or health care professional before use.

---

View Answer Page
Can I Use Your Products on my Baby or Young Children?

We often receive questions as to whether our soaps, shampoos, and other items are safe to use on young children.

A baby's skin, so thin and delicate, is no place for harmful synthetic chemicals.

Sadly, even some of the most trusted baby brands add nasty chemicals to their products.

Read the label on a bar of commercial baby soap or shampoo. Read the label on a bottle of commercial baby oil. Now read the ingredients in Chagrin Valley products.

We recommend starting with our Milk & Honey Baby Soap. We also recommend our two Castile soaps and Carrot & Honey Soap. They are unscented and, as with all of our products, contain no artificial ingredients!

My grandkids use our Milk & Honey bar as a baby shampoo--just keep the soap away from their eyes.

When you think your child is ready, try some new soaps.

As with all new products, it is best to do a skin patch test prior to full usage to test for any skin allergies or sensitivities. If you have any questions or concerns always check with your doctor or health care professional.

It is best to add only one new soap or product at a time and use it for a while before switching to a new soap.

Essential Oils & Children: We do not provide information on the safety of essential oils for use in Children because the available information is very ambiguous and often contradictory. If you are interested in using essential oils with young children please consult your health care professional before use.


Please do not ask us to diagnose your child's skin problems, we are not health care professionals. Our recommendations are based on what our customers have shared.

Click Here to visit our page of Organic Baby products!

---

View Answer Page