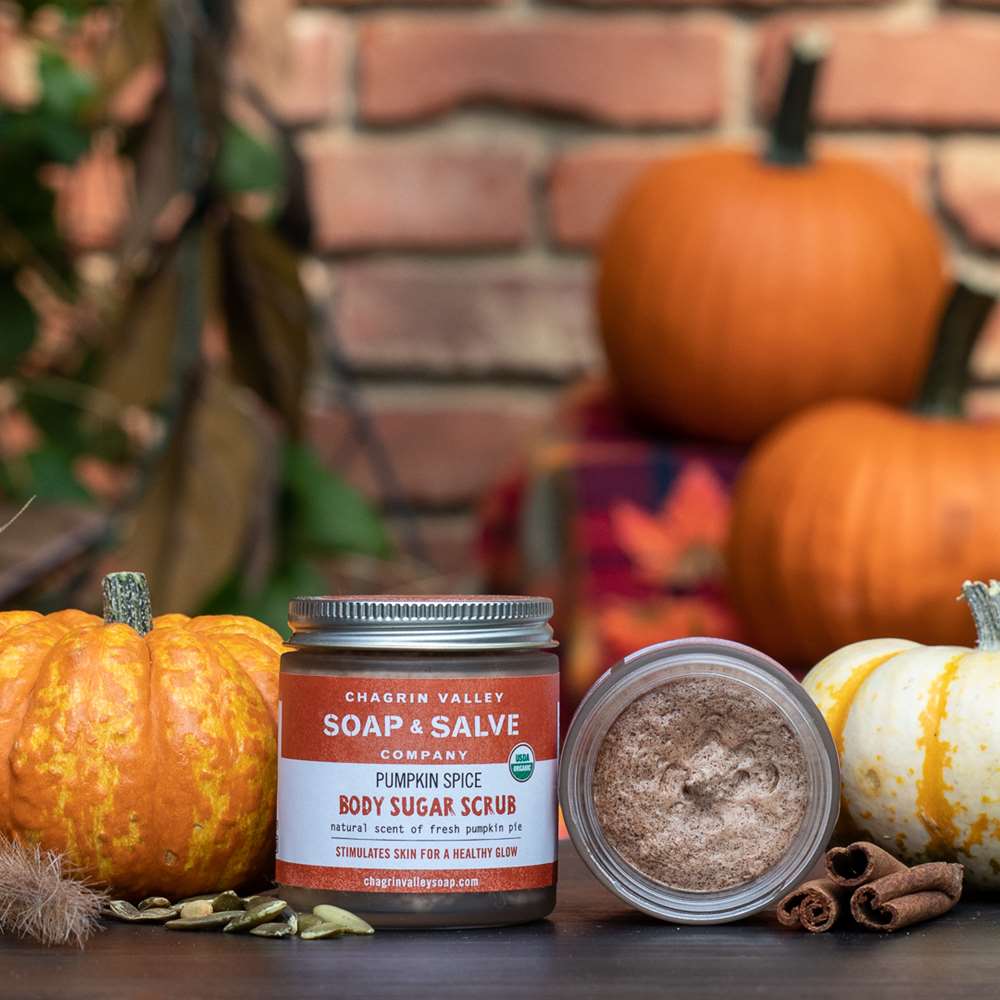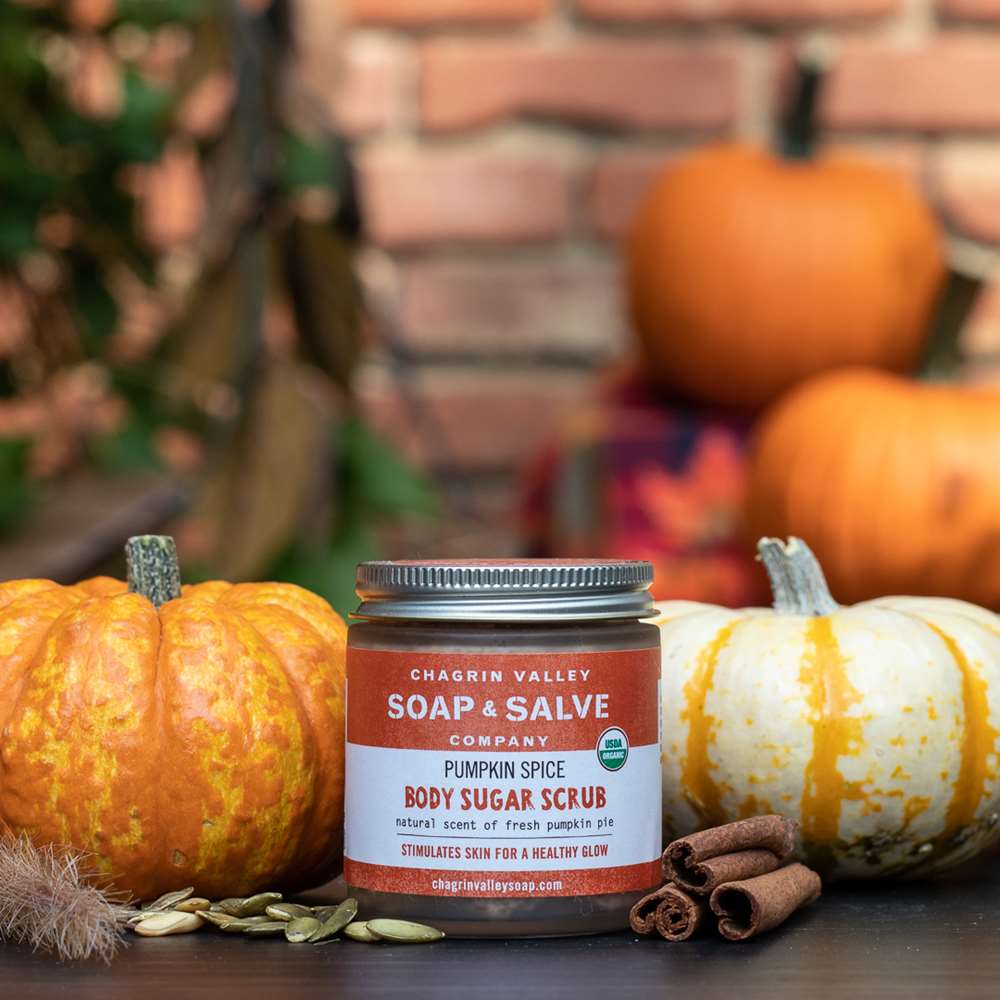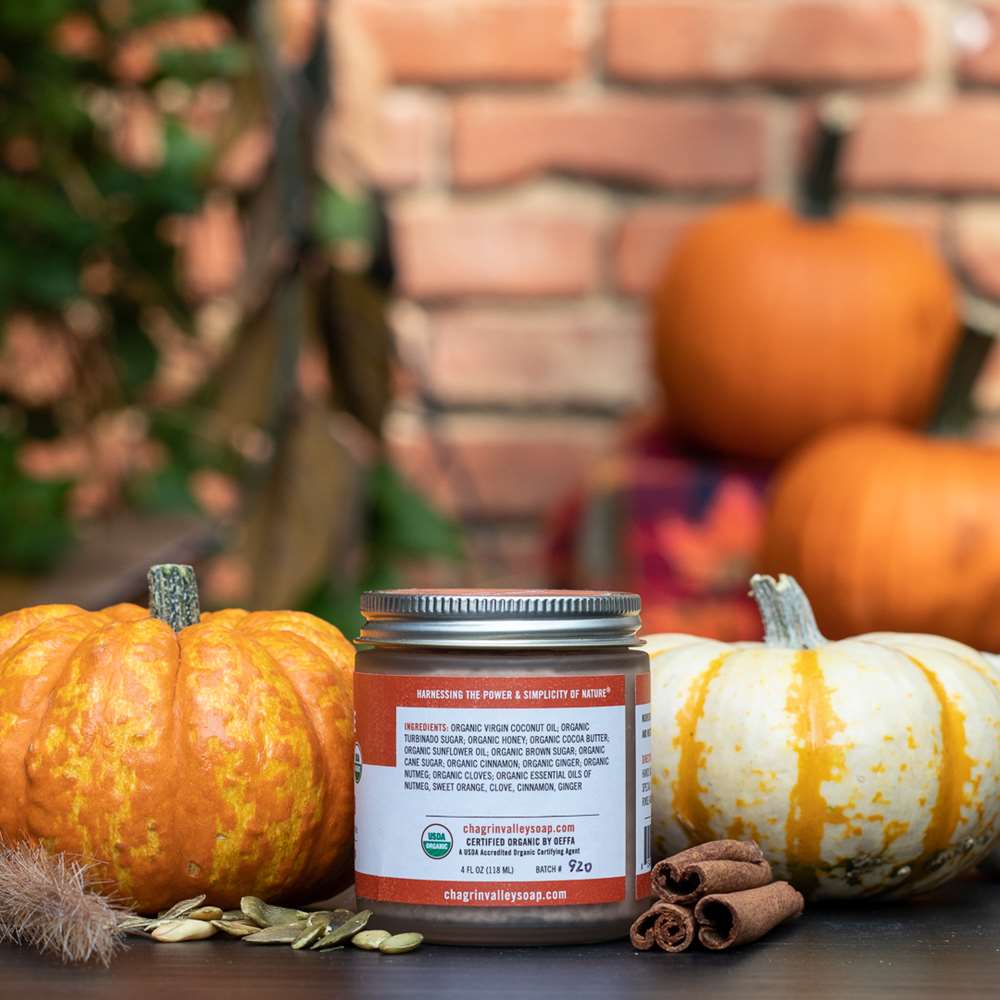 Inspired by crisp Autumn nights, our Pumpkin Spice Body Sugar Scrub has warm, spicy scent reminiscent of that first long-awaited slice of seasonal Pumpkin Pie.
Product Overview

Fall is a beautiful time of year. The air is cool and crisp, leaves change color and we tend to slow down just a bit. Nothing says fall better than the scents of cinnamon, nutmeg, clove, brown sugar and honey.

Inspired by crisp Autumn nights, our Pumpkin Spice Body Sugar Scrub has a warm, spicy scent that will remind you of that first long-awaited slice of Pumpkin Pie.

The delicious scent comes from organic pumpkin pie spices and a touch of our organic Pumpkin Spice essential oil blend.

Exfoliation is one of the simplest ways to stimulate dull, lifeless skin and slough away bumps and flakes for incredibly soft, smooth skin. Nourishing oils and butters are whipped with a medley of fine and coarse grain sugars and honey.

The whipping process creates a scrub that is easy to use without the drippy, oily mess of traditional sugar scrubs.

Exfoliate, massage, and hydrate your skin for a pampering spa experience at home.

Each sugar grain texture provides its own level of exfoliation
Honey and plant oils and butters hydrate, moisturize, soothe and soften skin
Exfoliating helps moisturizers penetrate deeper into your skin for more benefits
Exfoliating helps smooth and brighten skin, giving it an even skin tone and texture
Exfoliating helps slough off dry skin cells and cleans out pores
Also a great scrub for rough, dry hands

Sugar scrubs exfoliate in two ways: the physical "scrubbiness" of the sugar plus the chemical composition of the sugar's AHAs (Alpha hydroxy acids). AHAs loosen the glue-like substances that hold surface skin cells to each other, allowing the dead cells to slough off more easily.
How To Use

Use in bath or shower. Scoop out a bit of scrub into wet hands and massage in small circular motions on wet skin. Pay special attention to rough areas like knees and elbows while avoiding any sensitive areas. Allow the moisturizing scrub to sit on skin for a minute or two for deeper hydration. Rinse with warm water and pat dry.

Since our Pumpkin Sugar Scrub is loaded with moisturizing ingredients you probably will not need to apply a moisturizer. But know your own skin!




Notes:

Tub or shower may be slippery after use, use caution
If you have very sensitive skin or are simply trying a new product for the first time, we always recommend doing a patch test.
For external use only. Avoid contact with eyes. Discontinue use if irritation occurs.
Best if used within 6 months of opening.

This is a preservative FREE product. Do not get water in the container. Please use a small spoon or craft stick to remove the scrub from the jar. Try our bamboo spoon or bamboo spatula for scooping out the scrub!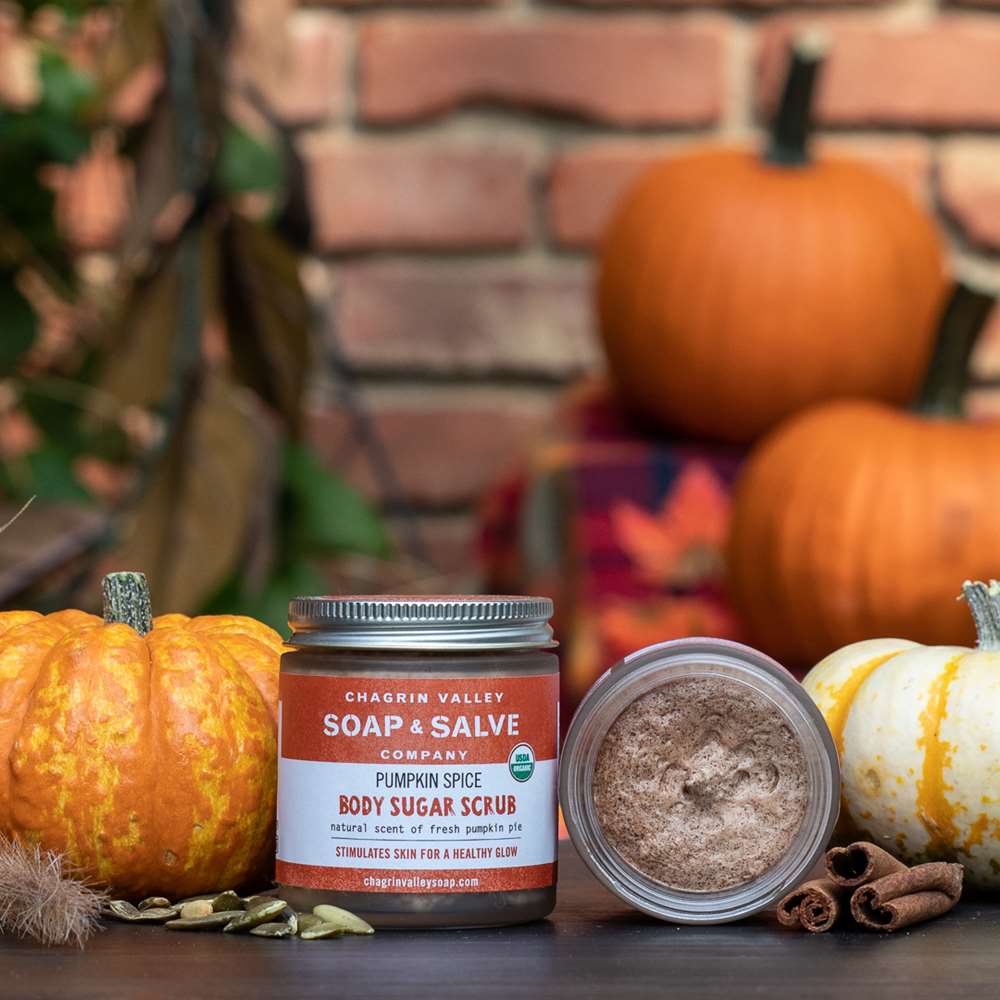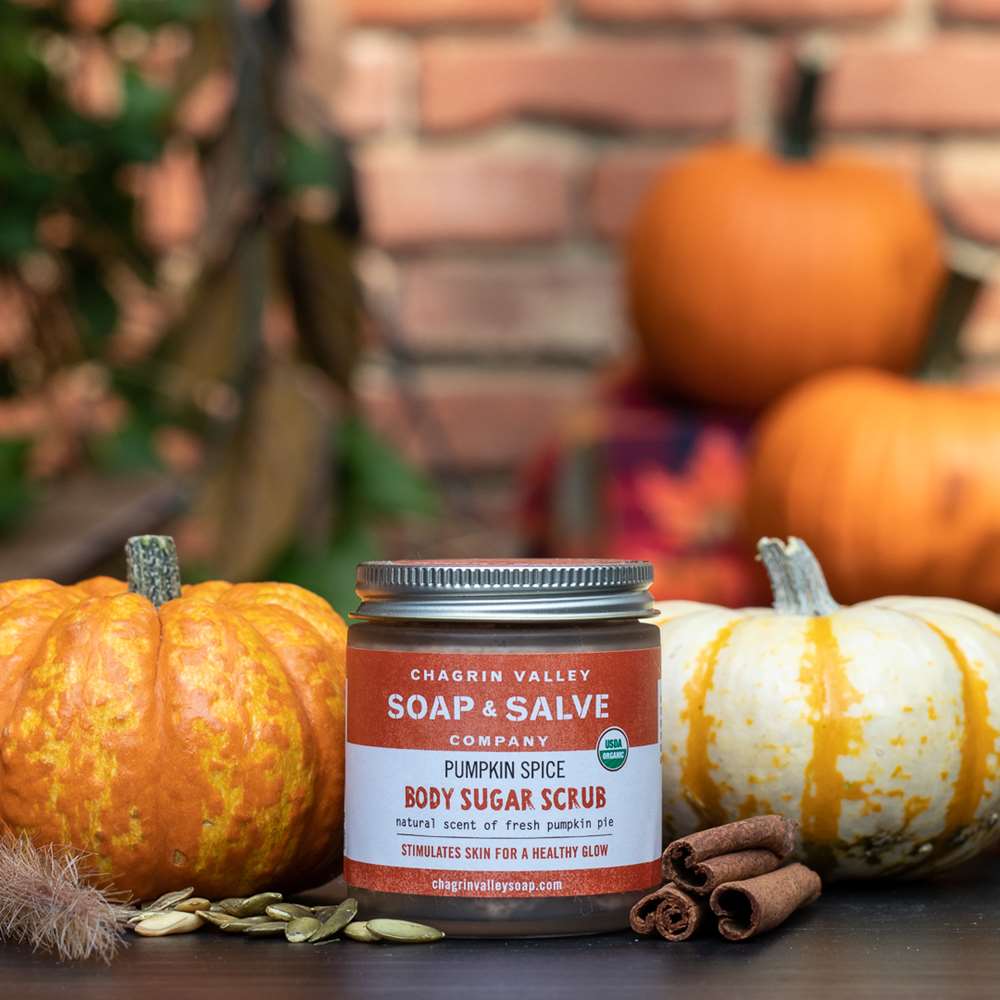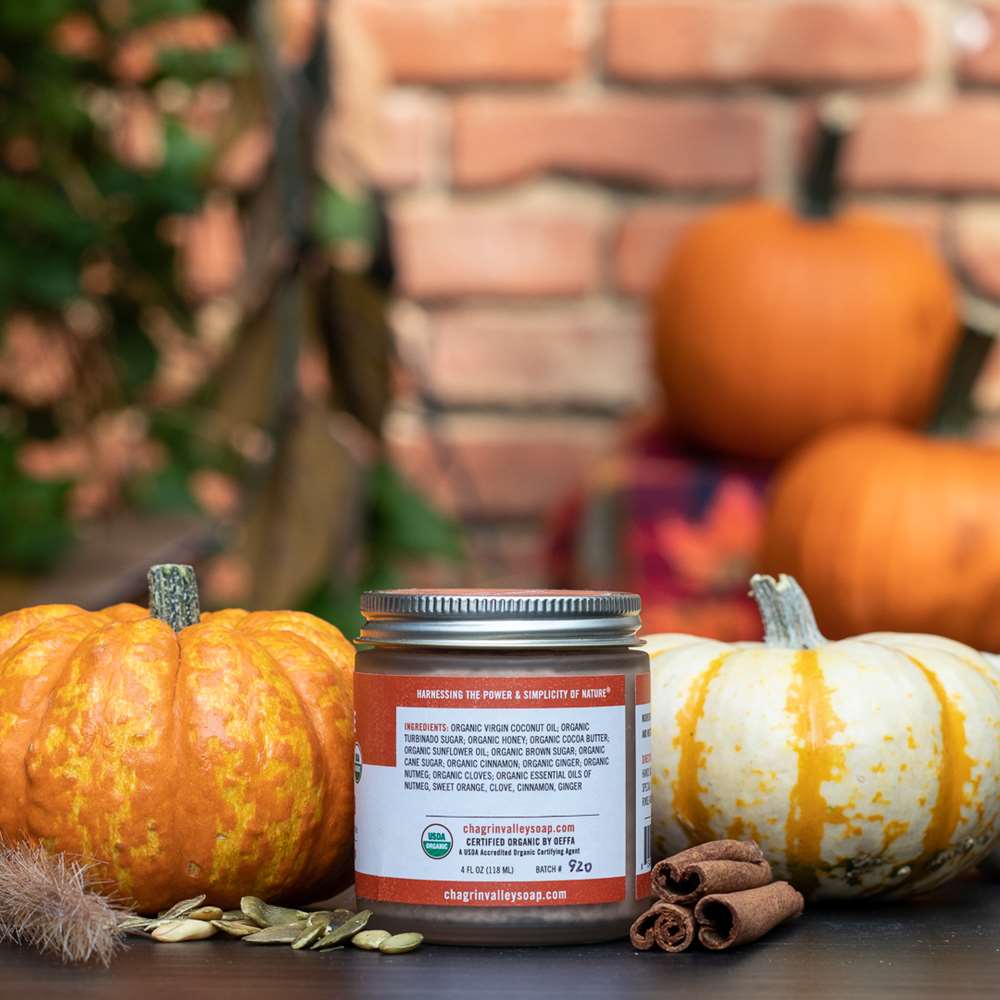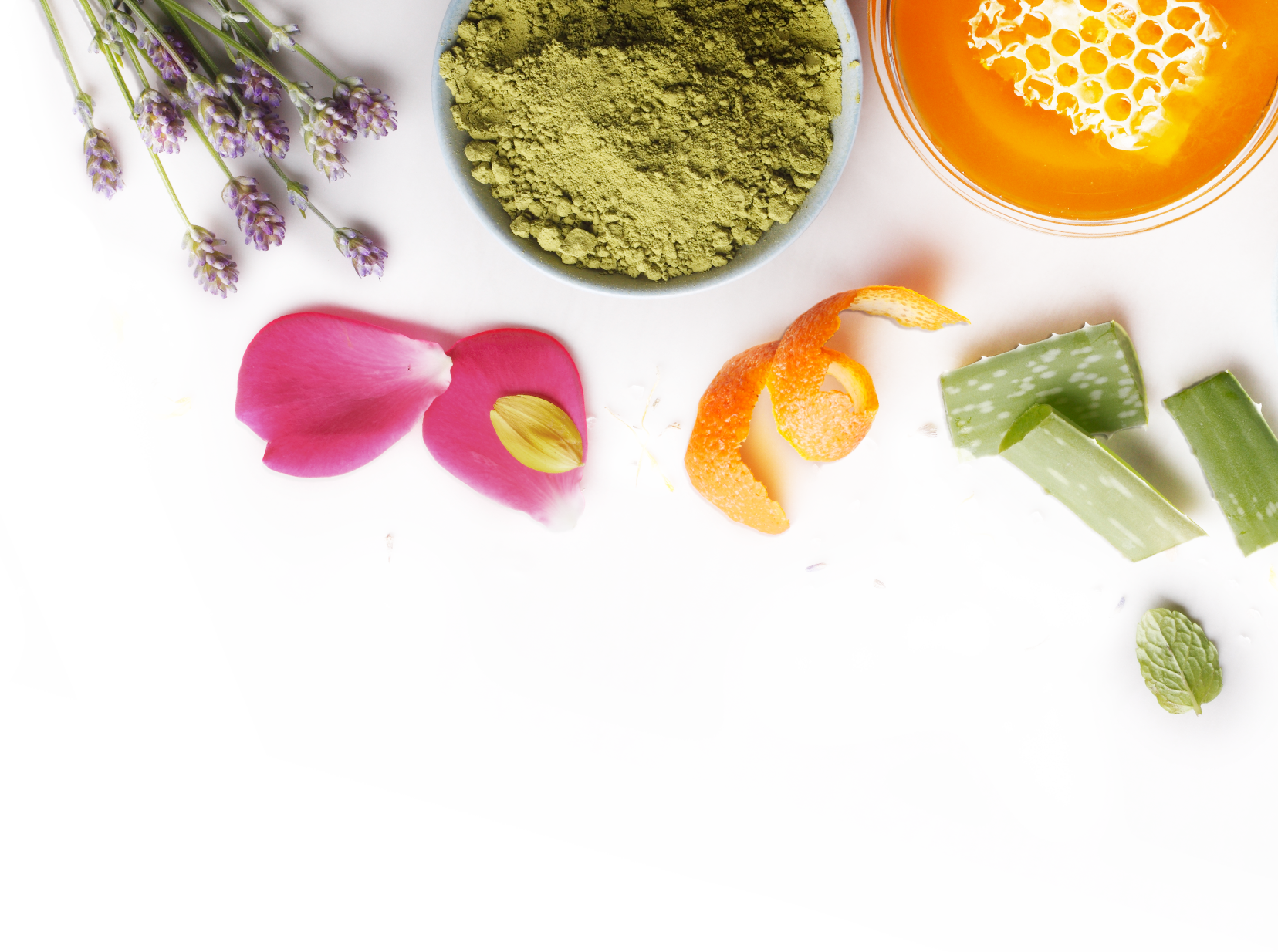 Effective, Feel Good Ingredients
The goal is simple: to Harness the Power & Simplicity of Nature® to cleanse, soothe, heal, and protect your skin and hair!
Our unique formulas rely on moisturizing oils and butters, healing botanicals, and pure essential oils. We choose every ingredient with one end-result in mind….the BEST possible natural skin care for YOU!
Featured Ingredients


Organic Ginger Essential Oil
Organic Cassia Essential Oil
All Ingredients:
,
,
,
,
,
,
,
,
,
,
,
,
,
,
,
,
All of our sugars are organic, fair trade, and vegan (bone-char free)
*Ingredient is Fair Trade Certified
Frequently Asked Questions
Are Your Products and Ingredients Cruelty Free?

All of Chagrin Valley's natural soap, shampoo bars, and personal care products are certified cruelty-free by Leaping Bunny.

 Chagrin Valley Soap & Salve has been Leaping Bunny Certified since 2013. 

The Leaping Bunny Program was developed in 1996, by The Coalition for Consumer Information on Cosmetics (CCIC), to identify and support companies that are doing their part to help eliminate the unnecessary use and mistreatment of animals to test cosmetic products and ingredients. The CCIC is made up of eight animal protection groups including the Humane Society of the U.S., as well as groups from Canada and Europe.

At Chagrin Valley we do not test our finished products on animals (other than human volunteers). But what about the raw materials, the ingredients we use?

Many products display labels claiming that their finished product is 'not tested on animals' but this does not guarantee that the product ingredients are actually free from animal testing. 

The CCIC Standard is a pledge that a company makes to remove animal testing from all stages of product development. Our pledge to buy ingredients that are cruelty-free is integrated into the purchase agreement for all of our suppliers.

Personal care products displaying the "real" Leaping Bunny logo are certified 'cruelty-free' using the internationally recognized Humane Cosmetics Standards. These rigorous standards require that no animal testing is performed or authorized for finished products or any of the ingredients in any stage of product development by the company, its laboratories or its suppliers after a fixed cut-off date. All Leaping Bunny companies are subject to independent audits and pledge commitments that are renewed on an annual basis.

This annual renewal is a key requirement that sets the Leaping Bunny Program apart from other cruelty-free certification programs. Companies that manufacture products, as well as their ingredient suppliers, must annually recommit to upholding their promise to not conduct animal testing on any finished products, ingredients, or formulations.

Why is this annual commitment renewal important? "Because product formulations change, suppliers come and go, and manufacturers develop innovative lines to meet consumer needs. But we know that compassionate consumers need to be confident that no animal testing is involved in the products they use."

At Chagrin Valley Soap & Salve . . .

we do NOT test our products on animals
we do NOT use ingredients tested on animals
we do NOT sell into markets that require animal testing



The Leaping Bunny Program provides
the best assurance to consumers
that they are making compassionate shopping choices
by purchasing Cruelty-Free skin care!

---

View Answer Page
Do Chagrin Valley Natural Skincare Products Contain GMO's?

Chagrin Valley Soap & Salve is a USDA Certified Organic company.

We are required to submit documentation that ALL of our ingredients, even our "non-organic ingredients," were produced without the use GMOs.

Since the U.S. National Organics Program forbids the use of genetic modification in products to be certified as organic, purchasing organic is a great way to lower your exposure to GMO's.

Genetically Modified Organisms refers to any animal, plant or microorganism that has been changed in a lab at the gene level. It is also known as "genetic engineering."

Read more about "Non-GMO Skin Care Ingredients"

---

View Answer Page
What If My Natural Skincare Product Melts in Warm Weather?

Why Do Some Products Melt in Warm Weather?

We do not use synthetic stabilizers or waxes, so our delicate natural products packaged in glass jars and metal tins are sensitive to temperature changes.

While shipping during warm weather seasons presents a real challenge to our natural skin care company, we accept the challenge in order to maintain our standard of natural and nourishing skin care. We hope you agree.

During warm weather, products may soften or even melt as they sit in warm mail trucks, mailboxes, or on front porches.

The quality and healing properties of our products are not affected by melting.

On very sunny or warm days, BEFORE opening the jars or tins, place the items in your refrigerator for a few hours to allow them to harden, just in case they have melted in transit. If you open items, especially those in tins, to check if melting has occurred, they may spill and make a mess!

What To Do About Melting

Cream Deodorants

If you think that your balm-like deodorant is melted or runny, BEFORE opening the jar, pop it in the freezer for 10 - 15 minutes. As it begins to harden give it a stir (so that the solids do not sink to the bottom) and place it back in the freezer until firm!

Sometimes a cream deodorant can melt during warm transit and then slowly re-solidify before you receive it. This melting and slow cooling can result in a grainy feeling. If your deodorant feels grainy, simply melt it, mix thoroughly, and place it in the refrigerator until solid.

Since the stick deodorant are made with more beeswax, they are less sensitive to an increase in outside temperature.

Whipped Body Butters

Place a melted body butter in the refrigerator until firm.

Our hand-whipped process adds tiny air bubbles that increase the volume, just like whipping cream. If a whipped product melts, the air bubbles collapse and the volume is decreased.

So, although the jar was filled to the top initially, there will be less volume in the container (since it has deflated) and the container may actually look half full.

After cooling a melted Whipped Butter will be the consistency of our body balm and is still a great moisturizer.

Sugar Scrubs

If a Sugar Scrub melts, the oil may separate out a bit. Give it a good mix and place it in the refrigerator for about 10 to 15 minutes. As it begins to harden up give it another stir to disperse the sugars and place it back in the refrigerator. Once it's solidified and mixed it will be great to use! Again because it is a whipped product, the container may have less volume when the whipped butters melt.

Read more about melting products and what to do in our blog "Natural Skin Care Products Melt In Hot Weather."

---

View Answer Page
What are essential oils?

What Are Pure Essential Oils?

Have you ever enjoyed the scent of a fragrant flower or herb? The fragrance comes from potent, aromatic compounds called essential oils found in the flowers, stems, seeds, bark, roots, fruits, and other parts of plants. It often requires several pounds of a plant to produce a single bottle of essential oil.

Essential oils not only give plants their unique scents but also help lure plant pollinators and protect plants from insects and other predators.

The chemical composition of essential oils may provide valuable psychological and physical aromatherapeutic benefits for some people.

It is important to note that to be a true essential oil, the oil must be isolated from the plant material by physical means only. Essential oils are NEVER extracted using solvents.

Although synthetic fragrances or "nature identical" oils are available at a much lower cost, only natural plant essential oils will provide any aromatherapeutic benefits.

What Are Essential Oils (Much more detail)

How Essential Oils Are Extracted

Why We Use Only Real Plant Essential Oils?

---

If you are pregnant or under a doctor's care for any medical condition, please consult your healthcare provider before using essential oils.

Pregnancy & Children: We do not provide information on the safety of essential oils during Pregnancy or for use in Children because the available information is very ambiguous and often contradictory. If you're interested in using essential oils during pregnancy or with young children please do your own research and consult your doctor, midwife, or health care professional before use.

---

View Answer Page