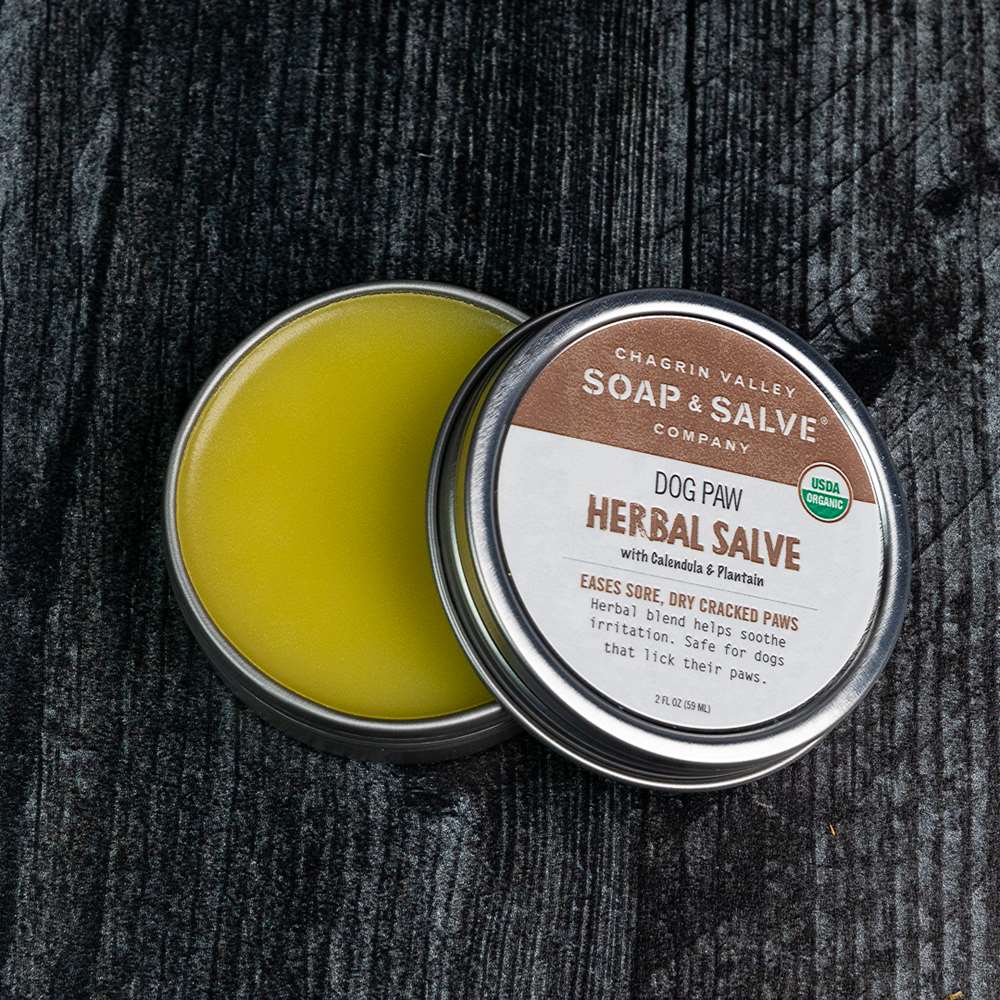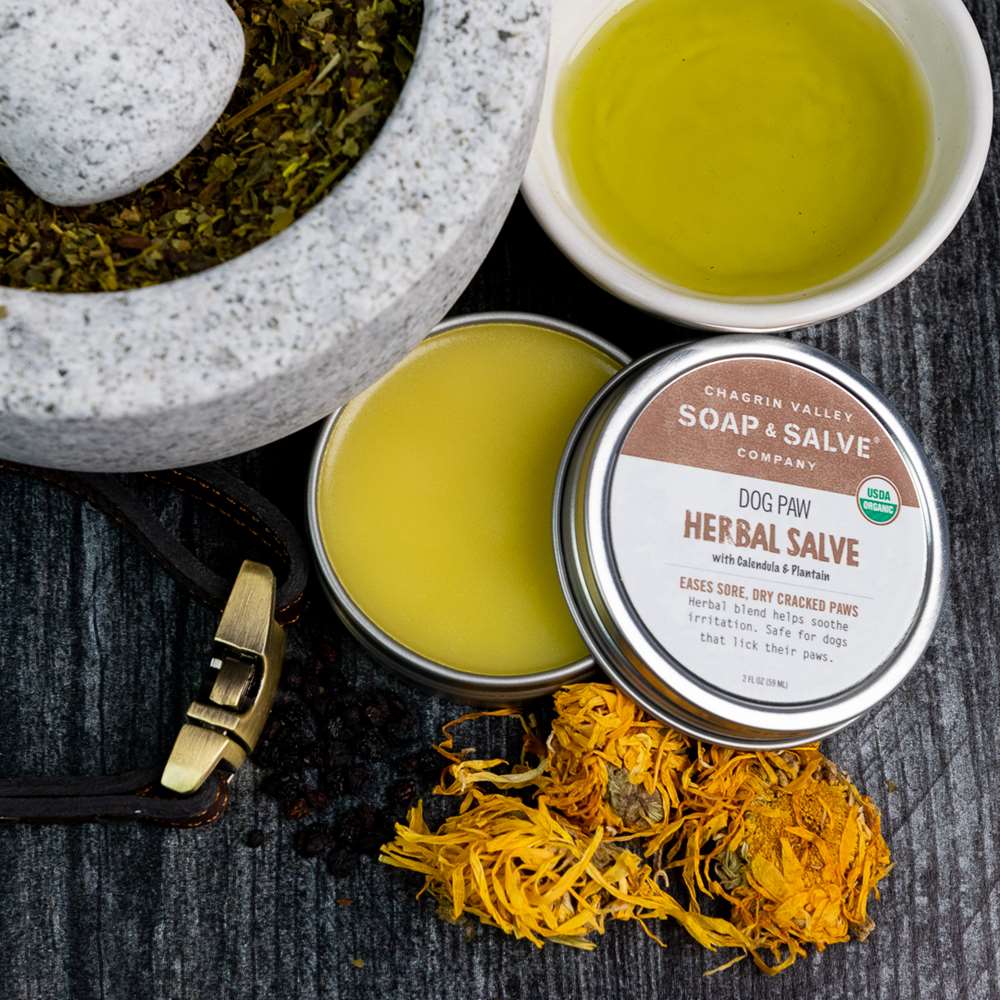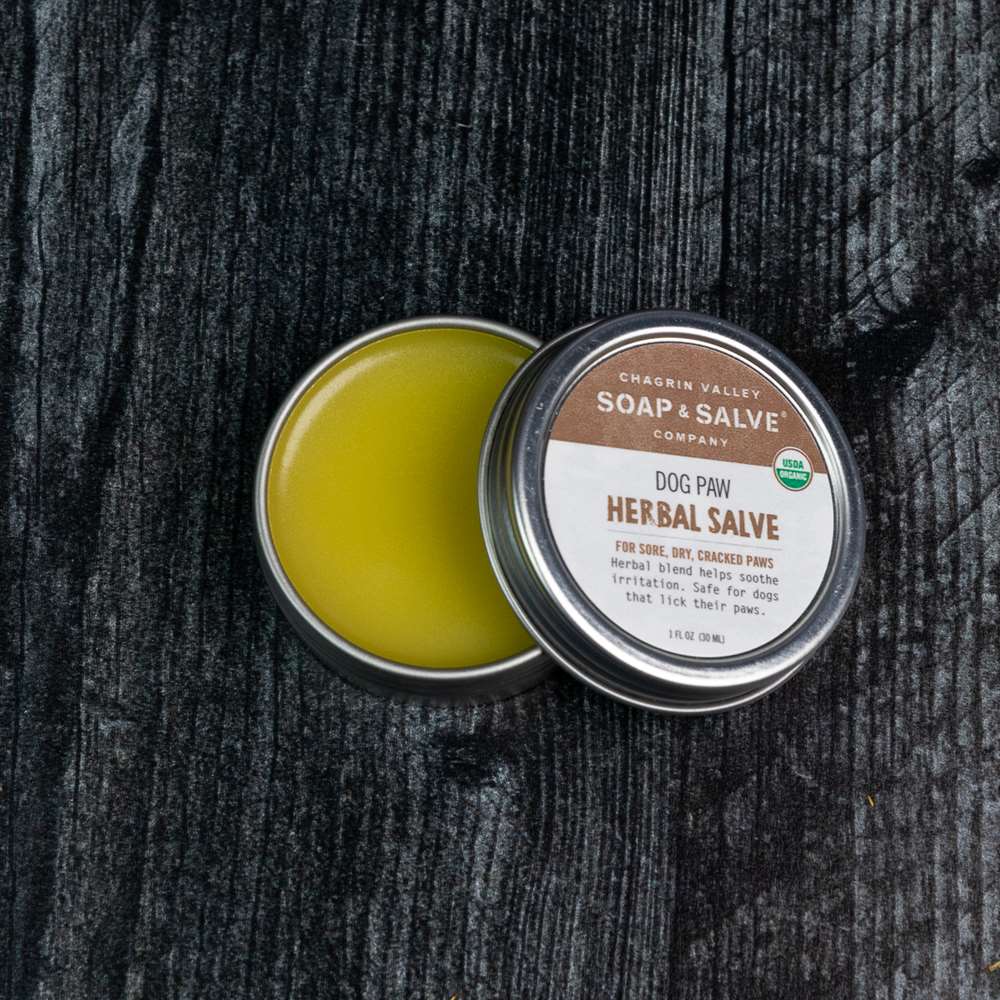 Our all natural dog paw balm, formulated to moisturize your dog's paws, provides soothing relief and protection for sore, dry, or cracked paws and irritated skin.
Product Overview

Healthy dog paws are meant to be hydrated and spongy, not dry and rough. If left untreated, dry paws can cause discomfort, obsessive licking, and become prone to cracking and bleeding. Our natural dog paw salve is formulated to moisturize, condition and protect as well as provide soothing relief for sore, dry or cracked paws as well as dry and irritated skin.

This salve can also create a barrier to help protect the paws against the hot summer pavement and winter salt and ice.

Nourishing oils are infused with organic botanicals known to speed up healing while providing soothing relief from irritations.

Calendula: antimicrobial and wound-healing properties speed up healing while providing soothing relief.
Mullein: astringent and antimicrobial properties are ideal for treating minor wounds and insect bites.
St. John's Wort: antiseptic and antiviral properties speed up healing and reduce pain.



Neem oil's antifungal and anti-inflammatory properties make it an effective remedy for irritations.
Dog safe essential oils, antifungal and soothing Bergamot, and antibacterial, anti-itch Lavender, round out this great all natural salve to pamper our canine friends.

Since dogs lick their paws, each ingredient is carefully selected and safe.

Products with essential oils should not be used on cats
How To Use

This conditioning salve can be used as a daily moisturizer or an after-adventure recovery balm for your dog.

To use, gently massage a small amount of salve into dog paw pads to soothe and soften dry dog paws.

Since dogs lick their paws, this salve is safe for licking!

Products with essential oils should not be used on cats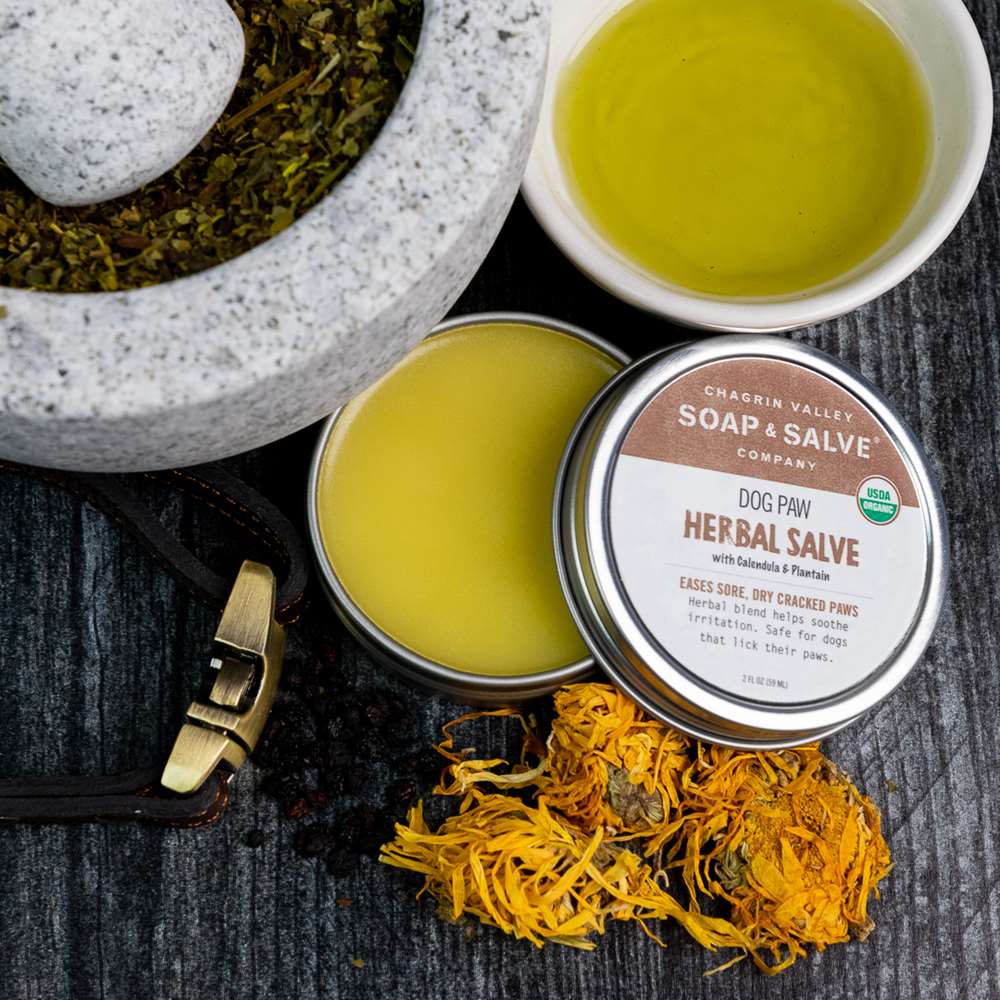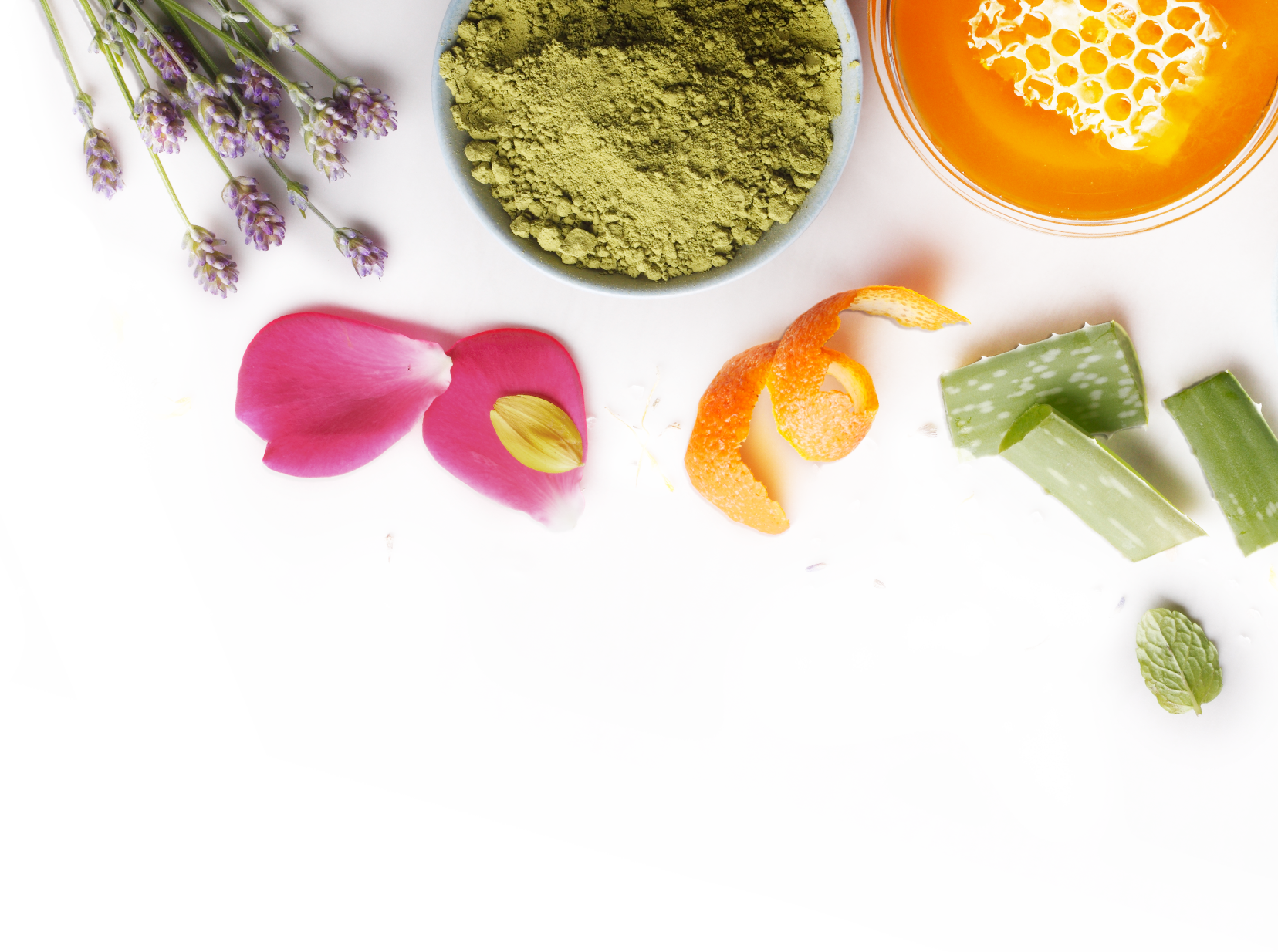 Effective, Feel Good Ingredients
The goal is simple: to Harness the Power & Simplicity of Nature® to cleanse, soothe, heal, and protect your skin and hair!
Our unique formulas rely on moisturizing oils and butters, healing botanicals, and pure essential oils. We choose every ingredient with one end-result in mind….the BEST possible natural skin care for YOU!
Featured Ingredients



All Ingredients:
,
,
,
,
,
,
,
,
,
,
,
,
,
Organic Sunflower Oil infused with Organic Botanicals Calendula, Plantain, Elder Flower, Marshmallow Root, Mullein, and St. John's Wort
Frequently Asked Questions
Are Chagrin Valley Ingredients & Products USDA Certified Organic?

Chagrin Valley Soap & Salve is a USDA Certified Organic Company

The most important consideration in any business is its customers. Today's world of misleading claims, false advertising, and simple deception, often leaves consumers trying to discover the truth about personal products and their ingredients.

We want our customers to know that we are

committed to transparency in everything we do.

We want our customers to know that when we say "

organic," we mean it.
We believe that in becoming a USDA Certified Organic company, our customers do not have to wonder if we really use certified organic ingredients or if our organic products are truly organic.
So we choose to be a certified organic company

and abide by the strict standards required for organic certification.

Some of my favorite products are made with ingredients that just do not exist as certified organic. Why? At this time there are no standards created for ingredients specifically used in the personal care product industry. Organic certification of personal care products is based on the organic food standards set by the National Organic Program of the USDA.

But since we are a certified organic company, we are required to submit documentation that even our "non-organic ingredients" were produced without the use of toxic pesticides, genetically modified organisms (GMOs), sewage sludge, or irradiation.

Why Did We Become a Certified Organic Company?

What Do All of the Organic Labels Mean?

---

View Answer Page
Are Your Products and Ingredients Cruelty Free?

All of Chagrin Valley's natural soap, shampoo bars, and personal care products are certified cruelty-free by Leaping Bunny.

 Chagrin Valley Soap & Salve has been Leaping Bunny Certified since 2013. 

The Leaping Bunny Program was developed in 1996, by The Coalition for Consumer Information on Cosmetics (CCIC), to identify and support companies that are doing their part to help eliminate the unnecessary use and mistreatment of animals to test cosmetic products and ingredients. The CCIC is made up of eight animal protection groups including the Humane Society of the U.S., as well as groups from Canada and Europe.

At Chagrin Valley we do not test our finished products on animals (other than human volunteers). But what about the raw materials, the ingredients we use?

Many products display labels claiming that their finished product is 'not tested on animals' but this does not guarantee that the product ingredients are actually free from animal testing. 

The CCIC Standard is a pledge that a company makes to remove animal testing from all stages of product development. Our pledge to buy ingredients that are cruelty-free is integrated into the purchase agreement for all of our suppliers.

Personal care products displaying the "real" Leaping Bunny logo are certified 'cruelty-free' using the internationally recognized Humane Cosmetics Standards. These rigorous standards require that no animal testing is performed or authorized for finished products or any of the ingredients in any stage of product development by the company, its laboratories or its suppliers after a fixed cut-off date. All Leaping Bunny companies are subject to independent audits and pledge commitments that are renewed on an annual basis.

This annual renewal is a key requirement that sets the Leaping Bunny Program apart from other cruelty-free certification programs. Companies that manufacture products, as well as their ingredient suppliers, must annually recommit to upholding their promise to not conduct animal testing on any finished products, ingredients, or formulations.

Why is this annual commitment renewal important? "Because product formulations change, suppliers come and go, and manufacturers develop innovative lines to meet consumer needs. But we know that compassionate consumers need to be confident that no animal testing is involved in the products they use."

At Chagrin Valley Soap & Salve . . .

we do NOT test our products on animals
we do NOT use ingredients tested on animals
we do NOT sell into markets that require animal testing



The Leaping Bunny Program provides
the best assurance to consumers
that they are making compassionate shopping choices
by purchasing Cruelty-Free skin care!

---

View Answer Page
Is There an Expiration Date On My Natural Skincare Product?

Product Expiration Dates

We hand make all of our own products in small batches to ensure freshness, consistency, and perfection.

Our products are not made to sit on store shelves for years and years.

Although there are natural preservatives within the chemical structure of many natural ingredients, they not as potent as the synthetic preservatives used in commercial products to prolong shelf-life.

Other than soap, our products are remade every few weeks and none are very old when they are sold. Our non-soap products should be opened within 6 months of purchase.

Since we use no preservatives or chemical stabilizers, the more important question is, "how long will the product last once it has been opened?

Once opened, skin care products become exposed to dirt and microorganisms (bacteria, yeasts, and molds) that are found in the air and on the skin.

As soon as you open and begin to use any product, simply the way in which you use it will affect its lifespan.

So, we use the PAO (period-after-opening) symbol. These symbols are already available on the product pages of our website and we are in the process of adding them to all of our labels.

The POA symbol is a standard symbol that identifies the useful lifetime of a skin care product after it has been opened for the first time.

As you can see from the picture, the symbol is an open jar with a written number and the letter "M" for the word "months."

A product with a "9M" would mean that it is good for 9 months after opening.

Tip: write the date you open a product for the first time on its label so you can keep track of the period after opening.

Our POA number represents our best suggestion. There are many factors that can affect the lifespan of a product. If a product is discolored, has an unpleasant smell or looks odd, the product should not be used and should be discarded.

Each time you place your warm fingers into a tin or jar, you melt some of the butter which can change the consistency of the product.
Fingers also introduce bacteria and other contaminants into the product.
If a product has not been stored properly, for example, if the lid has been left off for long periods of time, the product may 'go off' before the period after opening has passed.
As scented products age, some of the natural essential oil scent may be lost. Pure essential oils just do not have the staying power of synthetic fragrance oils.
Over time, natural colors may also fade.

If you're like me, and you find an old dusty product hiding in a drawer, makeup bag, or even a suitcase from your last trip, you can call us with the lot number and we can verify its age. Obviously, if it seems off in any way, toss it!

Please note: This PAO symbol is widely used in Europe to recommend the length of time a product remains usable after opening, for products that have a shelf-life of at least 30 months. Our products do NOT have a shelf-life of 30 months before opening.

---

View Answer Page
What are essential oils?

What Are Pure Essential Oils?

Have you ever enjoyed the scent of a fragrant flower or herb? The fragrance comes from potent, aromatic compounds called essential oils found in the flowers, stems, seeds, bark, roots, fruits, and other parts of plants. It often requires several pounds of a plant to produce a single bottle of essential oil.

Essential oils not only give plants their unique scents but also help lure plant pollinators and protect plants from insects and other predators.

The chemical composition of essential oils may provide valuable psychological and physical aromatherapeutic benefits for some people.

It is important to note that to be a true essential oil, the oil must be isolated from the plant material by physical means only. Essential oils are NEVER extracted using solvents.

Although synthetic fragrances or "nature identical" oils are available at a much lower cost, only natural plant essential oils will provide any aromatherapeutic benefits.

What Are Essential Oils (Much more detail)

How Essential Oils Are Extracted

Why We Use Only Real Plant Essential Oils?

---

If you are pregnant or under a doctor's care for any medical condition, please consult your healthcare provider before using essential oils.

Pregnancy & Children: We do not provide information on the safety of essential oils during Pregnancy or for use in Children because the available information is very ambiguous and often contradictory. If you're interested in using essential oils during pregnancy or with young children please do your own research and consult your doctor, midwife, or health care professional before use.

---

View Answer Page