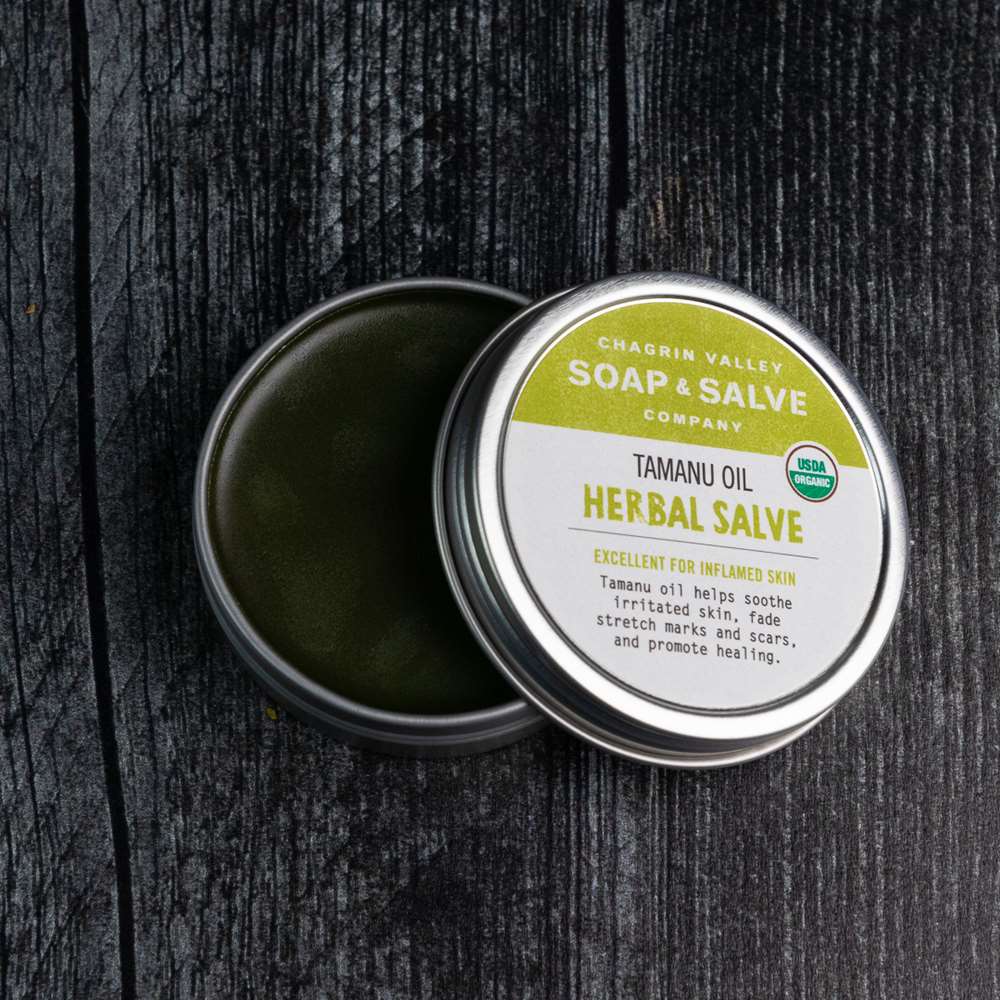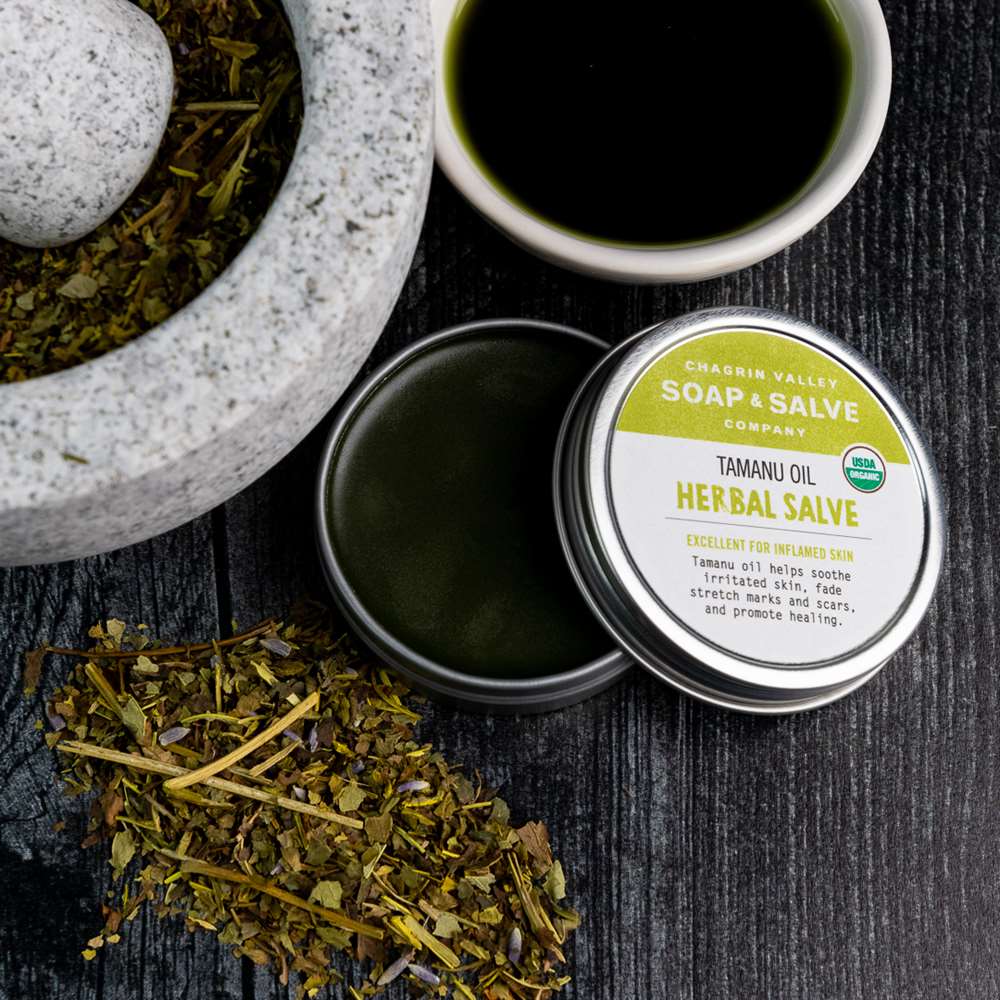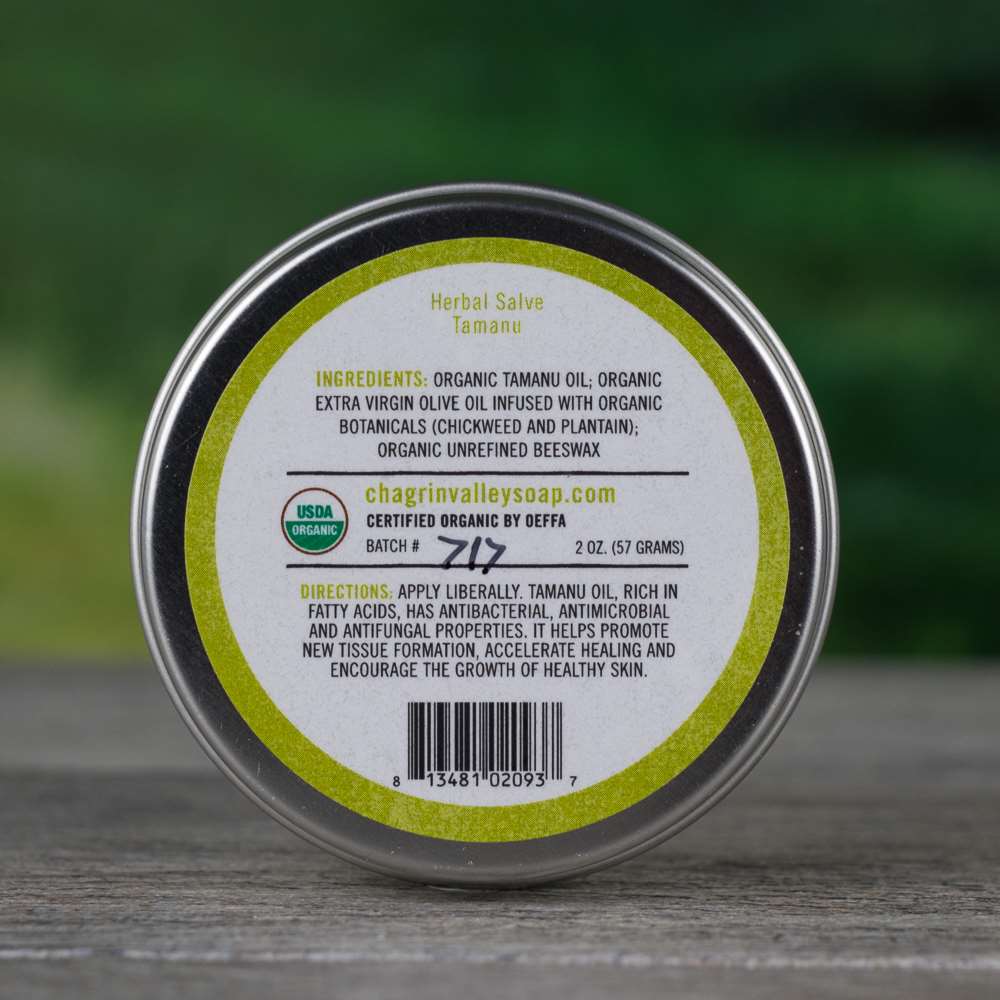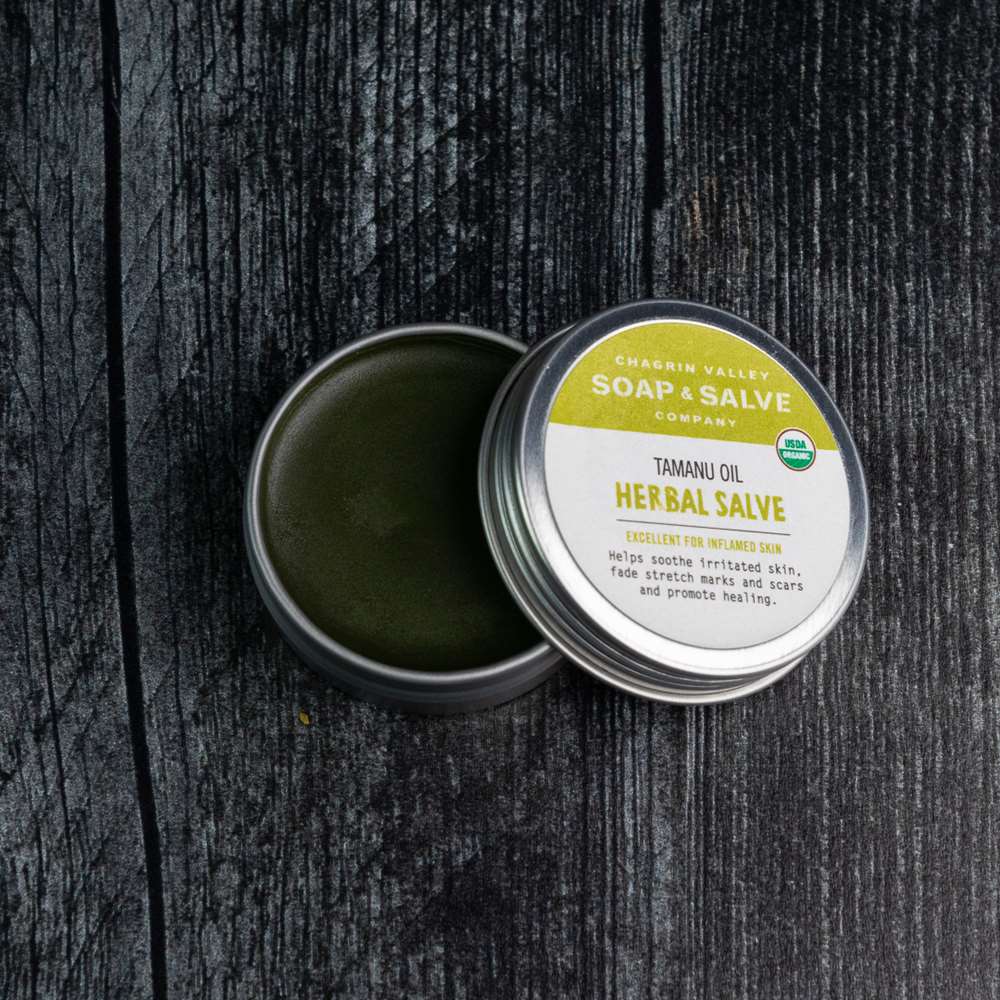 Tamanu oil helps repair scarred and damaged skin. Its anti-inflammatory properties help skin conditions like acne and eczema.
Product Overview

The healing powers of Tamanu Oil were discovered thousands of years ago when native Polynesians learned how to extract the thick green oil from the tamanu nut, called it a "sacred" gift of nature, and used it to stimulate skin renewal.

Tamanu oil and other parts of the tamanu nut tree have been used medicinally for hundreds of years by certain Asian, African, and Pacific Island cultures to promote the healing of burns, cuts, scrapes and irritated skin conditions. Some people also use tamanu oil to soothe insect bites.

Tamanu oil . . .

is rich in natural fatty acids
has antibacterial, antimicrobial and antifungal properties
promotes new tissue formation, thereby accelerating healing and the growth of healthy skin
may help fade stretch marks
may help improve the appearance of scars
aids in the healing of minor cuts, burns, rashes, acne, eczema, rosacea and other skin conditions

Tamanu oil helps soothe and heal surgical scars. If using for fresh surgical scars please check with your healthcare provider.
How To Use

Directions: Apply liberally to the affected area as often as needed.

Within minutes bring the healing qualities of Tamanu oil and organic herbs directly to your skin.

We use pure, virgin Tamanu oil, not an extract. This oil is unrefined, has not been bleached or deodorized and retains its natural scent, color, and nutritional benefits.

We handcraft our Herbal Salves in small batches using organic oils and organic botanicals to ensure the highest quality and freshness. As a result, our organic salves have a natural shelf life. There are steps you can take to preserve the freshness of your salve.

To prevent contamination use clean hands for application, avoid introducing moisture to the salve, and always keep the lid closed between uses.
To ensure the best efficacy, our salves should be used within 6 months after opening.
Always keep the salve in a temperature-stable environment.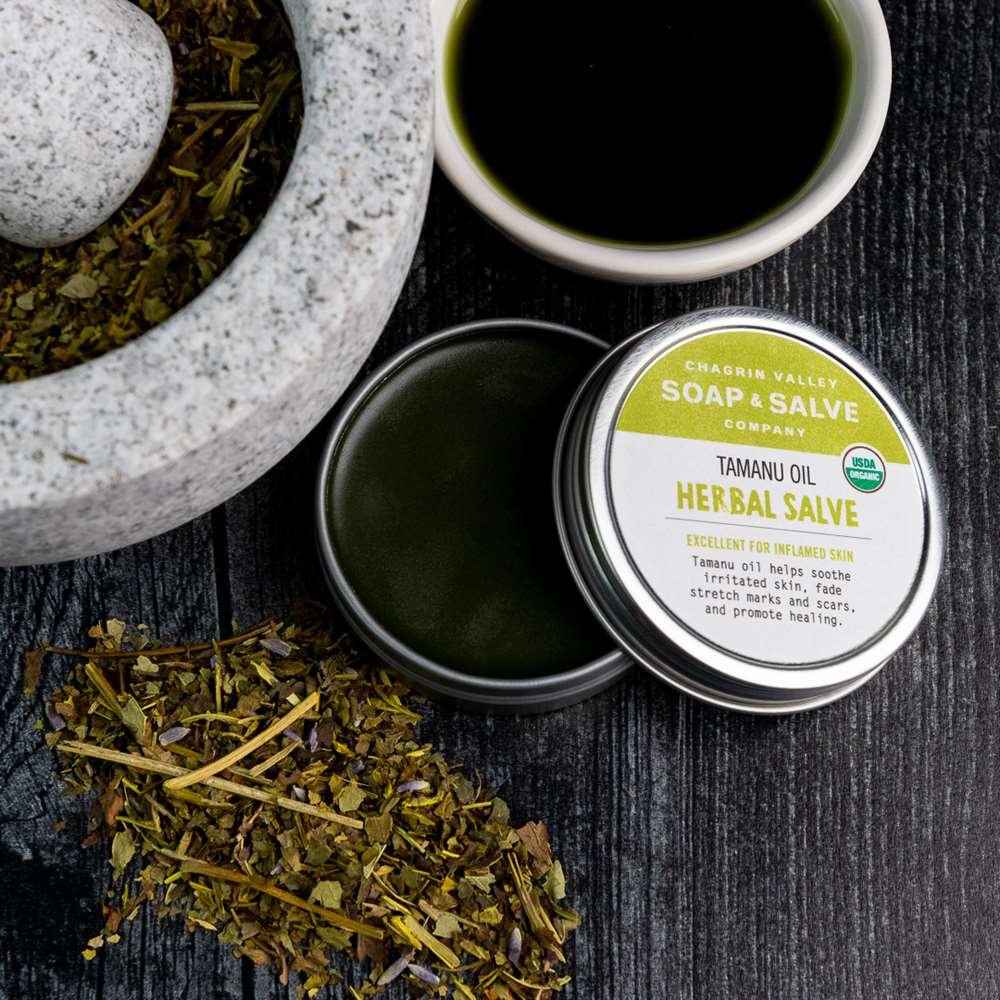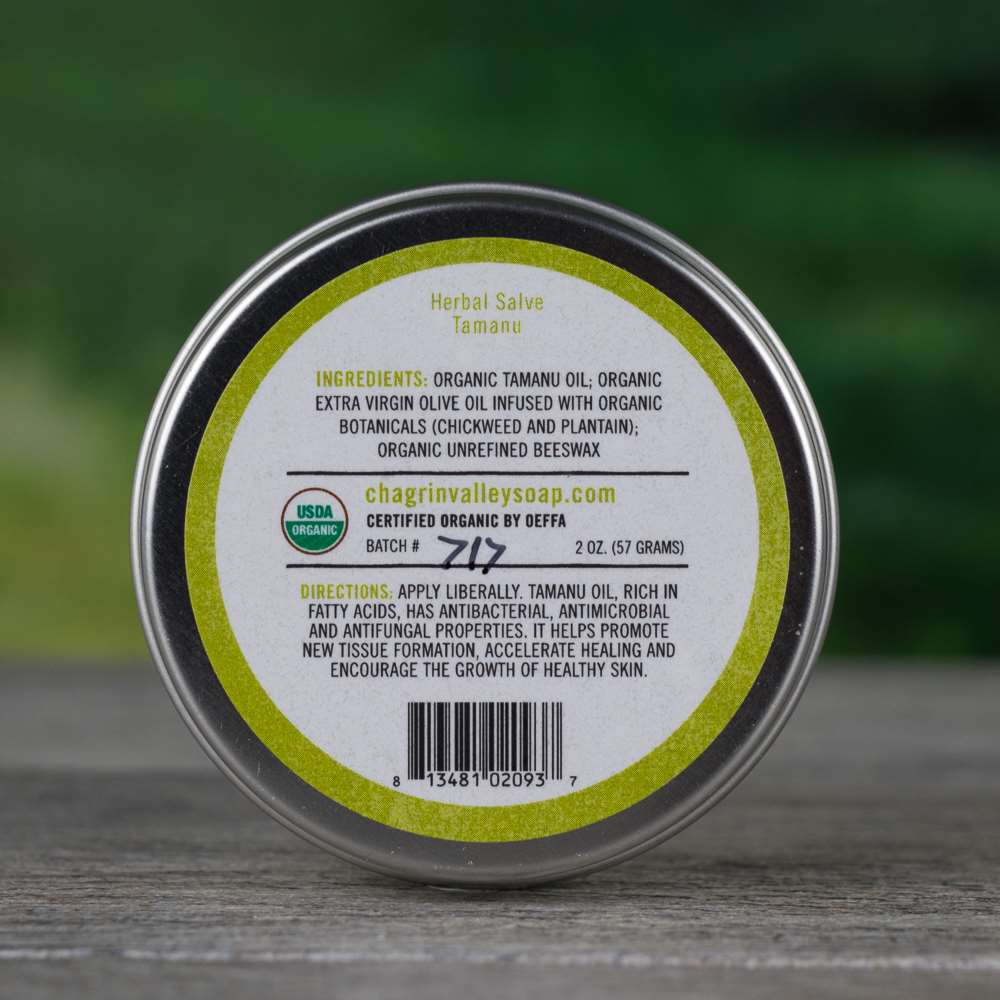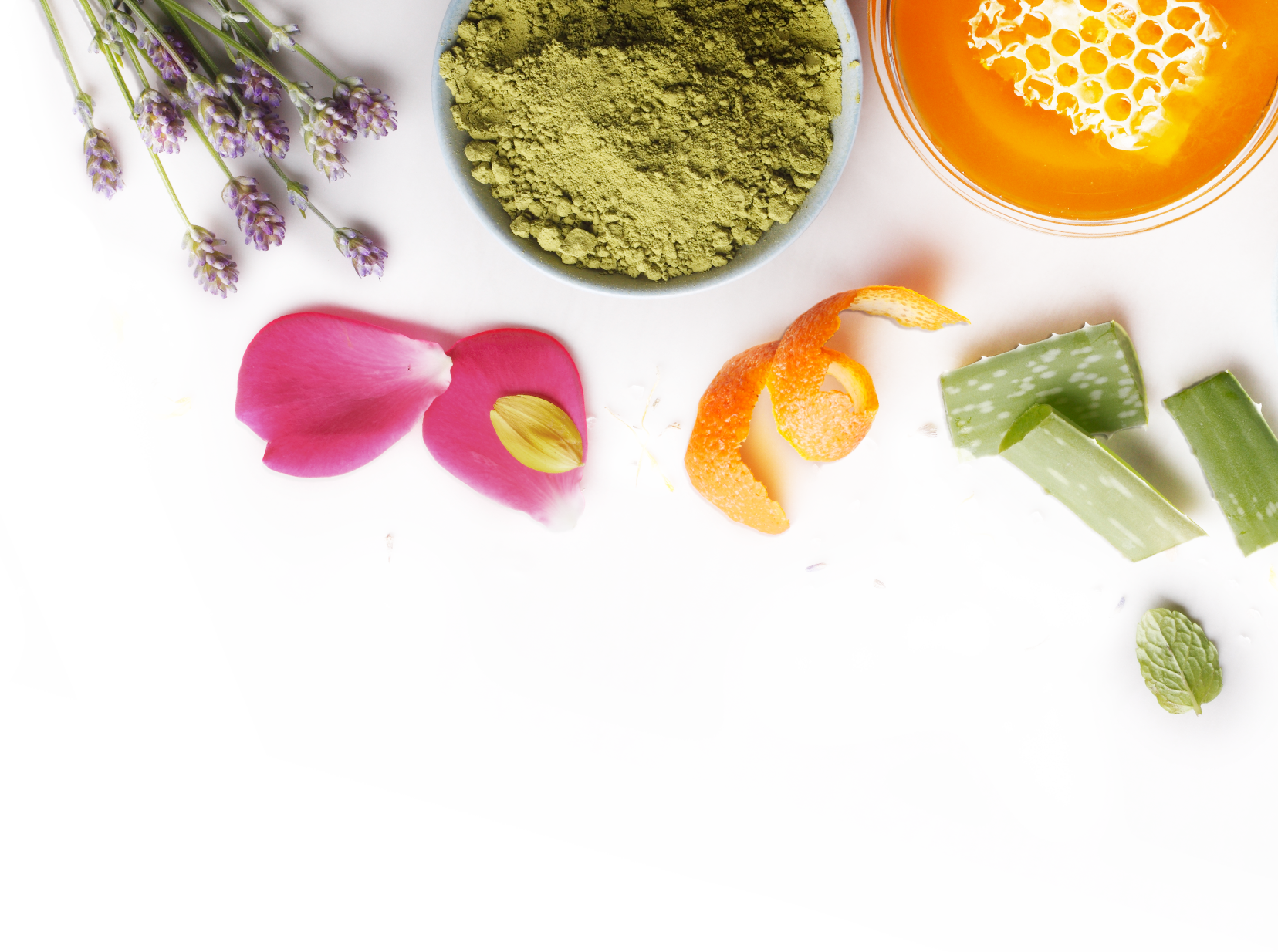 Effective, Feel Good Ingredients
The goal is simple: to Harness the Power & Simplicity of Nature® to cleanse, soothe, heal, and protect your skin and hair!
Our unique formulas rely on moisturizing oils and butters, healing botanicals, and pure essential oils. We choose every ingredient with one end-result in mind….the BEST possible natural skin care for YOU!
Featured Ingredients



All Ingredients:
Organic Extra Virgin Olive Oil infused with Organic Botanicals Chickweed and Plantain
Frequently Asked Questions
Which Do I Choose? ..... Sea Buckthorn Salve vs Tamanu Salve vs Tamanu Healing Herbs Oil

As you research different healing oils or salves you will notice that although some target very specific problems, many have similar properties.

If the descriptions for Sea Buckthorn Salve, Tamanu Salve, and the Tamanu Sea Buckthorn Healing Oil seem very similar, that's because they all contain really great natural, but very different, bioactive ingredients that promote healing.

 

SEA BUCKTHORN OIL: Sea Buckthorn oil contains approximately 190 bioactive substances. It has a beneficial effect on the skin because it is a strong antioxidant and is rich in Omega fatty acids, beta-carotenes and vitamin E.

The moisturizing oil easily penetrates deep into the skin and has anti-inflammatory and anti-microbiological activity that helps promote healing and reduce scarring. It also may help kill the Demodex mites that can cause rosacea.

 

TAMANU OIL: Tamanu oil has been used in traditional medicine for ages, specifically for its ability to speed the healing of wounds by fighting bacteria and increasing cellular regeneration.

It also has anti-inflammatory, antimicrobial, antibiotic, and antioxidant properties. What really sets tamanu oil apart from other oils is its unique chemical composition. It contains a unique fatty acid called Calophyllic acid, a natural antibiotic called Lactone, and a natural non-steroid anti-inflammatory agent called Calophyllolide.




Although salves are semi-solid at room temperature, they soften quickly once applied to the skin, making them very portable and less messy than oils.

To help you choose between the two salves, here are a few suggestions based on our experience and customer feedback.

Acne
Rosacea
Psoriasis
Dermatitis
Scars
Minor burns

Wound healing
Healing new scars
Fading stretch marks
Soothing and healing itchy, irritated skin
Minor burns
Tamanu oil helps soothe and heal surgical scars.

If using for fresh surgical scars

please check with your healthcare provider.

 

What about the Tamanu Sea Buckthorn Healing Herbs Oil?

The oils plus the infused botanicals are highly emollient, chocked full of antioxidants and have anti-inflammatory and regenerative properties that make it great for any kind of tissue in need of repair.

Some differences between healing salves and healing oil:

Absorption Time

Since herbal salves are made up of oils and beeswax, they will often sit on top of the skin and take a bit longer to penetrate the layers of the skin

Sometimes you want penetration to take longer and last longer, like with a simple scrape--so use a salve
Sometimes you may want faster relief, like when you have a burn--so use an oil



Continued Hydration

When you do not cover a scar, cut, or scrape it dries out and scabs over. A scab is not always a good thing because, especially if it forms too quickly, it can act as a barrier to healing

You want to keep a cut moist to help prevent a scab from forming

While both the oil and salve will keep the area moisturized, a salve will provide a moisture barrier that lasts longer than an oil

If you choose to use only an oil, then use it more often to dab the area to keep it supple until new skin begins to grow

This product may be new to Chagrin Valley's product line, but it is not new to me.

I formulated the recipe for our Tamanu Sea Buckthorn Healing Herbs Oils about five years ago. I wanted to create a concentrated oil using my two favorite healing oils that I could use in conjunction with our salves for healing surgical scars, burns, skin rashes and other irritations.

I tend to use both the healing oil and the salve. Sometimes I use the salves for the first few days or a week (depending on the problem) and then switch to the oil. For some surgical scars, I used both the oil and a salve every day for weeks.

**This information is not meant to replace proper medical treatment. As always use good judgment. If a wound or burn is large or there is any concern about infection or the rate of healing please consult your healthcare professional. Infected wounds can lead to very serious systemic conditions.

For more information see our "Help Me Choose Salves" page

 

Organic Unrefined Sea Buckthorn Oil

---

View Answer Page
Can I Use Your Products on my Baby or Young Children?

We often receive questions as to whether our soaps, shampoos, and other items are safe to use on young children.

A baby's skin, so thin and delicate, is no place for harmful synthetic chemicals.

Sadly, even some of the most trusted baby brands add nasty chemicals to their products.

Read the label on a bar of commercial baby soap or shampoo. Read the label on a bottle of commercial baby oil. Now read the ingredients in Chagrin Valley products.

We recommend starting with our Milk & Honey Baby Soap. We also recommend our two Castile soaps and Carrot & Honey Soap. They are unscented and, as with all of our products, contain no artificial ingredients!

My grandkids use our Milk & Honey bar as a baby shampoo--just keep the soap away from their eyes.

When you think your child is ready, try some new soaps.

As with all new products, it is best to do a skin patch test prior to full usage to test for any skin allergies or sensitivities. If you have any questions or concerns always check with your doctor or health care professional.

It is best to add only one new soap or product at a time and use it for a while before switching to a new soap.

Essential Oils & Children: We do not provide information on the safety of essential oils for use in Children because the available information is very ambiguous and often contradictory. If you are interested in using essential oils with young children please consult your health care professional before use.


Please do not ask us to diagnose your child's skin problems, we are not health care professionals. Our recommendations are based on what our customers have shared.

Click Here to visit our page of Organic Baby products!

---

View Answer Page
Are Chagrin Valley Ingredients & Products USDA Certified Organic?

Chagrin Valley Soap & Salve is a USDA Certified Organic Company

The most important consideration in any business is its customers. Today's world of misleading claims, false advertising, and simple deception, often leaves consumers trying to discover the truth about personal products and their ingredients.

We want our customers to know that we are

committed to transparency in everything we do.

We want our customers to know that when we say "

organic," we mean it.
We believe that in becoming a USDA Certified Organic company, our customers do not have to wonder if we really use certified organic ingredients or if our organic products are truly organic.
So we choose to be a certified organic company

and abide by the strict standards required for organic certification.

Some of my favorite products are made with ingredients that just do not exist as certified organic. Why? At this time there are no standards created for ingredients specifically used in the personal care product industry. Organic certification of personal care products is based on the organic food standards set by the National Organic Program of the USDA.

But since we are a certified organic company, we are required to submit documentation that even our "non-organic ingredients" were produced without the use of toxic pesticides, genetically modified organisms (GMOs), sewage sludge, or irradiation.

Why Did We Become a Certified Organic Company?

What Do All of the Organic Labels Mean?

---

View Answer Page
Can I Use Your Natural Skincare Products While Pregnant or Nursing?

We often receive questions as to whether our soaps, shampoos, and other natural products are safe to use during pregnancy.

We recommend that expectant and nursing mothers check with their midwife or physician before changing a skincare routine with our organic products, or any other line of products.

Read the label on a bar of commercial soap. Read the label on your jar of moisturizer.

Now read the ingredients in a Chagrin Valley product.

We use quality natural and USDA Certified Organic ingredients. No synthetic additives, colorants, fragrances, preservatives, or chemical derivatives are used.

There is nothing in our all-natural basic soap or other products that could cause a problem in pregnancy.

Topically applying the herbs present in many of our soaps is also not a problem. Your skin will absorb much less herb from the soap than if you would sprinkle them on your food.

Essential Oils

The issue that seems to be of most concern is the use of essential oils during pregnancy.

There is a lot of confusing, ambiguous, and inaccurate information concerning the use of essential oils in pregnancy.

The question of safety and safety testing has a lot to do with several factors.

The type and composition of the specific essential oil. Essential oils differ greatly in strength and composition.


The quality of the essential oil. Many "cheap essential oils" are not pure and maybe cut with synthetic chemicals.


The actual "dose" of herb/essential oils. Most of the clinical research on essential oil safety is based on information for internal (actually ingesting) large doses of herbs, essential oils, or herbal "medicines." Obviously there have been no tests done on pregnant women.


How the essential oil is being used. The concentration of essential oils that are absorbed through inhalation, as in aromatherapy, and massage is much lower than if you were actually ingesting the oil.

But also, aromatherapy and massage therapy use much higher concentrations of essential oils than you find in soap or even in eating the herb. With aromatherapy, you are inhaling the high concentrations which get absorbed via the lungs and in massage therapy, the essential oils remain on your skin and are absorbed.

Our scented soaps are gently scented with essential oils, but the choice is between you and your health care professional. The most critical time is the first trimester.

Just about every one of our products, like lip balms, whipped butters, soaps, shampoos, and deodorants has a "no added scent" version.

When there is a growing baby to consider, if you are at all uncertain as to the safety of an essential-oil containing product, or any ingredient, please consult your doctor, midwife, or health care professional!

When it comes to safety during pregnancy it is understandable that many massage therapists and aromatherapists decide to err on the side of caution in recommending the avoidance of certain essential oils.

Some Herbalists and Aromatherapist believe that essential oils that are normally safe to use, are safe during pregnancy, while others will recommend avoiding all essential oils during pregnancy.

Some essential oils that are normally quite safe have hormone-like effects and some even stimulate uterine muscles, both of which would be contraindicated during pregnancy.

Please do not ask us if one of our products is safe to use during pregnancy--we will simply refer you to this page.

We do not provide a list of essential oils considered safe during pregnancy because the information available is very contradictory. One aromatherapy source will list an essential oil as problematic while another one states it is fine.

The information is also changing constantly. Please do your own research and consult your doctor, midwife, or health care professional for the most up-to-date information.

Sensitive Skin Can Strike During Pregnancy

Even if you have never had sensitive skin in the past, you may notice that a product you have been using for several years now irritates your skin.

The stretching belly is often the most sensitive spot. Other potential problem areas include the hips, thighs, and bottom where the skin may become dry and flaky.

Although the exact cause is not known, raging hormones do make you more sensitive to a wide range of things, and also your skin is thinning and stretching as you, and your baby, grow.

These changes can behave in unpredictable ways. For example, if you have eczema you may suffer from major flare-ups or complete remission during pregnancy.

Keep your body well moisturized and avoid products that contain synthetic additives, colorants, fragrances, or preservatives. Any of these can exacerbate sensitive skin problems.

Before trying a new product, you can always do a patch test to test for sensitivity.

And again, we recommend that expectant and nursing mothers check with their midwife or physician before changing a skincare routine with our products, or any other line of products.

Pregnancy & Children: We do not provide information on the safety of essential oils during Pregnancy or for use in Children because the available information is very ambiguous and often contradictory. If you're interested in using essential oils during pregnancy or with young children please do your own research and consult your doctor, midwife, or health care professional before use.

---

View Answer Page
Will Chagrin Valley Natural Skincare Products Heal My Rosacea, Eczema or Psoriasis?

Will Your Products Heal My Rosacea, Eczema or Psoriasis?

We often receive emails and phone calls from customers with chronic irritated or inflamed skin problems.

While we cannot promise that our products will help heal your inflamed or irritated skin conditions, we have received a lot of feedback from customers telling us that our products have helped ease or soothe symptoms associated with irritated skin problems.

We have learned that for some people simply switching to a natural product may help.

We believe that natural ingredients are usually milder and gentler on the skin. I often say that what is NOT in our products, that is often the most helpful.

We have used this feedback to create

"Help Me Choose" pages

for a variety of skin issues.

Pure essential oils, herbs, and other natural ingredients have been used for centuries. Their folklore and uses have been passed down through generations.

Please note that our products are NOT drugs or medicines meant to treat or cure illness, which would require FDA testing and approval. Our products are intended to help ease symptoms associated with irritated skin. Always consult your health care provider if you are concern about a skin issue.

If you have sensitive skin issues, always try an allergy patch test before using a new product.

---

View Answer Page
Do Chagrin Valley Natural Skincare Products Contain GMO's?

Chagrin Valley Soap & Salve is a USDA Certified Organic company.

We are required to submit documentation that ALL of our ingredients, even our "non-organic ingredients," were produced without the use GMOs.

Since the U.S. National Organics Program forbids the use of genetic modification in products to be certified as organic, purchasing organic is a great way to lower your exposure to GMO's.

Genetically Modified Organisms refers to any animal, plant or microorganism that has been changed in a lab at the gene level. It is also known as "genetic engineering."

Read more about "Non-GMO Skin Care Ingredients"

---

View Answer Page